Welcome! About Us
Hello! We're Todd & Diane and welcome to our air fryer obsessed world! We want to be your GO-TO source for everything Air Fryer. Since our first air fryer dinner of salmon and potatoes, we were hooked to air frying. Our goal is to share all that we know with you because when we started, there wasn't much information online about air fryers.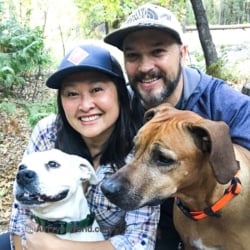 About our RECIPES: They are all tried and true tested in different air fryers, multiple times. We will never share a regular oven recipe photo nor a bought stock photo and give you an air fryer technique and timing. Nope, we don't work that way. All our recipes are truly tested on several of our 13 different air fryers or by one of our recipe testers all over the United States. Recipe integrity is important to us so we are always testing recipes in our 3 full time test kitchens. Our team is working and recipe testing around the clock to create all our own original air fryer content.
You will always see our recipes cooked in an air fryer and never a generic stock photo or finished recipe photo from a conventional oven recipe, stove top or grill pretending to be in an air fryer. It's important to us that you see what your food should look like when cooked in an air fryer.
About Us: We are Todd and Diane, professional commercial and advertising photographers and filmmakers who are absolutely obsessed with food. We've traveled and taught food photography all around the world, but for us, home is in our beloved kitchens. Our food websites and cookbooks started as a hobby but have grown tremendously to cover several different food topics. We love creating recipes and content that we can't live without. And that includes cooking with the air fryer.
Our first air fryer recipes started on our popular easy every food website called BestRecipeBox.com. But since our air fryer recipes have grown, we decided to dedicate this a website solely to air frying, thus Air Fryer World was born. Hope you all enjoy air frying and all our recipe and tutorials! Join our fun Air Frying Facebook Groups : Air Fryer Keto Facebook Group and Air Fryer Recipes Club Facebook Group
Happy Air Frying,
Diane, Todd and the rest of the Air Fryer World Team.
Visit our iHuungry, Inc. family of websites: BestRecipeBox.com , EatBetterRecipes.com and WhiteOnRiceCouple.com
Want to license our photos or content? Email us in the contact form about what you want to license, where it'll be used and your budget. We'll have our legal team review the request and get back to you if it's a right fit. Thank you!