Air Fryer Pizza
Pizza is amazing in the air fryer! From frozen pizza to homemade dough pizza, we have lots of inspired air fried recipes. We have quick and easy options that can get dinner on the table quick. There's some great ideas here that kids love to eat. Learning how to re-heat leftover pizza in your air fryer is definitely a game changer.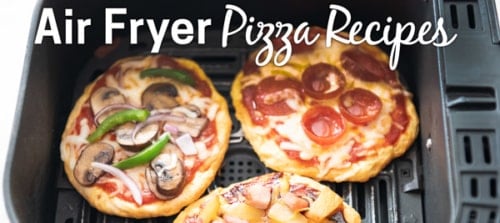 Easy Air Fryer Pizza Recipes
There's so many ways to enjoy our Air Fryer pizza recipes. Personalize your pizzas by adding your own personal spin with different sauces, spices, seasonings or toppings. Or just add additional salt and pepper to personal taste. 
The hot circulating air of the air fryer is powerful and cooks the pizza crust to a crispy texture. If you're using a smaller air fryer (2-4 quart), cooking times might be a little quicker because the pizza is closer to the heating element. 
Oven Style Air Fryer: If you're using an oven style air fryer with different racks, trays or shelves remember that the top rack closest to the heating element will cook quicker. The pizza may even burn if it's too close.
The lower racks will cook a little slower and less crisp. So try to cook food in the middle rack or even a lower rack if the pizza is thick or needs to cook through the center. For cooking on multiple racks, you might have to rotate the racks from top to bottom for even cooking. 
Try these popular air fried pizza recipes:
HOW TO AIR FRY PIZZA FOR A PARTY OR CROWD
You can have fun creating a pizza bar and let everyone customize their own pizzas. It takes a little prepping and planning, but it's definite possible! Lay out your toppings, different sauces and cheeses. Everyone can make their own and you can manage the air fryer and cook the pizzas for them. Or have one person in charge of air frying so that all the pizzas cook the same and won't burn.
Have your pizza base ready to go. If it's tortillas, bread or anything pre-cooked then it's simple to ready. But when it comes to using any type of raw dough, we suggest cutting the dough into smaller squares so they can be more personal size.
You can also pre-cook all the raw crusts first in the air fryer. Then everyone can just add their toppings and air frying time will be much quicker. All you'll need to do is to heat the sauce and toppings on the crusts so that saves a lot of time.
Pizza Sauce Options: Red pizza sauce, white Alfredo sauce, bbq sauce, pesto, or any sauce that you like.
Shredded cheese options: Mozzarella, cheddar, parmesan, Mexican blend, pepper jack
Meat Toppings: pepperoni, cooked sausage, cooked bacon, cooked diced ham, cooked leftover or roast chicken
Vegetable Toppings: sliced mushrooms, onions, bell peppers, jalapeños, pineapple chopped sun dried tomatoes in oil, fresh basil