How to Reheat Leftover Pizza in Air Fryer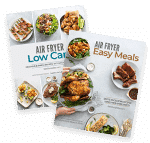 Buy our air fryer e-cookbooks today
How do you reheat pizza in the air fryer from refrigerated leftovers? It's crazy easy to reheat leftover pizza in the air fryer to perfection in 5 minutes. This is a game changer by air frying leftover pizza and you'll never want to re-heat in the microwave again. Also, it's way faster to air fry than using a regular oven.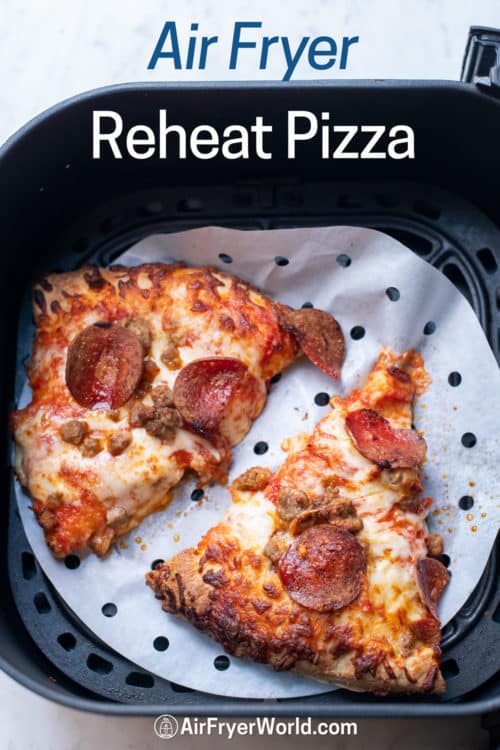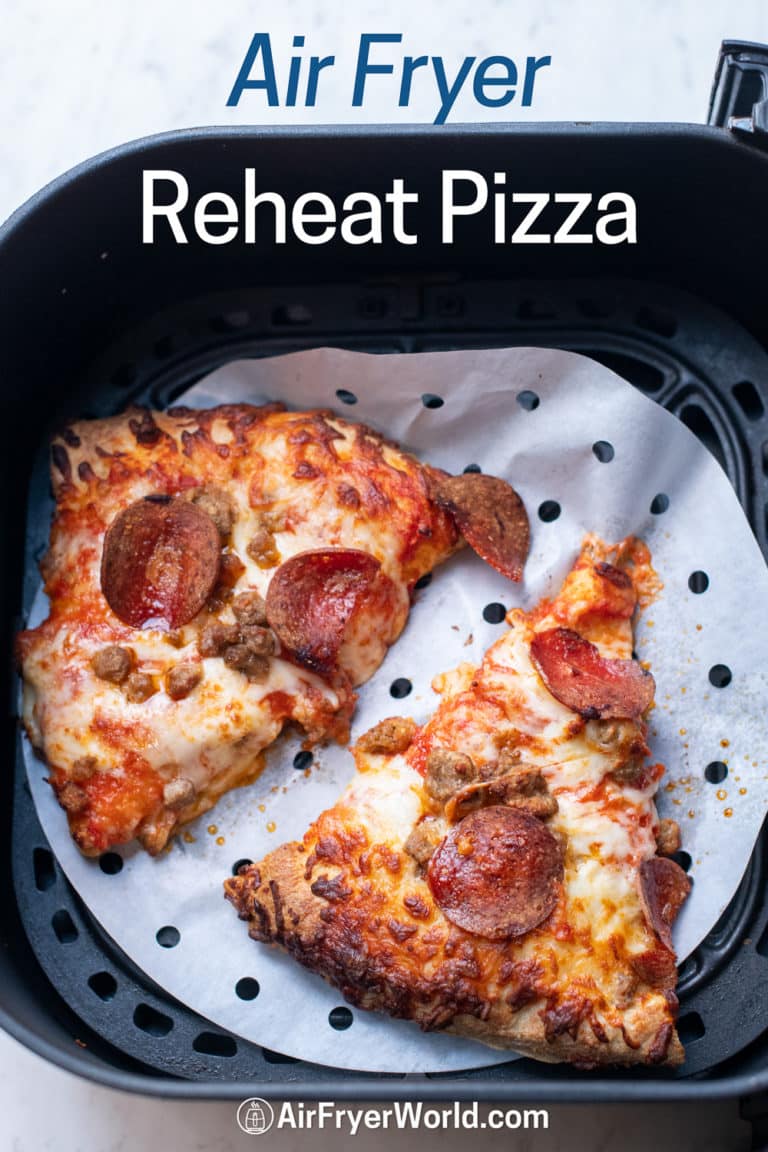 Hot to Reheat Pizza in the Air Fryer
We've tested the regular conventional oven method of reheating pizza vs air fryer method and the results are in. Air frying leftover pizza is WAY better and quicker than the regular oven. First of all, you don't need to wait for the big oven to pre-heat for just a slice of pizza. Second of all, regular oven heated pizza just doesn't get as crispy as air frying leftover pizza. Lastly, it really just takes 3-6 minutes depending on how many slices you're reheating. More details are in the recipe box below.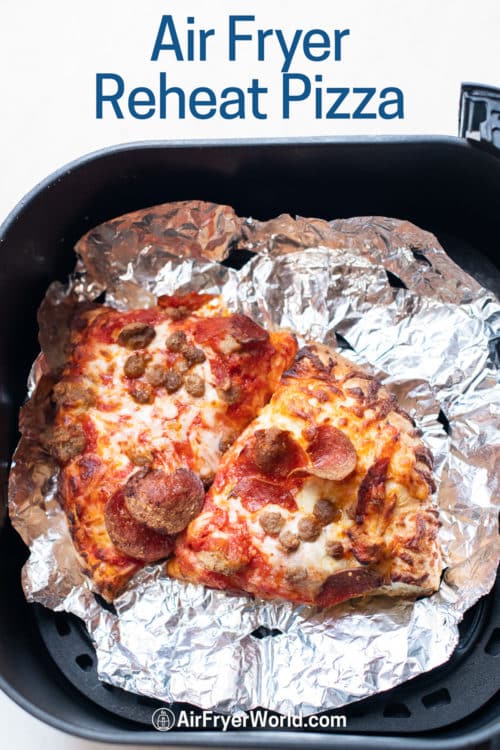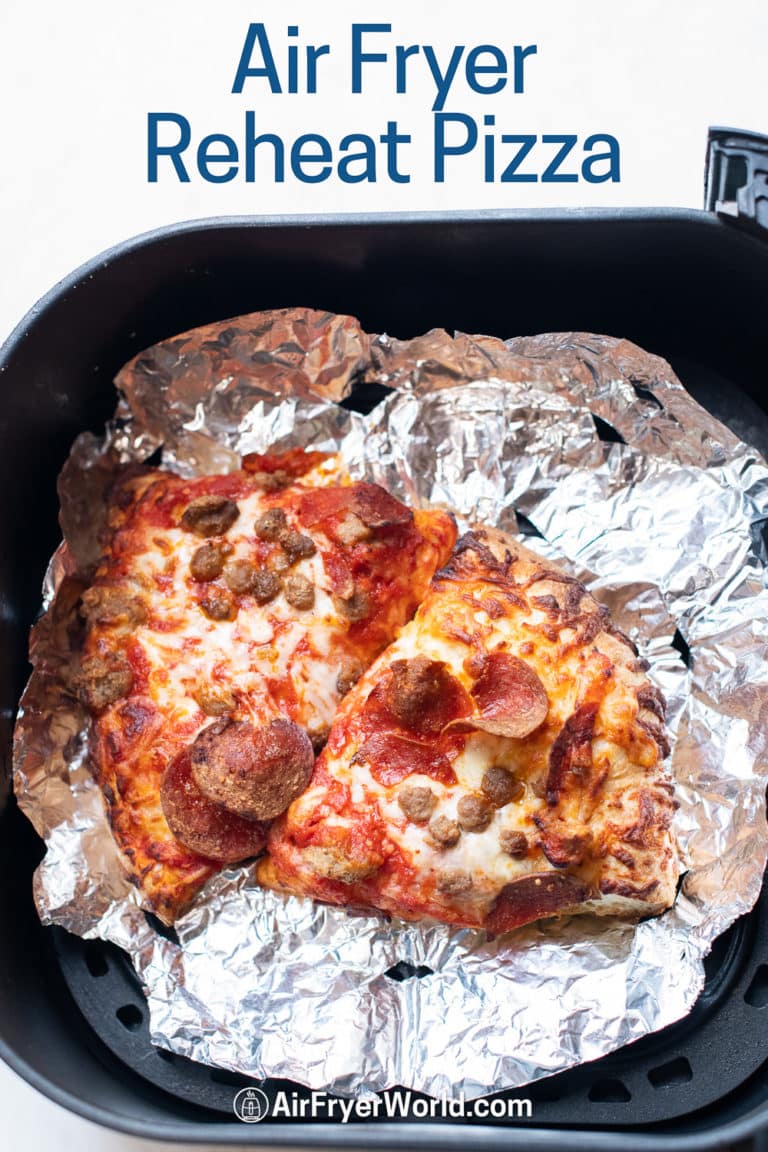 Does Pizza Crust Get Crispy when Re-heated in Air Fryer?
Yes, it totally does! You just have to make sure to heat it long enough to make it crispy to your liking. Some crusts are thick and some are thin, so you'll get different results. Try re-heating a slice of pizza first then check on it after about 3 minutes first. Then check on the slice and add extra time if needed to get the crust to your liking.
Tips for Reheating Leftover Pizza in Air Fryer
This technique is for 1-2 slices and your limitation is based on your air fryer model and size. What you see in the photo above is two slices in a 6 qt. Gourmia
Basket/Bucket Style: This method is best for 1-2 slices of pizza at a time, depending on your model of air fryer.
Oven Style: If you have a larger oven style or toaster oven style air fryer, you can re-heat as many slices that fit on the rack or tray. Make sure to have the tray in the middle position, not too close to the heating element. Also, leave some space between the slices so the hot circulating air flow can get the edges of the pizza crispy.,
Lay with aluminum foil to prevent sticking when cheese melts. Cut holes in the foil for air flow so the bottom of the pizza can get crispy.
Or lay with perforated parchment paper to prevent sticking when the cheese melts
Air Fryer Parchment Paper
Are you reheating a slice thick crust pizza that takes a little more time, but don't want extra crispy topping? Then remove the pepperoni or other toppings. Air fry the pizza for about half the recommended time. Then lay the toppings back on the pizza slice.
We give a timing range. Start with the lowest time range we give, then check on the pizza. From there, decide how much longer you want to cook your slice. Add additional 1-2 minutes of cooking time when needed.
What about frozen pizza?
Frozen pizza is super easy too. We have tips for air frying round personal size pizza's and frozen French bread pizza. Here's our instructions for heating –> FROZEN PIZZA in the air fryer.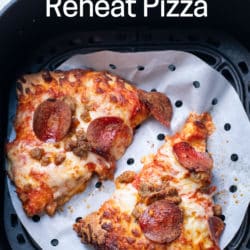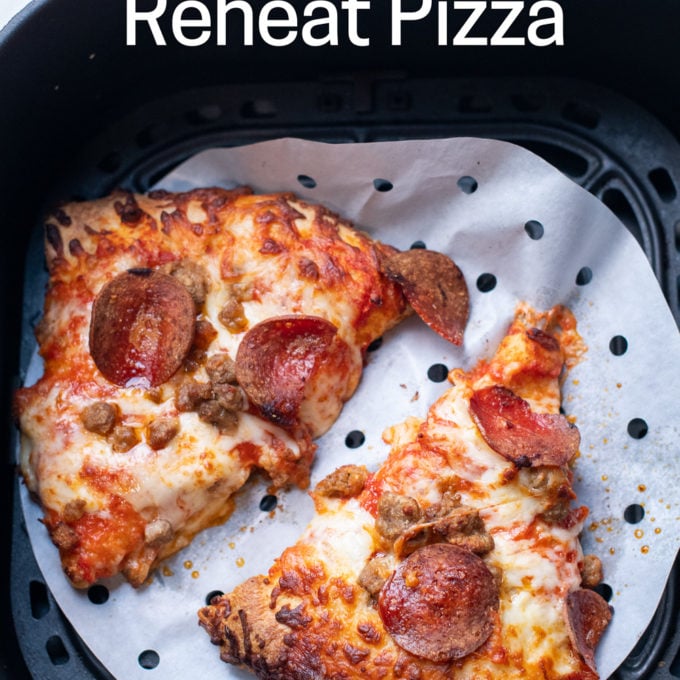 Air Fryer Reheating Leftover Pizza
Lots of factors influence outcome of how the pizza reheats. Pizza slices varies so much in size and thickness, so you'll have to adjust timing. All air fryers are different sizes and some cook much hotter than others. Once you cook your first slice or two, you'll know more of what works for your model of air fryer and size of your slice. Air fry for about 3 mintues first for 1 slice and add additional minute until it's reheated to your liking.
Read our write up discussing the use of perforated parchment sheet or foil to keep the melted cheese on the pizza from sticking to your air fryer basket, try or rack.
Ingredients
1-2

slices leftover pizza

oil spray

, (optional to lightly coat the pizza so toppings don't dry out – need depends on yoout particular toppings)
Instructions
Place foil or perforated parchment sheet to base on air fryer basket, rack or tray. Place the pizza on top. If needed, lightly spray the top of pizza so that the toppings don't burn or dry out (optional).

Air Fry at 360°F/180°C for 3-6 minutes or until cooked to your desired crispness. If unsure, start cooking for 3 minutes first. Then check to see if it's to your liking. Cook additional minute or two if you want the pizza to be crispier. Deep dish crusts will take a little longer, while thin crust will be slightly quicker.
Notes
Air Frying Tips and Notes:
Recipe timing is based on a non-preheated air fryer. If cooking in multiple slices back to back, the following slices may cook a little quicker because the air fryer is already hot.
Recipes were tested in 3.7 to 6 qt. air fryers. If using a larger air fryer, the pizza slices might cook quicker so adjust cooking time.
If your air fryer is preheated or if you are cooking multiple batches, you may need to reduce timing by a few minutes (unless preheating is called for in the recipe).
Nutrition Information per Serving
Calories:
210
kcal
,
Carbohydrates:
18
g
,
Protein:
6
g
,
Fat:
13
g
,
Saturated Fat:
3
g
,
Cholesterol:
8
mg
,
Sodium:
257
mg
,
Potassium:
86
mg
,
Fiber:
1
g
,
Sugar:
2
g
,
Vitamin A:
193
IU
,
Vitamin C:
1
mg
,
Calcium:
101
mg
,
Iron:
1
mg
Does thin crust pizza reheat same time as thick crust pizza?
There's definitely a timing difference between different crusts, size of leftover pizza and the model of your air fryer. Our method is to always reheat your first slice at 360F first for about 3 minutes. Then check the pizza. If it's too crispy, then just reduce the cooking time for your next slice.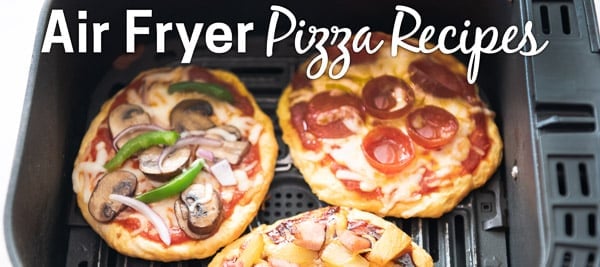 Why Did the Pizza Burn?
It might be because your air fryer heating element is too close too the food and your specific air fryer model cooks really hot. Reduce the cooking time and start at 2 minutes first. Then check the pizza. If you want it a little crispier then just add an additional 1 minute of air frying time. Keep adding one minute intervals of cooking until the pizza is to your liking.
As an Amazon associate and partners with other affiliate programs, we may earn from your qualifying purchases. We may earn small commissions that goes towards all the costs of running this website and recipe tests. Thank you for your support.