What are Perforated Parchment Sheets for Air Fryer?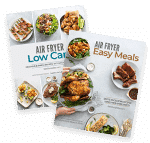 Buy our air fryer e-cookbooks today
Are air fryer parchment sheets safe to use? Make sure to follow your manufacturers suggested safe use of parchment sheets. And don't ever pre-heat your air fryer with solo parchments sheets. They will fly around, hit the heating element and burn.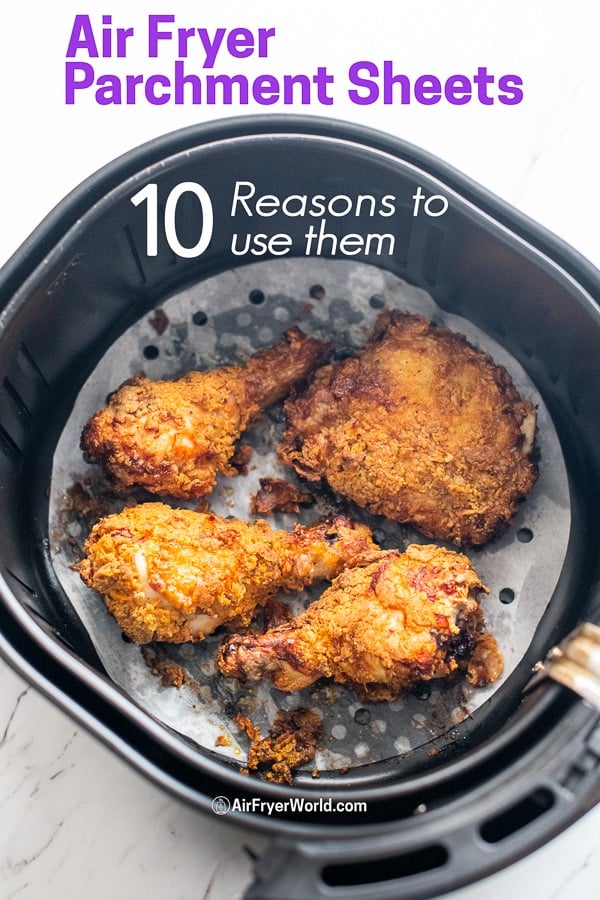 What Are Perforated Parchment Sheets or Liners?
They're pre-cut parchment paper that have holes (perforated). The holes allow air to circulate through the paper and helps food crisp better or steam without sticking to the air fryer basket or steamer basket. These parchment sheets are great for what ever cooking surface you have for your air fryer or bamboo steamer (especially if you have a wire basket or tray – we find they tend to stick the most). The perforated parchment sheets come in different sizes, shapes and styles. Some are white, while other brown ones are unbleached. In the case of air frying, the holes in the parchment sheets allows air to circulate under the food, which helps food cook more evenly throughout the whole cavity of the air fryer.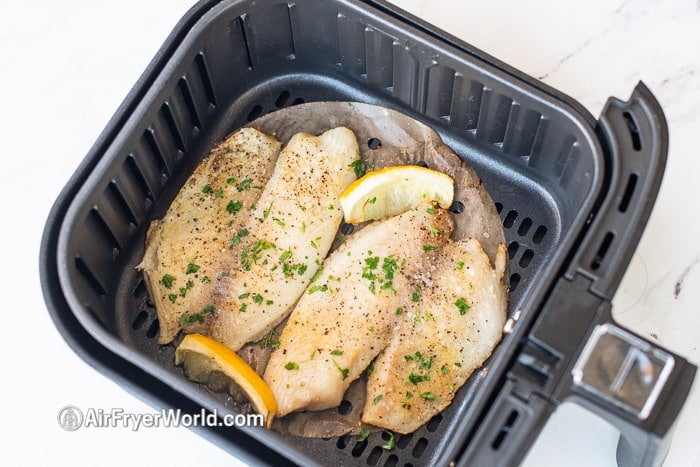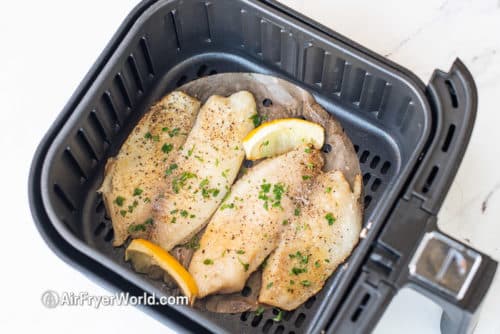 Air Fryer Parchment Sheet Helps Food From Sticking and More
These parchment sheets are a game changer for your air fryer! If you have a wire air fryer basket or wire air fryer oven racks, you probably have had sticking issues. No matter how much you spray with oil, some foods will still stick to wire surfaces. But if you use these papers under your food, you'll have much less food sticking and tearing. Even if you have a non-stick or ceramic base, delicate foods like fish can often tear. It's always good to have a batch of these air fryer sheets in your kitchen. They come in handy for easy cleaning too!
10 Reasons to Use Perforated Parchment Sheets when Air Frying
Keeps food from sticking. Wire racks or baskets often have more sticking issues than non-stick. So these papers are a game changer for sticky wire bases.
Keeps food from tearing. Delicate foods like fish releases much better when air fried on these liners. There's nothing more frustrating than to try to release salmon or other delicate fish, only to have it break into pieces.
Clean-up is so much easier! This is game changer when clean up is quicker and more simple!
Minimizes scrubbing wear and tear on your basket or racks. It keeps you from scrubbing the baskets/racks less, which helps minimize wear and tear. Non-stick baskets lose their lining over time and even more so with scrubbing. So these parchment liners help minize.
Helps prolong the life of your basket/racks. Think of these liners as protectors of your baskets from all the grease and heat exposure.
Non-Stick and also great to use in steaming baskets. They're non-stick and adds another element of easy cleaning! They're great to use on metal baskets or wood steamer baskets. So you can use them for not just air frying, but for steaming too!
Safe up to 400°F-450°F (205°C-230°C). Depending on the manufacturer, these liners can cook up to pretty high heat which allows the food to get extra crisp. But still be cautious especially if your air fryer heating element is too close to the food. This can cause the parchment to burn! Yes, it has happened so keep checking the food to make sure the parchment doesn't burn when you're cooking. Don't put the parchment in your air fryer when preheating. It will just blow around and often blow up against the heating element and start to burn.
FDA Tested and approved. Most liners meet FDA guidelines, but make sure to confirm if the manufacturer states this.
Affordable. These liners are pretty affordable and worth the cost for all the benefits.
Make your own, homemade! Yes, it's easy to make if you only plan on using the liners a few times a year. Just cut regular parchment sheets to the size of your air fryer. Use a hole puncher and punch a bunch of holes in the paper. The more holes, the more air circulation you'll get during cooking!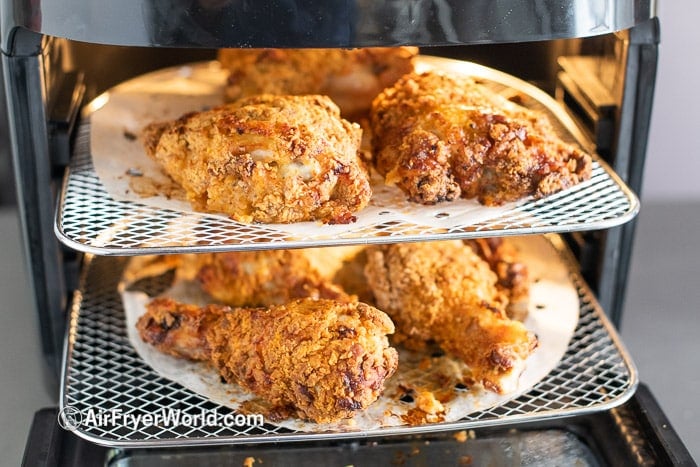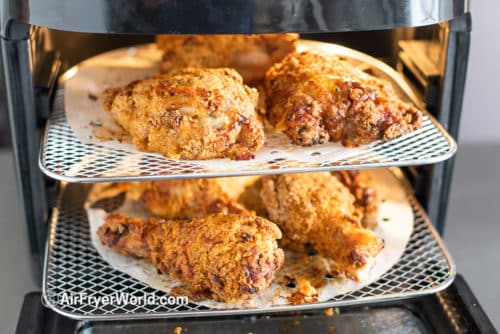 Don't use use perforated parchment paper at high heat without having food over it. If you don't have enough food weighing down the parchment paper, it will fly around when the hot air circulates and cover the food. This will make the food cook unevenly. Make sure to follow your manufacturers suggested use of parchment sheets. And don't ever pre-heat your air fryer with solo parchments sheets. They will fly around, hit the heating element and burn.
Best Air Fryer Parchment Sheets or Liners
There's many different brands out there, but they all basically work the same. Just make sure to buy the size or shape that fits your air fryer the best. Some air fryers have round or square baskets. Air fryer ovens are mostly square. If you bought sheets are are too big, you can always trim the to fit.
Most come in white or natural colored parchment. Choose the size and shape that best fits your air fryer basket or tray. It doesn't need to be perfect, but if it is close it will be most useful.Rounds for circular air fryer baskets.
Squares for square shaped baskets & trays.
More Awesome Air Fryer Accessory Kits
Check out more of our Air Fryer 101 Starter Guides Here.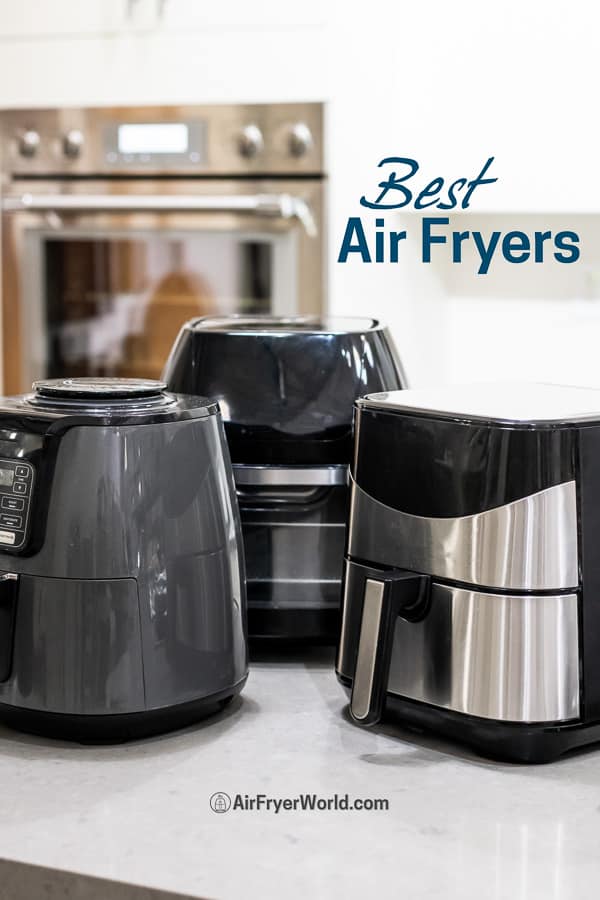 Check out our top 10 air fryer accessories Top 10 Air Fryer Accessories and healthy air fryer white fish recipe Healthy Air Fryer White Fish with Garlic and Lemon Pepper.
Want to share this advice? Please don't copy it. Just share the link, credit and link back to this copyrighted article. We've have issues with people stealing our words and content (photos) and putting their logos on it and putting on their blogs or posts. It's wrong to do this. We put a lot of time and research into this so sharing is caring! Thank you so much. This article was originally shared in 2020 and re-published in 2021 with updated info.
As an Amazon associate and partners with other affiliate programs, we may earn from your qualifying purchases. We may earn small commissions that goes towards all the costs of running this website and recipe tests. Thank you for your support.