Top 10 Air Fryer Accessories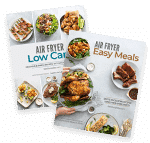 Buy our air fryer e-cookbooks today
We've compiled our list of best air fryer accessories. These are really helpful tools to make air frying food better and easier.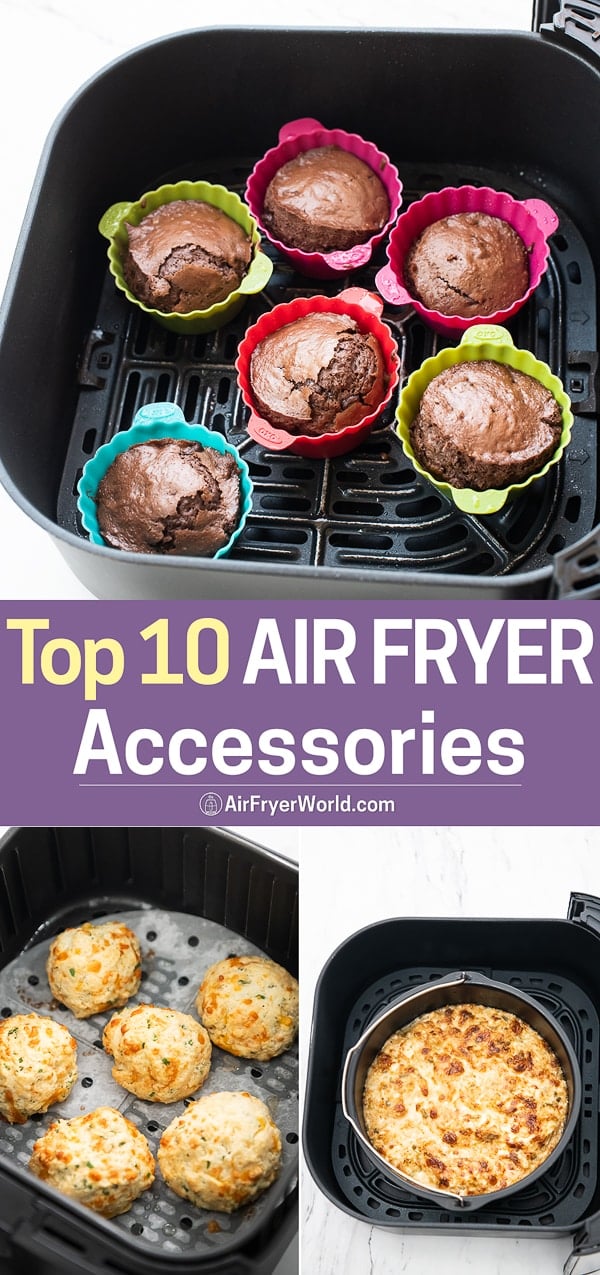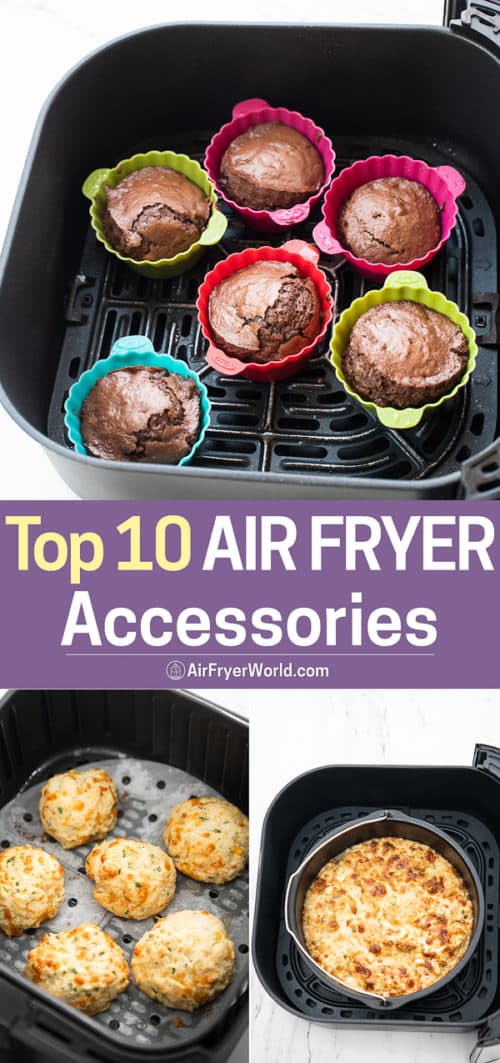 Best Air Fryer Accessories
If you don't own an air fryer yet, here's our discussion on the best air fryers. There's lots of easy meals to look forward to and with the help of awesome accessories, you can indulge in lots of foods you never thought of air frying. Take your food to another level! You can air fry foods that you didn't think you could cook in this appliance.
Guide of top accessories for Air Fryers
Air Fryer Perforated Silicone Mats: These mats are fantastic for keeping food from sticking on your air fryer basket or wire racks. Because they're food grade silicone, they can cook up to 450°F and are food safe. Best of all, cleaning is super duper easy! Cooking delicate foods like fish is great because the fish releases easy without tearing. And did we mention how easy these silicone mats are easy to clean? Oh yes, we did. That alone is worth the price.
This 12 piece accessory kit for larger air fryers (5,3 qt-5.8qt) has so many great starter pieces we talk about below. You can buy the whole set or some individual pieces with the links we provide below.
Here's the accessory kit for smaller air fryers that range from 3.2-3.7 qt. air fryers.
Parchment sheets. We love these using parchment sheets to keep certain foods from sticking like fried chicken, wings and other meats. Read our article on 10 reasons on why you should be using parchment when air frying. Make sure to follow your manufacturers suggested safe use of parchment sheets. And don't ever pre-heat your air fryer with solo parchments sheets. They will fly around, hit the heating element and burn.
Silicone pots to replace parchment paper. This is another option to keep food from sticking to your bucket, trays or racks.
Shallow Baking Pans or "pizza pan". These are perfect for cooking scrambled eggs, baked eggs, deep dish cookies or anything that needs a shallow pan. They come in different sizes, so make sure to buy the right size for your air fryer.
Deep Baking Pans: Cake pans or barrel pans. Not just for baking small cakes, these are great for making cheesy dips. The high sides keeps the dips from boiling over during air frying.
Skewers and rack. Making skewers or kebabs are fantastic in the air fryer!
Tortilla Stand for Crispy Tacos

– Yes, it's true can make crispy tacos! It's such a cool way to easily make crispy taco shells without having to deep fry them in greasy oil.

Silicone Trivet. This is valuable to place your hot air fryer basket on so you don't melt or ruin your countertop.
Silicone Tongs. If you have a non-stick or ceramic lined air fryer pan, you need these. They won't scratch your surfaces and will help prolong the life of your baskets
Silicon muffin or cupcake cups. We love these for cupcakes, muffins or baked eggs. Read our detailed article on how to cook baked eggs in air fryer how to cook baked eggs in air fryer.
Best Oil Spray Bottle for Air Fryers
The best oils are high smoke point (or flashpoint) oils that won't burn at high temperatures. What does this mean? Some oils start smoking at high temperatures and because air fryer cooking has the cooking element/coils close to the foods, smoking and burning can often occur. Using a high smoke point oil that won't smoke at high temps will give better tasting foods and less smoking issues.
We talk about the best oils to use here. Read our detailed write up on the best oils for air frying.
You'll need a quality oil spray bottle to refill oil.

Here's two of our favorites, though we lean towards the EVO brand because it does spray a little more evenly.
We LOVE these
Evo Oil Sprayers
. They're not the prettiest, but they're functional and spritz oil great! They don't clog up like the cheapie ones. There are several bottle types, but they all seem to have the same great spray head. Gives a good dispersed spray. Easily our kitchen favorite and it works great for grilling too!
This
pump style glass bottle sprayer
has work great for us too, and didn't clog up over time as much as many other brands we've used and is more stylish looking. Though it doesn't hold as much oil and you'll need to pump it before spraying, it'll look nicer on your counter for those who love design.
Check out more of our Air Fryer 101 Trouble Shooting Guides and Tips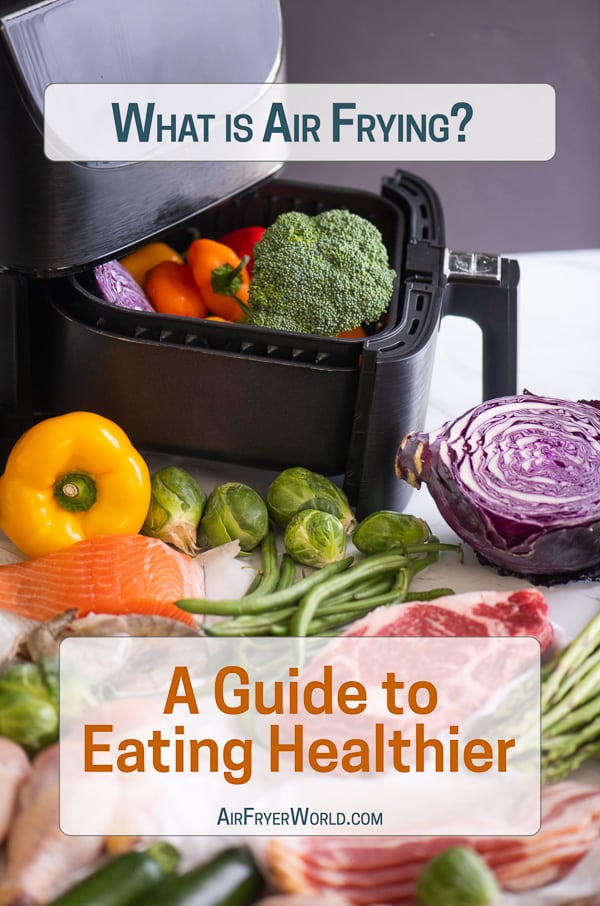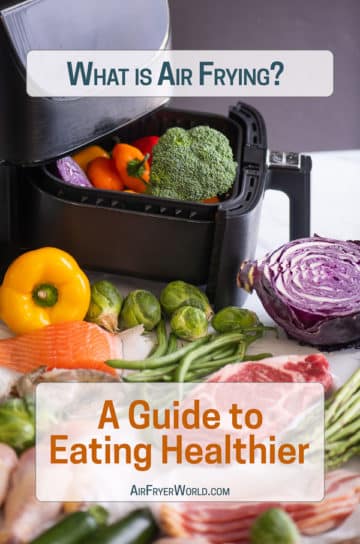 Here's our list and discussion–> Best Air Fryers and Different Styles To Choose From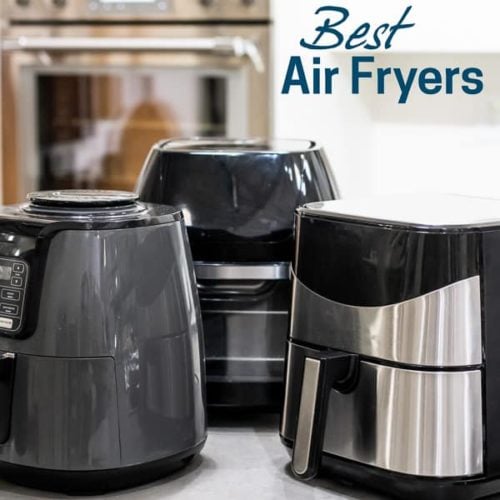 As an Amazon associate and partners with other affiliate programs, we may earn from your qualifying purchases. We may earn small commissions that goes towards all the costs of running this website and recipe tests. Thank you for your support.