Air Fryer Egg Rolls with Chicken, Pork or Beef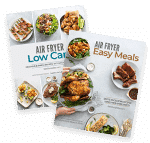 Buy our air fryer e-cookbooks today
Making air fried egg rolls is much healthier than the deep fried versions. There's many possibilities to make these egg rolls to your personal liking. You can use ground chicken, pork or beef and these are healthier than the deep fried egg rolls. Our filling is flavorful and awesome. The air fryer allows you to cook the egg rolls by only brushing them with oil.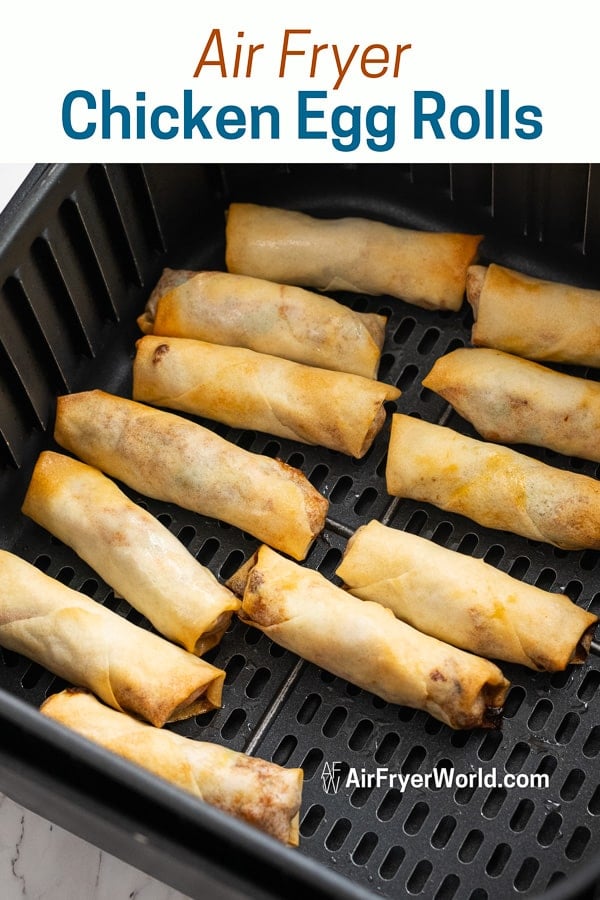 Best Air Fryer Chicken Egg Rolls
We put a lot of work into developing this air fried chicken egg roll recipe and hope you enjoy it. These air fryer egg rolls are delicious and it took us a long time to test. There's so many factors that need testing to make sure this recipe is the best with photos to walk you through the process.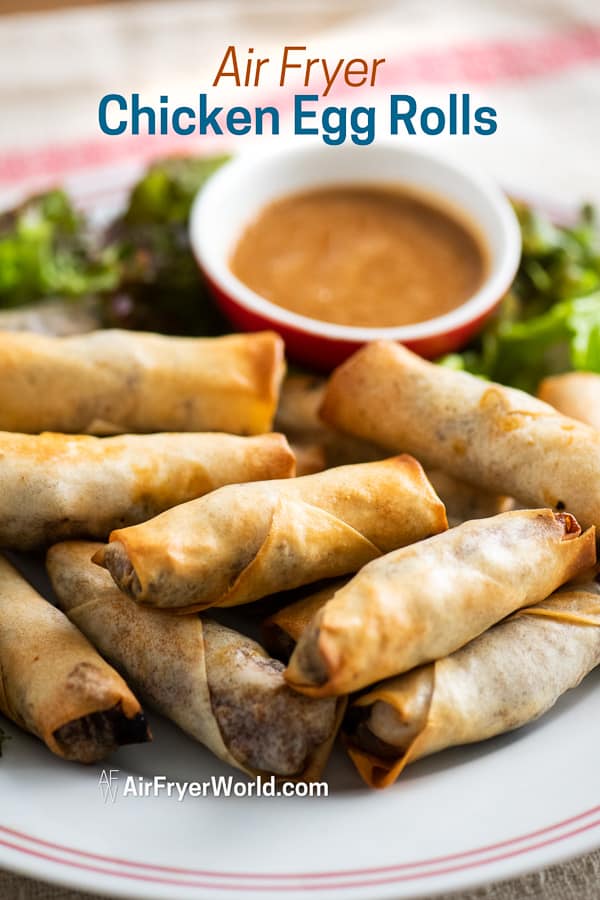 Watch the Video making Homemade Chicken Egg Rolls in the Air Fryer
Egg Roll wrappers that don't air fry well
Finding the right wrapper that cooks well in the air fryer is the most challenging part of this recipe. Though most egg rolls wrappers look the same, not all egg roll wrappers cook well in the air fryer. Some are dry, tough, chewy and still raw while others cook crisp and all the way though.
Best Spring Roll Wrappers
Our recommendation on favorite egg roll wrappers are below. Here's things to look for:
Our favorites are normally packaged as "spring roll" or "pastry wrappers" and can be found at Asian supermarkets or some specialty markets.
These "spring roll or pastry wrappers" are thinner than most egg roll wrappers found at traditional super markets, which are thicker.

The texture of the ones in the photo below are light and crispy, rather than thick and doughy.

You can certainly use the thicker egg roll wrappers, just make sure to cook them a little longer so they cook all the way through.
Smaller Wrappers are Better for Air Frying
We like using the smaller sized wrappers because because the egg rolls will cook quicker and crisper in the air fryer. The more layers of wrappers you have in your roll, the more chances of having the inside layers still raw because the air fryer can't cook through all the layers. If you use the larger wrappers, then try to roll larger egg rolls so that you have less interior layers of wrapper that go un-cooked.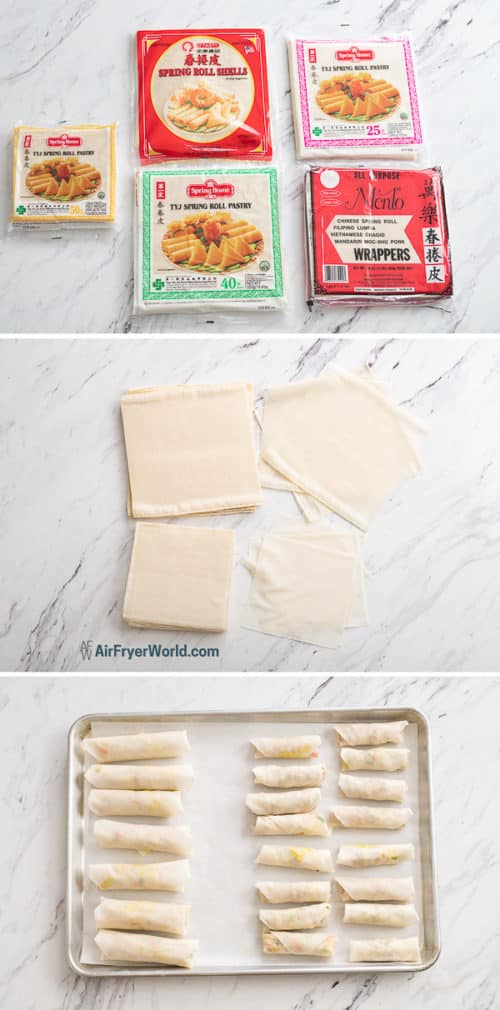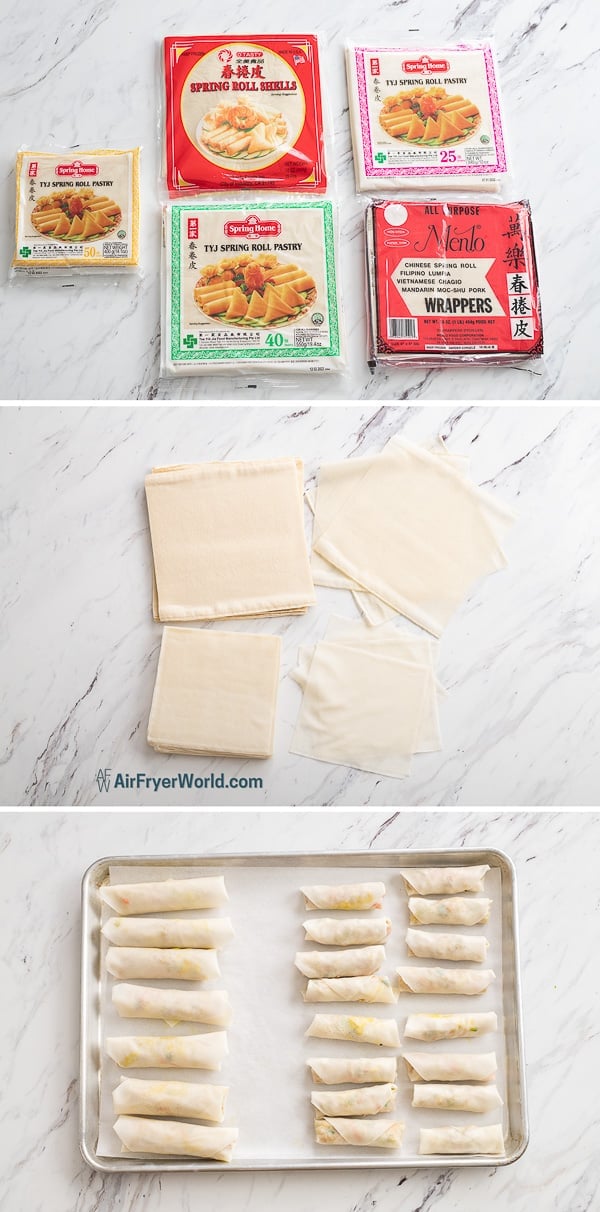 How to make air fried chicken egg rolls
We created a detailed step-by-step photo collage for you to follow for these air fried egg rolls. Hope you find it helpful!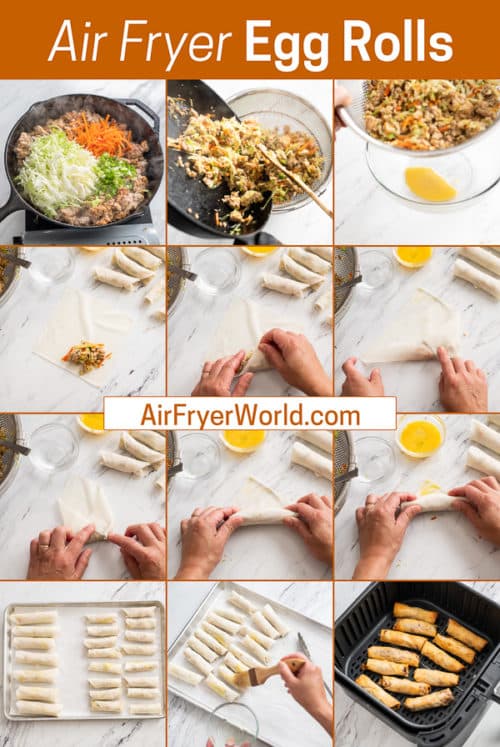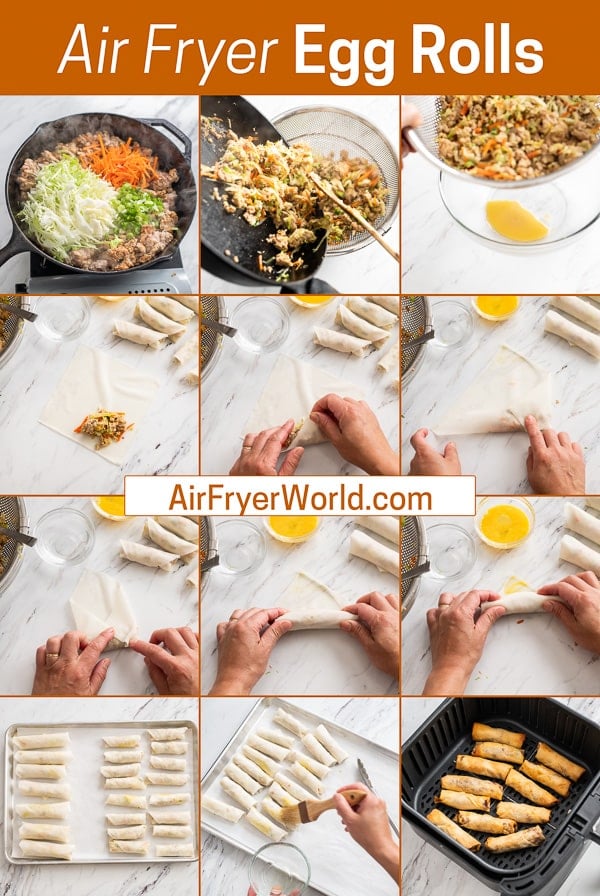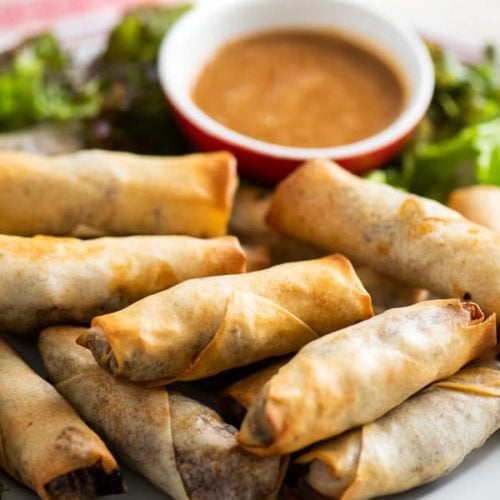 Air Fryer Chicken Egg Rolls
Please read the website write up on this recipe. There's lots of valuable info and photo tutorials there. Please try to read it in order to have the best cooking results. The magic ingredient to these egg rolls is the fish sauce, don't be scared! You'll pleased with the rich umami flavor. For the Hoisin-Peanut dip: Some hoisin sauces are thicker than others. Adjust the water amount in the recipe to your desired dip consistency.
Feel free to substitute whatever ground meat you prefer (pork, turkey, beef, etc...)
Ingredients
CHICKEN VEGETABLE EGG ROLLS
1

pound

(

454

g

)

ground chicken

(or pork, beef) *see head note

2

Tablespoons

(

30

ml

)

vegetable oil

3

cloves

garlic

, minced or crushed

1

teaspoon

(

5

ml

)

freshly grated ginger root

, optional

1

Tablespoon

(

15

ml

) soy sauce

(or fish sauce for more flavor)

1/2

teaspoon

(

2.5

ml

) sesame seed oil

1/2

teaspoon

(

2.5

ml

) kosher salt

, or to taste

freshly grated black pepper

2

cups

(

70

g

)

cabbage

, shredded thin

1/2

cup

(

65

g

)

grated carrot

, (about 1 medium carrot)

3

green onions

, small chopped

1

large

egg

14

(about)

(

1

package

)

egg roll wrappers

or sometimes called "spring roll pastry" wrappers in the freezer section of market.

oil or oil spray

, for coating rolls
HOISIN-PEANUT DIP
1/2

cup

(

140

g

) hoisin

1/4

cup

(

65

g

)

peanut butter

chili hot sauce

or Sriracha Sauce (optional)

1/2

teaspoon

(

2.5

ml

) sesame oil

, or to taste

2

teaspoons

(

5

ml

)

vinegar

, or to taste

about 1/2 cup water

, or to preferred dip consistency
Instructions
Make the Egg Roll Filling
Cook the filling: Heat a pan over medium-high heat. Add the oil and then add the garlic and optional ginger. Cook for about 1 minute or until lightly browned. Add the ground chicken, soy sauce, sesame seed oil, salt and pepper. Cook for 1-2 minutes or until the chicken is lightly browned.

Add the veggies: cabbage, carrots, and green onions. Cook for another 1-2 minutes or until the vegetables soften. Stir in the egg and cook for another 30 seconds. Remove from heat, place the cooked filling in a colander to drain excess juices and allow to cool.
Make the Hoisin-Peanut Dip
Make the dip while the chicken filling is cooling. In bowl, combine all ingredients (hoisin, peanut butter, hot sauce, sesame oil, water, and vinegar) and whisk together. If you are making a very large batch, you can use a blender by blending all the ingredients together. But make sure you add enough water because some brands of hoisin are very thick.
How to Roll and Air Fry
Using egg roll wrappers or spring roll wrappers, add about 1-2 Tablespoons of chicken filling to each wrapper (depending on the size of the wrapper) Tuck and roll the wrapper around the filling (watch the video and look at the photos in the post above to see how to roll even and tight rolls).

Brush the top corner of the wrapper with water or beaten egg to help seal the wrapper end, and then finish rolling the egg roll. Repeat for all the egg rolls. Brush or spray rolls with oil to coat

Air Fry at 380°F/195°C for 8 minutes. Flip the egg rolls. If they look dry, spray the egg rolls with oil again.

Continue air frying for 6 minutes or until the wrapper is crispy and browned. If needed add another 1-2 minutes. If you use the larger wrapper cook a little longer so that all the layers can cook through to avoid being tough and chewy.

Serve warm with hoisin-peanut dip. You can also wrap these chicken vegetable egg rolls in lettuce and eat them as lettuce egg roll wraps!
If your air fryer is preheated or if you are cooking multiple batches, you may need to reduce timing by a few minutes (unless preheating is called for in the recipe).
Video
Nutrition Information per Serving
Calories:
152
kcal
,
Carbohydrates:
9
g
,
Protein:
9
g
,
Fat:
9
g
,
Saturated Fat:
4
g
,
Trans Fat:
1
g
,
Cholesterol:
48
mg
,
Sodium:
432
mg
,
Potassium:
305
mg
,
Fiber:
1
g
,
Sugar:
4
g
,
Vitamin A:
956
IU
,
Vitamin C:
5
mg
,
Calcium:
22
mg
,
Iron:
1
mg
Check out–> All our Egg Roll & Dumpling Recipes Here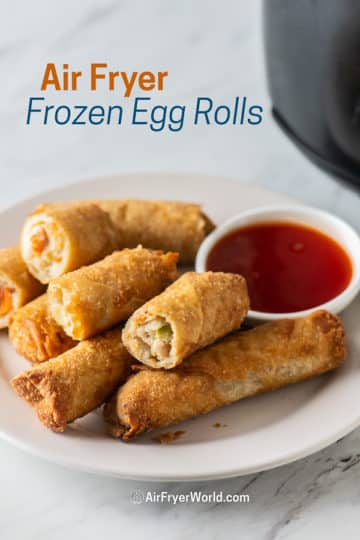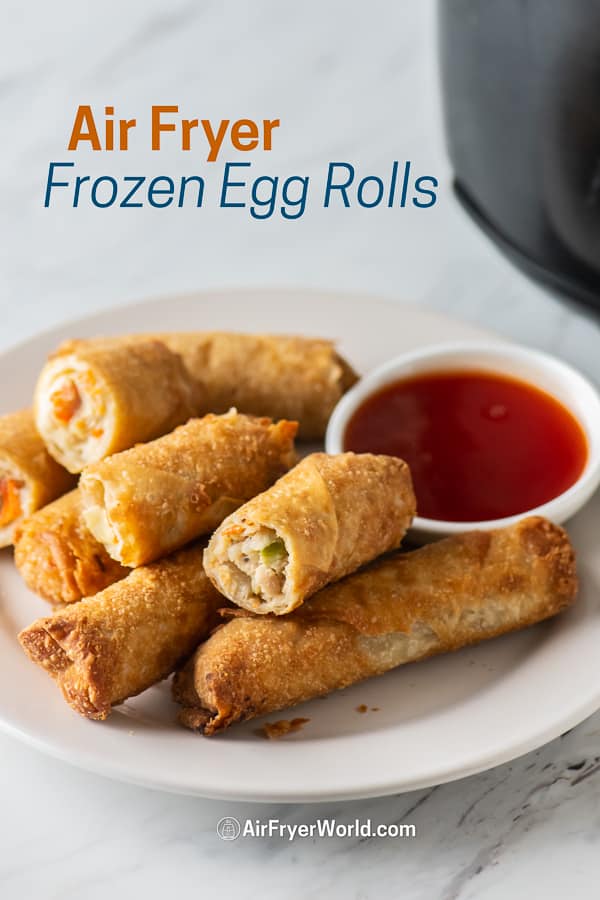 Easy Air Fryer Egg Roll recipes & other Snacks:
This recipe was originally published in 2020.
As an Amazon associate and partners with other affiliate programs, we may earn from your qualifying purchases. We may earn small commissions that goes towards all the costs of running this website and recipe tests. Thank you for your support.