Air Fryer Frozen Pizza (Personal Size)
One of our favorite ways to cook frozen pizza is in the air fryer. Straight from the freezer to the air fryer, it's so easy to make air fried small personal frozen pizza in the air fryer.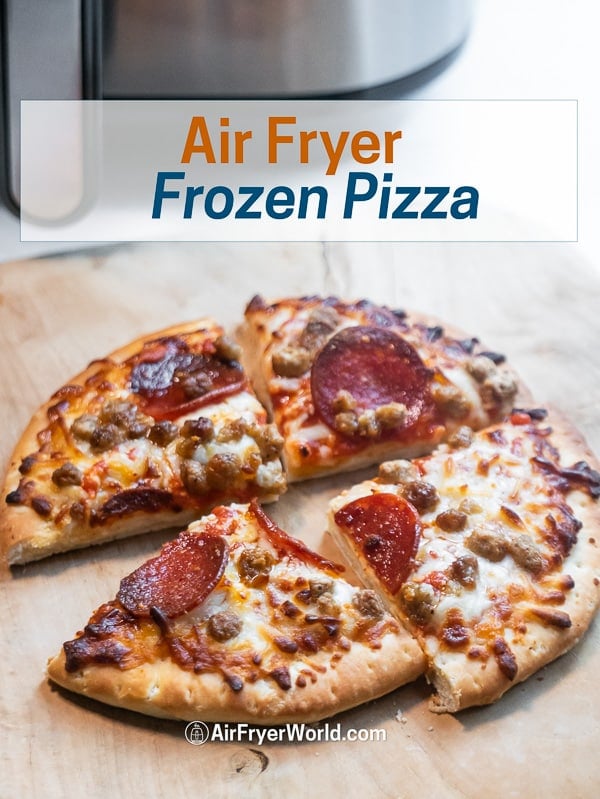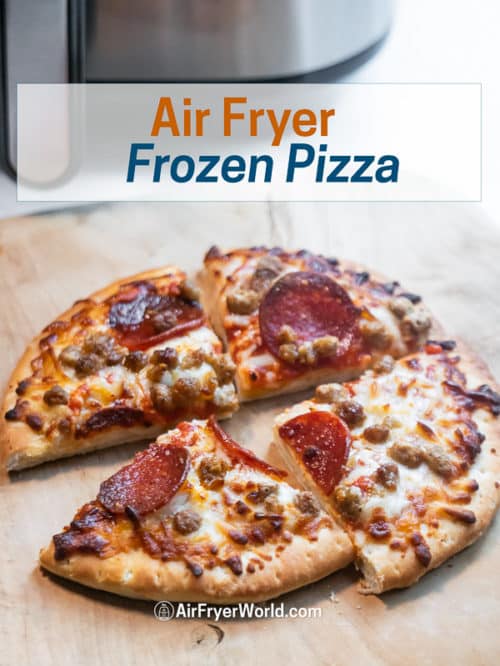 How to Cook Air Fried Frozen Pizza
All you need to understand is how hot your air fryer cooks and the size or thickness of your frozen pizza. There's so many differs sizes and styles of air fryers thus all cook a little differently. And obviously, frozen pizzas from different brands have various thickness of crusts and types of toppings. You have to be flexible and adjust the cooking times to those factors.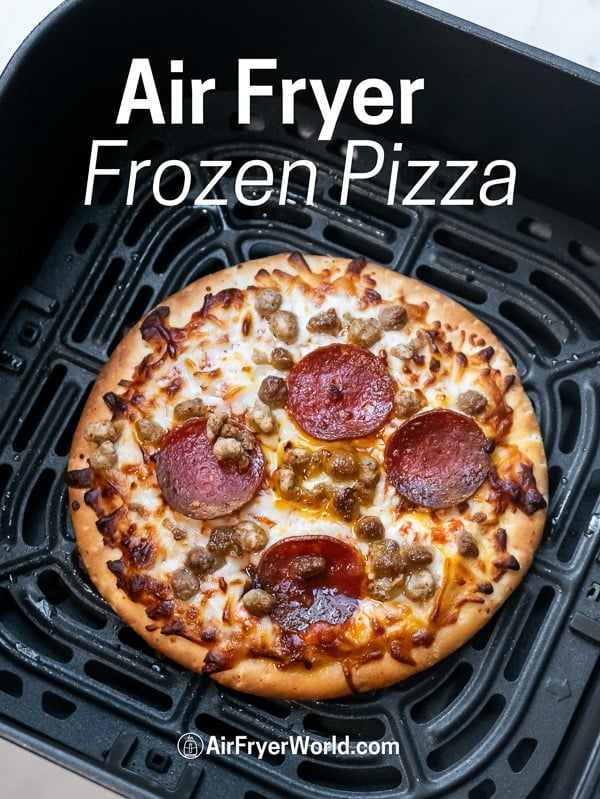 Video: Frozen Pizza in the Air Fryer
The video shows two three different brands with 3 different crusts: thin, traditional and thick. If you have a very large air fryer and can fit or are cooking a pizza that's larger than personal size, then you definitely must adjust your cooking time. Most likely a "small" pizza will take longer to cook than personal size.
What's the Time and Temperature to Cook Frozen Pizza in the Air Fryer?
As we discussed previously, the timing depends on the size/type of air fryer and the brand of personal pizza. Read the recipe box below for all the details and cooking time notes.
We suggest starting at about 6-10 minutes first and then adding extra time if you need.
Some pizzas will burn on the top before the crust is cooked. If your personal pizza has lots of toppings, you don't want to burn the toppings. To avoid this, it helps by spraying a light layer of oil on top of the pizza. That way as the crust cooks, the toppings won't burn.
If you have a very large air fryer and are cooking something that is larger than personal size, then you definitely must adjust your cooking time.
Pro-Tip: here's our favorite tools to help make air frying easier: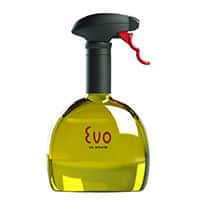 We LOVE Evo Oil Sprayers. Not the prettiest, but they're functional and spritz oil great! They don't clog up like many others we've bought. There's different styles, but all seem to have the same great spray head. Works great for grilling!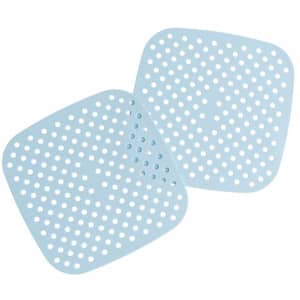 There are Square Mats & Round Mats. These perforated non-stick silicone mats are used to cook food in your air fryer or steamer to minimize sticking. Holes allow hot circulating air to cook the food & keeps the food from sticking.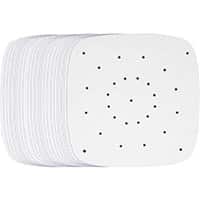 Parchment sheets are great for your air fryer or bamboo steamer (food tends to stick most on wire basket or tray). Choose from different sizes, shapes, white and brown (unbleached). Holes allow air to cook food evenly.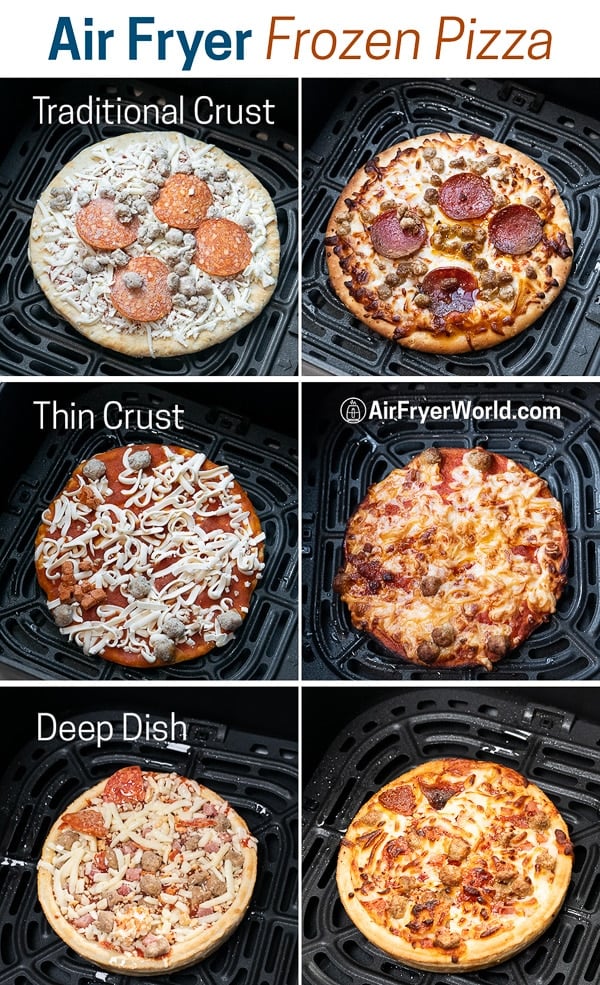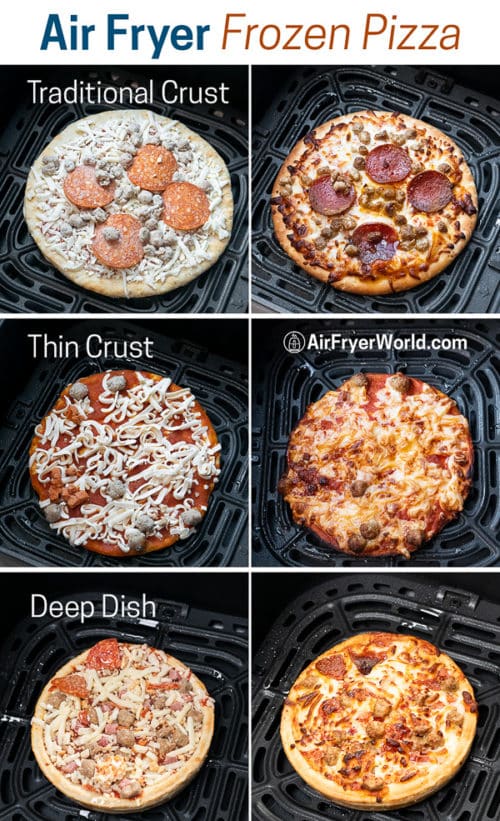 Why did Your Pizza Burn?
There's a number of reasons why your personal size pizza burned:
Your air fryer cooks really hot. So reduce the temperature to 360F and check on it after the first 4 minutes. Then add additional minute or two to make sure it's cooked to your personal preference.
Your air fryer was already hot. When you're cooking food in a pre-heated air fryer or an air fryer that's already hot from cooking something else, then you need to reduce time for your pizza.
Was it the whole pizza that burned or just the toppings? Sometimes the toppings burned before the pizza was heated through. So remove the toppings like pepperoni and big chucks of meat. Air fry for half the time, then add the toppings in to cook for the remainder of the time.
Adding a light oil spray on the toppings helps them from burning a and drying out.
The brand of pizza you have might be small and with a combination of other factors mentioned above, it's easy to burn the pizza. Check on the pizza a little sooner and you'll know more of what the best timing is for your particular brand of pizza and model of air fryer.
Best Brand of Frozen Pizza?
These are the different brands we used for our test. They all turned out good and we were surprised how easy and simple it was to crisp up a personal size pizza that's frozen.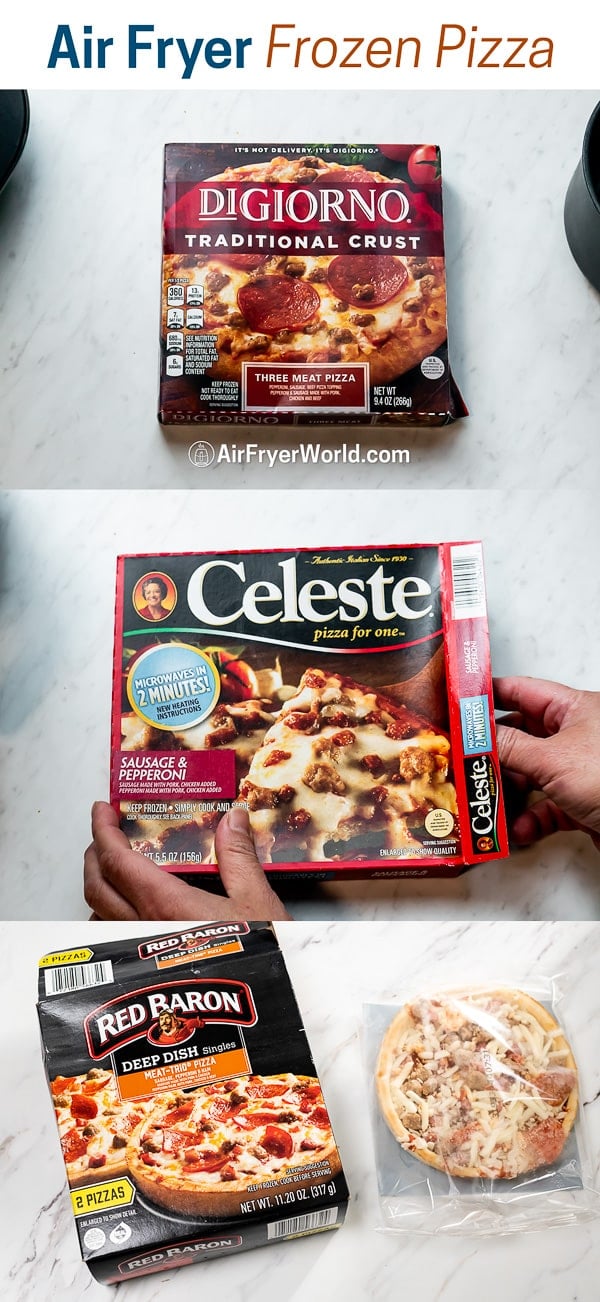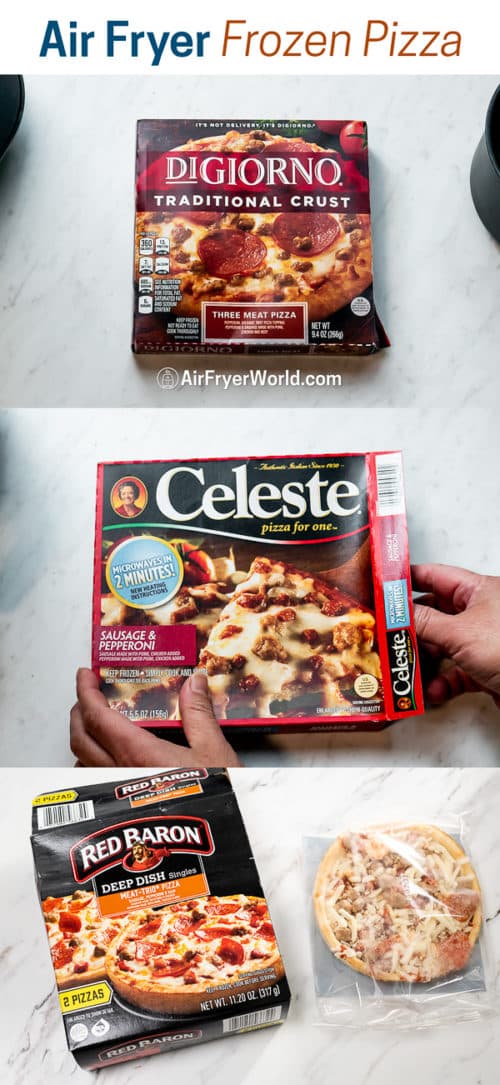 How to Air Fry Frozen French Bread Pizza?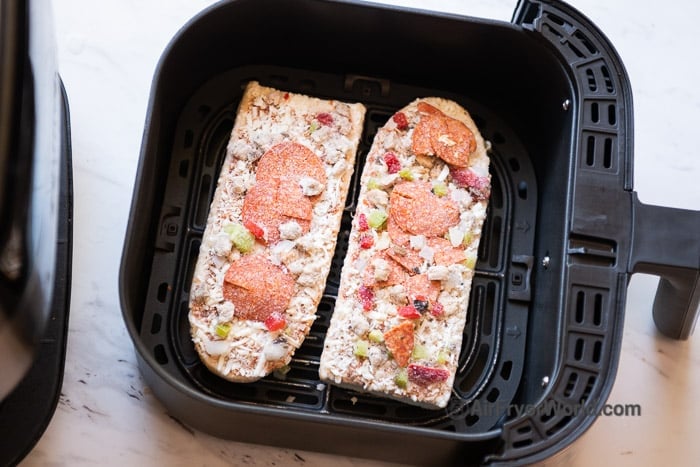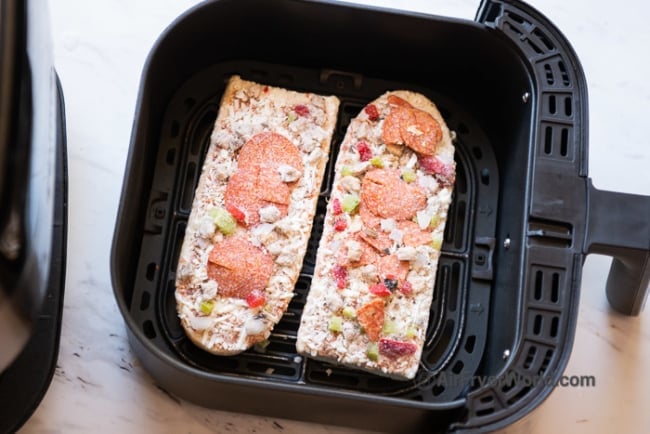 Most French bread pizza's are a little larger and thicker than the round personal size pizzas, so they might need an additional minute or so of air frying.
All air fryer models cook a little differently, so we suggest starting at 380F for about 7 minutes. Check on the baguette pizza and if needed, add an additional 1-2 minutes until it's cooked to your preferred crispness.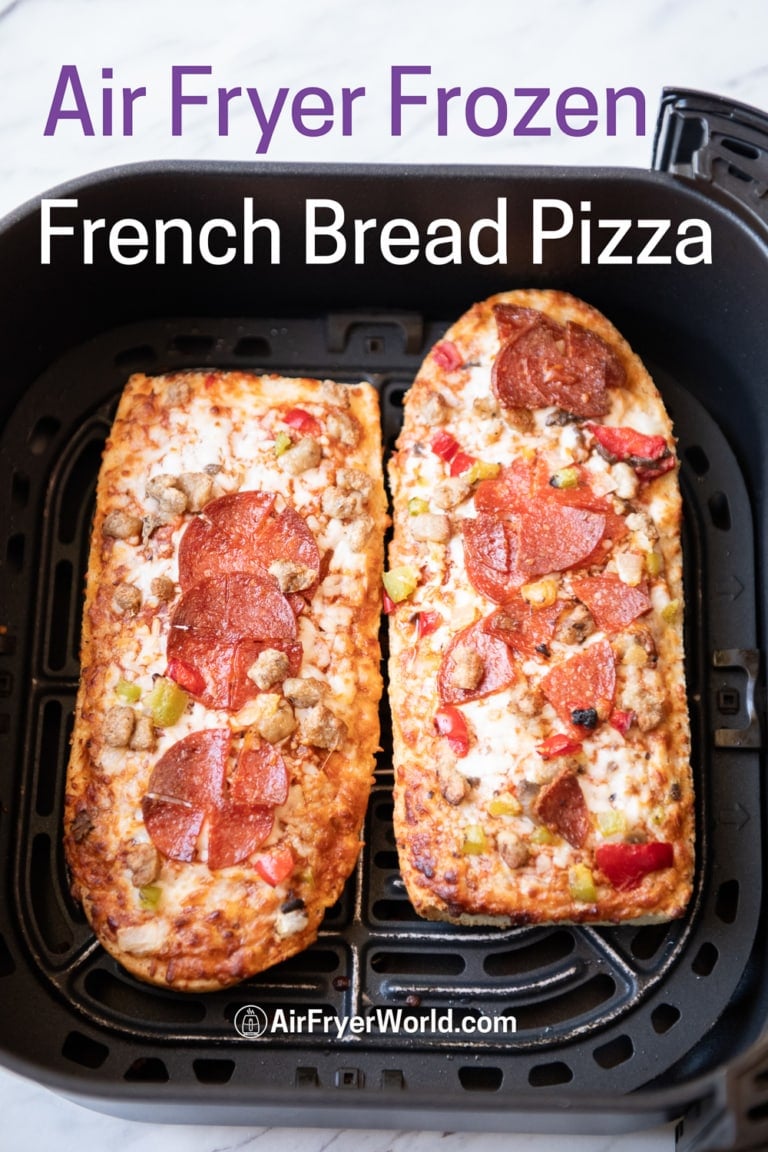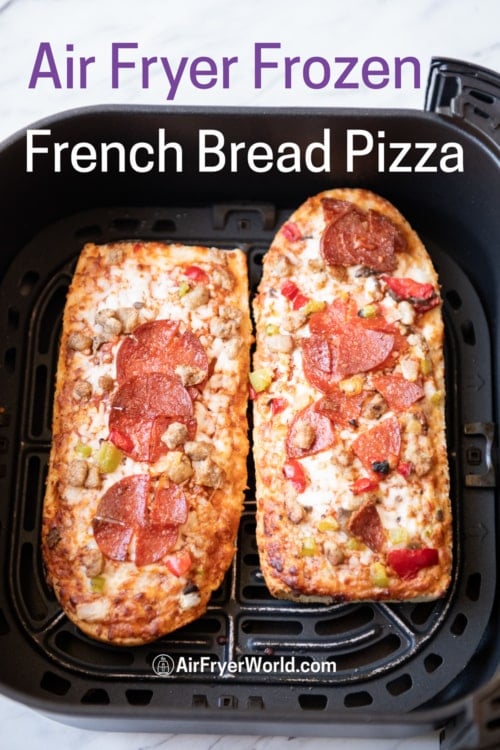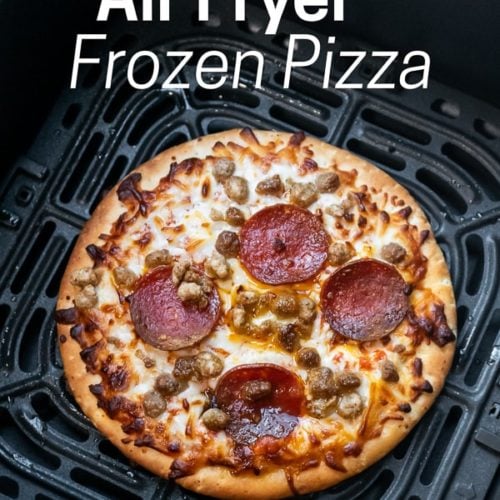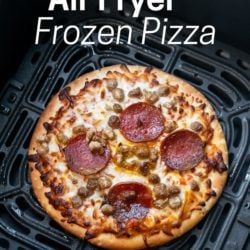 Air Fryer Frozen Personal Pizza
Lots of factors influence outcome of how the pizza cooks. They all vary in size and thickness, so you'll have to adjust timing. All air fryers are different sizes and some cook much hotter than others. Once you cook your first pizza, you'll know more of what works for your model of air fryer and size of food. These recipes were tested on basket style air fryers. Read more recipe notes below the recipe.
Nutrition based on one 9.5 oz Frozen Personal Pepperoni Pizza
Ingredients
1

Frozen Individual Pizza

oil spray

, (optional to lightly coat the pizza)
Instructions
Remove pizza from plastic. Place the pizza in the air fryer basket. Lightly spray the top of pizza so that the toppings don't burn.

Air Fry at 380°F/195°C for about 6-10 minutes or until cooked to your desired crispness. Start cooking for about 6 minutes first. We like our pizza extra crispy, so we'll start with 8 minutes. Then check to see if it's to your liking. Cook additional minute or two if you want the pizza to be crispy.

Deep dish crusts will take a little longer, while thin crust will be slightly quicker.

Let the pizza cool for a few minutes. Enjoy!
Notes
Air Frying Tips and Notes:
Cook Frozen – Do not thaw first.
Recipe timing is based on a non-preheated air fryer. If cooking in multiple pizzas back to back, the following pizzas may cook a little quicker.
Recipes were tested in 3.7 to 6 qt. air fryers. If using a larger air fryer, the pizza might cook quicker so adjust cooking time.
If your air fryer is preheated or if you are cooking multiple batches, you may need to reduce timing by a few minutes (unless preheating is called for in the recipe).
Nutrition Information
Calories:
738
kcal
,
Carbohydrates:
84
g
,
Protein:
28
g
,
Fat:
34
g
,
Saturated Fat:
15
g
,
Cholesterol:
30
mg
,
Sodium:
1224
mg
,
Potassium:
400
mg
,
Fiber:
4
g
,
Sugar:
12
g
,
Iron:
5
mg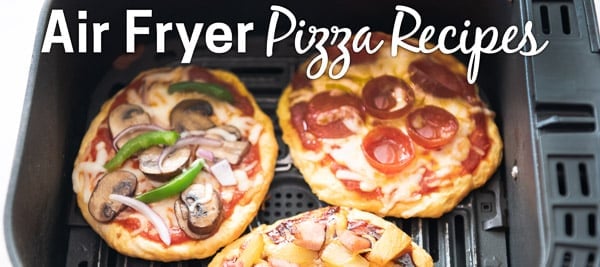 You Might also Love these Pizza & Appetizer Recipes
This recipe was originally published in 2019. These are some delicious pizza recipe ideas!
As an Amazon associate and partners with other affiliate programs, we may earn from your qualifying purchases. We may earn small commissions that goes towards all the costs of running this website and recipe tests. Thank you for your support.