Air Fryer Pizza with Canned Dough (15 min)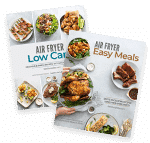 Buy our air fryer e-cookbooks today
Our recipe for air fryer canned dough pizza is fantastic. Best of all, it's a quick and easy way to make homemade pizza using Pillsbury's canned pizza crust dough. It takes about 15 minutes to make this air fryer Pillsbury pizza !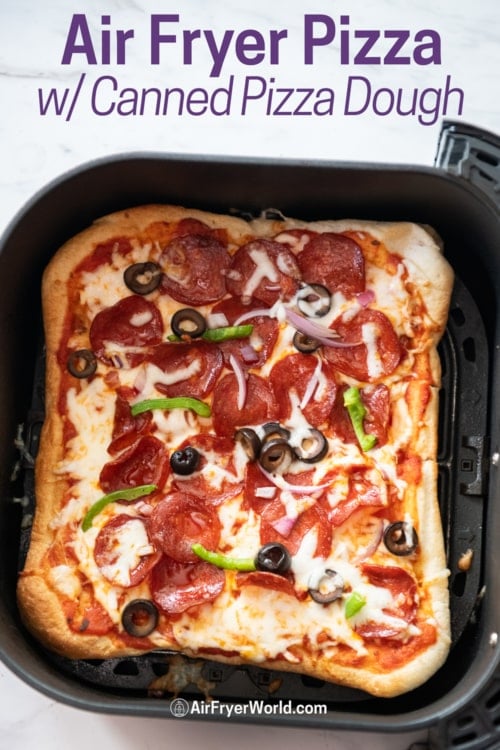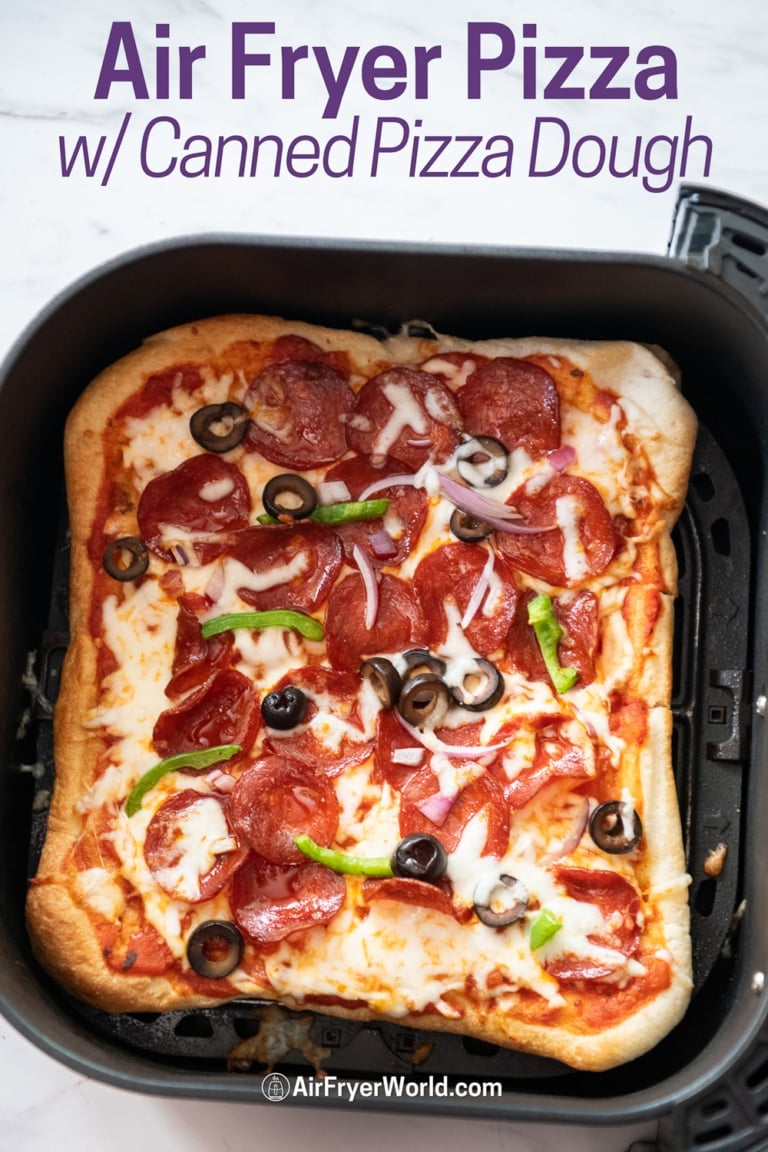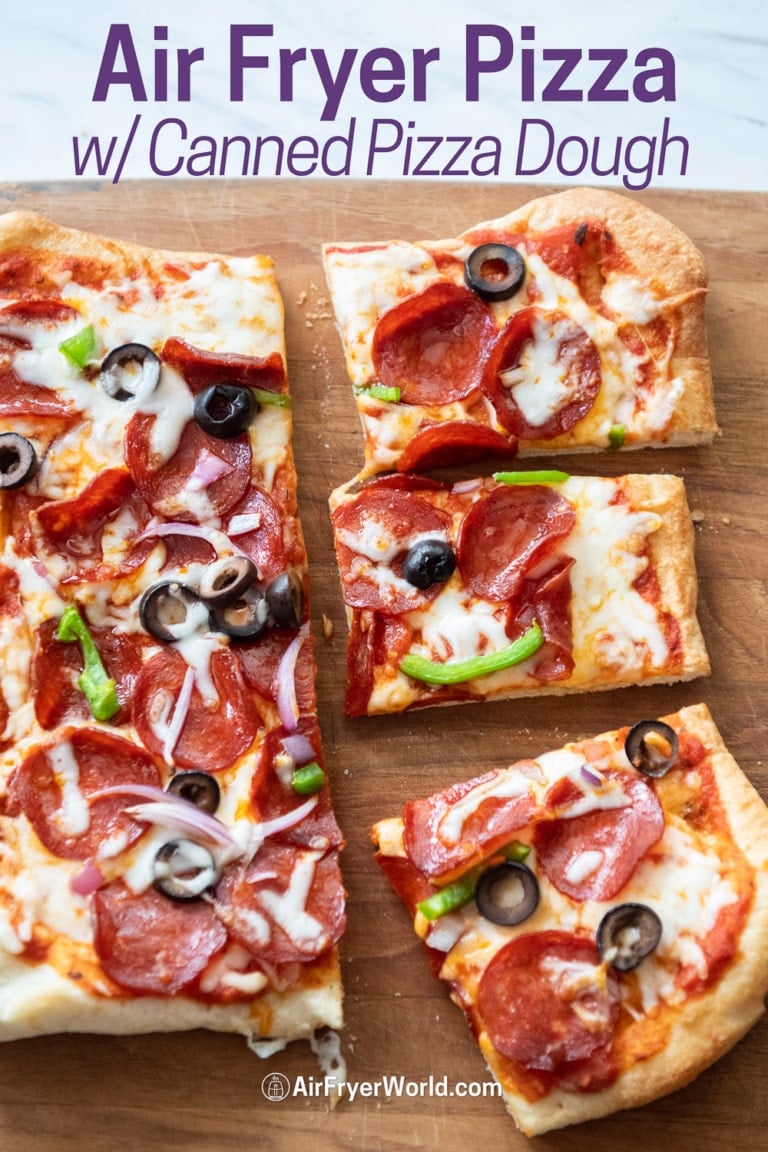 Air Fryer Pizza with Pillsbury Canned Pizza Dough
Store bought canned Pillsbury pizza crust or pizza dough air fries quick and delicious. We made this canned pizza dough in the air fryer many times and the results were always great. But the best results come when you air fry the dough first before adding the sauce and toppings. This ensures that the dough is cooked all the way through and not raw in the center when you cut through the pizza.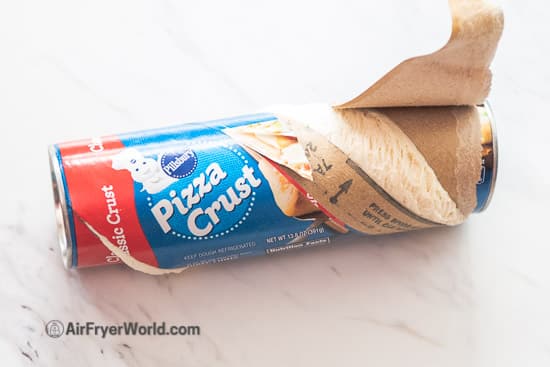 Video: Air Fryer Canned Dough Pizza Recipe
How to Make Pizza with Canned Pizza Dough in Air Fryer
Press or roll out the pizza dough and air fry first. This ensures that the dough won't be raw in the middle when it's finished air frying. If you put the toppings and sauce on the raw dough for air frying, the dough will be raw.
If you're making mini pizzas out of the dough, the cooking time will be slightly quicker because the pizzas are smaller.
Don't add too much sauce because it will weigh down the pizza and make it less crispy. A light layer of sauce should be perfect.
Every air fryer model cooks a little different. You might need add a few more minutes to get the pizza to your preferred texture if you're cooking in a large oven style or toaster style air fryer.
After you make your first pizza, you'll know the best timing for your future batches.
Add your favorite sauce, toppings and cheese. The possibilities are endless.
All recipe details are in the recipe box below.
Pro Tip: Use an air fryer rack that fits your air fryer to keep the toppings from flying around. The hot circulating air can blow your cheese and toppings off the pizza. These racks are great to hold the toppings down as they finish cooking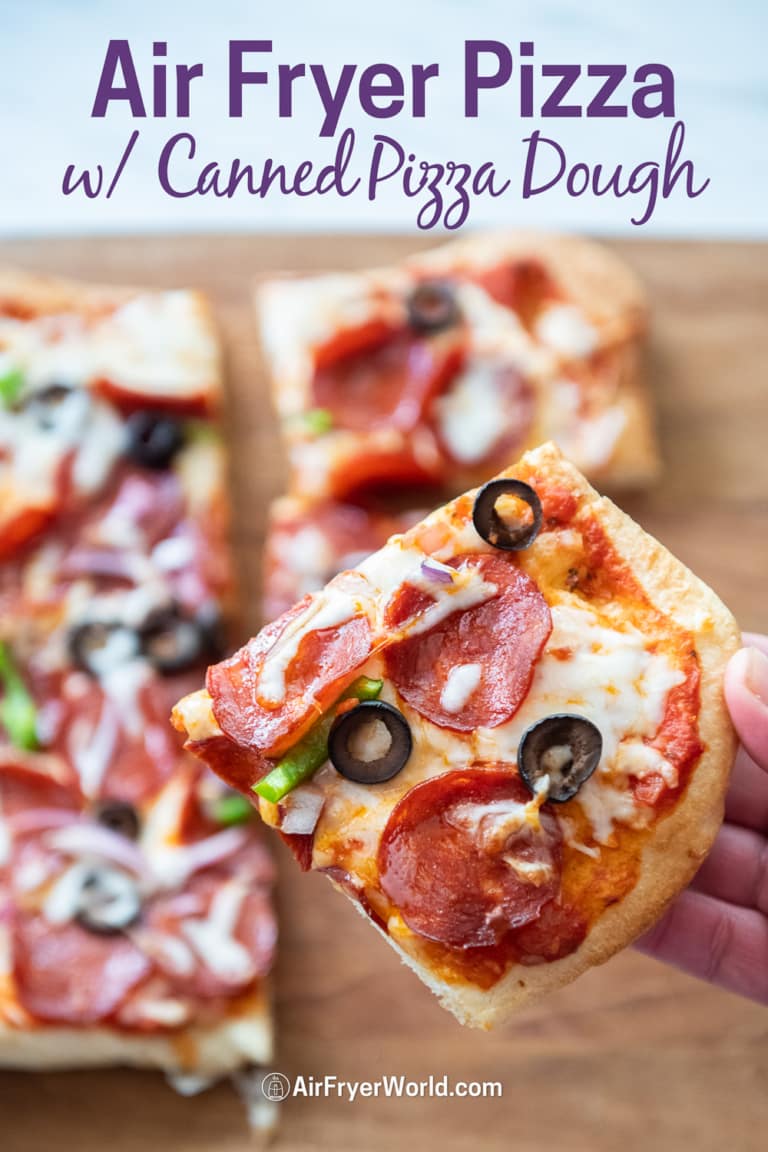 Have a Pizza Party!
Have fun creating a pizza bar and let everyone customize their own pizzas. Lay out your toppings, different sauces and cheeses. Everyone can make their own and you can manage the air fryer and cook the pizzas for them. Or have one person in charge of air frying so that all the pizzas cook the same and won't burn.
We suggest cutting the dough into smaller squares so they can be more personal size.
Pizza Sauce Options: Red pizza sauce, white Alfredo sauce, bbq sauce, pesto, or any sauce that you like.
Shredded cheese options: Mozzarella, cheddar, parmesan, Mexican blend, pepper jack
Meat Toppings: pepperoni, cooked sausage, cooked bacon, cooked diced ham, cooked leftover or roast chicken
Vegetable Toppings: sliced mushrooms, onions, bell peppers, jalapeños, pineapple chopped sun dried tomatoes in oil, fresh basil
You can cook all the crusts first in the air fryer. Then everyone can just add their toppings and air frying time will be much quicker.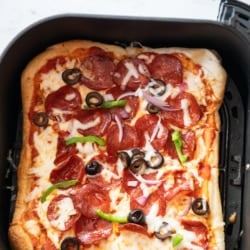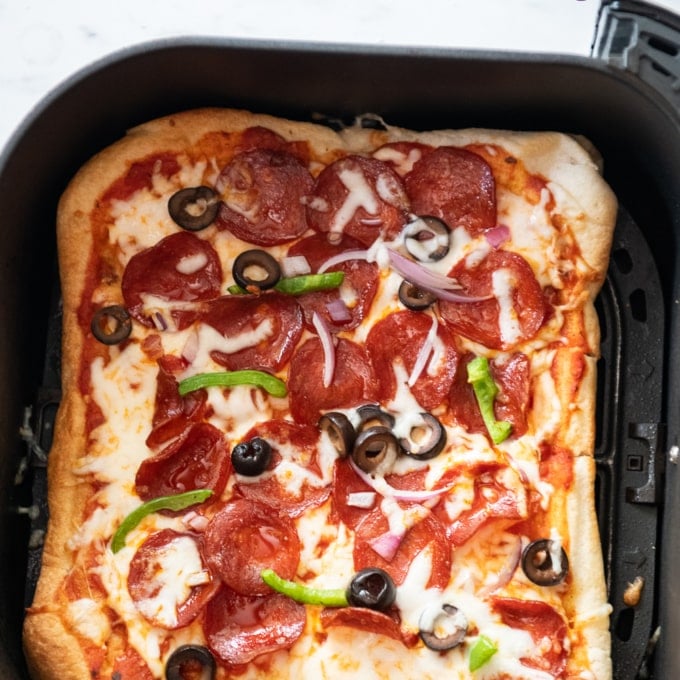 Air Fryer Pizza from Pillsbury Canned Dough
Toppings may fly off the pizzas, depending on how light they are and how strong your air fryer fan is. Use an air fryer rack to keep the toppings from flying off while air frying the pizzas (see photo in recipe steps).
Ingredients
Optional Toppings
Pepperoni, cooked Sausage, Bacon pieces, diced Ham, sliced or diced Tomatoes, Mushrooms, Pineapple

, etc.
Other Sauce Options
BBQ Sauce, Salsa, White (Alfredo) Sauce, Pesto

, etc.
If your air fryer is preheated or if you are cooking multiple batches, you may need to reduce timing by a few minutes (unless preheating is called for in the recipe).
Video
Nutrition Information per Serving
Calories:
459
kcal
,
Carbohydrates:
74
g
,
Protein:
18
g
,
Fat:
11
g
,
Saturated Fat:
4
g
,
Polyunsaturated Fat:
1
g
,
Monounsaturated Fat:
2
g
,
Cholesterol:
22
mg
,
Sodium:
1352
mg
,
Potassium:
224
mg
,
Fiber:
3
g
,
Sugar:
12
g
,
Vitamin A:
454
IU
,
Vitamin C:
4
mg
,
Calcium:
149
mg
,
Iron:
1
mg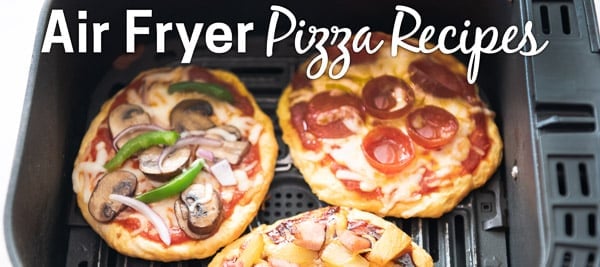 More Easy Pizza Recipes
As an Amazon associate and partners with other affiliate programs, we may earn from your qualifying purchases. We may earn small commissions that goes towards all the costs of running this website and recipe tests. Thank you for your support.