Air Fryer Frozen Biscuits (Grands)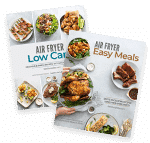 Buy our air fryer e-cookbooks today
Air Fryer frozen biscuits are totally possible to air fry. Yes, believe it! If you want tender, fluffy warm biscuits then the air fryer method is perfect! The hot circulating air cooks the frozen biscuits and they turn out great.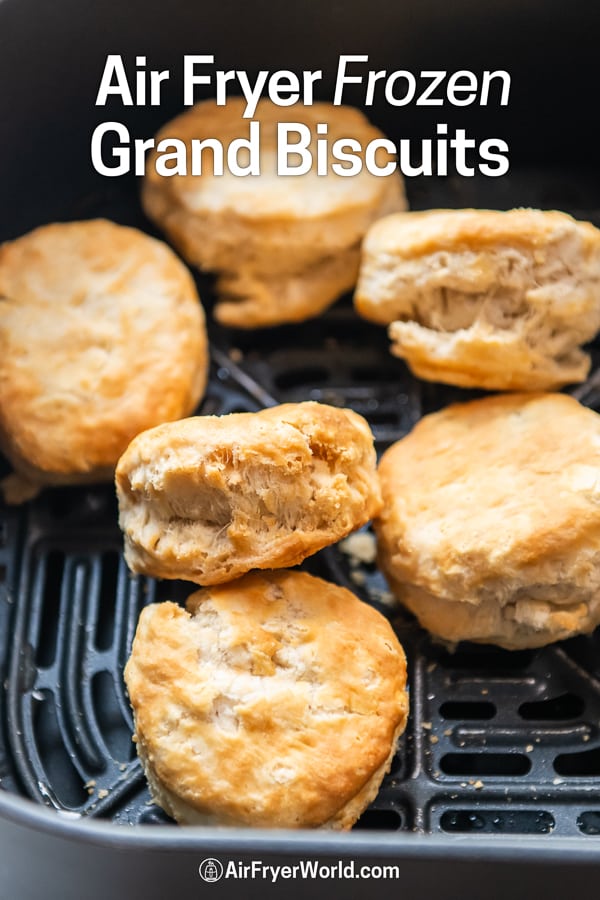 Air Fryer Frozen Biscuits (Grands)
Wonder why frozen raw biscuits can be cooked in the air fryer? It's because the hot circulating air acts as a small convection oven and cooks the biscuits evenly all around. It's a quick and easy way to cook a small batch of biscuits for breakfast, lunch or dinner. Once you've easily made a batch of frozen air fried biscuits, it's hard to cook it any other way.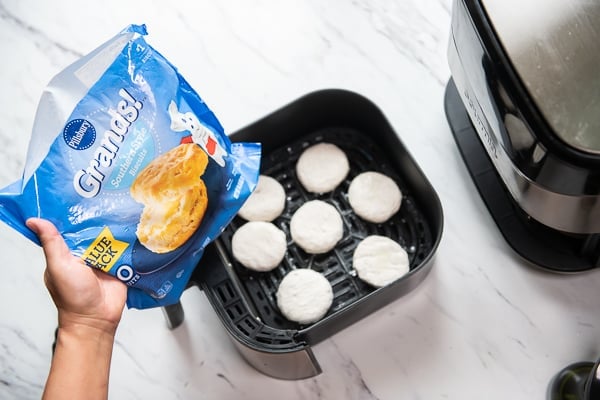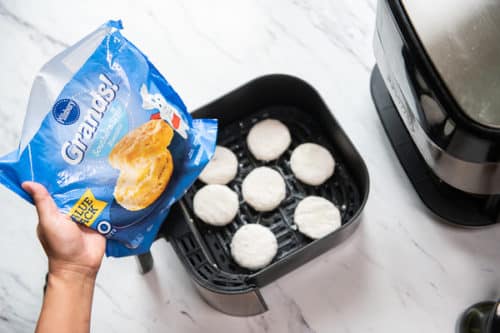 Video: Frozen Biscuits in the Air Fryer
How to Cook Frozen Grands Biscuits in Basket Style Air Fryer
In order to ensure the rock-hard frozen biscuits cook all the way through, you should flip them.
If you have a basket style air fryer, you should cook the frozen biscuits all in one layer. So they will all cook evenly and you just need to flip them to make sure they cook on both sides. Do not stack biscuits during air frying.
Avoid touching biscuits. Leave space between in biscuits so that the hot circulating air can cook all around the biscuits.
Reminder: For most of our basket style tests, we did find that flipping them was much better. The biscuits cooked more evenly when flipped halfway through cooking.
What about oven style air fryers? You will have to rotate the racks for oven style air fryers (more details below).
Tips for Frozen Biscuits in Oven Style Air Fryer: Two Layers
Yes, you can cook frozen biscuits straight from the freezer in oven style models. For the oven style air fryers with multiple racks or trays, try to cook them in one layer at a time. Cook just one rack at a time by using the middle rack position so that they cook more evenly. You need to flip them. Here's more tips we figured out during our recipe testing:
Air frying frozen biscuits on multiple racks: If you cook two or three racks at a time, the bottom racks farthest away from the heating element will cook slower and raw.
If you want to cook two racks at a time, then you must rotate the racks during cooking and still flip the biscuits. It'll work, but we found they still didn't rise as much as cooking in a single layer. Below are the photos to illustrate our point.
The top rack closest to the heating element will cook too hot and you'll burn the outside before the inside cooks.
When it comes to the oven style models, cook one tray at a time in the middle position. Then cook the rest of the biscuits in batches.
FROZEN Pillsbury Grands Biscuits in the Air Fryer is the most popular brand. But other brands on the market also work with our technique and time.
Pro-Tip: here's our favorite tools to help make air frying easier: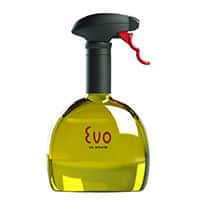 We LOVE Evo Oil Sprayers. Not the prettiest, but they're functional and spritz oil great! They don't clog up like many others we've bought. There's different styles, but all seem to have the same great spray head. Works great for grilling!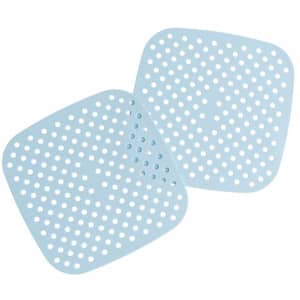 There are Square Mats & Round Mats. These perforated non-stick silicone mats are used to cook food in your air fryer or steamer to minimize sticking. Holes allow hot circulating air to cook the food & keeps the food from sticking.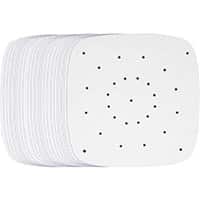 Parchment sheets are great for your air fryer or bamboo steamer (food tends to stick most on wire basket or tray). Choose from different sizes, shapes, white and brown (unbleached). Holes allow air to cook food evenly.
Photos showing biscuits in oven style air fryer
This photo illustrates cooking the biscuits in oven style air fryers. Remember, our time and temp below is for FROZEN BISCUITS. If you want to cook CANNED BISCUITS, then the technique and suggestions are here.


Potential Problems with Air Frying Frozen Biscuits
Problems with the frozen biscuits not cooking all the way through is because you're cooking them too hot or not hot enough. Like we mentioned before, try to cook one layer at the time. The hot circulating fan at the top can burn the tops of the biscuits before they're cooked all the way though.
Try leaving them in the hot air fryer (that's turned off). The biscuits will continue to cook through the center in the residual heat of the air fryer.
Also, different air fryers cook at different intensities, so you'll have to adjust accordingly based on your air fryer.
When in doubt, TEST COOK 2 frozen biscuits first. Then you'll know what temperature works best for your brand of biscuits and style of air fryer.
See recipe below for recipe details.
Why did biscuits burn?
It's because the temperature was too hot/high. Or the heating element of your air fryer is too close to the biscuits. Reduce cooking time by about 2 minutes and leave the biscuits in turned-off air fryer to continue to cook in the residual heat. Leave them in the air fryer for about 2 minutes. You have to cook them at slightly lower temperature than the canned refrigerated biscuits.
Are they still doughy or raw in the middle?
This could potentially happen if your air fryer cooks hotter than our test kitchen models. If the biscuits are still slightly doughy in the middle, leave them in the turned-off air fryer for about 2-3 minutes to continue cooking in the residual heat.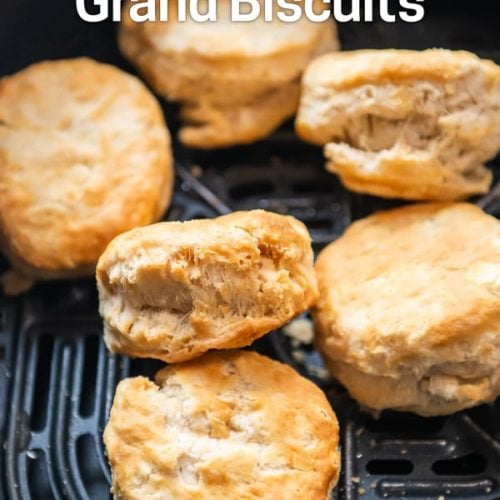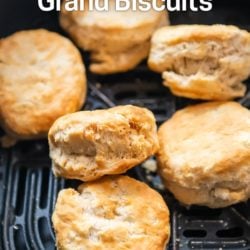 Frozen Grands Biscuits in Air Fryer
Air Fryer cooking times will vary a lot depending on your size and style of air fryer. Timing will also vary depending on the type of frozen biscuits you are cooking. Check the biscuits after the first 6 minutes to make sure it's cooked to your preferred texture. After cooking in your specific air fryer, you'll know what time and temp works best for the biscuits.
We suggest cooking them slightly "crisper" or more golden brown on on the outside to make sure the biscuits are cooked all the way through.
Cook in only a single layer with space between the biscuits. Cook in batches if needed. For subsequent batches, if your air fryer is already heated, the biscuits may cook a few minutes quicker.
Ingredients
oil spray

butter and/or jam

, optional
If your air fryer is preheated or if you are cooking multiple batches, you may need to reduce timing by a few minutes (unless preheating is called for in the recipe).
Nutrition Information per Serving
Calories:
180
kcal
,
Carbohydrates:
23
g
,
Protein:
4
g
,
Fat:
8
g
,
Saturated Fat:
4
g
,
Polyunsaturated Fat:
2
g
,
Monounsaturated Fat:
1
g
,
Sodium:
551
mg
,
Sugar:
2
g
What to serve with warm biscuits?
Enjoy these all throughout the day. They're great as a snack too when you need something quick.
warm biscuits for breakfast or brunch is fantastic. Simple butter, honey or jam is a great way to enjoy these.
Make a breakfast biscuit sandwich. Add some scrambled eggs, fried egg, bacon or sausage.
These are great for dinner alongside some pasta, grilled meats or roasted vegetables.
You Might also Love these Recipes
Here's more easy frozen recipes and great recipes for canned biscuits.
As an Amazon associate and partners with other affiliate programs, we may earn from your qualifying purchases. We may earn small commissions that goes towards all the costs of running this website and recipe tests. Thank you for your support.