Air Fryer Easy Donuts: Quick Cinnamon Sugar or Frosted, Glazed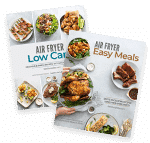 Buy our air fryer e-cookbooks today
Wow, these air fryer donuts are so quick, easy and the best! We were doubtful at first but after tasting these easy air fried doughnuts, we're hooked!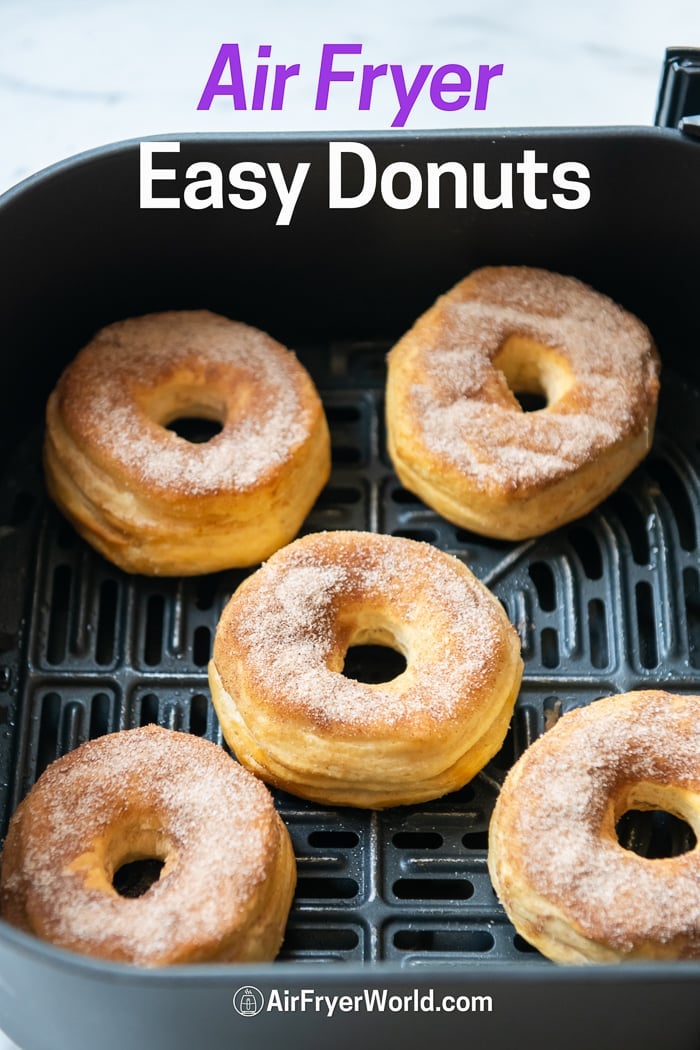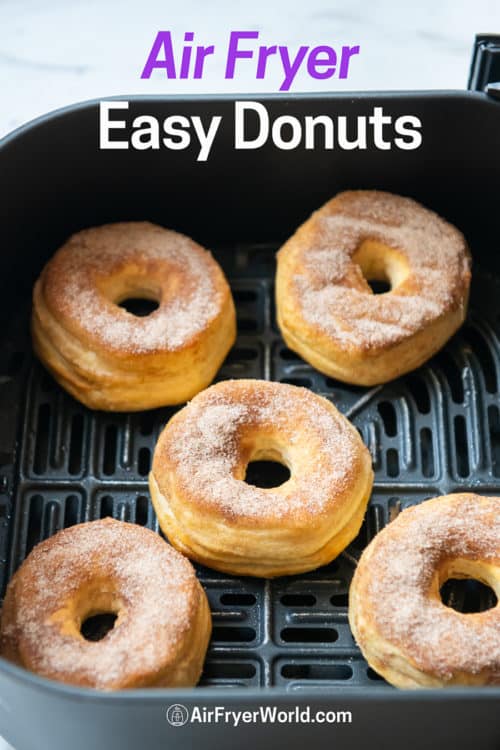 Air Fryer Donuts Recipe: Easy and Quick
These super easy donuts regular canned biscuit dough or flaky biscuit dough. The hot circulating air cooks these treat up quick and easy! Depending on the model and size of your appliance, you can make 2-3 or 6-8 at a time. It's perfect if you're craving 1-2 donuts but best of all, they're always warm. Yum. Eating a warm doughnut is fantastic and you can save the rest of the dough for the next day. But don't wait too long because the canned dough can go bad quickly and it won't have the same rise as it could when it's fresh.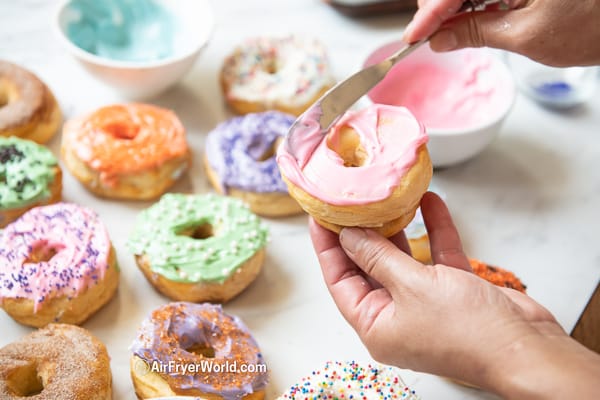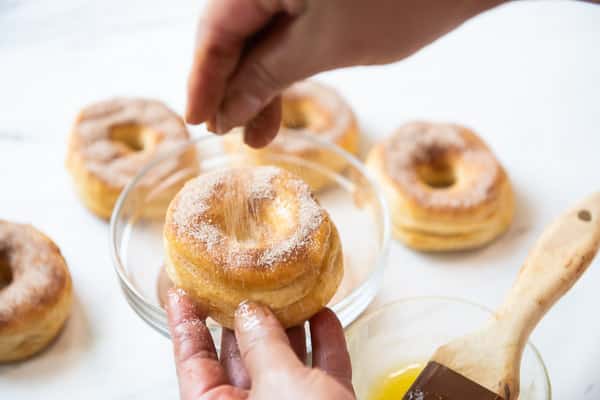 Video: Easy Air Fried Donuts Recipe
How to Make Air Fryer Doughnuts or Donuts
Use canned biscuit dough or flaky biscuit dough. Both are good but we prefer the flaky because the layers are outstanding. The donuts air fry flaky, tender and perfect.
Decide what flavor you want for your easy air fried donuts to eat: Cinnamon sugar, chocolate frosting, regular frosting or your favorite glaze.
If you're using frosting, decide the flavor and if you're going to need to add some natural food coloring.
Have your cutters ready. We like to use these so you can get a great clean cut for the holes too.
All air fryer donut recipe details are in the recipe box below.
Handy Kitchen Tools for Air Fryer Donuts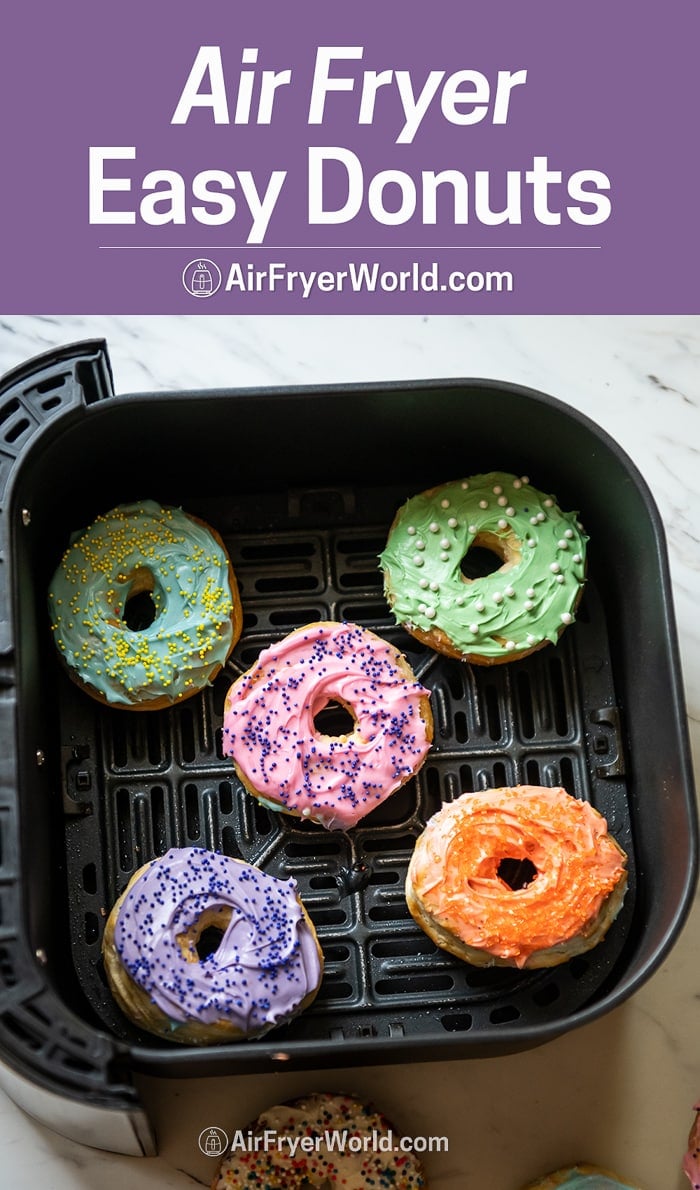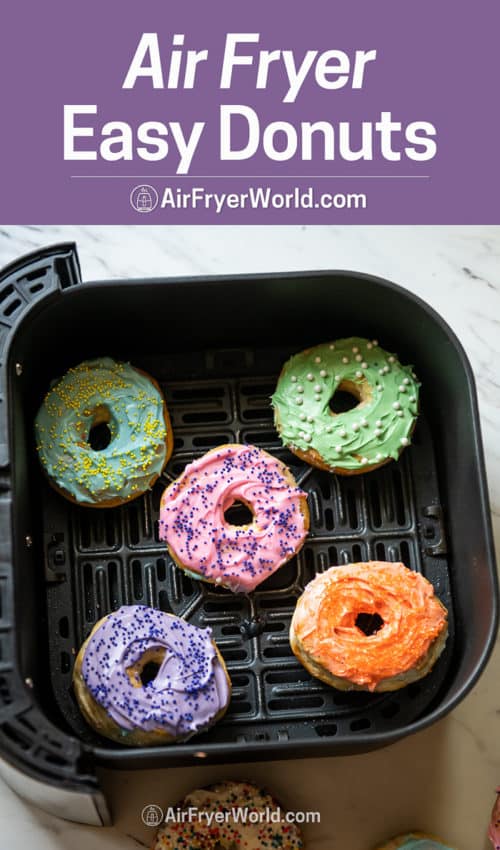 Why were the air fryer doughnuts still raw inside?
It's because the air fryer heating element was too close and cooked the outside of the doughnuts before the insides could cook. When the air fryer is turned off, leave the donuts in the air fryer while it's turned off. Sitting in the hot air fryer will help the donuts continue cooking so they are fully baked in the center. Or reduce the cooking temperature to 310°F.
Doughnut Topping Ideas
You can keep the toppings as simple or as fun as you want. Customize your toppings based on how colorful or sweet you want your air fryer donuts to be. Here's some fun, colorful and delicious ideas to top your doughnuts in the air fryer.
Simple cinnamon sugar is always a classic and favorite. Combine 1/2 cup granulated sugar, 2 Tablespoons ground cinnamon in a bowl. Melt about 2 Tablespoons of melted butter. Brush donuts with melted butter, then sprinkle with cinnamon-sugar.
Chocolate frosting, vanilla frosting or your favorite frosting.
Add a few colorful sprinkles for a fantastic sweet treat. You can definitely have fun with these with your kids.
Add a swipe of jam over the donuts. Or even a little peanut butter first, then jam on top for a peanut butter and jelly donut.
Try making a savory donut like maple bacon! Brush a light swipe of maple syrup over the donut, then top it with some crispy cooked bacon.
Another savory doughnut idea is making a pizza donut. Add some marinara sauce on top with some raw pepperoni. Air fry at 350°F for about 1-2 minutes until the pepperoni is cooked.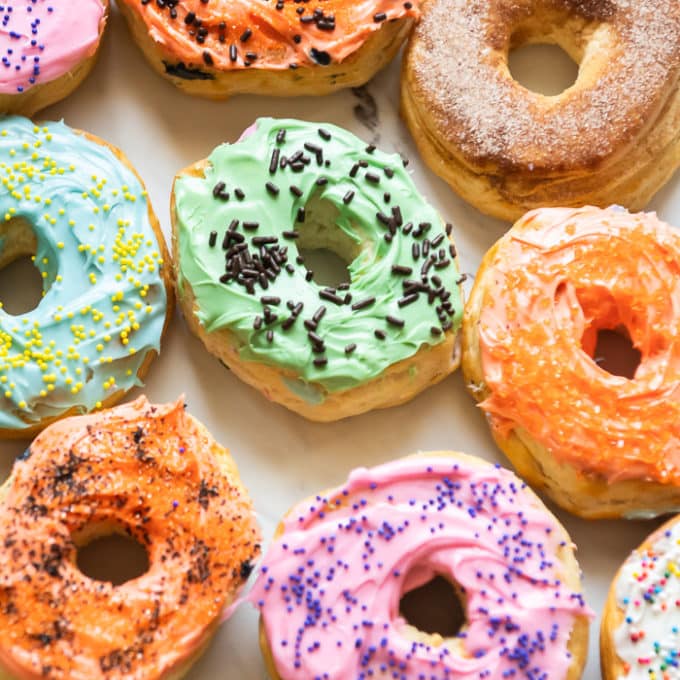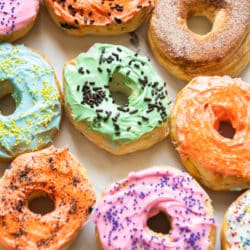 Air Fryer Easy Donuts
Making air fryer donuts is a great way to enjoy a warm, fresh, homemade air fried doughnut in minutes. It's quick, easy and simple by using your favorite refrigerated crescent dough or biscuit dough.
Ingredients
1

can refrigerated flaky biscuits

, like Pillsbury Grands! Flaky Biscuits

preferred topping, glaze, or frosting

(see note below for cinnamon sugar topping) – see write up above recipe for topping ideas
Notes
Cinnamon Sugar Topping
1/2 cup sugar
2 Tablespoons ground cinnamon
2 Tablespoons butter, melted
Combine cinnamon and sugar together. Brush donuts with melted butter, then sprinkle with cinnamon-sugar.
If your air fryer is preheated or if you are cooking multiple batches, you may need to reduce timing by a few minutes (unless preheating is called for in the recipe).
Nutrition Information per Serving
Calories:
99
kcal
,
Carbohydrates:
13
g
,
Protein:
2
g
,
Fat:
4
g
,
Saturated Fat:
1
g
,
Cholesterol:
1
mg
,
Sodium:
254
mg
,
Potassium:
60
mg
,
Fiber:
1
g
,
Sugar:
1
g
,
Calcium:
13
mg
,
Iron:
1
mg
Custom Donut Party Station
A fun brunch party activity is to have a donuts decorating station. Have all the air fried donuts pre-made. Then set out all your frostings and topping. Let your guests customize the tops of their doughnuts that are air fried. It's a blast for everyone to make their own donuts special.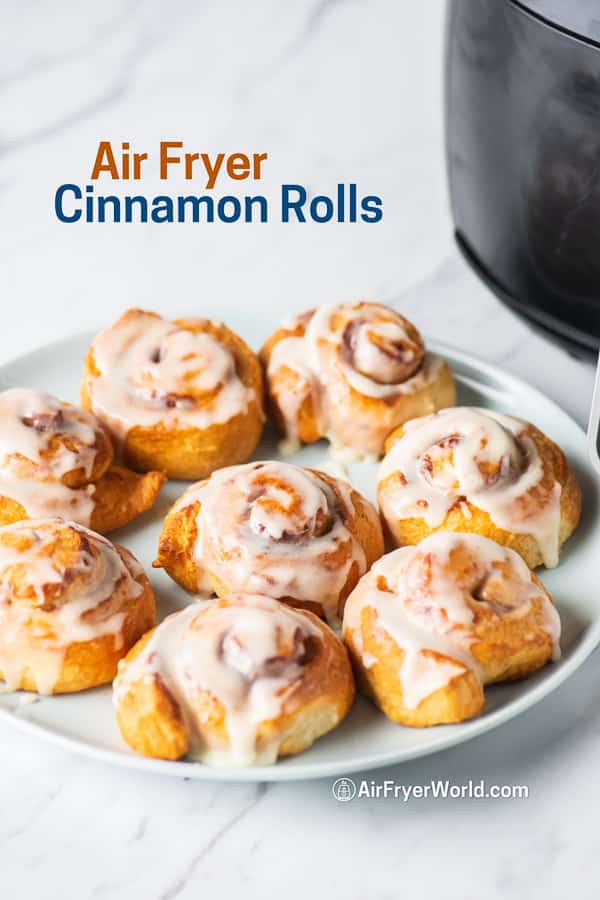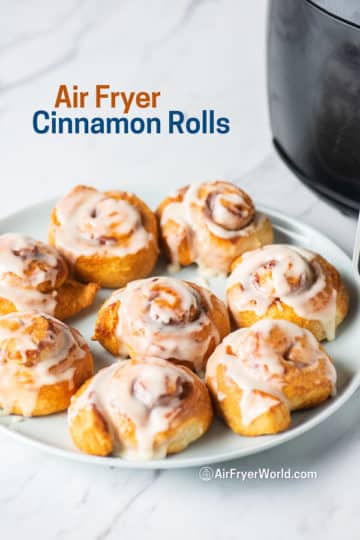 Did you make this recipe? Let us know in the comments below! Or if you have a photo to share, please do so with our social media accounts. We love seeing your creations and sharing it with our food community. Thanks Friends and happy air frying to you!
As an Amazon associate and partners with other affiliate programs, we may earn from your qualifying purchases. We may earn small commissions that goes towards all the costs of running this website and recipe tests. Thank you for your support.