Air Fryer Cinnamon Rolls (15 minutes)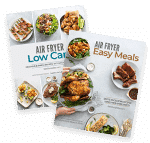 Buy our air fryer e-cookbooks today
Golden brown and perfect, these air fried cinnamon rolls with yummy icing are finished in about 15 minutes! No need for waiting for the dough to rise, these refrigerated air fryer cinnamon rolls are easy and hit the spot.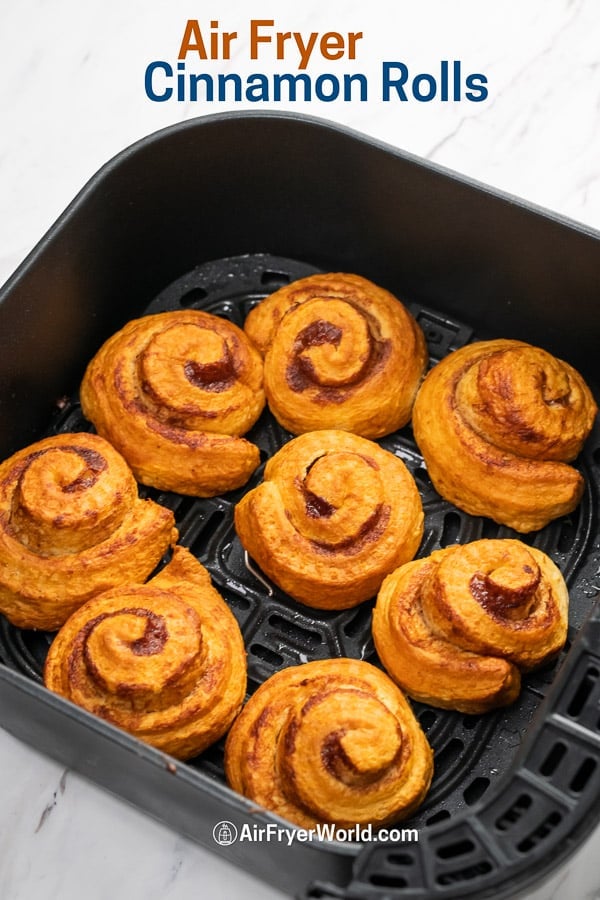 Air Fryer Cinnamon Rolls Using Canned Dough
The delicious pleasures of eating a warm morning cinnamon roll is such a treat. Even better is when you can air fry a batch to share with everyone! Our test kitchen team was so thrilled at how simple these cinnamon rolls tasted and better yet, how they rose perfectly. These cinnamon rolls came out soft, fluffy, yummy and wonderful.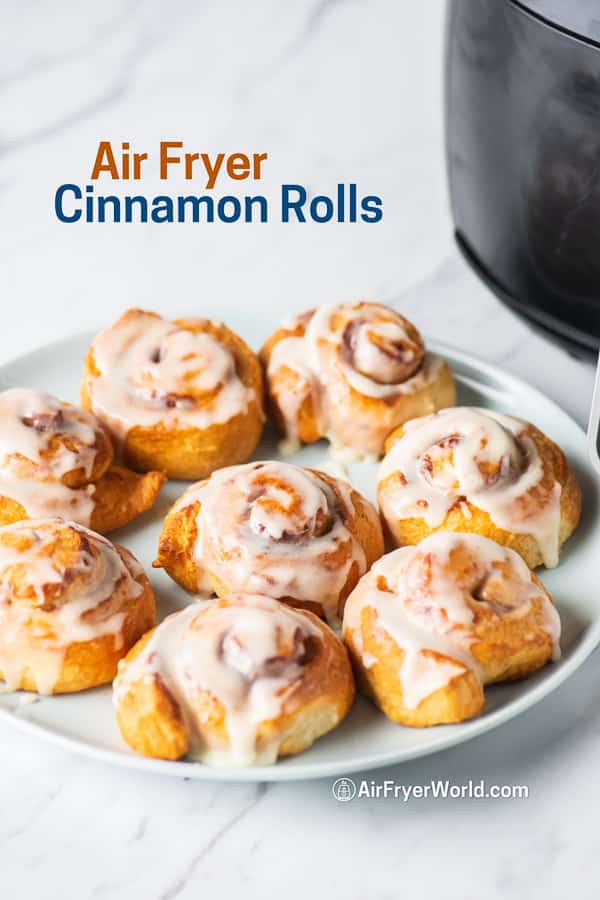 Video: Air Fried Cinnamon Rolls
Different Brands of Refrigerated Cinnamon Roll Dough for Air Frying
There's so many different brands out there like this discussion here. Most brands all air fry about the same time, but you still need to check to make sure they're cooked all the way through.
Tip: Make sure leave space between the cinnamon roll dough so the hot air can circulate evenly. This ensures that the rolls will cook all the way through without just cooking the top.
If you have a smaller air fryer and can only fit 2-3 rolls at once, then cook the cinnamon rolls in batches. The dough can last up to one day in the fridge. We tested the leftover raw rolls 2 days later and it was ok results. They didn't rise as well, so we suggest try cooking them all the same day. It's better to cook them well the first day and then re-heat.
It's easier to add the icing after you remove the rolls from the air fryer basket. Also, it's easier to clean the air fryer basket or rack too when it's not layered with icing. Hope you enjoy these warm awesome cinnamon rolls!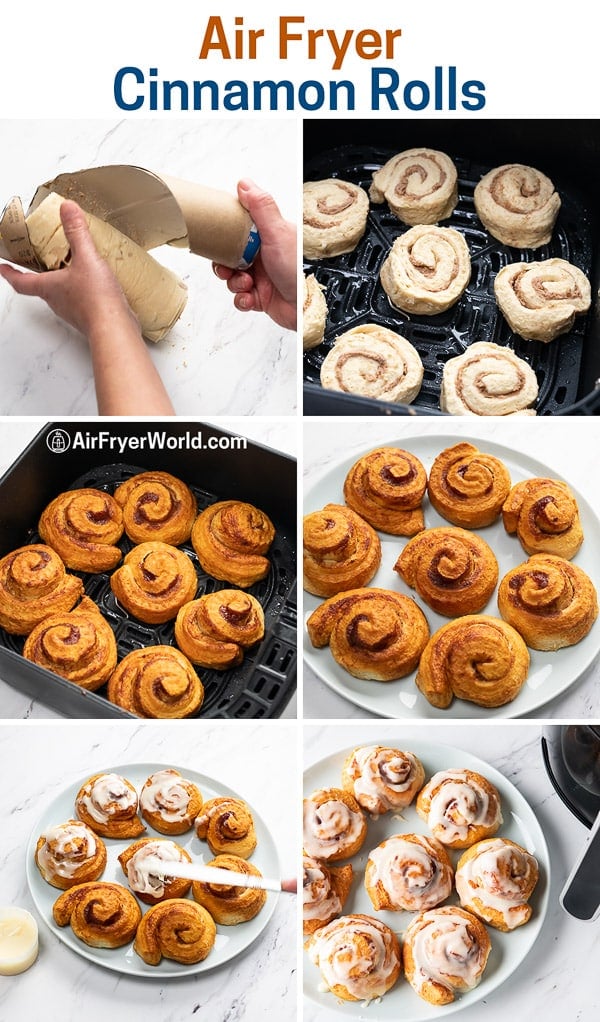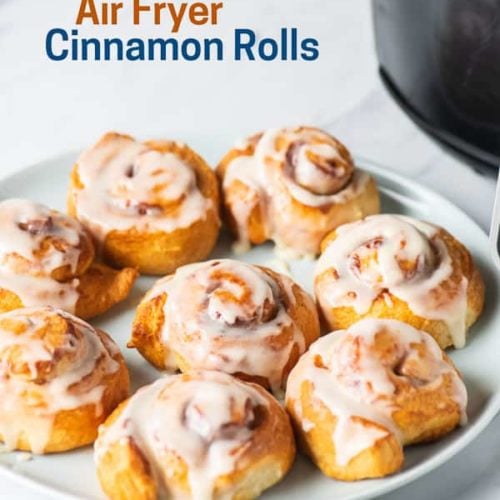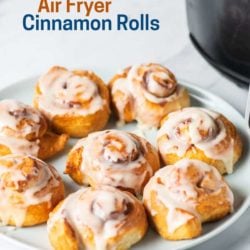 Air Fryer Canned Cinnamon Rolls
Lots of factors influence outcome of how the cinnamon rolls. They all vary in size and thickness, so you'll have to adjust timing. All air fryers are different and some cook much hotter than others. Once you cook your first batch, you'll know more of what works for your model of air fryer and size of food. These recipes were tested on basket style air fryers. Read more recipe notes below the recipe.
Instructions
Lightly spray the air fryer basket with oil (if possible, avoid using cooking sprays with propellants-they will often start to break down the coating in the air fryer baskets). Open the can of refrigerated cinnamon rolls and lay out in the air fryer basket.

Air Fry at 330°F for 10 minutes. Wiggle & loosen the cinnamon rolls from the base of the basket. Continue to Air Fry at 330°F for another 1-3 minutes if needed.

If your cinnamon rolls came with icing, drizzle with the included icing while cinnamon rolls are still hot (we microwaved for 8-10 seconds to make the icing a little looser and easier to drizzle over the cinnamon rolls).
Notes
Air Frying Tips and Notes:
It isn't necessary to spray the cinnamon rolls with oil. Just spray the basket to help prevent them from sticking.
The cinnamon rolls cook better with a bit of space and room to rise.
If cooking in multiple batches, the first batch will take longer to cook if Air Fryer is not already pre-heated. Recipe timing is based on a non-preheated air fryer.

Recipes were tested in 3.4 to 6 qt air fryers. If using a larger air fryer, the recipe might cook quicker so adjust cooking time.

Remember to set a timer to loosen and check the cinnamon rolls as directed in recipe.
If your air fryer is preheated or if you are cooking multiple batches, you may need to reduce timing by a few minutes (unless preheating is called for in the recipe).
Nutrition Information
Calories:
320
kcal
,
Carbohydrates:
54
g
,
Protein:
4
g
,
Fat:
9
g
,
Saturated Fat:
3
g
,
Polyunsaturated Fat:
2
g
,
Monounsaturated Fat:
4
g
,
Sodium:
600
mg
,
Fiber:
3
g
,
Sugar:
16
g
More–> Air Fried Frozen Foods and All French Fries Recipes
As an Amazon associate and partners with other affiliate programs, we may earn from your qualifying purchases. We may earn small commissions that goes towards all the costs of running this website and recipe tests. Thank you for your support.