Air Fryer Beef and Broccoli
Have you ever thought about making air fryer beef and broccoli? It's totally possible and the results are delicious. Our homemade beef and broccoli recipe is so good, you'll never order take-out again.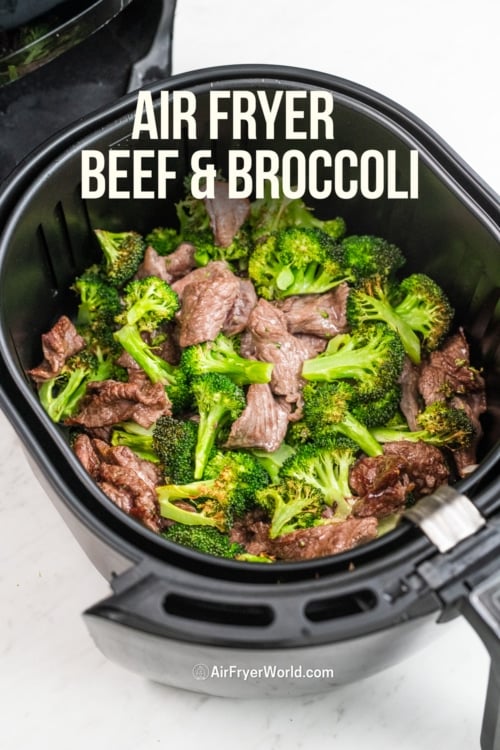 Air Fryer Beef and Broccoli Recipe : Less Oil
Make beef and broccoli in the air fryer at home, you won't regret it. When you order take-out chances are the beef and broccoli is stir fried in a lot of oil. But when the beef and broccoli is air fried, you don't have to use as much oil. Best of all, you get a nice crispy edge to the vegetable and meat, which makes the flavor more intense and delicious. So you're using less oil by air frying, without sacrificing flavor.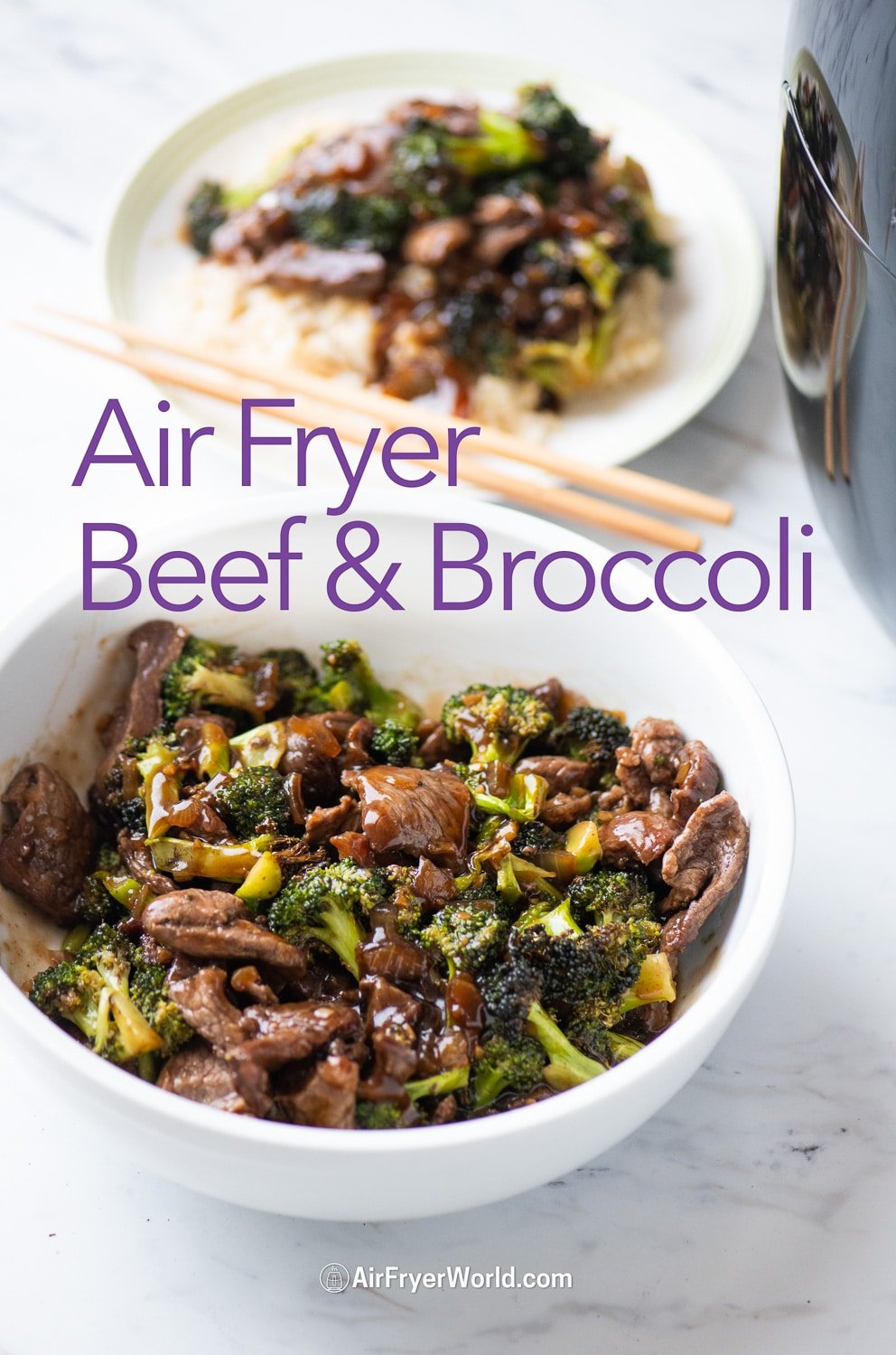 Video: Air Fryer Beef and Broccoli
Can you use frozen broccoli?
Sure, you can use frozen broccoli but you'll have to cook it separately. Or cook it about halfway through after the beef is cooking.
Frozen broccoli will be softer and more mushy after air frying.
Different brands of frozen broccoli are different sizes, so you'll have to adjust timing accordingly with your beef. You might just have to air fry it separately for best results. Or just microwave the frozen broccoli, then toss it in with the air fried beef to warm up before saucing.
Tips on How to Make Air Fryer Beef and Broccoli Recipe
We prefer using fresh broccoli, it just tastes better. But if your only option is frozen broccoli, that works great too!
Make sure to cut your beef slices thin so it can cook quick and evenly with the broccoli.
Stir the mixture about 2-3 times during air frying. This will ensure that the everything cooks evenly without having raw sides. The heating element is at the top of the air fryer, so everything exposed to the top heating element will cook quicker. So it's important to stir several times, about every 5 minutes so everything cooks evenly.
For the sauce, our instructions are to make it on the stove top. But you can also microwave the sauce to thicken it and cook it.
Slicing the beef thin will make the meat more tender. Read below on our favorite types of beef for this recipe.
All air fryer beef and broccoli recipe details are in the recipe box below.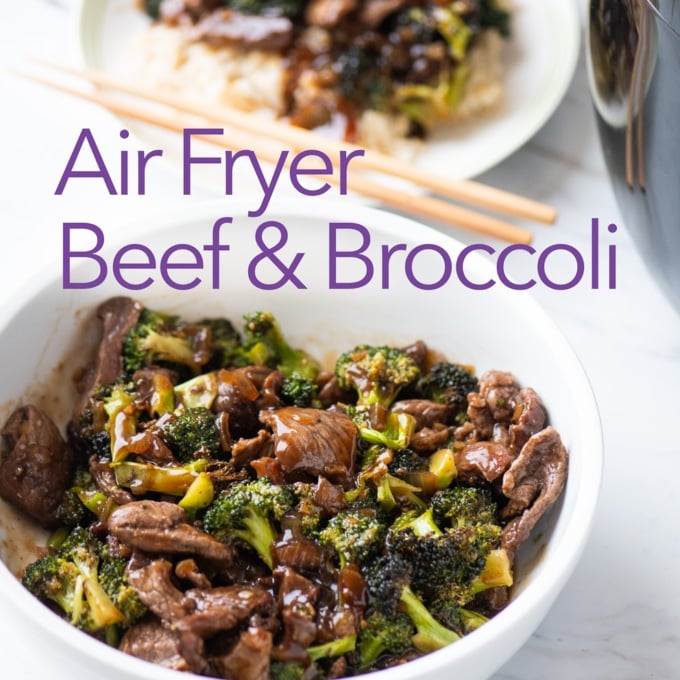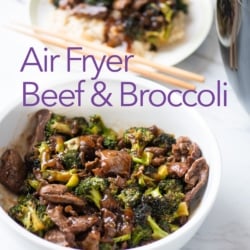 Air Fryer Beef & Broccoli
Homemade beef and broccoli is way better than takeout. If you don't have oyster sauce, you can replace it with hoisin and use a total of 1/4 cup of hoisin. Or vice versa if you don't have hoisin and only have oyster sauce.
Ingredients
1

pound

(

454

g

)

beef sirloin

, top round, chuck steak or flank steak, sliced thin for a tender bite

1

pound

(

454

g

)

broccoli florets

, cut into bite-sized pieces

2

Tablespoons

(

30

ml

)

vegetable oil

, for coating beef and broccoli
For The Sauce:
2/3

cup

(

160

ml

)

water

1

Tablespoon

(

15

ml

)

cornstarch

1/3

cup

(

80

ml

) soy sauce

1/3

cup

(

75

g

)

brown sugar

2

Tablespoons

(

30

ml

) oyster sauce

2

Tablespoons

(

30

ml

) hoisin sauce

2

teaspoons

(

10

ml

) rice vinegar

(or vinegar of choice – distilled white vinegar, apple cider vinegar, etc.)

1

teaspoon

(

5

ml

) sesame seed oil

1

Tablespoon

(

15

ml

)

vegetable oil

1/2

cup

(

120

ml

)

diced onion

3-4

cloves

garlic

, minced

2

Tablespoons

(

30

ml

)

fresh grated or minced ginger
Instructions
In a bowl, combine the beef and broccoli and coat with the 2 Tablespoons of vegetable oil.

Spread the beef and broccoli into an even layer in air fryer basket/tray. Cook in batches if needed, don't overcrowd the basket.

Air Fry at 380°F/193°C for 10 minutes, then shake and flip the beef and broccoli.

Air Fry at 380°F/193°C for another 5 minutes. Shake and flip the beef and broccoli and check for doneness. If needed continue to Air Fry for another 1-5 minutes, or until cooked to your preferred doneness for the beef and broccoli.

While the beef and broccoli is cooking, make the sauce. Whisk together the water and cornstarch until smooth. Whisk in the soy sauce, brown sugar, oyster sauce, hoisin sauce, rice vinegar, and sesame seed oil.

Heat a saucepan over medium-high heat. Heat the 1 Tablespoon of vegetable oil then add the onion, garlic and ginger. Stirring regularly, cook until soft and lightly browned, about 2 minutes.

Add the sauce and bring to a simmer. Simmer for 2-3 minutes or until it thickens to coat the back of a spoon. Remove from heat.

After the beef and broccoli has finished cooking, combine the beef and broccoli with the sauce. Serve warm over rice, noodles, or any way you prefer.
If your air fryer is preheated or if you are cooking multiple batches, you may need to reduce timing by a few minutes (unless preheating is called for in the recipe).
Nutrition Information per Serving
Calories:
402
kcal
,
Carbohydrates:
36
g
,
Protein:
30
g
,
Fat:
16
g
,
Saturated Fat:
3
g
,
Polyunsaturated Fat:
7
g
,
Monounsaturated Fat:
4
g
,
Trans Fat:
0.1
g
,
Cholesterol:
63
mg
,
Sodium:
1567
mg
,
Potassium:
873
mg
,
Fiber:
4
g
,
Sugar:
23
g
,
Vitamin A:
708
IU
,
Vitamin C:
104
mg
,
Calcium:
111
mg
,
Iron:
4
mg
Common Sauces for Beef and Broccoli
There's many different sauces you can use. If you don't have oyster sauce, you can use more hoisin. Or if you can't find hoisin, you can use more oyster sauce.
Must Have Asian Pantry Ingredients
Best Cut of beef for air frying beef and broccoli?
This is always a great question regarding best cuts of beef. There's so many cuts of beef that could do well with this recipe. It's also has alot to do with the type of beef you like and your budget.
We love cuts that are tender with a little marbeling of fat, but these cuts are going to more expensive.
Simple tender and and lean cuts are Top-sirloin steak, Tri-tip steak or top round.
What ever steak you decide, make sure to cut the steak against the grain. Slicing against the grain will make the steak pieces easier to chew.
Also, make sure to use a sharp knife to get those thin cuts.
Here's a great article on different cuts of beef.
Check out our big list of air fryer beef recipes.
Why did the broccoli burn?
It's probably because the size of the broccoli was too small and it cooked way quicker than the beef. If you make it again, cook the broccoli separately to your liking. This way, both the beef and broccoli are cooked perfectly.
Other Vegetable options
You don't have to always serve it with broccoli. Try cauliflower, roasted peppers, some celery, thinly sliced carrots or green onion. Check out our great list of air fryer vegetable recipes. Here's a great idea for skillet cauliflower and broccoli.
Ways to serve beef and broccoli
It's always classic to serve the air fryer beef and broccoli with white rice. But there's other options too, especially if you have leftovers. Don't constrain yourself to tradition and by only serving it with rice.
Different types of grains like couscous, quinoa, wild rice, red rice, brown rice
How about pasta? Like spaghetti, penne, orzo or linguine
Egg noodles are great with this beef and broccoli recipe.
Add it to a sandwich! The saucey elements of this recipe is great with a hoagie roll.
Serve it in a tortilla like a taco
Make quesadillas with the leftovers. Add some cheese and you have a yummy beef and broccoli quesadilla
More Easy Air Fryer Recipes
As an Amazon associate and partners with other affiliate programs, we may earn from your qualifying purchases. We may earn small commissions that goes towards all the costs of running this website and recipe tests. Thank you for your support.