Air Fryer Broccoli & Cheese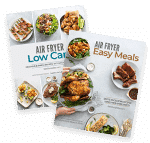 Buy our air fryer e-cookbooks today
Within just a few minutes you can have air fryer broccoli cheese as a side dish or a snack. Kids will love this and so will you to serve this air fried cheddar broccoli as a side dish. It's so good you might need to make a triple batch!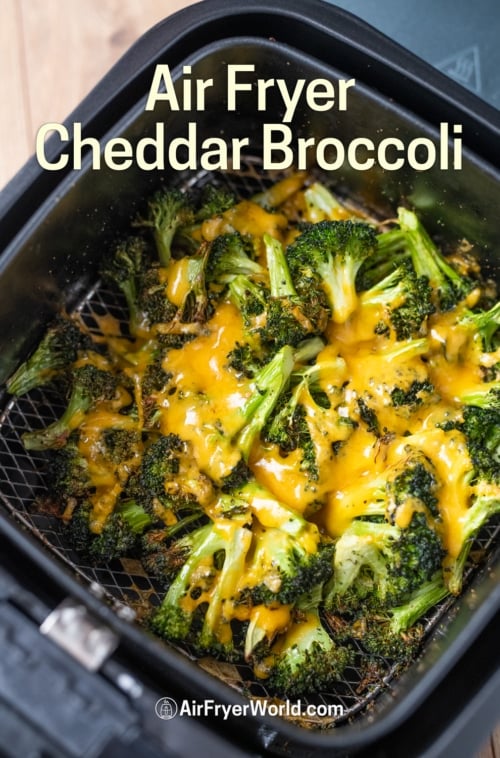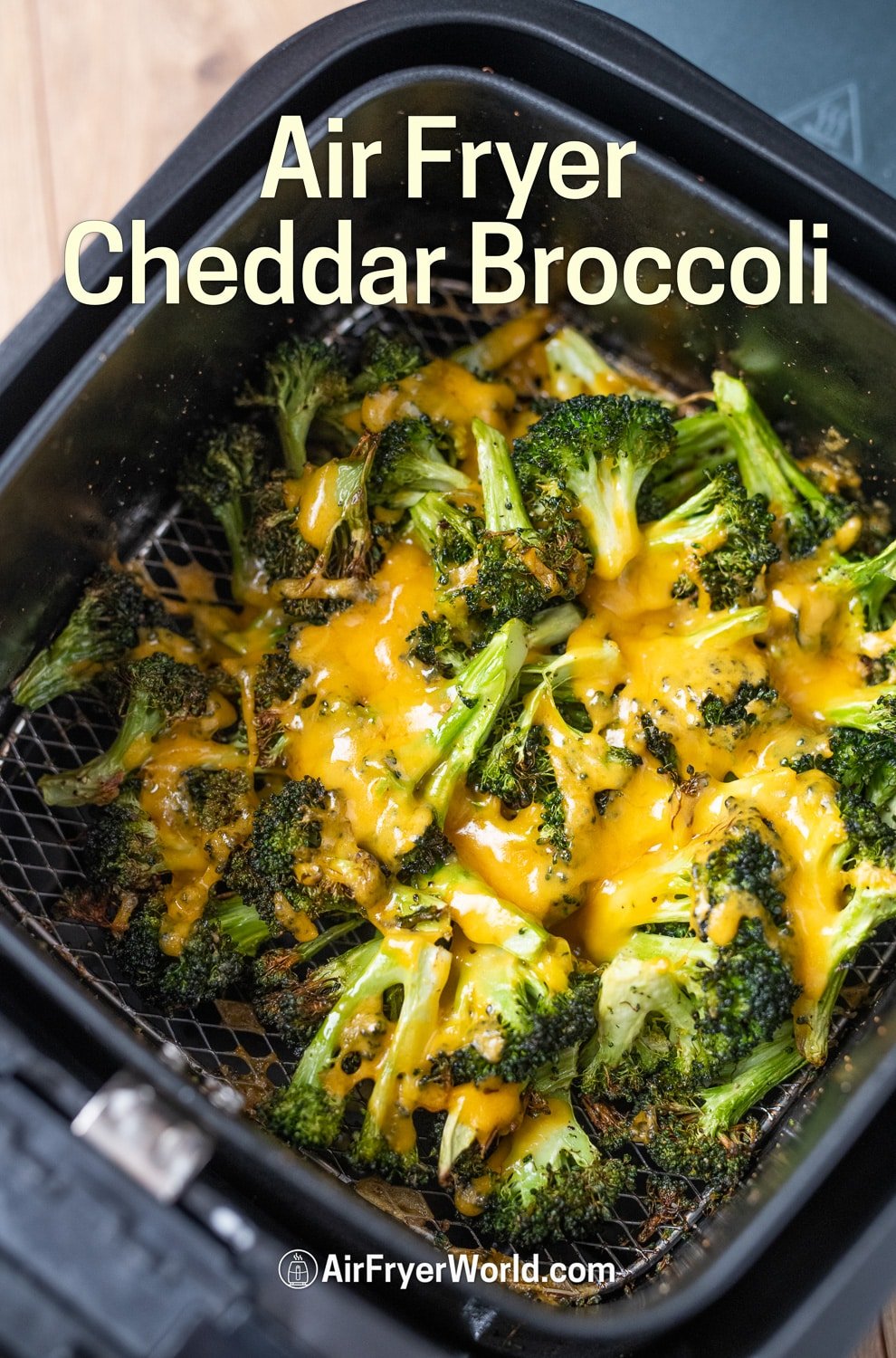 Air Fryer Broccoli Cheese
Broccoli is one of our favorite vegetables and our quick and easy air fried broccoli recipe is a reader favorite. Kids also love our crispy broccoli bites in the air fryer as much as their parents do. Now this version is even more delicious with the addition of cheese that's melted. It's a fantastic side dish alongside some pasta, rice or air fryer chicken.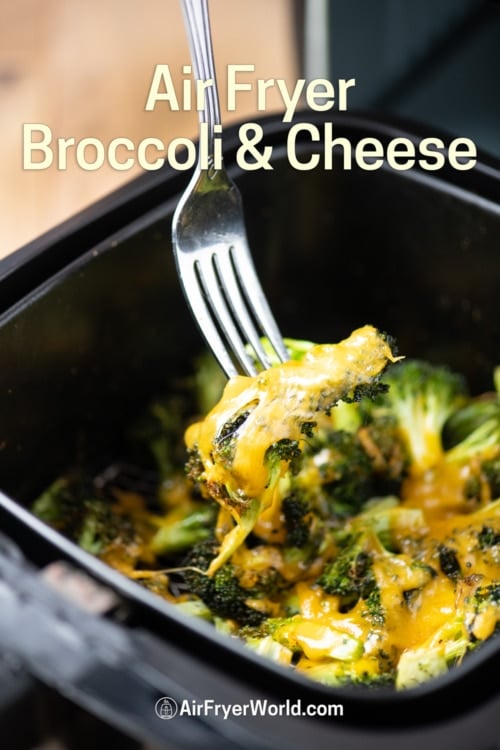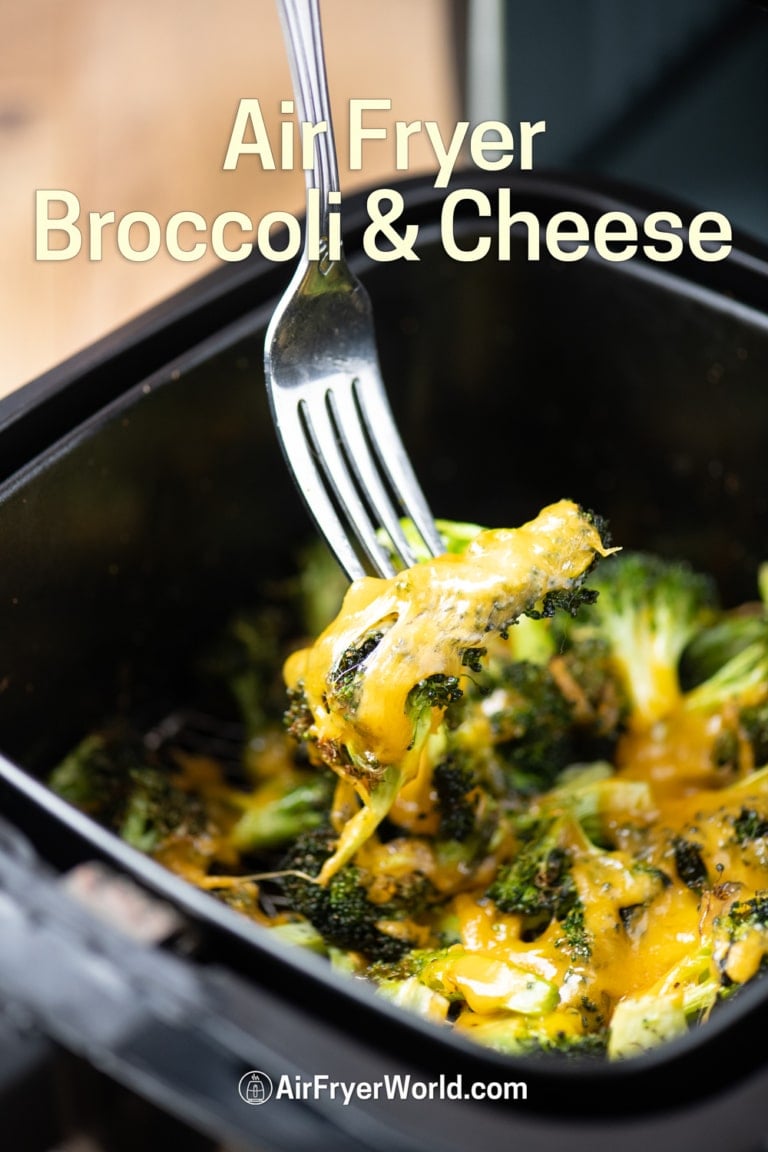 Video: Air Fryer Broccoli and Cheddar Cheese Recipe
How long to Air Fry Fresh Broccoli?
It all depends on the size that you cut the broccoli and the type of air fryer that you have. Air Frying at 380°F for about 10-12 minutes is our base time and temp. But if you're cutting broccoli bigger, then it might need another minute or two.
Can you use frozen broccoli?
Sure you can use frozen broccoli but it'll be slightly softer and more mushy. Because it's frozen, it'll take a little while longer to cook, about 1-2 more minutes. But remember, frozen broccoli really won't get crispy. It'll be softer but adding cheese to it will still make it delicious!
Tips on How to Air Fry Broccoli with Cheese
All you need is a handful of your favorite melting cheese and add it to the air fried broccoli.
Using freshest broccoli gives the best results. You can buy a head of broccoli and cut into equal bite sized pieces. Make sure to have all the cuts about the same size so that everything can cook evenly.
Stir or turn the broccoli at least 2 times during the cooking process. If you forget it'll be ok, but one side will be crisper than the other.
You can add the cheese on after the hot broccoli is tossed in the bowl.
Use this technique for other vegetables like cauliflower, asparagus or carrots.
All air fryer broccoli cheese recipe details are in the recipe box below.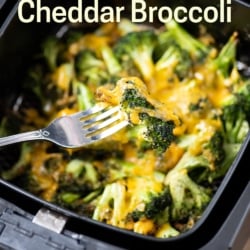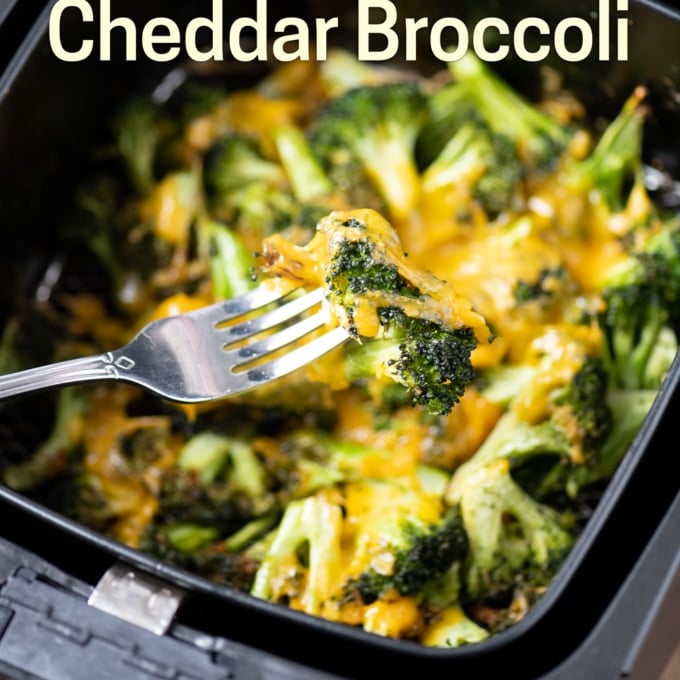 Air Fryer Crispy Broccoli with Cheese
This recipe is for fresh broccoli. If using frozen broccoli add about 1 minute of cooking time,The fresh broccoli will cook down and shrink, so if the basket feels full at first, there will be about 2/3rds the amount after it shrinks. Try adding different cheeses like pepper jack, parmesan, feta or goat cheese. This dish will never be boring!
Ingredients
1

pound

(

454

g

)

broccoli

, cut into bite-sized pieces

2

Tablespoons

(

30

ml

) olive oil

, approximately

1/2

teaspoon

(

2.5

ml

)

garlic powder

salt

, to taste

black pepper

, to taste

4

oz.

(

113

g

)

shredded cheddar cheese

, or cheese of preference
If your air fryer is preheated or if you are cooking multiple batches, you may need to reduce timing by a few minutes (unless preheating is called for in the recipe).
Video
Nutrition Information per Serving
Calories:
151
kcal
,
Carbohydrates:
8
g
,
Protein:
10
g
,
Fat:
9
g
,
Saturated Fat:
2
g
,
Polyunsaturated Fat:
1
g
,
Monounsaturated Fat:
6
g
,
Cholesterol:
6
mg
,
Sodium:
211
mg
,
Potassium:
382
mg
,
Fiber:
3
g
,
Sugar:
2
g
,
Vitamin A:
765
IU
,
Vitamin C:
101
mg
,
Calcium:
171
mg
,
Iron:
1
mg
Different Delicious Flavors
We love mixing things up and adding different flavors to our air fried cheddar broccoli. If you want extra flavor, the possibilities are endless. Raid your spice pantry and experiment with different spices on the broccoli.
Indian inspired flavors. We love making an Indian inspired broccoli with ground cumin or curry powder.
Extra umami: Add a touch of soy sauce or Worcestershire for a savory, umami flavor.
Love spicy? Make a spicy version with some chipotle or cayenne powder. Or drizzle a bit of sriracha hot sauce on after the broccoli is cooked.
Serve the broccoli with a side of steak or anytime you need a quick vegetable side dish. We love making a big batch of this (cooked in several batches) and everyone goes crazy over the flavor. The hot air really gives this broccoli and nice char and maximum flavor.
Use different cheeses. Cheddar is always a classic cheese to use, but the recipe works great with all different cheeses. Try pepper jack, parmesan, Swiss cheese, feta, goat cheese, blue cheese, or freshly grated parmesan. Just about any good melting cheese will work and they each give their own flavor and texture. Let us know which one is your favorite!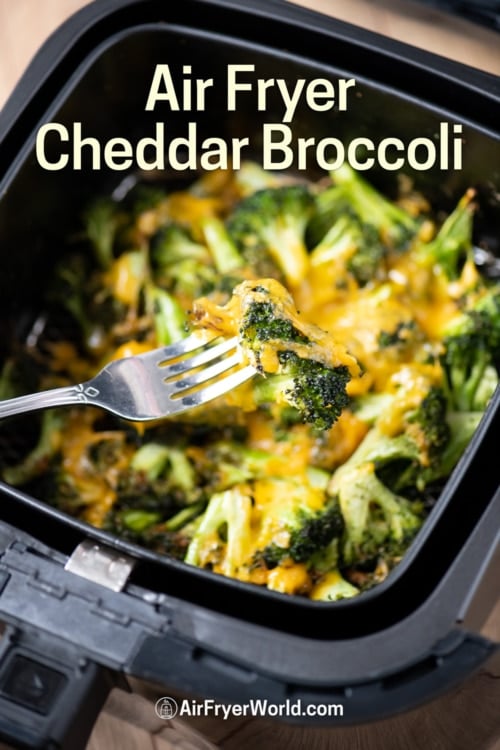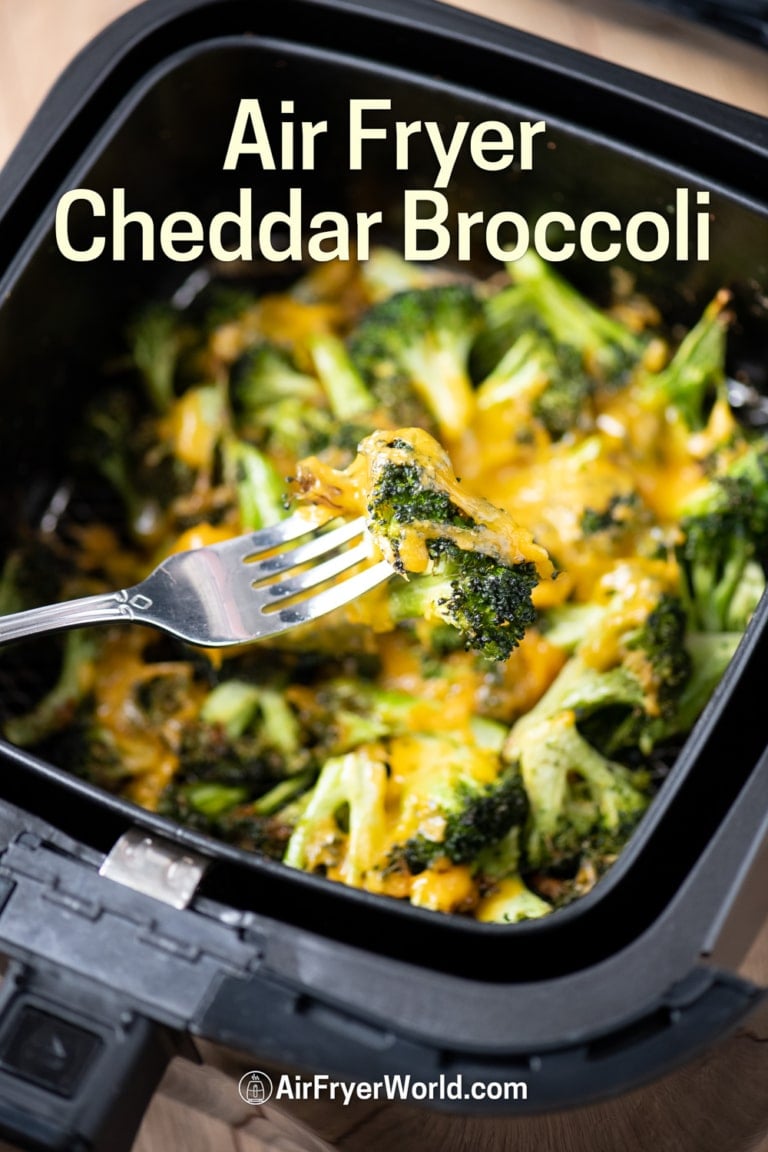 Why did your broccoli burn or get too crispy?
It's because it was cooked too long or your air fryer just cooked really hot. So for your next batch, just reduce the temperature to 360°F and cook for about 1 minute less. After you made your first batch, you'll know the best time and temp for your specific cut of broccoli.
Can this recipe be doubled or tripled?
Yes you can but make sure your air fryer can accomodate all this extra broccoli. The only way to cook a triple batch is if you have an oven or toaster style air fryer. These are larger and have about 2-3 racks. Just make sure to rotate the racks because the rack of broccoli at the top that's closest to the heating element can burn. So hope you enjoy broccocli as much as we do! The health benefits of broccoli are amazing.
More Easy Air Fryer and Pressure cooker Recipes
As an Amazon associate and partners with other affiliate programs, we may earn from your qualifying purchases. We may earn small commissions that goes towards all the costs of running this website and recipe tests. Thank you for your support.