Air Fryer Pita Pizza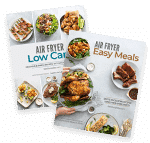 Buy our air fryer e-cookbooks today
Warm and crispy air fryer pita pizza is one of our go-to snack and mini-meals. These are the perfect individual size pizzas. The crispy crust on these air fried pita bread pizzas are fantastic!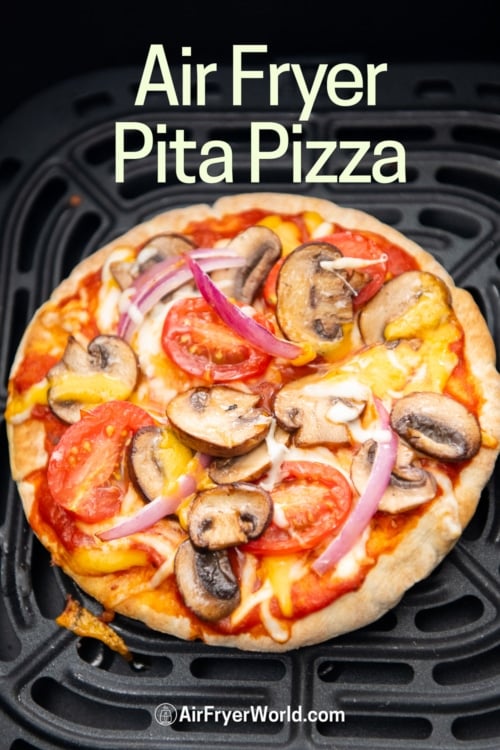 Air Fryer Pita Pizza Recipe
This is the perfect no-fuss and no-mess pizza. The pre-cooked pita breads are the perfect quick and easy pizza base. The hot circulating air of the air fryer makes these individual pizzas crispy and fantastic. All you need to find is your favorite brand of pita bread, sauce and list of toppings. You can have a quick pizza snack, appetizer or meal for your family. This is a great pizza for kids after school snacking.
What is Pita Bread?
It's a yeast-leavened flat bread originating Greece and around the Mediterranean region. They're so delicious because they're fluffy in the center with pockets of air that make them crisp and fantastic. The puff in the center forms a pocket of the pita bread which makes them great for stuffing.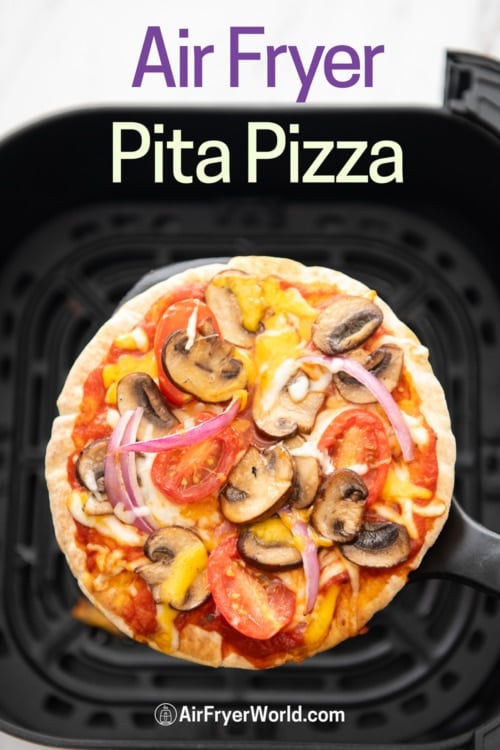 Video: Easy Air Fryer Pita Bread Pizza
Tips on Making Air Fryer Pita Bread Pizza
Pre-heat the pita bread first for a crispy pizza crust. We like to air fry the pita bread on both sides before saucing and topping.
For an extra crisp texture when pre-heating the pita, try brushing some melted butter or olive oil on it. This will make the pita extra crispy when you air fry it first before the sauce and toppings. Some pita breads can be rather thick, so pre-air frying these breads will give you the crispy texture that you're craving for.
Different sauces. Tomato sauce is traditionally the most popular but have you tried a white sauce like alfredo sauce? Or bbq sauce and hot sauce is another great addition to give these pita pizzas a a more International flair.
Different cheeses: mozzarella is great but try some smoked gouda, crumbled feta, crumbled blue cheese or smoked cheddar. These all add amazing flavor.
All air fried pita bread recipe details are in the recipe box below.
Pro Tip: Use an air fryer rack that fits your air fryer to keep the toppings from flying around. The hot circulating air can blow your cheese and toppings off the pizza. These racks are great to hold the toppings down as they finish cooking. Hope you enjoy or air fried pita bread pizza!
Air Fryer Pita Pizzas
Pita make the great pizza dough crust for air fryer flatbread pizzas. You'll also find several other types of par-cooked or pre-cooked flatbreads which are equally great. Air frying time will vary depending on the thickness, type of dough, if there are any sugars added to the dough, and by different air fryer models. Adjust as needed.
Toppings may fly off the pizzas, depending on how light they are and how strong your air fryer fan is. Use an air fryer rack to keep the toppings from flying off while air frying the pizzas (see photo in recipe steps).
Ingredients
1

pita bread

2

Tablespoons

(

30

ml

)

pizza sauce or tomato sauce

1/4

cup

(

28

g

)

shredded cheese

salt

, to taste

black pepper

, to taste
Optional Toppings
Pepperoni, cooked Sausage, Bacon pieces, diced Ham, sliced or diced Tomatoes, Mushrooms, Pineapple, etc.
Other Sauce Options
BBQ Sauce, Salsa, White (Alfredo) Sauce, Pesto, etc.
If your air fryer is preheated or if you are cooking multiple batches, you may need to reduce timing by a few minutes (unless preheating is called for in the recipe).
Video
Nutrition Information per Serving
Calories:
245
kcal
,
Carbohydrates:
33
g
,
Protein:
12
g
,
Fat:
7
g
,
Saturated Fat:
4
g
,
Polyunsaturated Fat:
1
g
,
Monounsaturated Fat:
2
g
,
Cholesterol:
22
mg
,
Sodium:
618
mg
,
Potassium:
178
mg
,
Fiber:
2
g
,
Sugar:
1
g
,
Vitamin A:
319
IU
,
Vitamin C:
2
mg
,
Calcium:
194
mg
,
Iron:
1
mg
Different Sauces for Pita Pizza
To mix things up try using different sauces as the base. Marinara sauce is the classic popular sauce. But try some alfredo sauce, bbq sauce or any sauce that you like. The different flavors will definitely take these simple and quick air fried pizzas to a whole new flavor level. If you browse your the sauce aisles of your market, there's great inspiration there!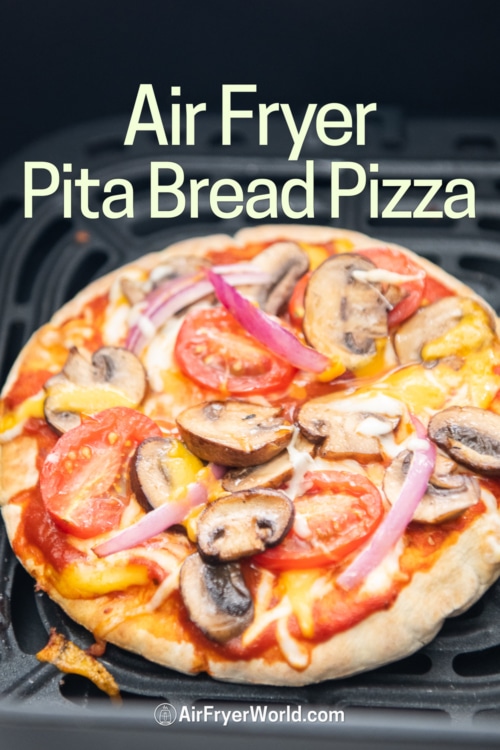 As an Amazon associate and partners with other affiliate programs, we may earn from your qualifying purchases. We may earn small commissions that goes towards all the costs of running this website and recipe tests. Thank you for your support.