Air Fryer Bratwurst in 10 min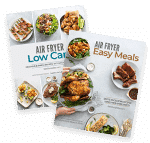 Buy our air fryer e-cookbooks today
Oh you're going to love this air fryer brats recipe! It's a quick and easy meal that's super delicious. This air fryer bratwurst recipe is cooked in about 10 minutes. We're obsessed with this air frying technique. It's even easier than cooking them stovetop or on the grill and has even less mess.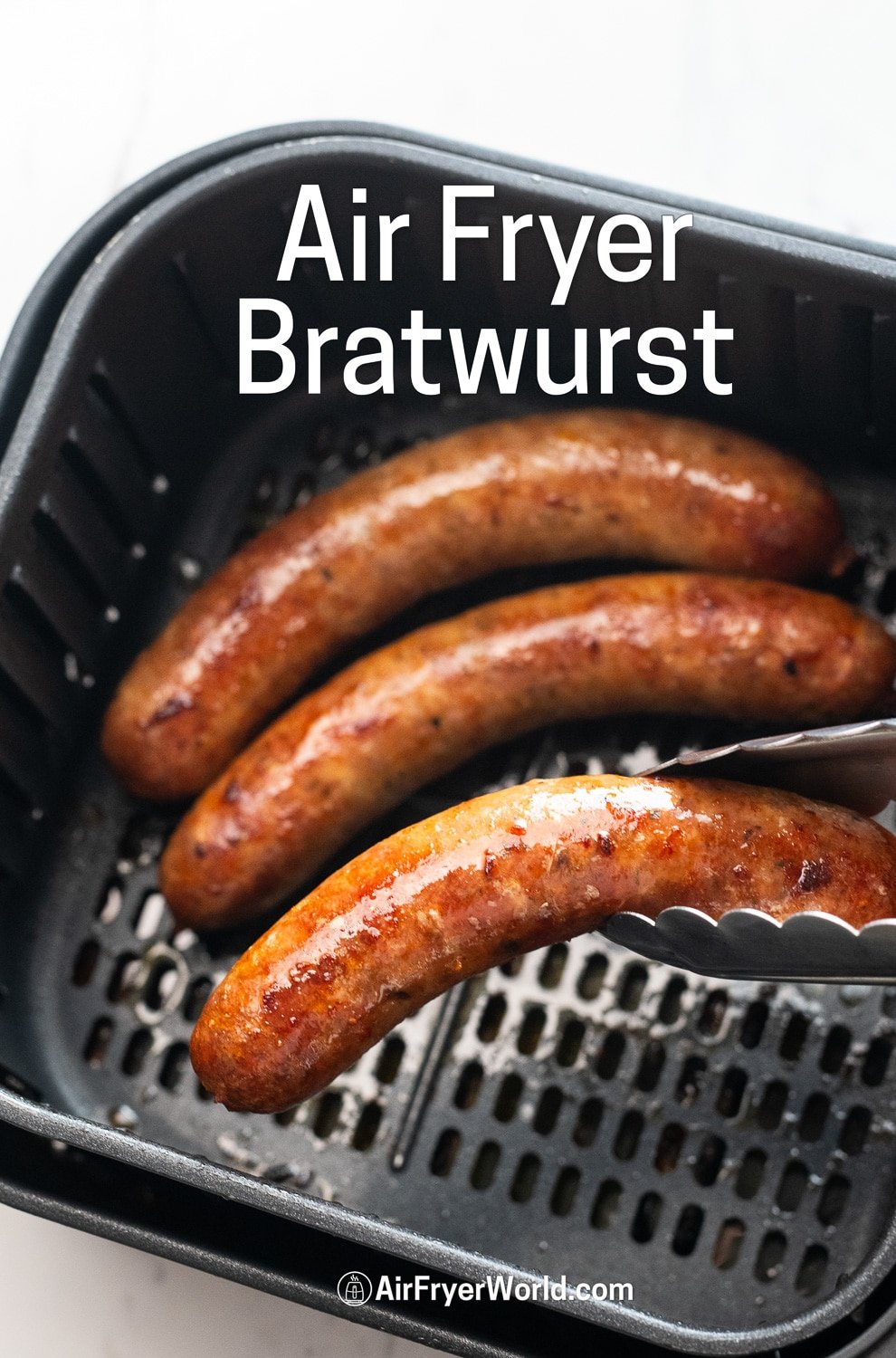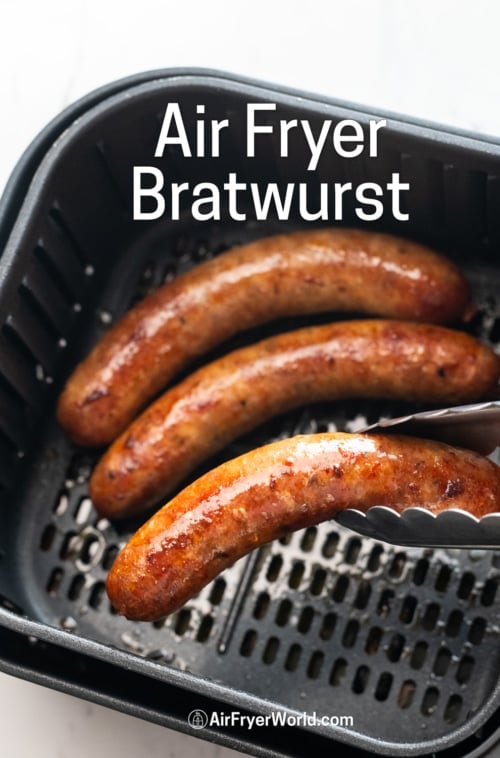 Difference Between Bratwurst vs Sausage
Just a reminder, this recipe is starting with bratwurst that has not been cooked yet, so it's raw on the inside. So it takes a little longer to cook than your traditional pre-cooked sausages like Keilbasa. When it comes to comparing bratsursts vs sausages the main differences are these:
Sausages cover a big category of ground meat in casings. From Chinese sausages to keilbasa sausage, to raw meat sausages in the casings to raw bratwursts, all these are "sausages".
Bratwursts are a type of German sausage. But not all sausages are bratwursts.
Casings: Some sausages have both artificial and natural intestine casings, whereas bratwursts are usually always in natural casings in animal intestine or animal skin.
Size difference: Bratwursts usually bigger than most average sausages and brats have more spices and herbs.
Bratwursts are traditionally made from pork, but sometimes will use beef, veal, or combination of any of the 3. They are usually mildly spiced.
What is for this recipe? For this particular recipe article, you can air fry all types of sausages or brats. Sweet Italian sausage, Chicken sausage and turkey sausage is great too.
Here's a great article about history of sausages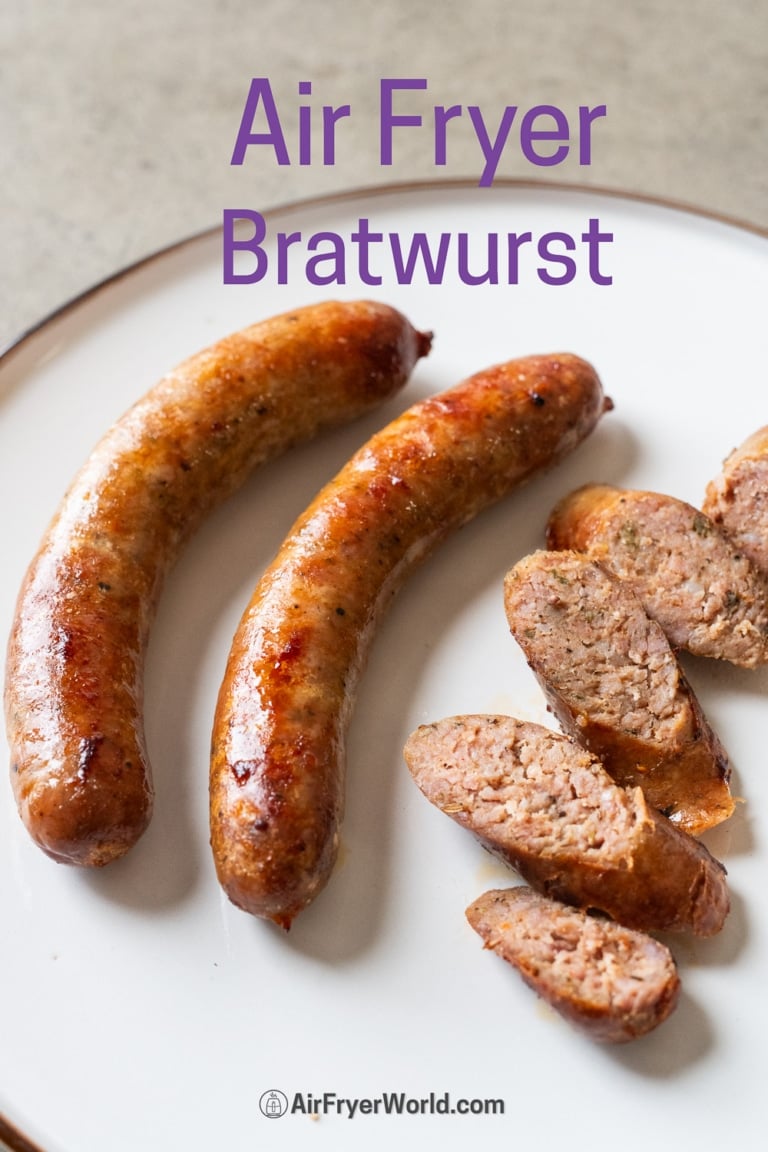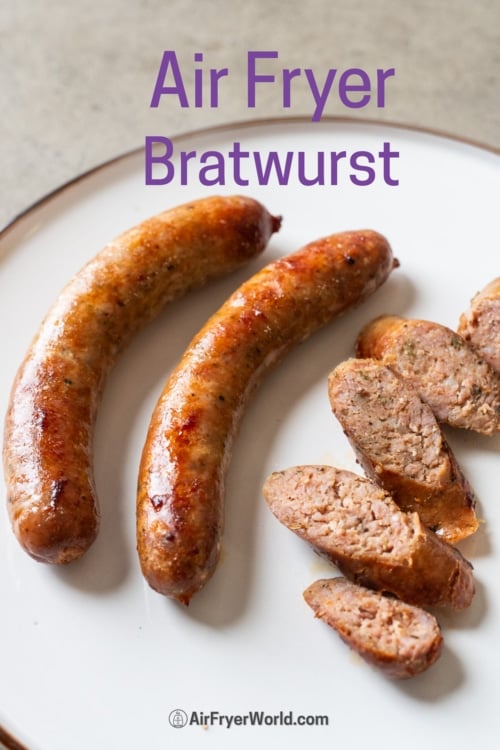 Video: Air Fryer Bratwurst :
Tips on How to Air Fry Bratwurst or Brats
Adding veggies for a complete meal: We like throwing in some thick sliced peppers and onions when air frying bratwursts. Other quick cook veggies like slices of zucchini and broccoli are great too for adding more vegetables to the meal.
Air frying Brats only: If you want to just air fry the brats on their own without veggies, then the timing still remains the same.
Poke holes to minimize bursting during air frying: To keep the sausages from bursting, we like to poke a few holes in the before air frying. Using a toothpick solves the problem and keeps the brats from bursting during air frying.
Don't stack brats, keep them in a single layer. Make sure to keep the sausages in a single layer so that they can cook evenly. Don't stack them or fill the air fryer too much. When the sausages overlap, they'll cook un-evenly and less crispy.
Cooking in batches: If you want to cook a lot of bratwursts in the air fryer but have a small air fryer, then just cook in batches. This will ensure that each sausage tastes great with a great "snap".
Depending on how you like your veggies cooked, they may finish sooner than the sausage. Remove the veggies from the air fryer when they are to your liking and the continue cooking sausages until they are to your perference.
Invest in a great meat thermometer: Use a meat thermometer to read the internal temperature of the sausage.
All air fryer bratwurst recipe details are in the recipe box below.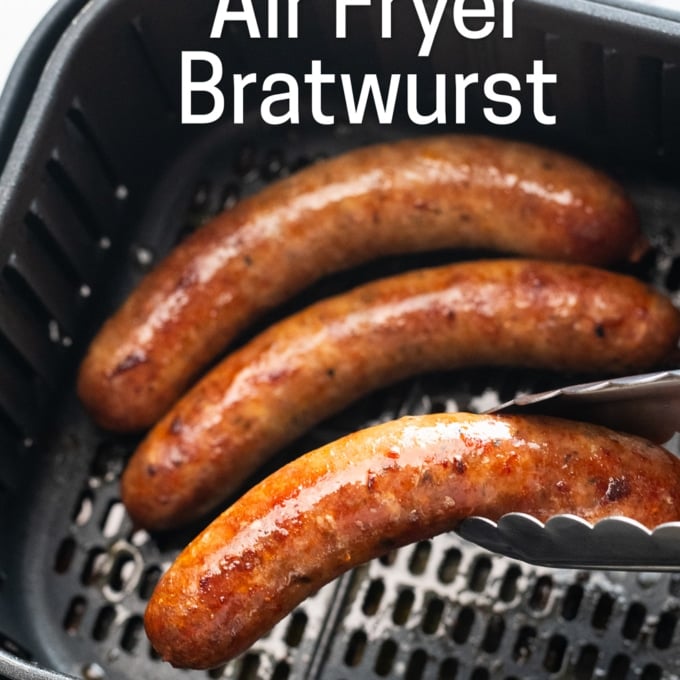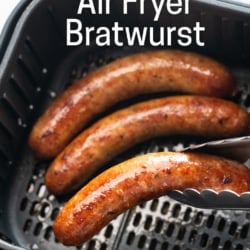 Air Fryer Bratwurst
Make sure to air fry the bratwurst links in a single layer so they cook evenly. You can air fry as many in a batch that will fit in a single layer in your air fryer basket/tray. If you are cooking a bigger batch, you might need to add extra time to get everything to cook through. Different butchers/brands will vary in their bratwurst sizes as well. Adjust for smaller or larger bratwursts.
Ingredients
1

pound

(

454

g

)

raw bratwurst

, about 2-3 links

oil spray

or olive oil, for coating
If your air fryer is preheated or if you are cooking multiple batches, you may need to reduce timing by a few minutes (unless preheating is called for in the recipe).
Nutrition Information per Serving
Calories:
523
kcal
,
Carbohydrates:
5
g
,
Protein:
21
g
,
Fat:
46
g
,
Saturated Fat:
15
g
,
Polyunsaturated Fat:
4
g
,
Monounsaturated Fat:
24
g
,
Cholesterol:
112
mg
,
Sodium:
1281
mg
,
Potassium:
526
mg
,
Vitamin A:
9
IU
,
Calcium:
42
mg
,
Iron:
1
mg
What kind of Brats to Air Fry?
Generally for this recipe, you'll want to use any type of brats. But you can also air fry Italian sausages or other uncooked savory sausage links. Often the fillings for these brats or sausages are pork sausage. But chicken, turkey, or whatever you're favorite sausage is works great. If you're in a rush to cook the brats quicker, we suggest cutting them into bite sized pieces and then air frying . You'll usually reduce cooking time some for pre-cooked sausages.
How do you know when the air fryer brats are done?
There are a few ways to test the brats.
You can always make a cut into one and see if the meat is cooked through. Great if it is just for yourself, or at least just test the one you plan on eating.
Poke the cooked brats with a toothpick or similar and if the juices run clean, the sausage is usually done.
A little more accurate of a method is to use an instant read thermometer. Poke it in the center of the sausage and if the temperature is 160°F for pork, or 165°F for chicken or turkey, the FDA says it is cooked through. Personally we like to cook any of the sausages to 165°F/74°C.
Why is your air fryer smoking when cooking brats?
When making air fryer bratwurst, the grease can often cause the air fryer to smoke. Even in an air fryer oven, the splattering grease can hit the heating element which causes smoke. Using parchment paper under the sausage can help as it helps absorb some of the oil. Read our article on smoking air fryers and what to do to minimize the smoke.
How to serve air fried bratwursts?
There's so many ways to enjoy air frying bratwursts or sausages. The possibilities are endless and delicious.
Bratwurst is great in sandwiches or served in a hot dog bun or roll. Add the peppers, onions and some mustard. Fantastic!
These are a great snack or appetizer and best of all, they're low carb and keto friendly. Cut them into slices for the appetizer.
They're great for breakfast or brunch and a quick way to cook several brats at once. Air fried breakfast brats are fantastic!
Serve them with air fried potatoes, tater tots or air fryer fries.
We love slicing them then adding them as a pizza topping. Check out all our easy air fryer pizza recipes here.
Cut the air fryer bratwurst up into small bites and top them on pasta or rice. Kids love noodles with some sausage on top with pasta sauce. This is a great way to cook air fryer sausage links or even air fryer sausage patties for the kids.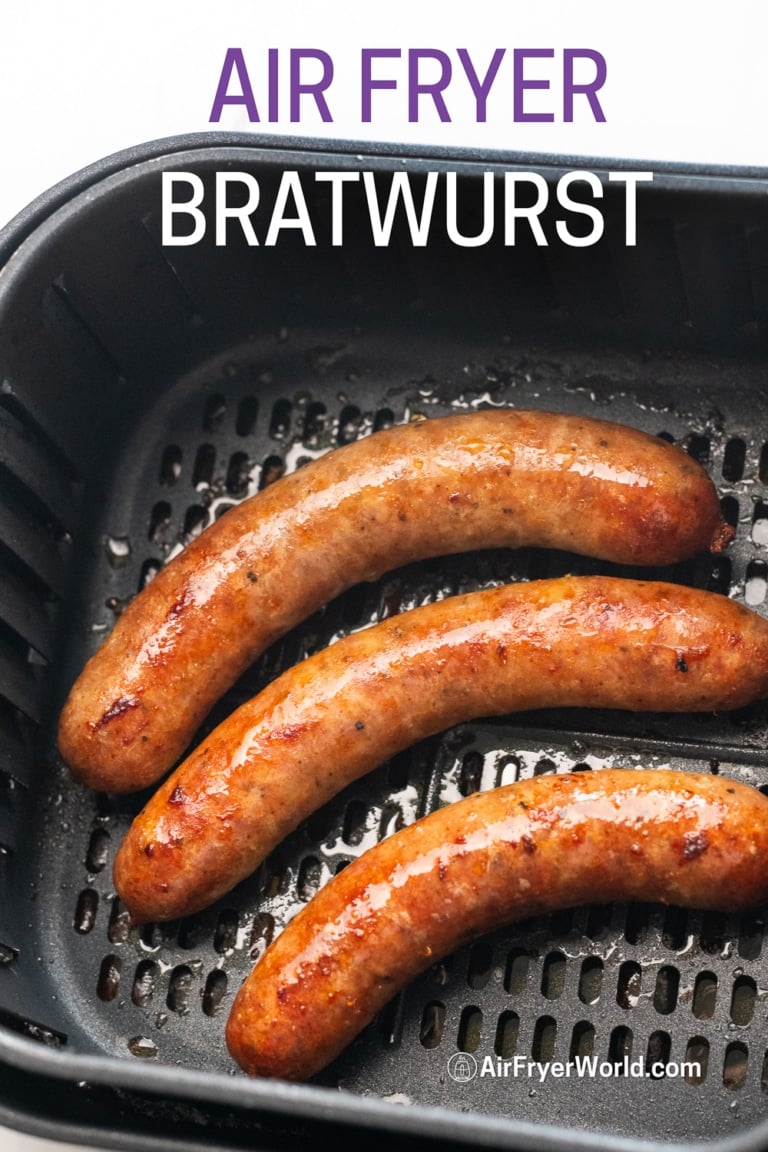 Best brats sauces or side dishes
sauerkraut or coleslaw (any type of white or purple cabbage dishes go great with brats)
spicy mustard or any type of mustard is great when you air fry brats
potato salad or potato dishes
cripsy potato pancakes
fried onions
crispy french fries. If you like fries try our different air fryer fries as side dishes.
Adding cheese or crispy bacon is always a hit
If you love spicy, add jalapenos or sriracha hot sauce
hope you enjoy these air fryer bratwurst
More Easy Air Fryer Recipes:
As an Amazon associate and partners with other affiliate programs, we may earn from your qualifying purchases. We may earn small commissions that goes towards all the costs of running this website and recipe tests. Thank you for your support.