Air Fryer Chicken Wings (Raw, Fresh)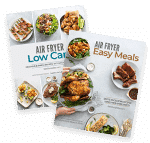 Buy our air fryer e-cookbooks today
Our air fryer chicken wings recipe does not use any oil at all. We'll be confident that you'll be blown away at how delicious these air fried buffalo wings are! Add your favorite sauce and you're ready to party.
Best Air Fried Chicken Wings Recipe
The fatty skin on the chicken wings have plenty of oil already and just enough to cook them crispy in the air fryer. The whole air frying method is amazing at how quick and easy air fried chicken wings are. It's even easier to devour it all. The only real effort is seasoning the chicken wings with salt and pepper. Then press a few buttons on the air fryer and within minutes you have the best chicken wings ever.
Video making Chicken Wings in the Air Fryer
Easy Air Fryer Chicken Wings for Game Day or Super Bowl
Once you have the chicken wings made in batches, you can add what ever sauce you like. If you're looking for a delicious and quick recipe for Game Day or Super Bowl chicken wings, this is it! Seriously, you can totally be a chicken-wings-making-machine by having all your sauces ready. Within minutes and simply, you'll be cooking up batches and sauces them up. You might need two air fryers because you probably won't be able to keep up at a Super bowl party. Everyone will be devouring these so fast but clean up will be so easy for you. It's a game changer!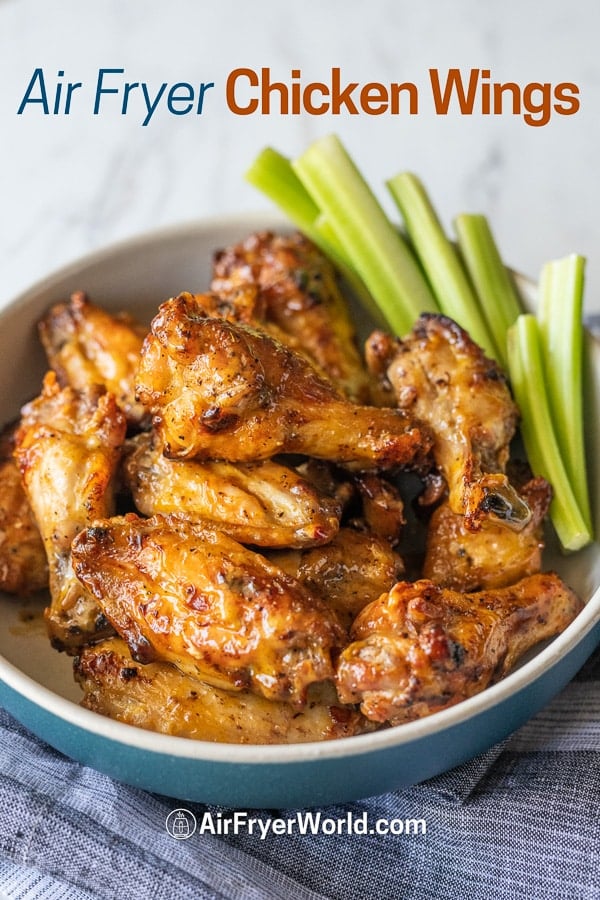 How to Cook Crispy Chicken Wings in Air Fryer (No Oil}
Season wings with salt and pepper. Add wings to air fryer basket. Then Air Fry the chicken wings.
First Toss : Air Fry then toss and shake the chicken wings.
Second Toss : Shake and toss the chicken wings a second time.
Third Toss : Add chicken wings to a bowl, and coat with your favorite sauce. Then air fry one last time for a few minutes.
All recipe details are in the recipe box below that you can print if you want.
Crispy Corn Starch Crust Method with Oil Spray
The corn starch coating cooks crispy and the crust is awesome. If you want extra crispy crust, then then method might be for you. But it does need oil spray over the corn starch. Make sure to spray all the corn starch with oil and don't leave any dry spots. Those dry spots will be super hard and dry, so that's why you need the oil spray on it. More recipe details in the recipe box below.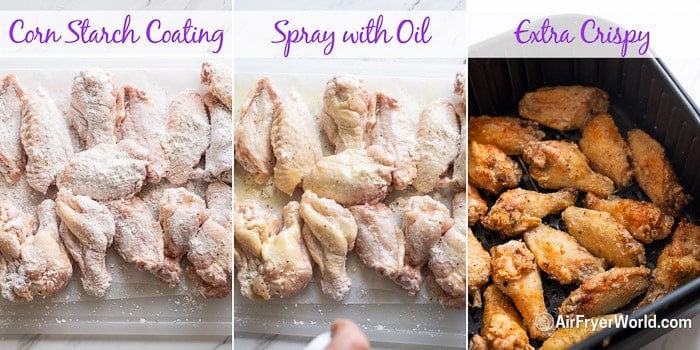 More Air Fryer Options:
Keto Air Fryer Chicken Wings with Crispy Parmesan Crust RECIPE HERE.
How about air frying frozen chicken tenders, nuggets and other munchies? All frozen food info is here.
Great Chicken Wing Sauce Recipes: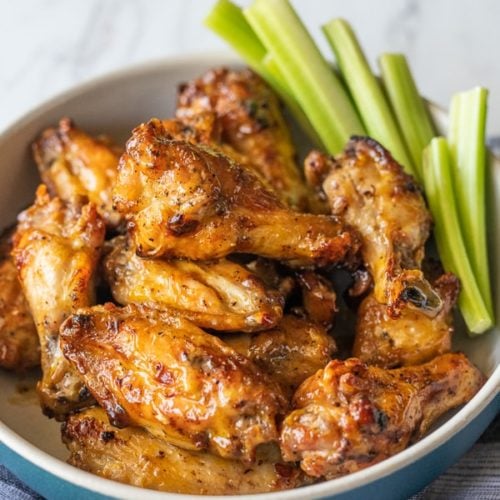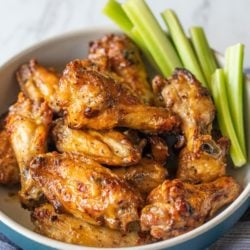 Air Fryer Chicken Wings
(optional) We have an extra crispy corn starch crust option for you too, but it does require oil spray.
Wing sizes vary in size and thickness, so cooking times will vary. Some brands of Air Fryers will cook slower or faster than others, adjust accordingly.
We cooked the 2 lbs. of chicken wings in a 3.4 qt. Air Fryer. For that size of air fryer, 2 lbs. is about the max without overcrowding the air fryer. If you have a larger size of air fryer, you can probably cook larger batches.
Ingredients
2

pounds

(

907

g

)

chicken wings

Kosher salt

, or sea salt, to taste

black pepper

, to taste

garlic powder

, optional
Optional - For Extra Crispy Corn Starch Crust
1/4

cup

(

30

g

)

corn starch

, or as needed

oil spray

, as needed
Instructions
If needed, pat dry the chicken wings. Season with salt, pepper, and optional garlic powder.

For oil-free version, place in even layer in air fryer basket/tray. Follow air fry instructions below. For Extra Crispy Crust, follow optional steps for corn starch crust.
For Extra Crispy Corn Starch Crust
Add seasoning to the wings then lay them in single layer on a plate or cutting board. Sprinkle cornstarch over the wings on both sides. Liberally spray wings evenly with oil spray so that all the cornstarch is coated in oil. There should be no dry white clumps of cornstarch or else they will cook hard and dry.

Gently place the coated wings in your air fryer basket or tray/rack.
Air Fry
Air Fry wings at 400°F/205°C for 30-35 minutes or until cripsy and cooked through. You must flip the wings over after the first 20 minutes of cooking. Or you might need an extra flip to get the wings crispy to your personal preference.

If using a sauce, toss with a little sauce, then air fry for another 2-4 minutes. Or you can just toss or dip the wings in the sauce after they are finished cooking.
Notes
No Oil Necessary. The wings have enough fat in the skin to crisp up nicely on their own.
Shake several times for even cooking.
Don't overcrowd fryer basket.
If using a sauce, it is added in just at the end, otherwise it often burns before the chicken wings are cooked.
Recipes were cooked in 3-4 qt air fryers. If using a larger air fryer, the recipe might cook quicker so adjust cooking time.

If cooking in multiple batches, the first batch will take longer to cook if Air Fryer is not already pre-heated.
Remember to set a timer to shake/flip/toss the food as directed in recipe.
If your air fryer is preheated or if you are cooking multiple batches, you may need to reduce timing by a few minutes (unless preheating is called for in the recipe).
Nutrition
Calories:
271
kcal
,
Protein:
22
g
,
Fat:
19
g
,
Saturated Fat:
5
g
,
Cholesterol:
94
mg
,
Sodium:
89
mg
,
Potassium:
191
mg
,
Vitamin A:
180
IU
,
Vitamin C:
0.8
mg
,
Calcium:
15
mg
,
Iron:
1.2
mg
this air fried buffalo wings recipe as originally published in 2019 and republished in 2021 with updated photos.
As an Amazon associate and partners with other affiliate programs, we may earn from your qualifying purchases. We may earn small commissions that goes towards all the costs of running this website and recipe tests. Thank you for your support.