Air Fried Frozen Chicken Tenders or Strips (breaded)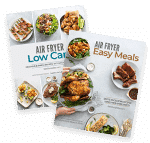 Buy our air fryer e-cookbooks today
You'll love these air fried frozen chicken strips. They come out so CRISPY & EASY in the air fryer. Kids love these crispy air fryer frozen chicken tenders for snacks, lunch, or dinner.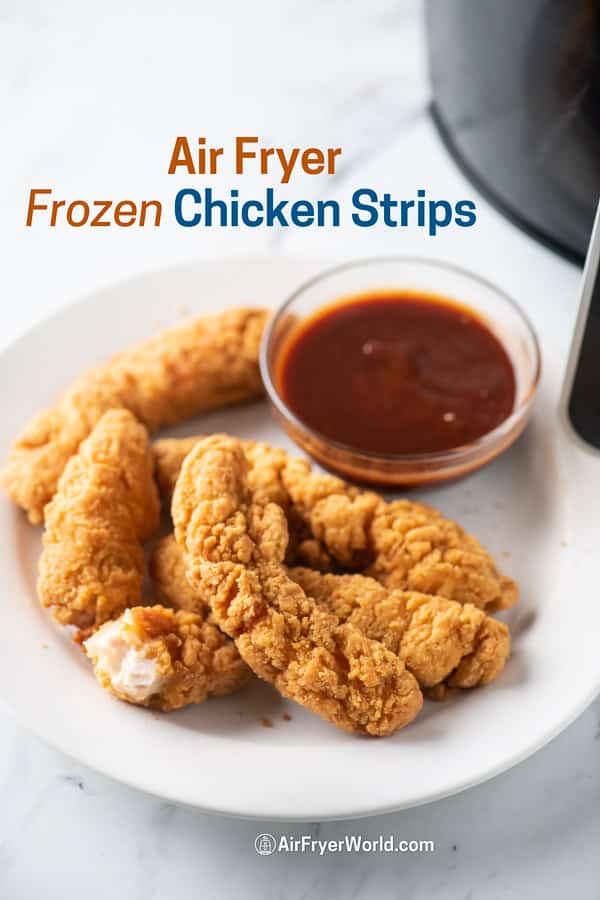 How to Cook Air Fried Frozen Breaded Chicken Strips
Frozen chicken tenders or strips are sold in 2 ways: frozen fully cooked or frozen raw.
Fully Cooked breaded frozen chicken tenders are super easy to cook in the air fryer. They can go straight from the freezer to the air fryer and cooked in minutes. You're basically just re-heating the frozen chicken strips to be crunchy and warm in the air fryer. You don't need to spray the chicken because there's plenty already when it was pre-cooked.
RAW: There's also frozen raw chicken strips, where the breading is pre-cooked but the chicken is raw. Timing between the frozen pre-cooked and raw differs by a few minutes. You still need to check to make sure the brand you bought cooks all the way through. Start by checking the strips after 10 minutes. And then cook for additional time to make sure it's cooked and crispy to your liking. All air fryers cook a little differently, so you'll have to adjust timing after you air fry your first batch of chicken strips.
Make sure to lay these frozen chicken tenders in a single layer in your air fryer basket or air fryer oven tray so they can cook evenly.
All air fryer chicken strip recipe details are in the recipe box below.
Pro-Tip: here's our favorite tools to help make air frying easier: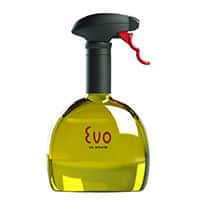 We LOVE Evo Oil Sprayers. Not the prettiest, but they're functional and spritz oil great! They don't clog up like many others we've bought. There's different styles, but all seem to have the same great spray head. Works great for grilling!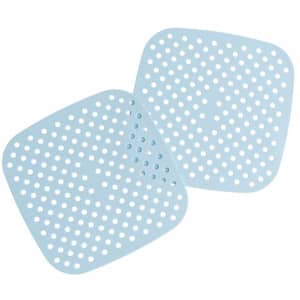 There are Square Mats & Round Mats. These perforated non-stick silicone mats are used to cook food in your air fryer or steamer to minimize sticking. Holes allow hot circulating air to cook the food & keeps the food from sticking.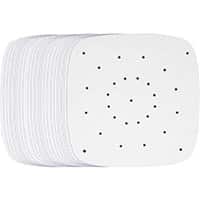 Parchment sheets are great for your air fryer or bamboo steamer (food tends to stick most on wire basket or tray). Choose from different sizes, shapes, white and brown (unbleached). Holes allow air to cook food evenly.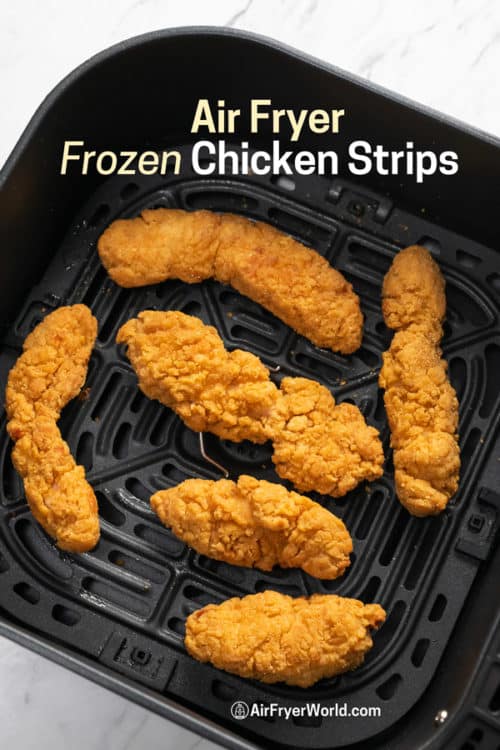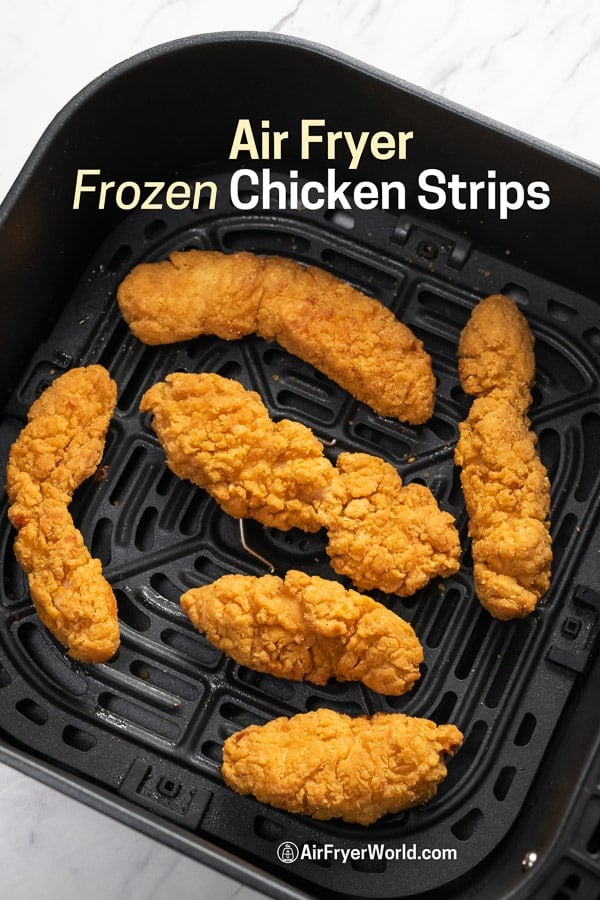 Video: Air Fryer Frozen Chicken Strips or Tenders
Different Breadings on Frozen Chicken Strips or Tenders
With so many different brands of frozen chicken strips, there comes different breading styles too. We tested several brands including great value chicken strips, tyson crispy chicken strips, Targets brand and Foster Farms.
Japanese panko, Italian style bread crumbs, gluten free, and keto pork rinds are just a few examples of what you can buy on the market.
These bags of frozen tenders will also have different sizes of chicken. But after you make your first batch, you'll know best for what works for your model of air fryer and specific brand of tenders.
Timings will be slightly different between brands, so start air frying at the shortest time we suggest. From there, check on the chicken strips and cook for a few more minutes until the chicken tenders are to your preferred crispness and doneness.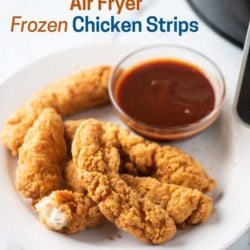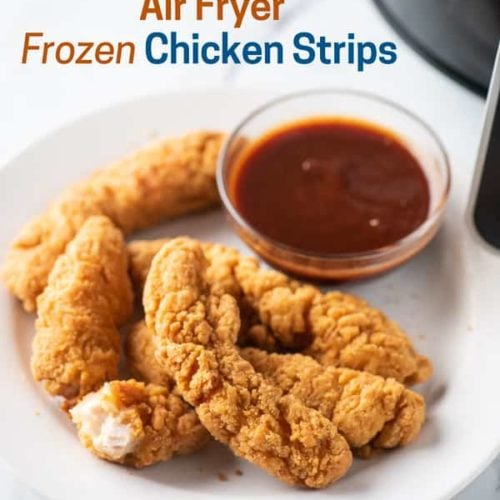 Air Fryer Frozen Chicken Strips
There's several things which affect how the frozen chicken strips cook. They all vary in size, thickness, type and heaviness of the breading so you'll have to adjust timing. For best and even cooking, don't overcrowd the basket. Fill just an even single layer of chicken strips.
If using RAW breaded chicken strips, add an extra minute or two if needed to make sure it is cooked through. All air fryers are different and some cook much hotter than others. Once you cook your first batch of chicken strips, you'll know more of what works for your model of air fryer and size of food. These were tested on basket style air fryers. Read more recipe notes below the recipe. Nutrition will vary from brand to brand and will depend on the type of coating.
Ingredients
12

ounces

(

170

g

)

Frozen Chicken Strips (Tenders)

(about 4 strips)

optional dipping sauce

(ketchup, bbq sauce, mustard, hot sauce, ranch, etc.)
Notes
Air Frying Tips and Notes:
No Oil Necessary. Cook Frozen – Do not thaw first.
Shake or turn if needed. Don't overcrowd the air fryer basket.
Recipe timing is based on a non-preheated air fryer. If cooking in multiple batches of chicken strips back to back, the following batches may cook a little quicker.
Recipes were tested in 3.7 to 6 qt. air fryers. If using a larger air fryer, the chicken might cook quicker so adjust cooking time.
Remember to set a timer to shake/flip/toss as directed in recipe.
If your air fryer is preheated or if you are cooking multiple batches, you may need to reduce timing by a few minutes (unless preheating is called for in the recipe).
Video
Nutrition Information per Serving
Calories:
190
kcal
,
Carbohydrates:
12
g
,
Protein:
15
g
,
Fat:
9
g
,
Saturated Fat:
2
g
,
Polyunsaturated Fat:
3
g
,
Monounsaturated Fat:
3
g
,
Cholesterol:
30
mg
,
Sodium:
480
mg
,
Fiber:
1
g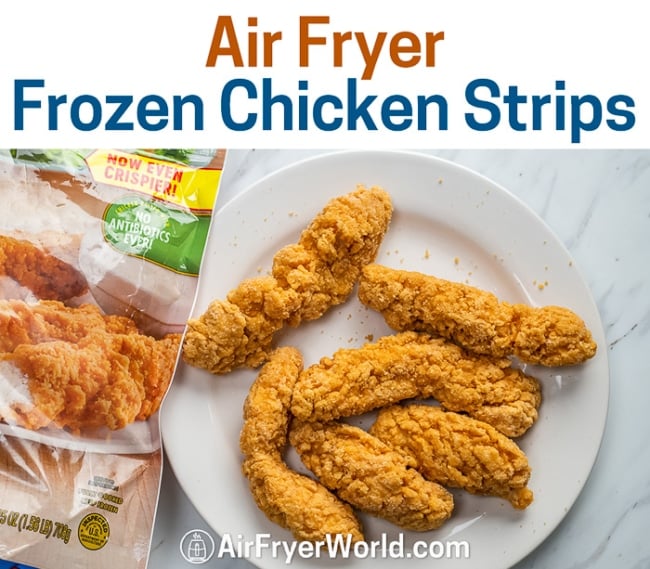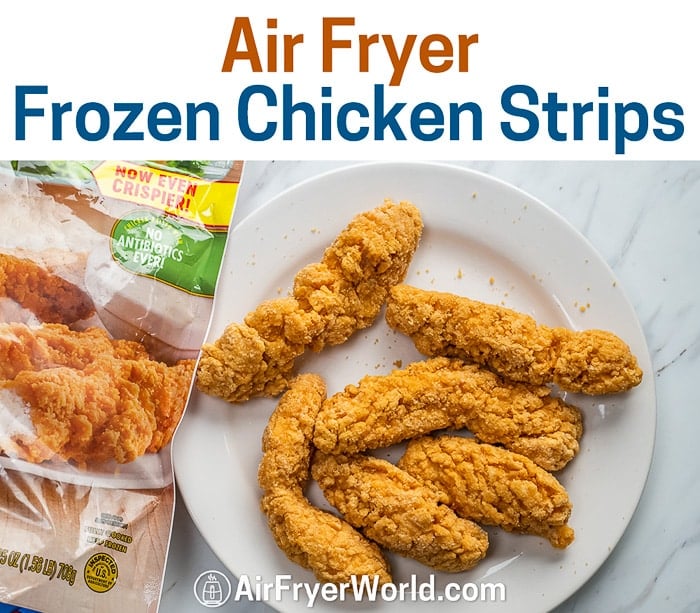 Easy Chicken Recipes in the Air Fryer
If you love air frying chicken, we have these delicious recipe ideas for you:
Great dip ideas for chicken tenders
Can't go wrong with classic mustard and ketchup is always great.
Creamy buttermilk ranch is great for dipping chicken strips from the air fryer
Tarter sauce isn't just for seafood. Try it on your next batch of chicken tenders. The creamy, tangy flavors are excellent.
Thousand island is great on burgers, hot dogs AND chicken strips .
Hot sauce is always awesome. There's so many different kinds like chili crunch or chili oil is a great flavor option. The crunch of the onion and garlic is so good on crispy chicken.
BBQ sauce adds a fantastic smoky flavor
Pickled red onions and other pickles.
Cheese dips are great like different types of queso
Honey mustard sauce is super yummy
You Might Love these other Air Fryer Recipes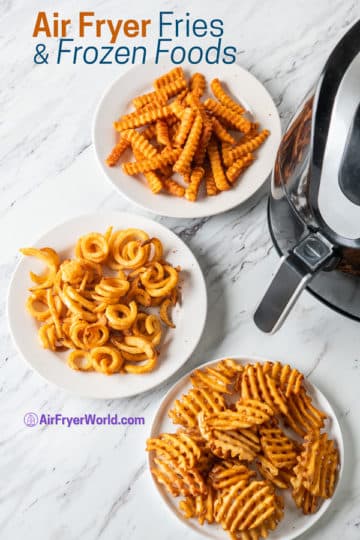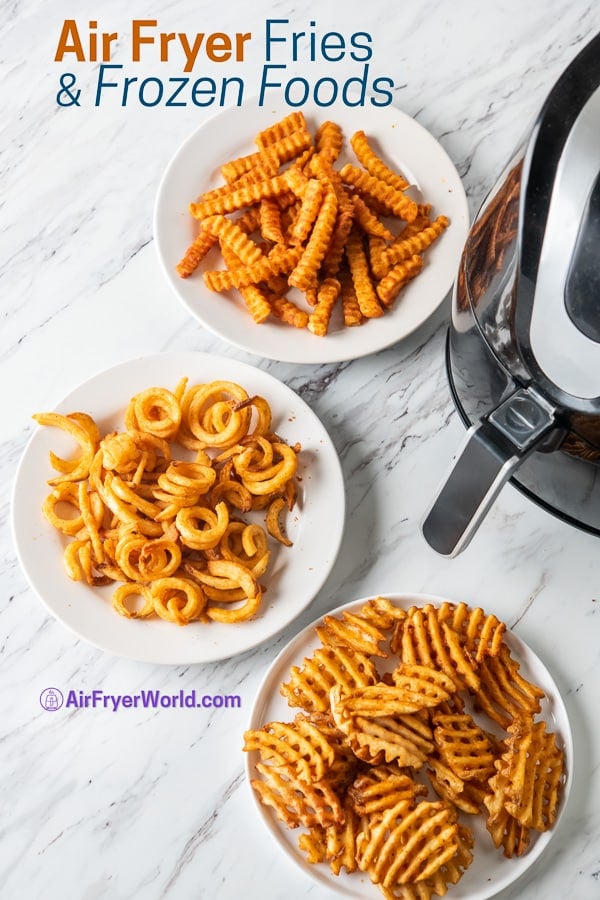 How did your air fryer chicken tenders come out?
If you made this please share your results in the comments! there's so many different types of wings and air fryers that time and temp changes. So it helps to share your model air fryer, time and temp that works best of you. Thanks friends! Hope you enjoy these air fried frozen chicken strips! Here's an easy homemade chicken strips recipe.
As an Amazon associate and partners with other affiliate programs, we may earn from your qualifying purchases. We may earn small commissions that goes towards all the costs of running this website and recipe tests. Thank you for your support.