Air Fryer Rack of Lamb with Mustard Parmesan Crust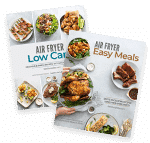 Buy our air fryer e-cookbooks today
Normally lamb is a special occasion meal but air frying a lamb rack in the air fryer is easier than you think! Within minutes this air fryer rack of lamb recipe will be ready to serve. It's a no fuss but fancy looking meal to impress anyone you're feeding.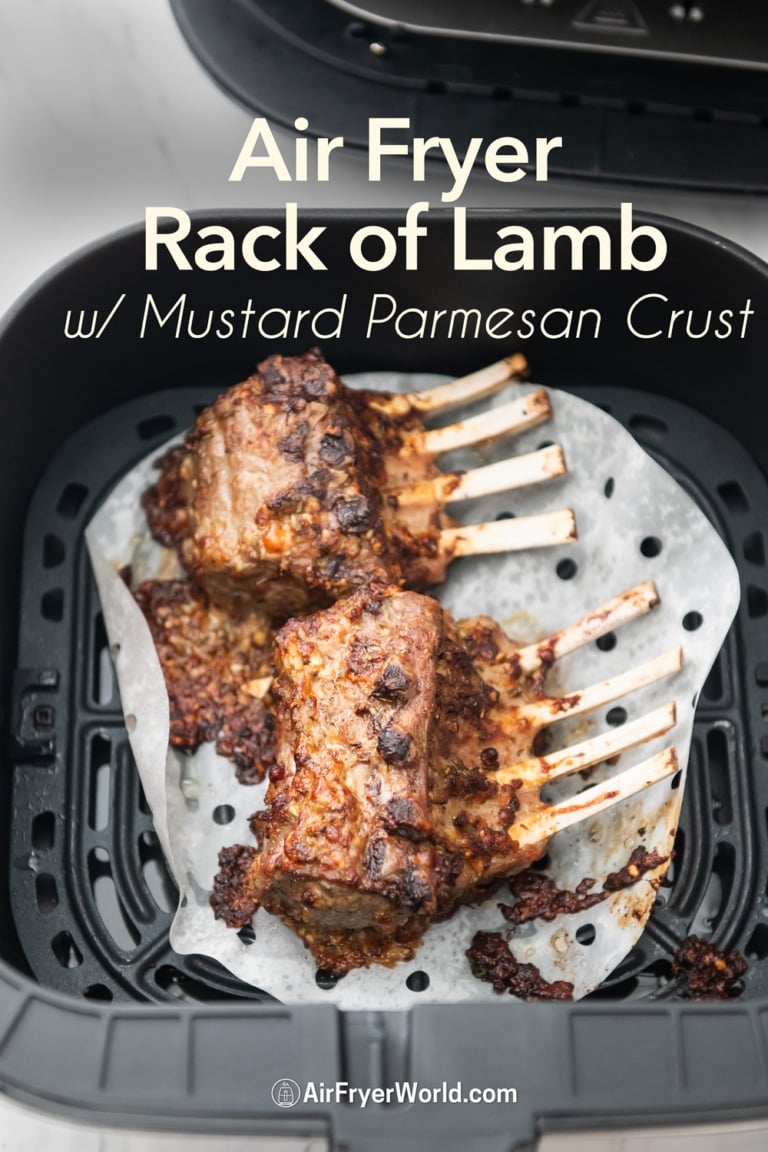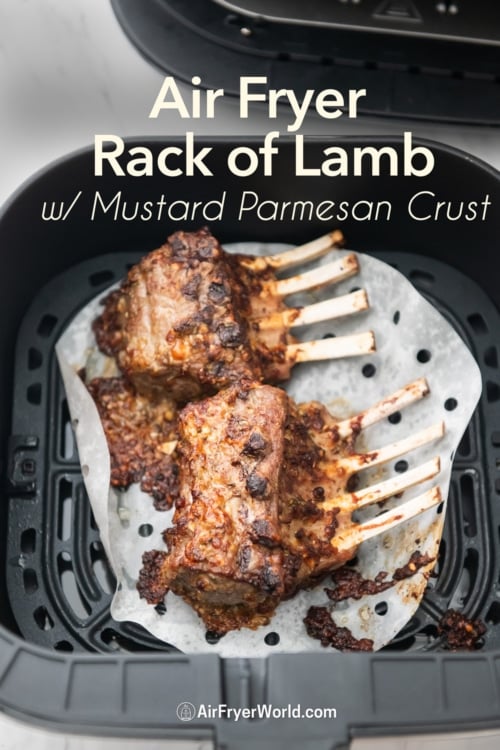 Can you air fry a lamb rack?
The answer is yes but if you have an air fryer large enough and deep enough to fit a whole rack of lamb. If your air fryer is a small 3-4 quart size bucket, you might not be able to fit the whole rack in your air fryer. If this is the case, you can cut the rack into smaller pieces so that it fits. But for the most part, a large deep 6 qt bucket air fryer or an air fryer oven-style model will definitely work. Here's more discussion about different sizes of air fryers.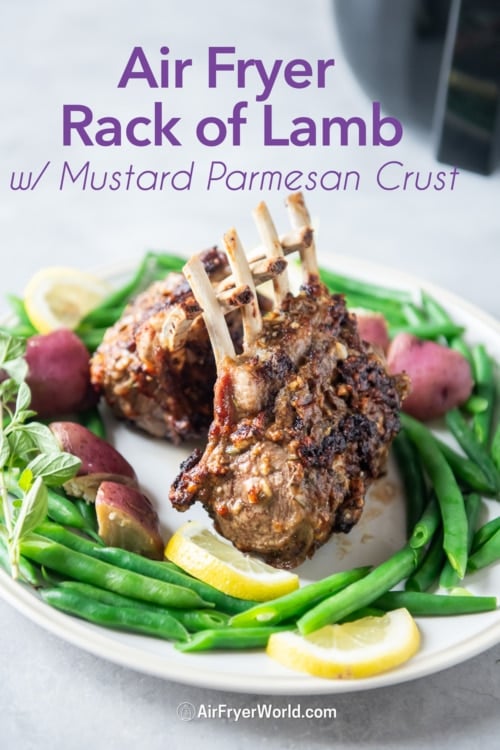 Best Air Fryer Rack of Lamb Recipe
There's many air fried lamb rack recipes out there but why is ours so much more delicious? It's because we have a mustard spread over the lamb rack, then coat it with a parmesan crust. The hot ciruculating air of the air fryer cooks the outside of the lamb to a give a great crust and the center is still juicy. The lamb comes out flavorful, crispy and amazing. You will love these flavors for sure!
Video: Air Fryer Rack of Lamb with Mustard Parmesan Crust
Tips on Air Frying Rack of Lamb
We like using a frenched rack of lamb. This is when the bones are cleaned of excess fat and sinew. Most rack of lambs that are sold in most grocery stores are frenched.
Make sure your air fryer basket is large enough to fit the whole rack of lamb. Most large air fryer baskets barely fits a whole rack. Or sometimes they are not deep enough and the bones will touch the heating element, which is not a good thing. If this is the case, cut the rack in half.
If you have a large air fryer oven or toaster style oven you should be fine and fit the whole rack of lamb in this type of air fryer.
Cooking lamb chops is really quick! Especially when you air fry lamb chops. So be attentive and close by to check on the lamb. Even a minute or two too much can overcook the lamb to your liking. If you like your lamb more on the well done side, then you don't have to worry about the timing as much. Make sure not to overcook them if you like your lamb chops nice and tender.
If you want quicker cooking with a crust on each side of the individual lamb chops, then this would be an air fryer lamb chops recipe. We have two different recipes for these. Check out our air fryer rosemary garlic lamb chops and our air fryer lamb loin chops with chimichurri sauce.
Lay the lamb rack in the air fryer basket/tray in a single layer. If they overlap too much they won't cook evenly.
All air fryer rack of lamb recipe details are in the recipe box below.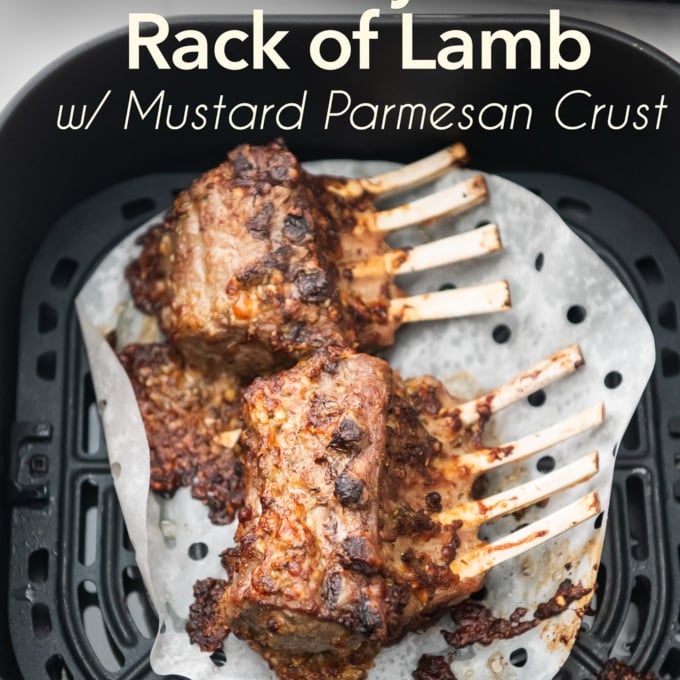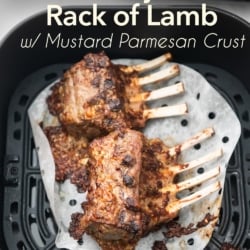 Air Fryer Rack of Lamb w/ Mustard Parmesan Crust
The parmesan crust is crispy, savory and wonderful. To fit the whole rack, you must use a large air fryer that is at least 5 qt. or larger. Don't try squeezing the whole rack into a small air fryer because it'll burn when too close to the heating element. If needed, cut the rack into smaller sections.
Ingredients
1.25

lbs.

(

570

g

)

rack of lamb

, about 7-8 chops

1/4

cup

(

59.15

ml

)

fresh grated parmesan cheese

(or similar hard cheese)

2

Tablespoons

(

30

ml

)

Dijon mustard

3

Tablespoons

(

44.36

ml

) olive oil

2

teaspoons

(

10

ml

)

Worcestershire sauce

3

cloves

(

3

cloves

)

garlic

, minced

1

Tablespoon

(

15

ml

)

chopped fresh herbs

(parsley, oregano, thyme, and/or rosemary)

1/2

teaspoon

(

2.46

ml

)

salt

, or to taste

1/2

teaspoon

(

2.5

ml

)

black pepper

, or to taste

oil spray
If your air fryer is preheated or if you are cooking multiple batches, you may need to reduce timing by a few minutes (unless preheating is called for in the recipe).
Nutrition Information per Serving
Calories:
615
kcal
,
Carbohydrates:
4
g
,
Protein:
20
g
,
Fat:
58
g
,
Saturated Fat:
21
g
,
Polyunsaturated Fat:
5
g
,
Monounsaturated Fat:
28
g
,
Cholesterol:
93
mg
,
Sodium:
762
mg
,
Potassium:
302
mg
,
Fiber:
1
g
,
Sugar:
1
g
,
Vitamin A:
197
IU
,
Vitamin C:
3
mg
,
Calcium:
110
mg
,
Iron:
2
mg
Do you have to use the mustard parmesan crust for the rack of lamb?
No you don't have to use our crust recipe. You can simply use a little oil, salt and pepper on the outside of the rack. Then use any sauce that you prefer. Even something simple as chopped fresh rosemary will add so much flavor.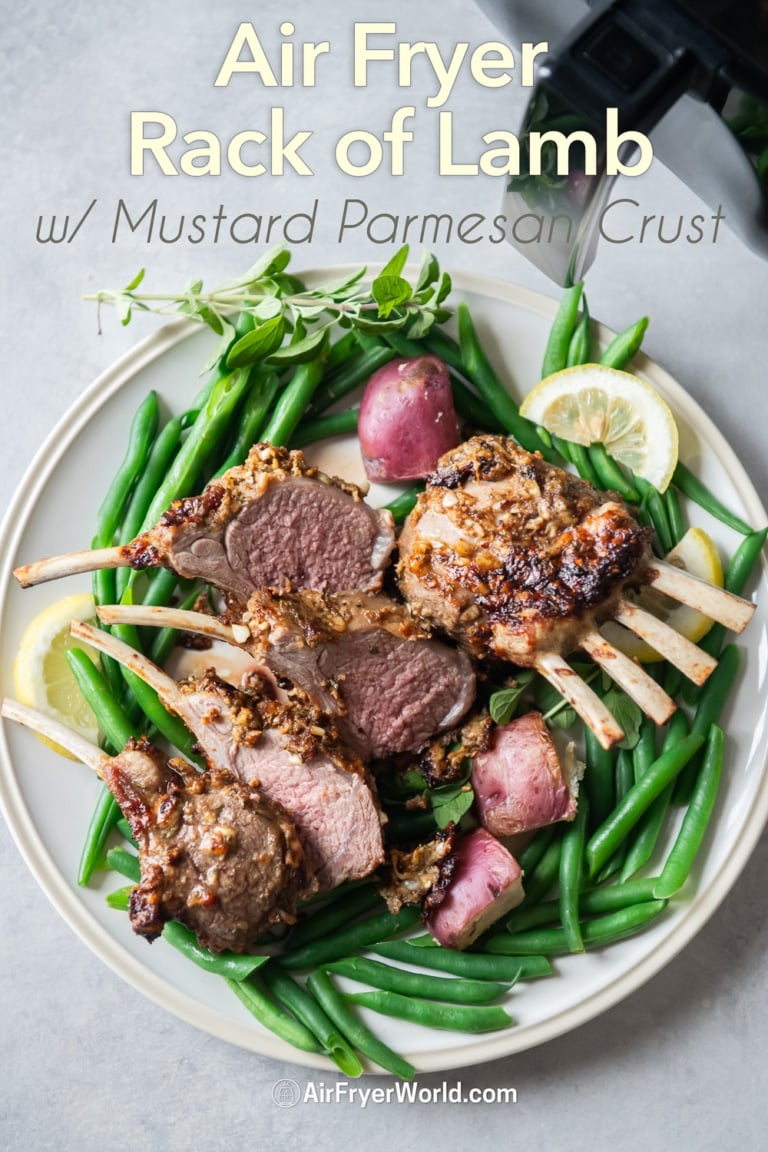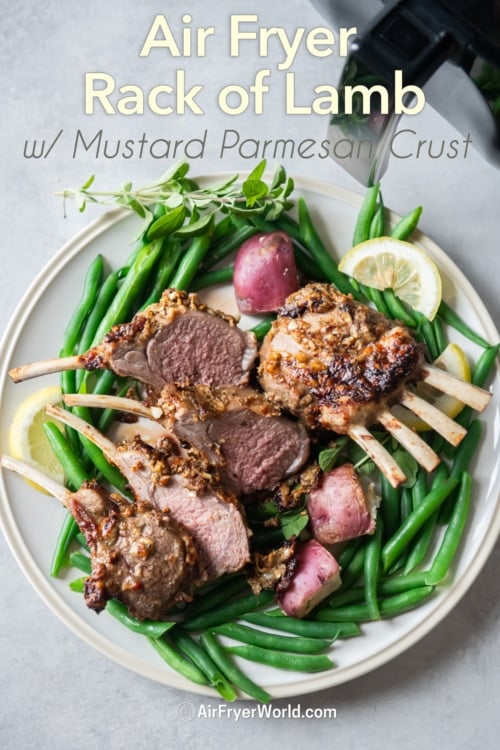 When is the lamb cooked?
It all depends on your preference for cooked meat. Everyone's desired level of doneness varies so much. It's best to have a meat thermometer ready to test the internal temperature of the lamb. That way you can get the most reliable gauge for how well done the air fryer lamb rack is. The following temps are when you should stop cooking for the approximate done-ness. The internal temperature will continue to rise about 5°F as the lamb chops rest.
Rare 125°F / 52°C
Medium-Rare 135°F / 57°C
Medium 150°F / 65°C
Well-done 160°F / 71°C
Must Have Tools for Air Frying Meats
How to Store and Freeze leftover lamb
Once the leftovers are completely cool, store them in airtight bags or containers in the freezer. Try to eat them within about a month. If you store the lamb too long they can get freezer burn and dry out. This really ruins the flavor, texture and quality of the meat. You paid enough for it, so don't waste it! When you're ready to eat the lamb, take it out of the freezer and let it thaw in the fridge overnight. Once the lamb is thawed you can heat them up with a little oil on a skillet on the stove top. Or spray a light layer of oil and air fry them at about 360°F for 5 minutes or until the chops are warm to your liking.
What to serve with rack of lamb?
Simple air fryer vegetables are fantastic with lamb if you're wanting to eat low carb. Try all our air fryer vegetable recipes here. Some mashed potatoes or roast potatoes are great too. We love some simple wild rice or a simple side of pasta to make this a complete meal.
More Easy Recipes:
As an Amazon associate and partners with other affiliate programs, we may earn from your qualifying purchases. We may earn small commissions that goes towards all the costs of running this website and recipe tests. Thank you for your support.