Air Fryer Fish Sticks Recipe (Homemade)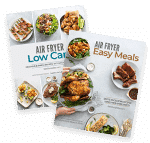 Buy our air fryer e-cookbooks today
We loving making this air fryer fish sticks recipe from scratch. It's so good and crispy! Each bite is crispy on the outside and tender on the inside. This Air frying technique makes the best fish sticks recipe ever. Trust us, homemade fish sticks is so easy to make!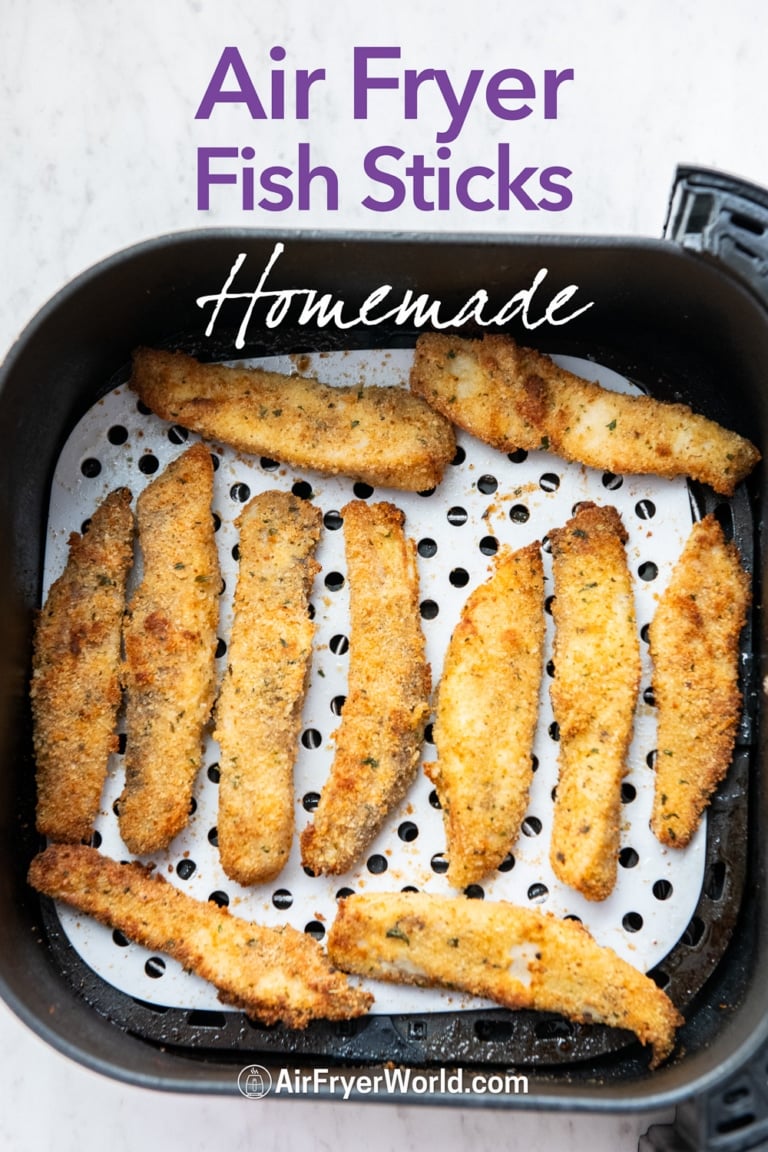 Homemade Air Fryer Fish Sticks Recipe
Our popular frozen fish sticks in the air fryer technique went viral because it's one of quickest ways to re-heat fish sticks to be crispy. But if you have the time, it's totally worth it to try to make homemade air fryer fish sticks. The hot circulating by air frying really creates a crispy crust on the fish that is delicious. The best part about this is that the fish is cooked tender and quick too. The flavors of fish sticks made from scratch is why we believe this is the best fish sticks recipe.
Different types of breading for fish sticks from scratch
What you see in our air fried fish sticks photo was made with traditional Italian breadcrumbs. This is the most common and popular breading option. But there's so many more options to try if you have a particular dietary lifestyle. Check out these yummy breading possibilities:
Panko bread crumbs: these are a Japanese style bread crumb that is one of our favorites. They're light and when fried or air fried, the texture is super crispy. It's addicting.
Crushed pork rinds is a popular very low carb breading option. It's great if you want breading for keto fish sticks in the air fryer. The results are always crispy.
Another low carb breading option is using crushed almond flour. It'll give you a great almond flavor too. We find that this doesn't get as crispy as the other bread crumbs. But almond flour is still a great option for gluten free fish sticks.
Chickpea flour and sesame seeds are also great if you're wanting a lower carb or gluten free breading option.
Video: Air Fryer Fish Sticks Recipe
Best Types of Fish
We like using thinner white fish for making homemade fish sticks. They're budget friendly, thin fillets and easy to cook. Save the expensive white fishes like halibut for baking or searing. Simple cod or a sustainable well sourced tilapia or swai. Salmon might be a little rich for some of you but air fryer salmon fish sticks are a delicious option.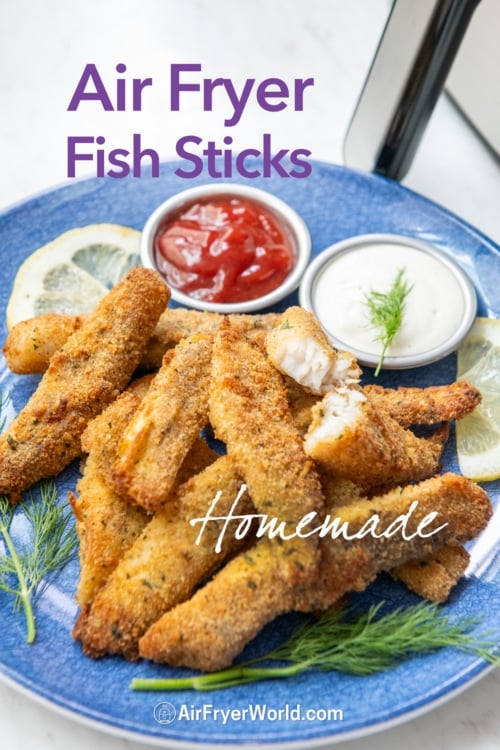 Tips on How to Air Fry Fish Sticks from Scratch (Homemade)
The breading can possibly fly around and burn. What ever you use, don't let it burn in the air fryer! The hot circulating air will blow around the dry breading, which will touch the heating coils and burn. So it's important that you spray enough oil on the bread to hold it to the chicken.
Spray enough oil to completely cover the breading evenly so it doesn't blow around and burn. You need enough oil spray to make chicken crispy. If you miss oiling any breading spots, they will cook dry and hard, not crispy.
Make sure that when you cut the fish fillets into the sticks that they are all consistently the same size. This will ensure that they all cook evenly. If you have one thick stick and one thin stick, you'll have some that air fry too fast while the others are still raw and un-cooked.
If you have a small air fryer you will have to cook the fish sticks in smaller batches.
You can customize your seasonings to what ever you like. Classic old bay seasoning or using your favorite grilling seasonings on the fish is great. When you're finished top with a little fresh dill or a squeeze of fresh lemon juice. Lemon pepper seasoning is also a great choice.
Refer to the recipe box below for all air fryer fish sticks recipe details and instructions. Enjoy!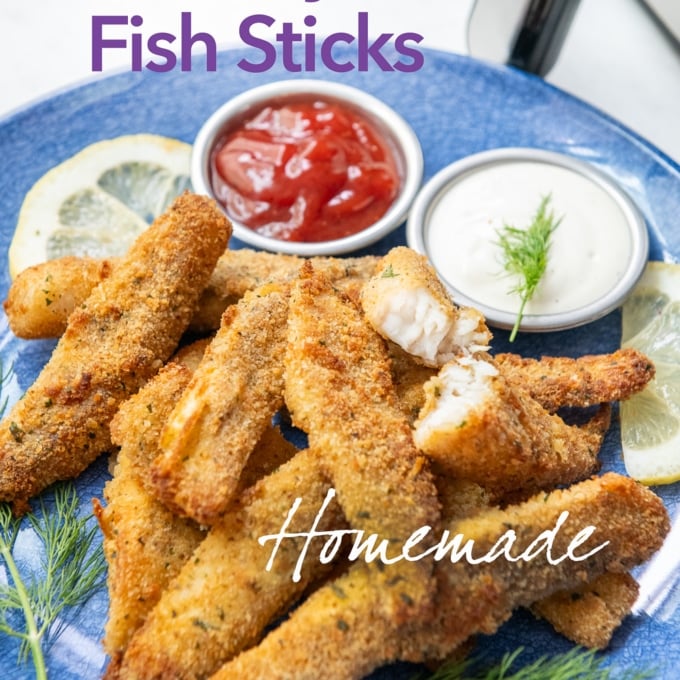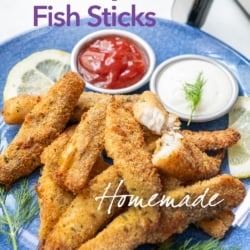 Air Fryer Crispy Fish Sticks (HOMEMADE)
There are so many options for the breading that come out crispy and accommodate different dietary choices. We love them all, each giving slightly different texture and flavor.
Variance in size and thickness influence how the fish sticks cook, so you'll have to adjust timing. All air fryers are different and some cook much hotter than others. Once you cook your first batch, you'll know more of what works for your model of air fryer and size of food.
Make sure to spray the breaded fish sticks to completely coat all the dry spots of breading or else it may cook up dry and crunchy instead of crispy. Want to know what oils and sprayers are best for an air fryer? This article is a great write up.
Ingredients
1

pound

(

454

g

)

white fish fillets

(cod, halibut, tilapia, etc.)

1

teaspoon

(

5

ml

) kosher salt

, or to taste

1/2

teaspoon

(

2.5

ml

)

black pepper

, or to taste

1

teaspoon

(

5

ml

)

garlic powder

1

cups

(

110

g

)

breadcrumbs

(or more if needed) (or breading of choice) panko, crushed pork rinds, almond flour etc.

2

eggs
If your air fryer is preheated or if you are cooking multiple batches, you may need to reduce timing by a few minutes (unless preheating is called for in the recipe).
Nutrition Information per Serving
Calories:
318
kcal
,
Carbohydrates:
27
g
,
Protein:
38
g
,
Fat:
6
g
,
Saturated Fat:
2
g
,
Polyunsaturated Fat:
2
g
,
Monounsaturated Fat:
2
g
,
Trans Fat:
0.01
g
,
Cholesterol:
144
mg
,
Sodium:
1144
mg
,
Potassium:
569
mg
,
Fiber:
2
g
,
Sugar:
2
g
,
Vitamin A:
101
IU
,
Vitamin C:
0.01
mg
,
Calcium:
94
mg
,
Iron:
3
mg
What are the best dips for fish sticks?
There's so many different options and we're always open to anything beyond the popular tarter sauce. That's what makes these so delicious is that kids love dipping and it's a great way for them to eat seafood. They can have fun and taste all their different dips. It's a great kids meal too.
The always popular and classic mustard and ketchup is great.
Creamy buttermilk ranch is great for dipping fish sticks from the air fryer
Tartar sauce is creamy, tangy and the flavors are excellent.
Thousand island is great on burgers, hot dogs AND fish sticks.
Hot sauce is always awesome. There's so many different kinds like chili crunch or chili oil is a great flavor option. The crunch of the onion and garlic is so good on crispy fish.
BBQ sauce adds a fantastic smoky flavor
Cheese dips are great like different types of queso
Honey mustard sauce is super yummy
Can you freeze leftovers?
Fish sticks are great for freezing and part of meal prep. After the air fried fish sticks are completely cool, store them in airtight bags or containers in the freezer. You can freeze them for up to 2-3 months but try to eat them sooner than later. Sometimes freezer burn will set-in and make the fish sticks not so flavorful anymore.
How to re-heat fish sticks?
The best way is always to air fry them. Place them frozen straight from the freezer into the air fryer. Air fry the fish sticks at 380°F for about 4-6 minutes or until crispy and heated through. Re-heating times will vary depending on the size and power of your air fryer. But start with about 4 minutes first, then add more time if needed. Here's our timing for frozen air fried fish sticks.
Best Air Fryer Seafood Recipes:
Try all our different air fryer seafood recipes here. They're so many options to enjoy seafood throughout the week in the air fryer!
As an Amazon associate and partners with other affiliate programs, we may earn from your qualifying purchases. We may earn small commissions that goes towards all the costs of running this website and recipe tests. Thank you for your support.