Air Fryer Stuffing Recipe with Sausage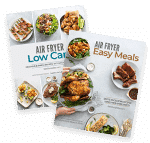 Buy our air fryer e-cookbooks today
Making our air fryer stuffing recipe is going to be a game changer, especially when you have limited oven space. Whether you're cooking for 2 or 6 servings, there's different air fryers that can cook for these amounts. Air fryer boxed stuffing is the way to go! Using store bought boxed stuffings makes this recipe so much easier.
Different Brands of Store Bought Boxed Stuffing: Mrs. Cubbisons, Stove Top, Pepperidge Farm & More
Using the prepared stuffing bread cubes makes this recipe super easy. There's so many brands of stuffing in a box and they all cook well in the air fryer. Each brand varies a bit by size of the bread cubes or texture. Some textures are cubed, while others are more crushed or tumbles of bread. Other than that, they are all have very similar cooking times. Here's a list of the best boxed store bought stuffing reviews.
Other Breads for Stuffing vs. Boxed
If you don't want to use boxed store bought stuffing, there's other alternatives.
You can cut up day old sliced white bread or loaf bread. Cut the bread into small 1/2″ cubes and bake them in the oven to dry them out. Lay the cut cubes on a sheet pan and bake at 350°F for about 25 minutes OR until they are dry and firm. Stir the homemade bread cubes at least once during cooking time. 6 oz. of stuffing mix will equal about 2 cups of homemade bread cubes.
Another option is using bagged croutons. These are extra flavor on them but they can be rather large. You can lightly crush them to make them smaller. This is great if you want a specific flavor that your favorite croutons have. 6 oz of stuffing mix will equal about 2 cups of croutons.
Brioche is a great option as this type of bread gives a soft, tender crumb.
Coarsely crushed crackers is also another alternative. This gives a drier, more firm stuffing. So you might have to use more liquid (water, broth or stock)
Add More Fresh Ingredients like Sausage and More
Add some extra ingredients to make the stuffing more amazing. We saute some onions, crumbled sausage, or mushrooms and other vegetables. Cook these on the stove top first. Adding these extra fresh ingredients really makes the stuffing more delicious and using the boxed bread cubes saves a step to make this recipe so much easier.
Choose the right vessel for the stuffing in the air fryer
The most important factor to make your batch successful is having the right dish that fits your air fryer and should be more shallow than deep. You don't want to have something too deep or else the stuffing just burns on top and doesn't cook or heat the food all the way through.
Baking Pans that are Perfect for Air Frying
We love these 8-inch square baking pans for air frying in oven-style air fryers as well as some larger basket-type air fryers. They don't have bulky handles which will get in the way for some air fryers.
These style pans are perfect for basket-type air fryers. The handles make it so much easier to take out of the basket.
Video: How to Make Air Fryer Sausage Stuffing Recipe
Tips on How to Make Air Fryer Stuffing with Sausage in Bucket Air Fryer
This recipe is for 6 qt buckets style air fryers or larger. For oven style air fryers, here's the recipe for a larger volume.
Make sure to choose the right dish to fit your air fryer. If you have a small air fryer and small dish, don't try to cook the whole batch in one try. You might have to cook the stuffing in several smaller batches.
Cover the uncooked stuffing with foil for the first half of cooking. This ensures that the stuffing cooks all the way through,. Then stir and cook again uncovered to get the crisp topping.
If needed, you might have to stir the stuffing one during air frying to ensure everything is cooked through. Stirring allows the stuffing to cook evenly without burning on the top, especially if your baking dish is keep.
If you don't have stuffing mix, you can always use toasted bread cubes or croutons. 6 oz. of stuffing mix is about 2 cups of croutons or toasted bread cubes.
All air fryer stuffing recipe details are in the recipe box below.
Stuffing Recipe in Air Fryer Oven (Oven Style Air Fryers)
When making stuffing for a larger oven style air fryer, you can make a larger amount than what the bucket style recipe calls for (you can always make this recipe in an oven style air fryer too, but most people will want to make a larger quantity of stuffing). This larger recipe will easily serve 6-8 people as a side dish of stuffing. These larger oven air fryers can accommodate a larger baking dish, thus more portions. Click here –> for the air fryer stuffing recipe in oven air fryer.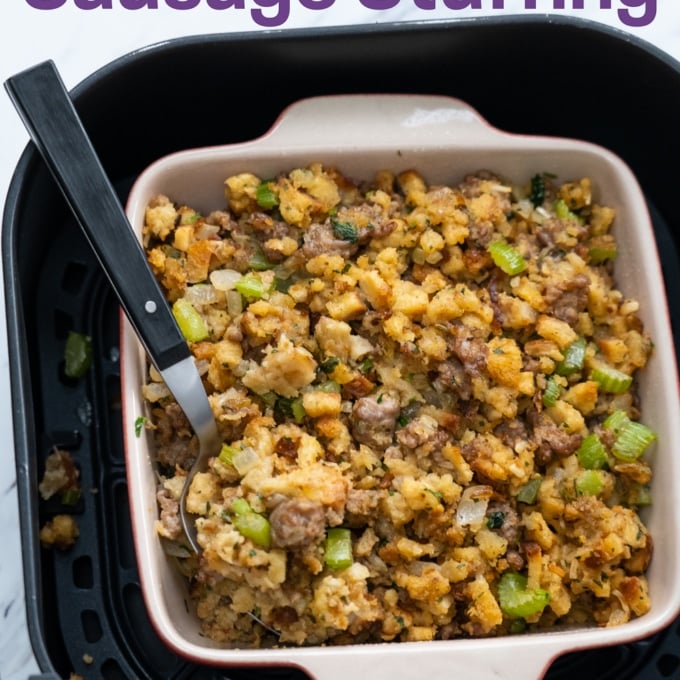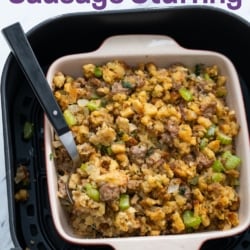 Air Fryer Sausage Stuffing
Ingredients
6

oz.

(

170

g

) box stuffing mix

(not 12 oz.)

4

Tablespoons

(

60

g

)

butter

1/2

onion

, diced

2

stalks celery

, diced

1/2

lb.

(

227

g

)

raw sausage

1/2

teaspoon

(

2.5

ml

)

garlic powder

, or to taste

1 1/2

cups

(

360

ml

)

chicken or beef broth or water

1-2

Tablespoons

(

15-30

ml

)

chopped fresh or dried herbs

(parsley, sage, rosemary, etc) , optional

Black pepper

, to taste

Salt

, to taste if needed

2

Tablespoons

(

30

g

)

additional melted butter

, for brushing
Optional additional stuffing extras:
chopped bacon, chopped nuts, dried fruit, mushrooms, etc.
If your air fryer is preheated or if you are cooking multiple batches, you may need to reduce timing by a few minutes (unless preheating is called for in the recipe).
Nutrition Information per Serving
Calories:
499
kcal
,
Carbohydrates:
35
g
,
Protein:
14
g
,
Fat:
34
g
,
Saturated Fat:
16
g
,
Polyunsaturated Fat:
3
g
,
Monounsaturated Fat:
12
g
,
Trans Fat:
1
g
,
Cholesterol:
86
mg
,
Sodium:
1115
mg
,
Potassium:
335
mg
,
Fiber:
2
g
,
Sugar:
4
g
,
Vitamin A:
696
IU
,
Vitamin C:
3
mg
,
Calcium:
84
mg
,
Iron:
4
mg
As an Amazon associate and partners with other affiliate programs, we may earn from your qualifying purchases. We may earn small commissions that goes towards all the costs of running this website and recipe tests. Thank you for your support.