Air Fryer Basket vs Oven Style. Which is better?
With so many different choices out there for different types of air fryers, it can be overwhelming. Today we share our guide to different styles of air fryers. Which is better? Air fryer basket style or Toaster Oven style air fryers? Well, it all depends on your needs and space capacity. Our air fryer basket vs oven style article will give you insight to making the best purchase.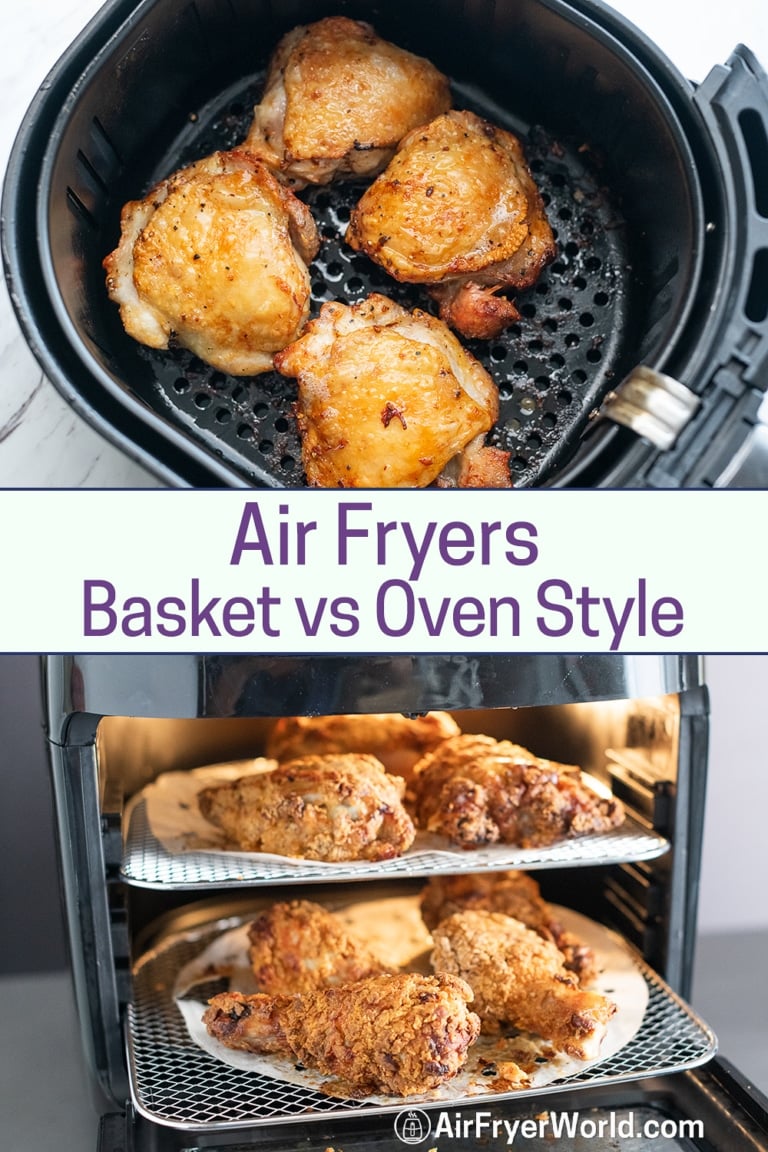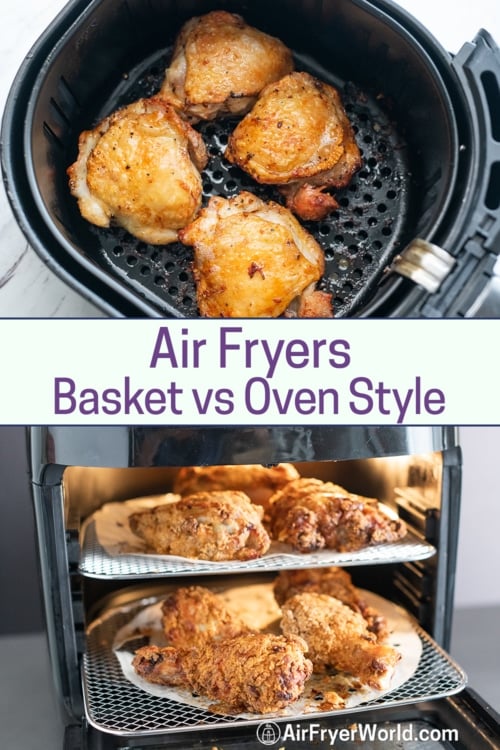 What is Air Frying?
Basically, if you can cook a recipe in a regular conventional oven, then you can cook it in an air fryer. Air fryers generate heat and a fan circulates the hot air to help the food cook evenly and crispy. These are like mini counter top convection ovens with a heating element on top of the food. That's how they're different from pressure cooking and microwaves.
When compared to regular deep fried foods, most air fried food textures have a very similar crunch without having to use a ton of oil or fat. Also, you barely have to use any oil and the food still comes out crispy and delicious. Read our detailed article on What is Air Frying?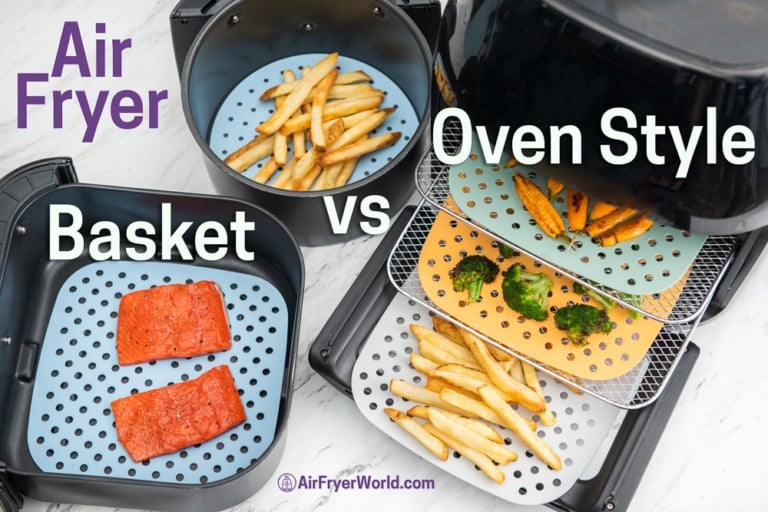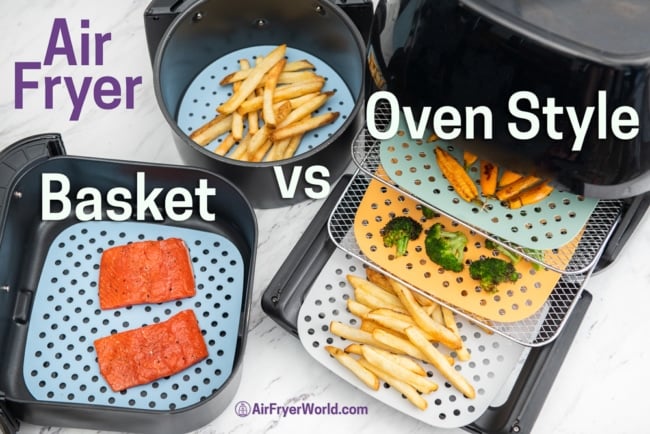 Basket Style Air Fryers or Drawers :
Usually smaller space so limited to smaller servings of food. Although some larger 5-6 qt. Basket air fryers can cook up to 4 (6 oz) salmon fillets and steaks.
Food usually cooks faster cause of smaller space, but they can also burn easier too if the food is too close to the top heating element.
Great for quick little things or re-heating, especially if you have a smaller 3-4 qt air fryer. The smaller the air fryer, the quicker it heats up.
Limited to one item at at a time , where as oven can cook multiple items
Can shake and move things around. In the oven, you have to flip or turn the food.
Most baskets are easier to clean than some of the wire racks in oven style.
Small size fits nice on counter, especially if you have a small kitchen or live in a apartment.
Read our detailed guide to buying air fryers.
Oven or Toaster Oven Style Air Fryers:
You can cook larger amounts of food and larger foods like bigger roasts.
Some models have 2-3 racks. This oven style allows you to rotate when cooking multiple items. Quicker cooking foods can be on the top rack, while the foods that need more time can be on the bottom rack. This works if the two types of food can be cooked at the same temperature.
Doesn't cook as quick as basket cause the oven is a little bigger so more time to heat up.
Preheat is most likely better in oven to get it to temperature quicker
Has wire racks which can often be harder to clean. These can be a nightmare. That's why you should use these non-stick silicone liners.
Larger footprint so will take up a lot of countertop space.
Most models now have features beyond air frying features like : rotisserie functions, broil, bake, dehydrate, roast and proof breads.
Definitely more expensive. But if you plan on using it a lot like you would a toaster oven, then it'll be worth the money.
Read our detailed guide to buying air fryers.
Best Air Fryers?
Check out our detailed guide and review of different styles and models of air fryers. There's a lot of helpful information here on what air fryer to buy. Every household is different and has different needs. Read our detailed article and guide on best air fryers to buy.
How to Clean Air Fryers?
Keeping your air fryer clean will prolong the life of your investment. The key is to make sure it's cleaned often and not every few months. The grease and food residue can stick on the racks and become harder to wash if you wait too long. Read our guide to How to Clean Air Fryers.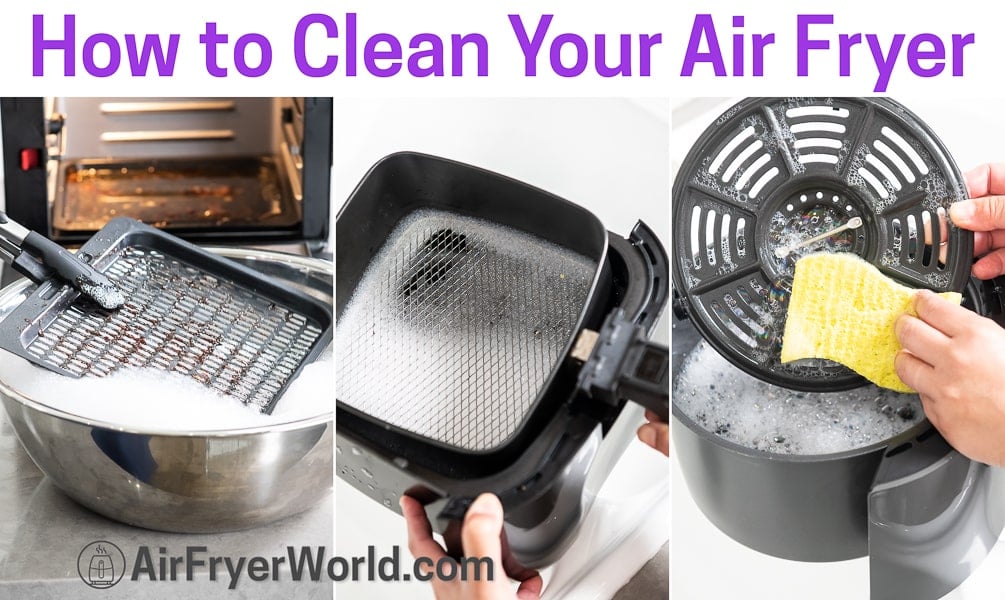 Our Favorite Accessories – No Matter What Air Fryer You Have
Easy Air Fryer Recipes
Want to share this air fryer basket vs oven style advice? Please don't copy it. Just share the link, credit and link back to this copyrighted article. We've have issues with people stealing our words and content (photos) and putting their logos on it and putting on their blogs or posts. It's wrong to do this. We put a lot of time and research into this so sharing is caring! Thank you so much.Hope this Air fryer basket vs oven style article helps! What's your thoughts? Share what air fryer model and style you have.
As an Amazon associate and partners with other affiliate programs, we may earn from your qualifying purchases. We may earn small commissions that goes towards all the costs of running this website and recipe tests. Thank you for your support.