Air Fryer Frozen Texas Toast, Cheese Bread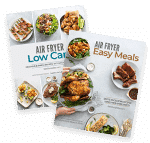 Buy our air fryer e-cookbooks today
Air fryer frozen Texas toast or cheese bread is a quick and easy side dish and snack to prepare. Within minutes, these thick slices of frozen Texas toast lathered with butter, garlic and sometimes cheese, air fry perfectly.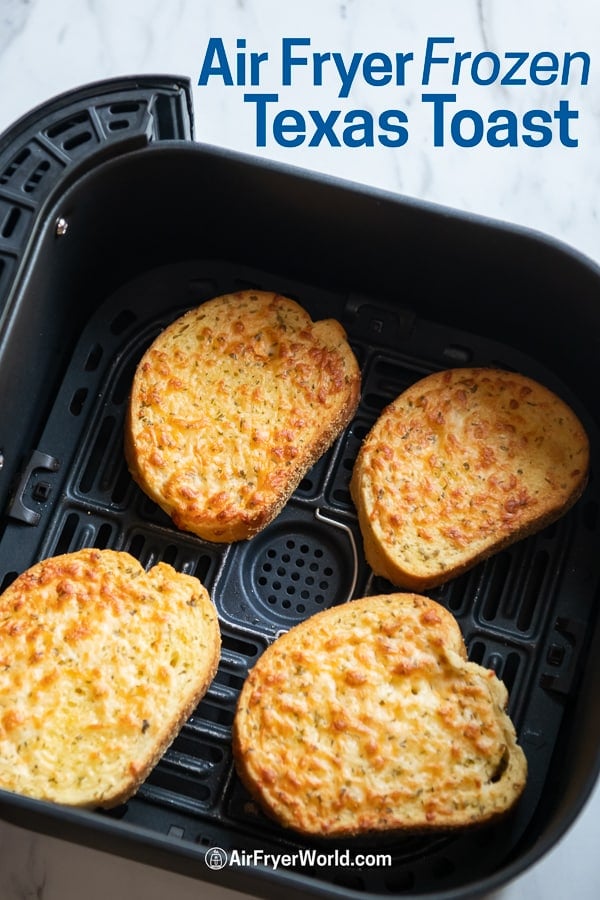 Air Fryer Frozen Texas Toast or Cheese Bread
What a great way to prepare everyone favorite garlic texas toast from frozen. We're obsessed with this when it's served with a bowl of soup or stew, pasta or spaghetti. Kids love this as a snack too so it's super easy for parents to prepare frozen texas toast in the air fryer. You can take it straight from the freezer and within minutes, it's ready. Add extra time if you want the toast to be crispy!
Video: Frozen Texas Toast in the Air Fryer
How to Re-Heat Air Fried Frozen Texas Toast (cheese bread)
There's different types of Texas toast brands and they all cook a little differently in various models of air fryers. Also, some brands call the same product as "cheese bread or cheese toast". Just remember that they're all basically the same kind of product. Here's some easy air fryer re-heating tips to remember:
If the toast is just butter and garlic, you should flip the toast so that it cooks evenly on both sides.
If the toast has cheese on top, then air fry the toast with the cheese side facing up. Don't flip the toast or else the cheese side will stick to the air fryer basket or rack.
Start with the lowest air fry time we suggest and check to see if the toast is to your preferred texture. If not, then increase time when needed and if you want your toast crispy, definitely add a little more time.
Is it better to cook texas toast in a bucket or oven style air fryer? Here's our deep discussion comparing both types of air fryers.
Refer to the recipe box below for all time and temp details.
Making garlic bread? Here's the discussion about air frying garlic bread.
For your next meal, try making homemade air fried grilled cheese.
All frozen cheese bread timing and temp details are in the recipe box below.
Pro-Tip: here's our favorite tools to help make air frying easier: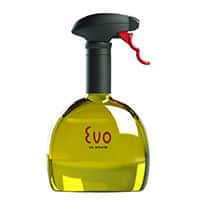 We LOVE Evo Oil Sprayers. Not the prettiest, but they're functional and spritz oil great! They don't clog up like many others we've bought. There's different styles, but all seem to have the same great spray head. Works great for grilling!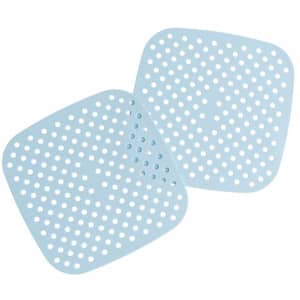 There are Square Mats & Round Mats. These perforated non-stick silicone mats are used to cook food in your air fryer or steamer to minimize sticking. Holes allow hot circulating air to cook the food & keeps the food from sticking.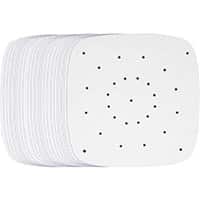 Parchment sheets are great for your air fryer or bamboo steamer (food tends to stick most on wire basket or tray). Choose from different sizes, shapes, white and brown (unbleached). Holes allow air to cook food evenly.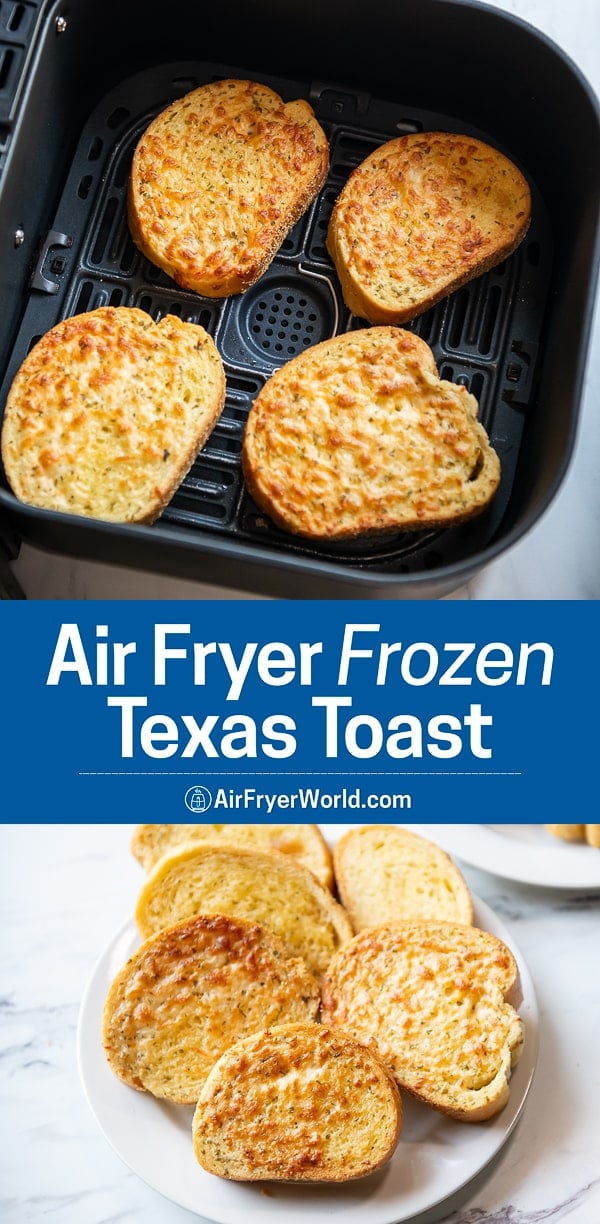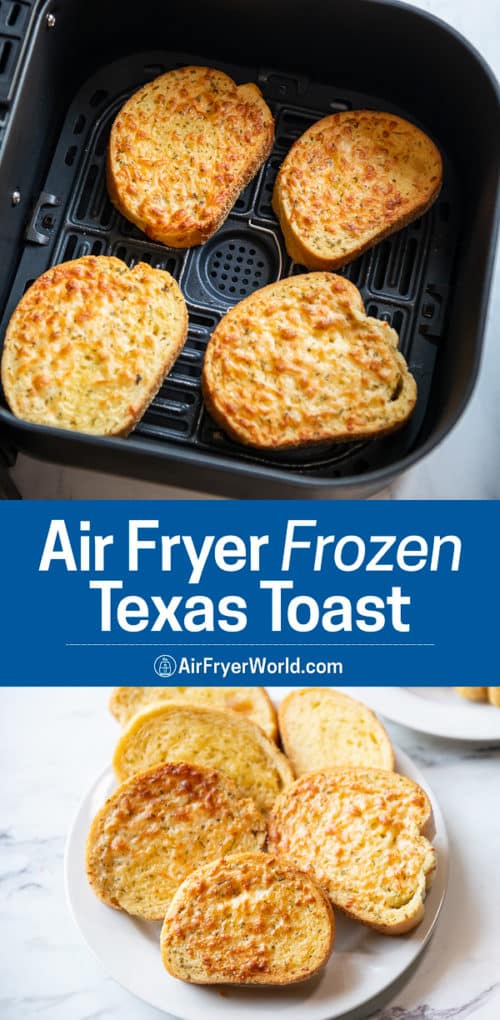 Recipe ideas with Cheese Toast from Air Frying
Quick and easy pizza in the air fryer! Add some pizza sauce and pepperoni for a quick and easy pizza! Check out all our air fryer pizza recipes here.
It's perfect as a side dish to sop up sauces. Serve with pasta or saucey skillet recipes
It's a great for making sandwiches! Add some tomato and bacon for an awesome BLT. Or even an extra slice of cheese melted in the center is a fantastic grilled cheese with texas toast. Here's our air fryer grilled cheese recipe.
Any other ideas? Let us know in the comments. We love hearing from you and what you're making by air frying cheese bread or texas toast. Thanks!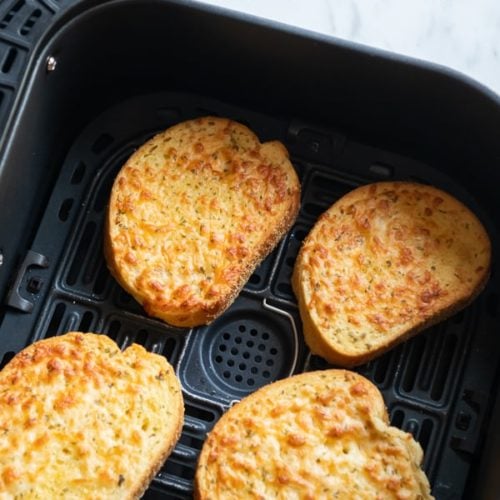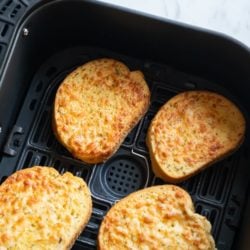 Air Fryer Frozen Texas Toast (with cheese or without)
Different brands of frozen texas toast all vary in thickness, & cheese or garlic options so you'll have to adjust timing. Only cook a single layer's worth at time for even cooking. Cook in multiple batches if needed. Do not thaw before air frying.
For non-cheese Texas toast, we find it best to flip about halfway through cooking. For the cheese versions, you don't want to flip or else you'll lose your cheese.
All air fryers are different and some cook much hotter than others. Once you cook your first batch, you'll know more of what works for your model of air fryer and size of food. These were tested on basket style air fryers. Read more recipe notes below the recipe. Nutrition will vary depending on individual brands. Nutrition is based on Cheese Texas Toast.
Ingredients
4

Frozen Texas Toasts

(Cheese or Garlic)

chopped parsley

,optional
Instructions
Cheese Texas Toast
Air Fry at 340°F/170°C for about 7-10 minutes, or until the cheese is golden and the toast is heated through. Top with optional chopped parsley if desired.If you're cooking only 1-2 pieces it might take about 5-6 minutes. Timing will also depend on how crisp you like your toast, the type of cheese, how thick the toast is, etc. Test a piece first and you'll know more of what your preferred timing is like for your particular frozen cheese toast.
Garlic Texas Toast (no cheese)
Continue to Air Fry at 340°F/170°C for another 1-5 minutes or until cooked to your desired golden crispness. Top with optional chopped parsley if desired.If you're cooking only 1-2 pieces of garlic bread it might take about 5-6 minutes total time, depending on how crisp you like your toast. Test a piece first and you'll know more of what your preferred timing is like.
Notes
Air Frying Tips and Notes:
No Oil Necessary. Cook Frozen – Do not thaw first.
Cook in a single layer in the air fryer basket.
Recipe timing is based on a non-preheated air fryer. If cooking in multiple batches back to back, the following batches may cook a little quicker.
Recipes were tested in 3.7 to 6 qt. air fryers. If using a larger air fryer, they might cook quicker so adjust cooking time.
If you're using an oven-style air fryer with racks, you will need to rotate the racks because the top racks closest to the heating element will cook much quicker.
If your air fryer is preheated or if you are cooking multiple batches, you may need to reduce timing by a few minutes (unless preheating is called for in the recipe).
Nutrition Information per Serving
Calories:
150
kcal
,
Carbohydrates:
17
g
,
Protein:
5
g
,
Fat:
7
g
,
Saturated Fat:
2
g
,
Cholesterol:
5
mg
,
Sodium:
200
mg
,
Fiber:
2
g
,
Sugar:
1
g
,
Calcium:
60
mg
,
Iron:
1
mg
Why did the cheese bread or texas toast burn?
It's probably because your air fryer cooks really hot or the heating element is too close to the toast. Reduce the air fryer temperature to 320°F or cook it for about 1 minute less.
You Might also Love these Air Fryer Recipes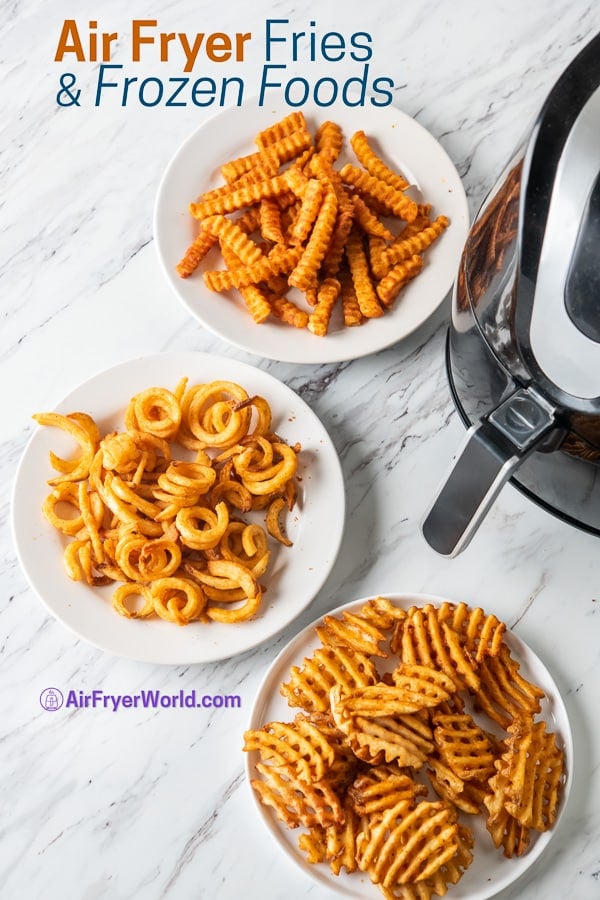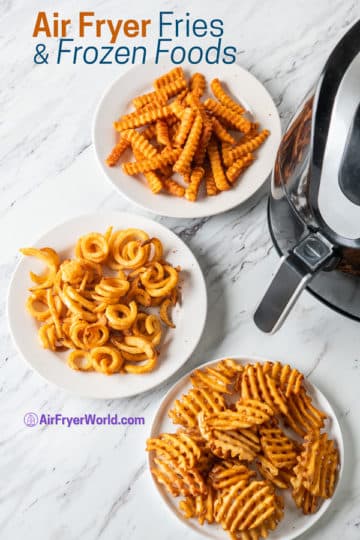 As an Amazon associate and partners with other affiliate programs, we may earn from your qualifying purchases. We may earn small commissions that goes towards all the costs of running this website and recipe tests. Thank you for your support.