Air Fryer Frozen Toaster Scrambles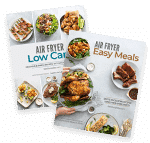 Buy our air fryer e-cookbooks today
If you love frozen Pillsbury toaster scrambles, you'll love air frying them. These savory morning pastries are always crispy and perfect when air fried. When you're ready to make your next batch, skip the actual toaster. Trying these air fryer frozen toaster scrambles for a more crispy version. This is not a sponsored post and not endorsed by Pillsbury. We just tried these scrambles in the air fryer one day and loved it. So we're sharing it with you all on how easy it is!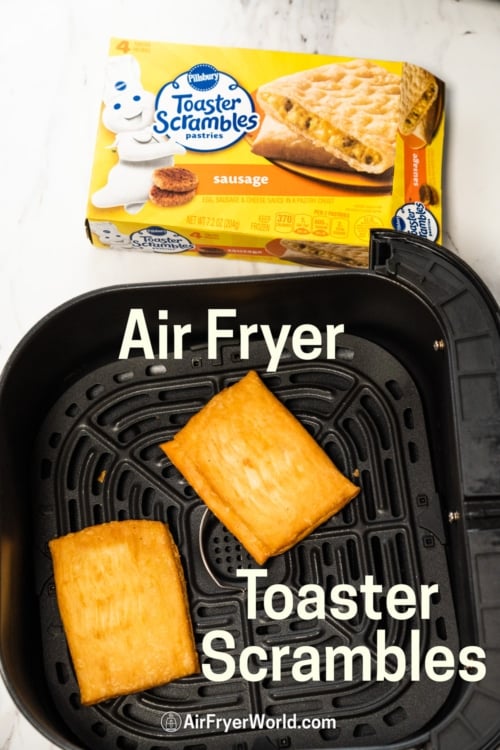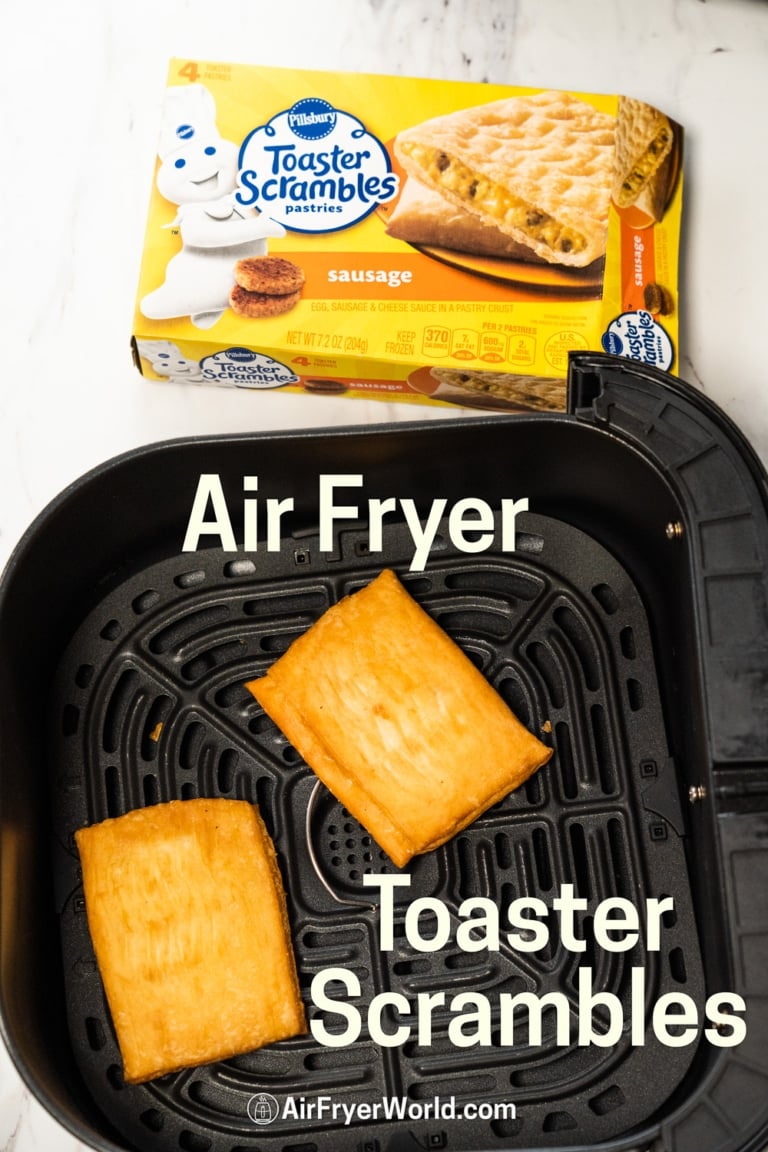 Can You Air Fry Frozen Toaster Scrambles?
Theses savory morning pastries aren't just for the toaster, even though they're made for heating that way. We did an initial test with these frozen toaster scrambles in the air fryer and the results were fantastic! The hot circulating air of the air fryer makes these super crispy and perfect. This has been our go-to way of re-heating frozen toaster scrambles right out of the freezer.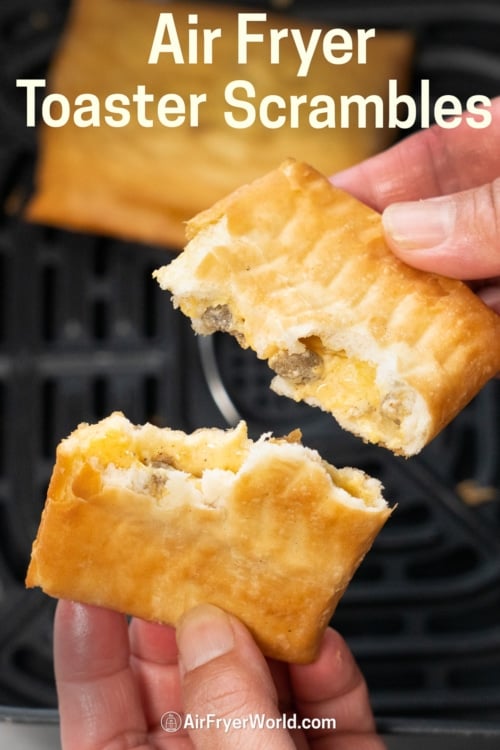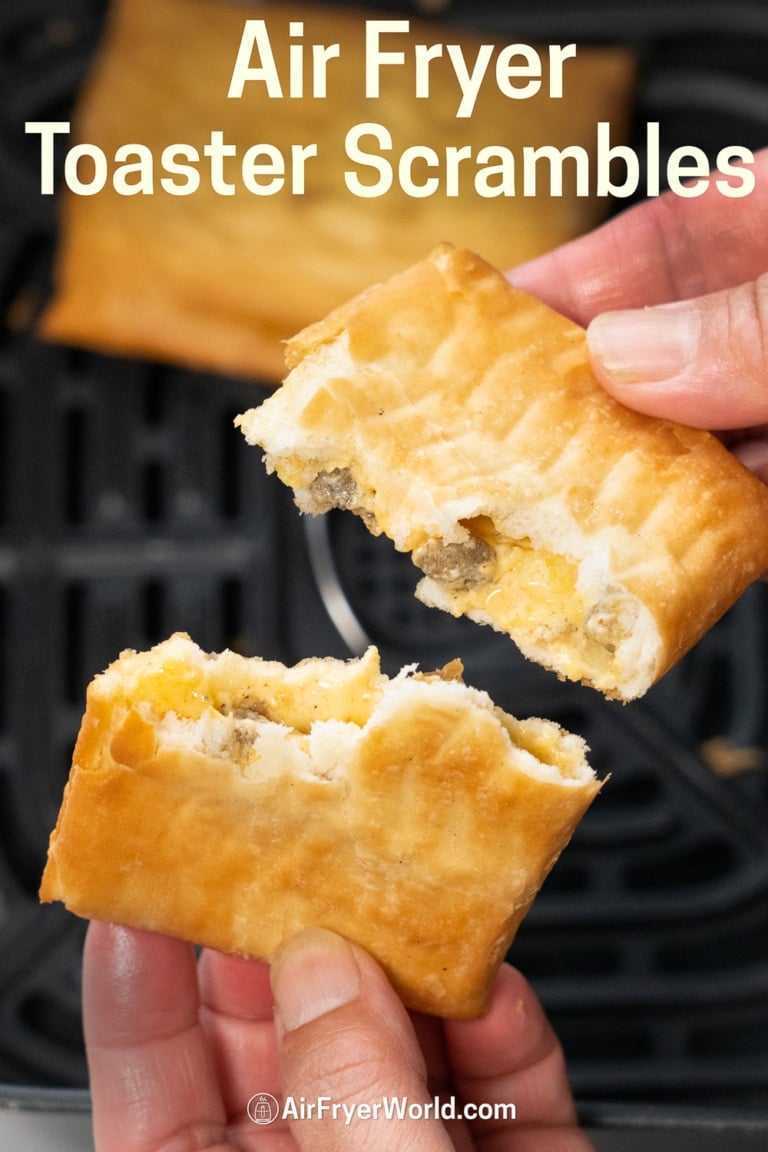 Video: How to Re-Heat Frozen Toaster Scrambles in the Air Fryer
How About Air Frying Jimmy Dean Stuffed Hash Brown Frozen Sandwiches?
Basically anything about the same size as the toaster scrambles use the same timing we have listed below. These Jimmy Dean branded breakfast sandwiches are slightly bigger than these frozen pillsbury toaster scrambles, so the Jimmy Dean brand need a little more time. Use this time and temp article for air fryer frozen hot pockets. These hot pockets are larger and about the same size as the Jimmy Dean sandwiches so if you're using a brand that is similar size to hot pockets, this timing should work fine. If you're air frying an actual frozen breakfast sandwich, we have the info for time and temp here.
Do These Frozen Scrambles or Sandwiches need to be thawed?
No, they don't and that's why they're so easy to air fry. Just take them frozen, straight out of the freezer and put them in the air fryer basket or rack.
How Long To Cook Frozen Toaster Scrambles in the Air fryer?
Depending on your air fryer model, how big it is and how many scrambles you cook at a time, results can vary. But try one first and see how it works with your suggested timing below. If you want it more crispy, add about another minute of air frying time.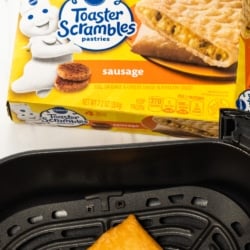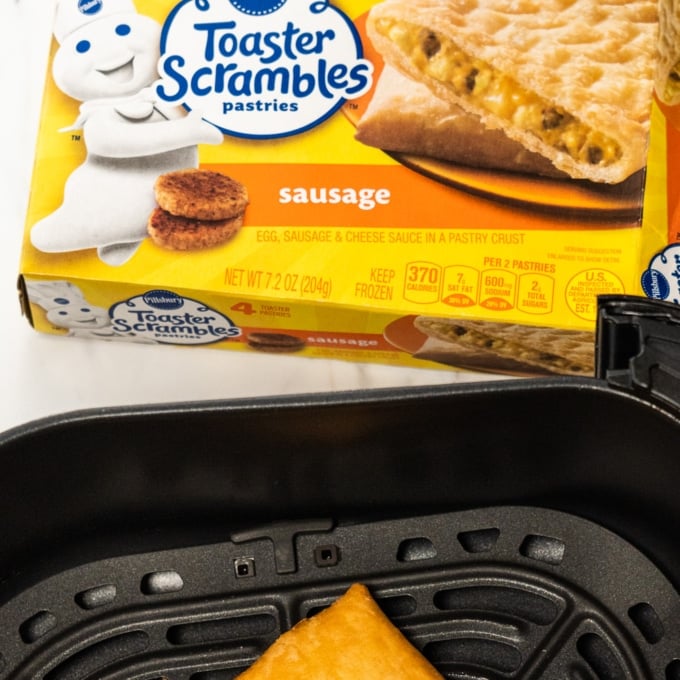 Air Fryer Frozen Toaster Scramble
There are several factors which influence outcome of how the toaster scrambles cook. They'll vary in filling, air fryers vary in fan/heat intensity, how cold your freezer is, etc.
For best and even cooking, don't overcrowd the basket if cooking multiple toaster scrambles. Fill just an even single layer in the air fryer. All air fryers are different and some cook much hotter than others. Once you cook your first toaster scramble, you'll know more of what works for your model of air fryer and size of food.
No need to thaw them first. Cook the toaster scrambles from frozen. No oil spray needed.
Nutrition will vary depending on toaster scramble type. See your toaster scramble packaging for specific nutritional values.
Ingredients
Notes
Air Frying Tips and Notes:
No Oil Necessary. Cook Frozen – Do not thaw first.
Remember to turn/flip after the first 6 minutes. Don't overcrowd the air fryer basket.
Recipe timing is based on a non-preheated air fryer. If cooking in multiple batches of hot pockets back to back, the following batches may cook a little quicker.
Recipes were tested in 3.7 to 6 qt. air fryers. If using a larger air fryer, the toaster scrambles might cook quicker so adjust cooking time.
If your air fryer is preheated or if you are cooking multiple batches, you may need to reduce timing by a few minutes (unless preheating is called for in the recipe).
Video
Nutrition Information per Serving
Calories:
185
kcal
,
Carbohydrates:
18
g
,
Protein:
4
g
,
Fat:
11
g
,
Saturated Fat:
4
g
,
Cholesterol:
28
mg
,
Sodium:
300
mg
,
Potassium:
55
mg
,
Fiber:
1
g
,
Sugar:
1
g
,
Calcium:
20
mg
,
Iron:
1
mg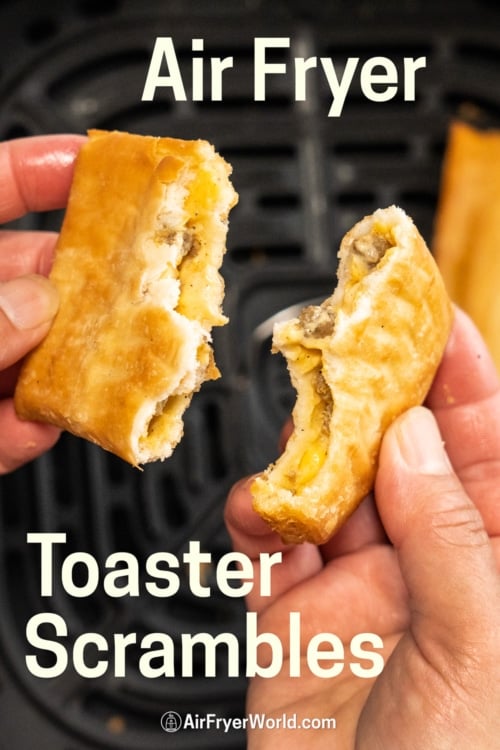 Why Did The Breakfast Scramble Burn on the Outside?
It's probably because your air fryer heating element is too close to the food or your model just cooks slightly hotter than ours. So if you try it again, reduce cooking time by about 1-2 minutes. Check the toaster scramble in the air fryer, then add additional 1 minute of cooking time until it's crispy to your personal preference.
What Frozen Foods Can You Cook in The Air Fryer?
There's so many possibilities for cooking frozen food in the air fryer! We've tested and tasted a big list of frozen food products by air frying them to perfection. Check out our complete list of —> Air Fryer Frozen Foods Here. This complete guide will be very helpful for you to test out easy foods if it's your first time cooking with the air fryer. Have fun!
As an Amazon associate and partners with other affiliate programs, we may earn from your qualifying purchases. We may earn small commissions that goes towards all the costs of running this website and recipe tests. Thank you for your support.