Air Fryer White Castle Breakfast Sliders Hack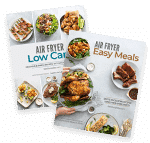 Buy our air fryer e-cookbooks today
This easy morning meal hack is great! If you love White Castle, try our air fryer White Castle breakfast sliders hack. It's quick, simple and awesome with fresh scrambled eggs.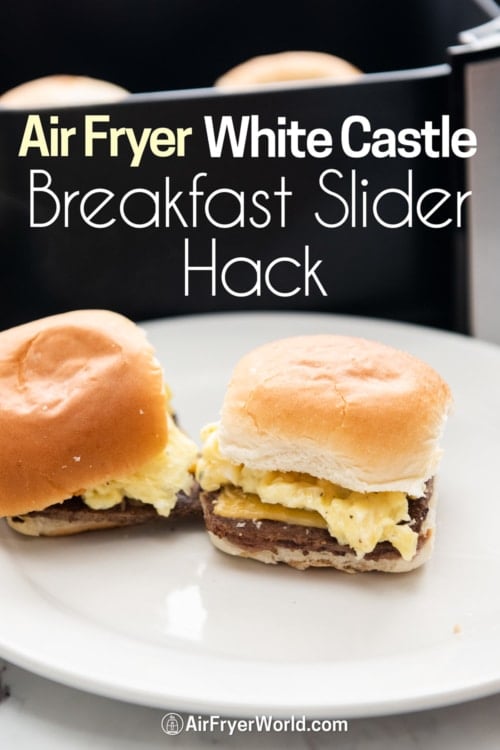 White Castle Breakfast Sliders In the Air Fryer
Previously we wrote about the secret to air frying White Castle sliders successfully. We also saw that they make frozen breakfast sliders. With an extra box of regular frozen sliders on hand, we wanted to make our own breakfast sliders by making fresh scrambled eggs. And it was a hit! We love this even more because the scrambled eggs were fresh when added to the crispy air fried White Castle burgers.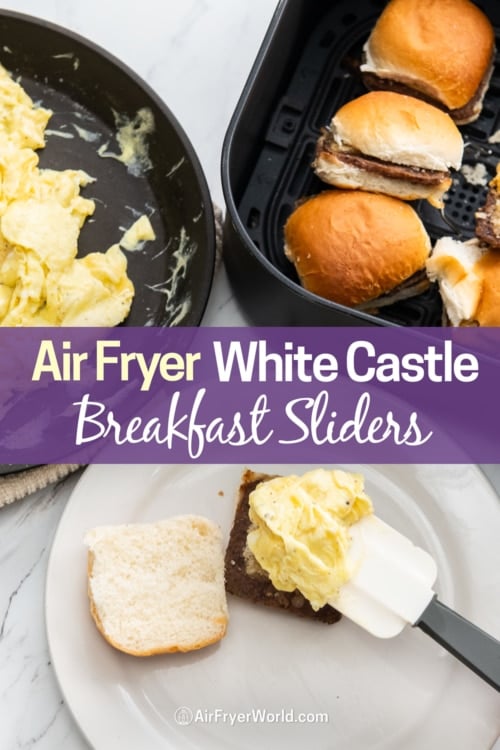 Video: How to Make White Castle Breakfast Slider Hack
More Air Fryer White Castle Breakfast Sliders Recipe Ideas
Once you make the first batch with simple scrambled eggs, you can get more creative!
Sliders Benedict! Here's a brilliant idea by making this humble little slider kinda fancy.
Add some slices of bacon.
Make it a meat lovers by adding bacon AND ham.
If you really love sausage patties, fry up an extra patty for a double patty slider.
Love spicy? Add a slice of pepper jack cheese and an extra swipe of hot sauce.
Fried egg on top of these little sliders is super indulgent and fun.
Everything but the bagel seasoning is awesome on the scrambled eggs.
Smashed avocado is a great addition to these little breakfast sandwiches.
Slices of tomato and a small handful of arugula is another fancy addition.
Have you tried chili crisp or chili garlic crunch? It's wonderful and flavorful!
Why did the sliders burn?
It's probably because your air fryer cooks hotter than our test kitchen air fryers. So for your next batch, just reduce the heat by about 15°F and maybe reduce the time by 1 minute. Check the sliders and if they need more time, then just add additional 1 minute increments.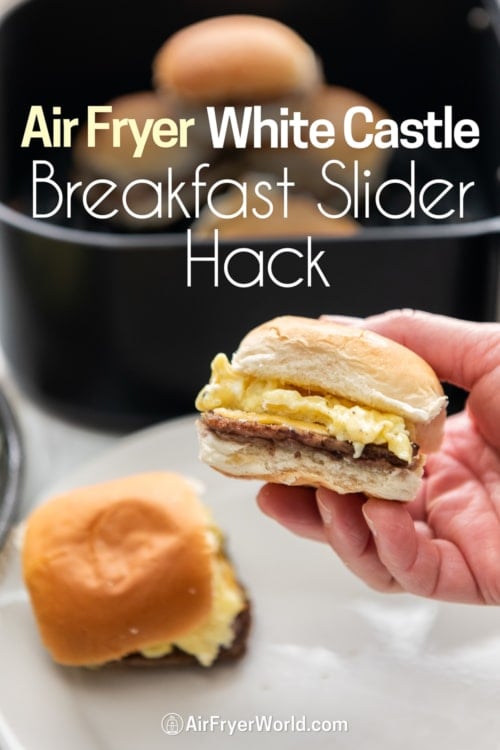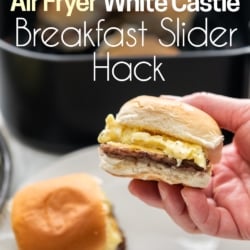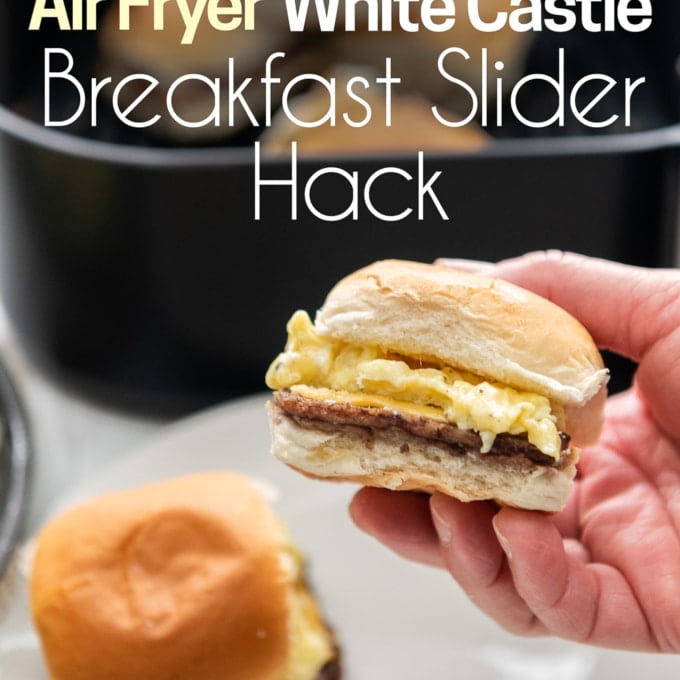 Air Fryer White Castle Breakfast Slider Hack
Do not thaw the sliders before air frying. Don't air fry the sliders whole. By the time the meat patty is heated, the top bun would be super crispy. You'll want to remove the top bun and air fry the bottom bun and meat patty first. Then add the top bun to the air fryer and heat it up too.
For the scramble, you can make it in a pan or in the microwave. Here is a great recipe for an easy Microwaved Scrambled Egg.
Ingredients
1

Tablespoon

Butter

3

large

Eggs

, beaten
Optional Condiments
Ketchup, Hot Sauce, BBQ Sauce, Salsa, Avocado

, etc.
If your air fryer is preheated or if you are cooking multiple batches, you may need to reduce timing by a few minutes (unless preheating is called for in the recipe).
Video
Nutrition Information per Serving
Calories:
445
kcal
,
Carbohydrates:
29
g
,
Protein:
22
g
,
Fat:
27
g
,
Saturated Fat:
12
g
,
Polyunsaturated Fat:
1
g
,
Monounsaturated Fat:
3
g
,
Trans Fat:
1
g
,
Cholesterol:
226
mg
,
Sodium:
721
mg
,
Potassium:
290
mg
,
Fiber:
1
g
,
Sugar:
3
g
,
Vitamin A:
387
IU
,
Calcium:
130
mg
,
Iron:
1
mg
What if the sliders were thawed first?
Sure, you can thaw then first instead of air frying directly from frozen. You don't have to split them first because the meat will already be thawed. If the sliders are completely thawed, then they just need to be air fried for about 5 minutes. But we suggest still flipping them about halfway through air frying so that they can heat up evenly on all sides.
Why were the Air Fryer White Castle Breakfast sliders too crispy or burnt?
Well, it's because the air fryer hot circulating air makes them a little more crispier than other methods of cooking. If you like your white castle sliders soft, then you're better off microwaving them. Don't air fry them because you won't like the crispy texture. Cooking them in the microwave makes them soft and pillowy. Air frying isn't always perfect for all foods.
As an Amazon associate and partners with other affiliate programs, we may earn from your qualifying purchases. We may earn small commissions that goes towards all the costs of running this website and recipe tests. Thank you for your support.