Awesome Air Fryer Hot Dogs – 4 Ways!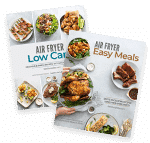 Buy our air fryer e-cookbooks today
Here's our hot dogs air fryer recipe and tips for cooking easy air fried hot dogs. It's a game changer and once you air fry hot dogs, you will obsess over these. And we have a fun way to cook air fried hot dogs for Halloween.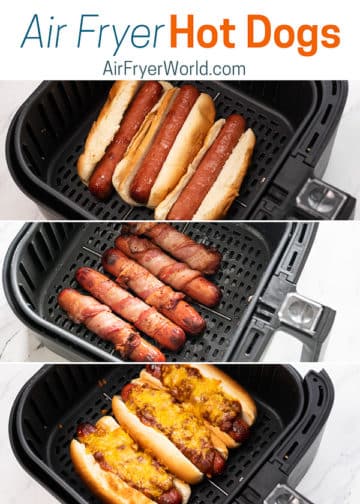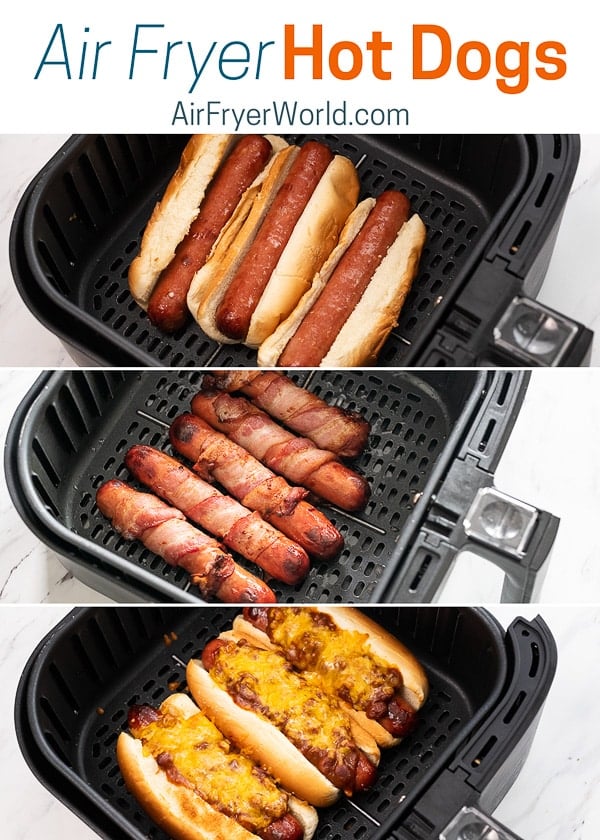 Tips to Cook Air Fryer Hot Dogs
Ok, we're obsessed with air fried hot dogs and the possibilities are endless! Here's 3 ways to enjoy hot dogs for your hot dog cravings!
Don't overcrowd the air fryer. Lay the hot dogs in a single layer and leave some space between them. The hot circulating air will cook all around the hog dog and make all sides cook more evenly.
If you're cooking thicker hot dogs or sausage dogs, add an additional minute or two of cooking time.
This recipe is for hot dogs or sausage dogs that are fully pre-cooked.
The flavor is like cooking them on the grill and it's a total game changer. Sure, your backyard BBQ can be filled with grilled foods, but try these in the air fryer and you'll realize how easy and good they are. Clean up is so much quicker too! It's a wonderful quick meal or snack. Kids love this.
Warm the Hot Dog Buns in the Air Fryer
If you warm the buns it's a game changer. About 1-2 minutes before the hot dogs are cooked, add them in the buns. Then air fry the buns and dogs together in the air fryer. The hot circulating air makes the buns crispy, warm and wonderful. Then add what ever toppings you want.
Are hot dogs really better in the air fryer?
We get asked this alot and it's a great question to ask when it comes to air frying hot dogs. This is always up for debate and it depends on what you're comparing the air fryer to. Air frying hot dogs is way better than microwaving hot dogs and boiling hot dogs. Sorry, but that's our honest opinion. The air fryer gives a nice crust on the outside of the hot dog. When it comes to grilling hot dogs, we love the grilled flavor and this technique is our favorite. But when you're only needing to a hot dog or two, then air frying is definitely the way to go. Cooking them in the air fryer is much quicker than grilling and if you cook them hot and long enough, you can get a nice crust/char. The char is what gives a nice smoky flavor without actually having to grill them.
Favorite Toppings and Condiments for Hot Dogs in Air Fryer
The possibilities are endless when it comes to topping hot dogs.
Sauerkraut, pickles and other relishes are popular
different onion toppings are fantastic ways to bring more flavor. Caramelize the onions a bit for more flavor.
Classic ketchup and mustard are always favorites
Make pigs in a blanket by wrapping the dogs with crescent dough
Jalapeno popper dogs: add slices of jalapeno and top with cheese then melt in the air fryer
Mac and cheese dogs: add some leftover mac and cheese on top!
Add some tomato sauce and pepperoni slices to make a pizza dog.
Spicy dogs: add your favorite hot sauce like sriracha
BBQ dogs: all you need is a fantastic bbq sauce and you're set!
Here's some more great hot dog recipe ideas for ya.
Craving burgers? Here's our big list of burgers in the air fryer recipes.
What side dishes to serve with hot dogs?
Fries, of course! French fries are the most popular side dishes to serve with hot dogs. If you want to serve fries, we have lots of air fryer fries for you. From classic potato fries to other veggie fries like green bean fries and asparagus fries, there's something for everyone. Air Fryer tater tots are also a great side dish. We also love classic potato salad and macaroni salad too!
More Easy Air Fryer recipes:
As an Amazon associate and partners with other affiliate programs, we may earn from your qualifying purchases. We may earn small commissions that goes towards all the costs of running this website and recipe tests. Thank you for your support.