Air Fryer Chili Cheese Hot Dogs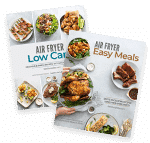 Buy our air fryer e-cookbooks today
These air fryer chili dogs are super popular. Previously, our air fryer hot dogs recipe was such a hit and went viral. Thanks everyone! So here are again by adding bacon for another round of hot dog obsession! Everyone in the test kitchen devoured these air fried chili cheese dogs for lunch after the first recipe test.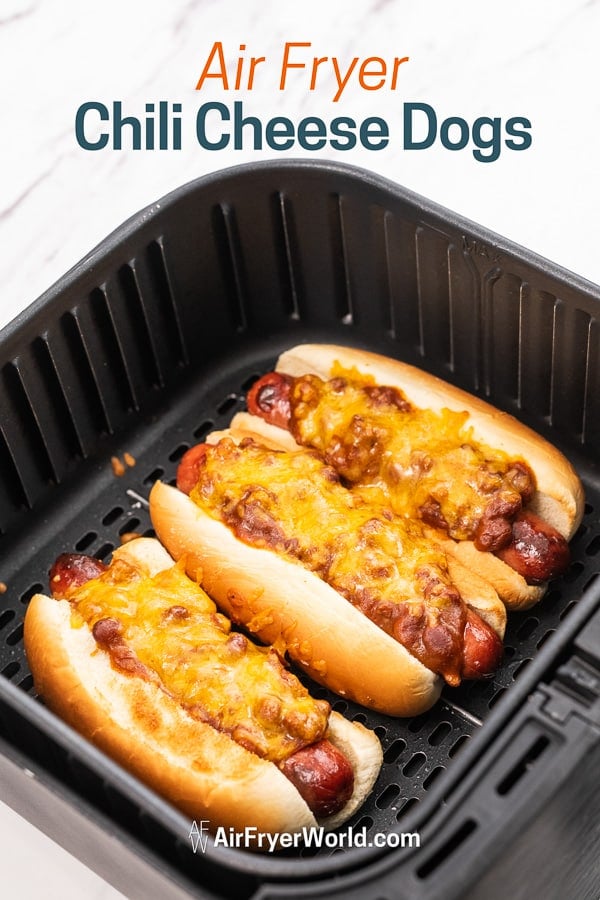 Air Fried Chili Cheese Hot Dogs Recipe
Here's the recipe for bacon hot dogs version. Today we're sharing this air fryer chili cheese hot dog version that's for all chili lovers! Our air frying technique is so simple and all you need to do is add your favorite warmed-up chili. Add some cheese on the air fryer warmed bun and bam! These air fried chili cheese hot dogs are super amazing.
Video: Air Fryer Chili Cheese Hot Dogs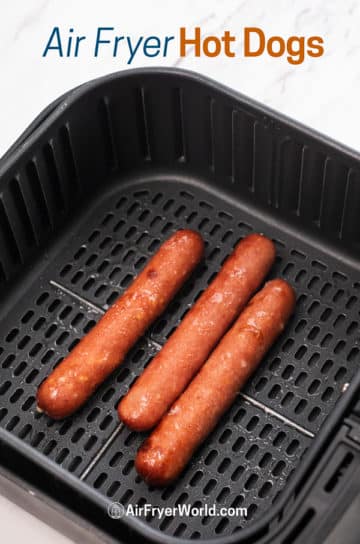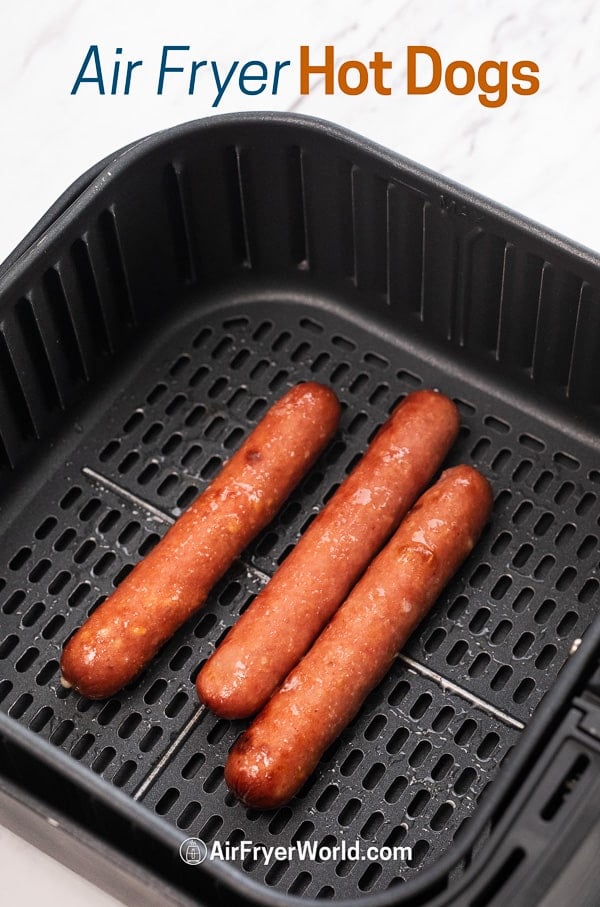 Make Homemade Chili for Better Taste
Making homemade chili is so easy and it definitely tastes better! Homemade chili tastes so much better because you can customize the flavors to your personal taste. Best of all, the fresh flavors from the ground beef and spices can't be beat. We have four different chili recipes for you to enjoy. There's chicken chili options too for a lower fat version. The possibilities are endless and having left over chili isn't a bad thing. Add the chili on fries or a baked potato. It's all good!
Are hot dogs really better in the air fryer?
This is always up for debate and it depends on what you're comparing the air fryer to. Air frying hot dogs is way better than microwaving hot dogs and boiling hot dogs. Sorry, but that's our honest opinion. The air fryer gives a nice crust on the outside of the hot dog. When it comes to grilling hot dogs, we love the grilled flavor and this technique is our favorite. But when you're only needing to a hot dog or two, then air frying is definitely the way to go. Cooking them in the air fryer is much quicker than grilling and if you cook them hot and long enough, you can get a nice char. These are perfect for game day!
How To Cook Chili Cheese Hot Dogs in Air Fryer
Your kids are going to love these and with supervision, they can learn how to cook air fried hot dogs themselves! Within 15 minutes, you can have chili cheese dogs for a crowd. Larger air fryers can cook more and you can definitely make a party of out it! Prepare and have all your ingredients laid out and within a few minutes you're ready for a party!
Lay out all the ingredients so they're easy to grab and top.
For even cooking, avoid overcrowding the hot dogs the air fryer. Lay the hot dogs in a single layer and leave some space between them. The hot circulating air will cook all around the hog dog and make all sides cook more evenly.
Add additional minute or two of air frying if you're cooking thicker hot dogs or sausage dogs.
Fully cooked hot dogs: This recipe is for hot dogs or sausage dogs that are fully pre-cooked.
Score the hot dogs if you want to make them cook a little quicker.
These taste like they came off the grill, but so much easier to cook! If you like the charred, smoky flavor like we do, cook them for a few minutes longer and at 400°F instead of 380°F.
If you want to make homemade chili, make it ahead of time. Here's a beef chili & chicken chili recipe from our sister site, BestRecipeBox.com.
Don't forget the warm the hot dog buns in the air fryer!
All air fried chili cheese hot dog recipe details are in the recipe box below.
Different types of cheese toppings for Air Frying Hot Dogs
Most common cheese is using cheddar cheese, which is great! But have you tried other shredded cheeses?
Spicy jack is a great way to make these chili dogs a little spicer. There's so many different types of spicy cheese in the markets now. We've seen spicy cheddars and spicy gouda cheeses.
Grated parmesan or asiago cheeses are great! They add an aged and super flavorful layer to the hot dogs. And they're an easy to to kinda make your hot dogs fancy…. if you're into that. LOL.
Monterey Jack and even some slices of smoked gouda really take these hot dogs to another level.
For a caprese inspired chili cheese dog, add some slices of buffalo mozzarella and a slice of tomato for an over the top caprese chili cheese dog.
How about raw onion or caramelized onions? We love both.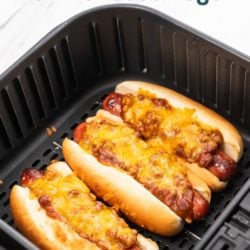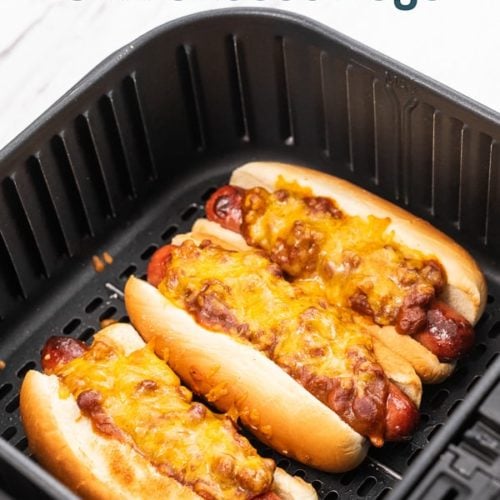 Air Fryer Chili Cheese Dogs
Make sure to warm the buns in the air fryer, yum! You can cook the hot dogs to whatever doneness you like. Just check them halfway though the cooking time and adjust the remainder of your time to your personal taste and texture.
Ingredients
If your air fryer is preheated or if you are cooking multiple batches, you may need to reduce timing by a few minutes (unless preheating is called for in the recipe).
Video
Nutrition Information per Serving
Calories:
265
kcal
,
Carbohydrates:
33
g
,
Protein:
13
g
,
Fat:
9
g
,
Saturated Fat:
3
g
,
Polyunsaturated Fat:
2
g
,
Monounsaturated Fat:
4
g
,
Cholesterol:
23
mg
,
Sodium:
598
mg
,
Potassium:
233
mg
,
Fiber:
1
g
,
Sugar:
5
g
,
Vitamin A:
344
IU
,
Vitamin C:
49
mg
,
Calcium:
129
mg
,
Iron:
3
mg
Love Bacon?! You'll Love our –> Air Fried Bacon Wrapped Hot Dogs!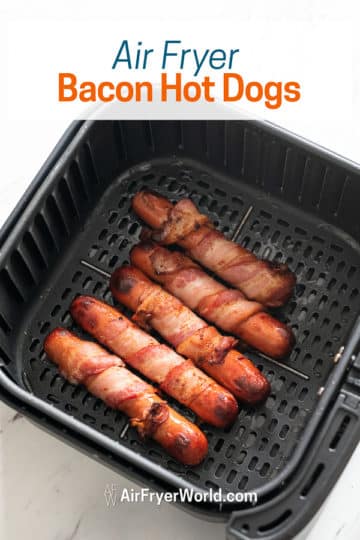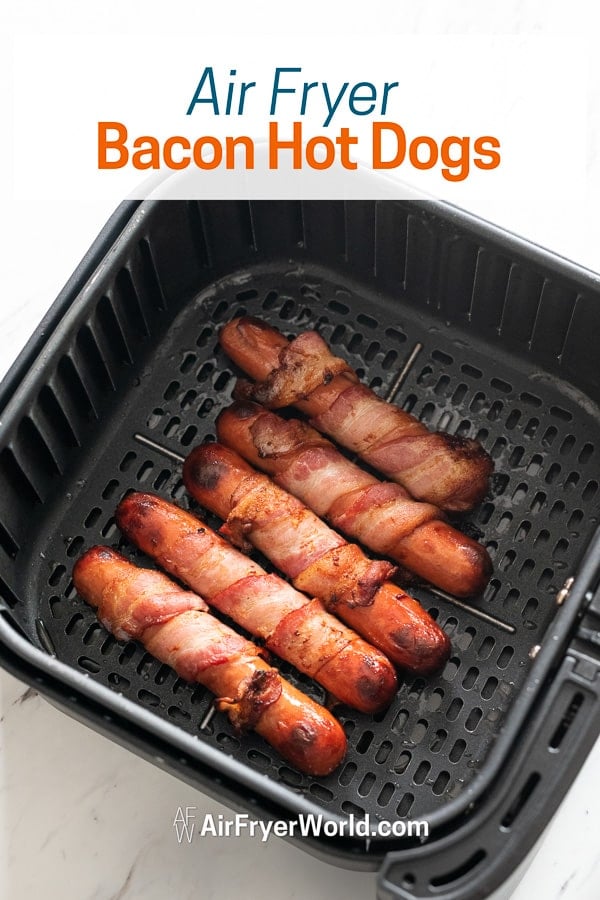 MORE EASY AIR FRYER RECIPES
Hope you enjoy our air fryer chili dogs! This recipe was originally published in 2020 and re-published in 2023. Here's some great healthy air fryer recipes.
As an Amazon associate and partners with other affiliate programs, we may earn from your qualifying purchases. We may earn small commissions that goes towards all the costs of running this website and recipe tests. Thank you for your support.