Review: Kyvol Air Fryer AF 600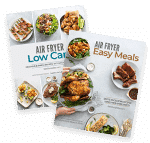 Buy our air fryer e-cookbooks today
Kyvol air fryer review: Our air fryer reviews and tests are REAL. We put them to the test, cook with them and share our honest opinions. Many other review sites don't actually own or test the products and only write generic reviews with commission links. We share our original photos and results along with an affiliate link that helps us earn a small commission to help pay for the recipe testing.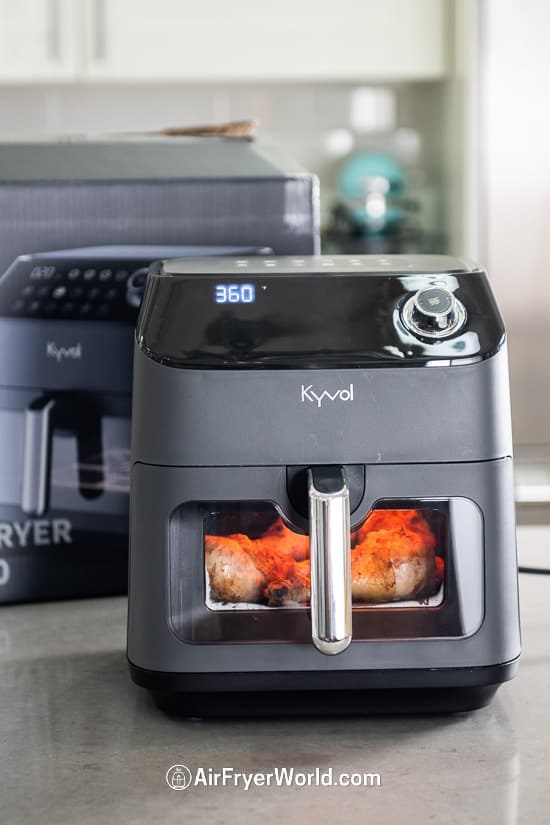 Review: Kyvol Air Fryer AF 600
Today we're excited to be reviewing this Kyvol Epichef AF 600 Air Fryer. This is truly a unique one of a kind bucket air fryer with features that we have never seen before in any bucket air fryer that we have reviewed. You can read our previous air fryer reviews here. This bucket style air fryer has a detachable non-stick air frying basket and has smart controls via WiFi that you can control for your phone via an app. So this is definitely a state of the art air fryer for all you techies out there who love smart devices. Check out their website for more Air fryer information.
What Makes Kyvol Air Fryer Unique?
Your can see the food through the bucket! This is truly unique because all other bucket style air fryers we've cooked with do not have a see-though window. The Kyvol has a see-through window that allows you to see the food as it's cooking. This is a huge game changer because you can monitor the food visually on how crispy it is by looking through the window. You don't have to open the bucket like other air fryers, thus releasing hot air. There's no disruption of heat during the cooking cycle if you need to check on your food.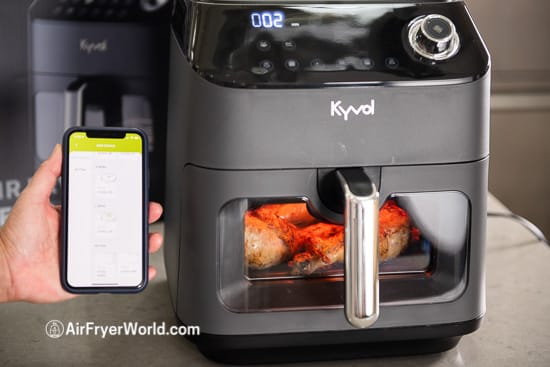 RECIPE TEST: BBQ Drumsticks
We tested a batch of chicken drumsticks in the Kyvol air fryer and it was crazy easy. The best experience about cooking these drumsticks is that we just kept checking on the chicken by seeing it through the window of the basket. We didn't have to keep pulling out the bucket to check on the drumsticks. The motor is strong too which cooked the drumsticks perfectly and created a great crisp outside texture. YUM!
Kyvol Pro's
Large capacity bucket. This can definitely cook a 5 pound whole chicken. Easy "roast" chicken dinner for the whole family!
The see through window for sure is a major added bonus and unique feature. If your food is burning you can see immediately and not guess by keep opening the bucket to check on food.
Powerful and quiet motor: The motor is definitely one of the most quiet Motors we've cooked with and it's powerful enough to cook a whole chicken.
WiFi Functions that you can smart-control via an app on your phone. You can customize "My Recipe" button to set to the last favorite dish that you cooked. There's also 100+ pre-programmed recipes ready for you to use in the Kyvol community.
12 preset cooking programs on the Panel with touch screen control. It's an easy way to familiarize yourself with some basic foods to get started with your air frying life.
Easy to clean basket and removable base tray. It's dishwasher friendly too.
A screen that covers the heating coil element. We love this feature because it's like a guard to keep food particles from hitting the the heating coils. This helps minimize smoking and burning!
Super stylish design. Kyvol has the most stylish and matte design of any air fryer we've seen. We call it the sexy "James Bond" of air fryers.
You can purchase Kyvol air fryer here .
Kyvol Con's
The price. It might be about $30 more than most other air fryers of similar size, but for the window feature and the stylish design it's definitely worth the price. If you're going to have it sit on your countertop, you want something cool looking. The Kyvol is definitely stylish enough to deserve your countertop space.
The size. Just like so many other 6qt air fryers, these have a larger footprint. If you have a really small apartment kitchen, this air fryer might take up quite a bit of room. But if you're willing to make some space, you might find that you'll be air frying more often and might not even need your stove!
Overall Review: Is the Kyvol Worth the Purchase?
Yes, especially if you plan on cooking a lot of food. Or if you want to upgrade your existing small air fryer to a larger 6qt. bucket. For more information check out their website.
About this Kyvol Air Fryer Review: We received this Air Fryer to review. All opinions are honest and our own. We test many products and only share the ones we would purchase ourselves. That way, you don't have to waste time reading about products that aren't worth buying. We've filtered out the un-worthy ones for ya!
Want to share this advice? Please don't copy it. Just share the link, credit and link back to this copyrighted article. We've have issues with people stealing our words and content (photos) and putting their logos on it and putting on their blogs or posts. It's wrong to do this and it's stealing copyrighted content. We put a lot of time and research into this so sharing is caring! Thank you so much. Read more of our Air Fryer 101 Starter Guide and Tips Here.
As an Amazon associate and partners with other affiliate programs, we may earn from your qualifying purchases. We may earn small commissions that goes towards all the costs of running this website and recipe tests. Thank you for your support.