Air Fryer Grilled Cheese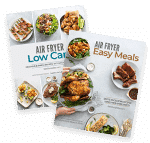 Buy our air fryer e-cookbooks today
Once you are air fryer grilled cheese, you'll crave it more because it's so easy to make. It's a great way to cook an air fryer cheese melt sandwich for your kids.
Easy Air Fried Grilled Cheese
Gosh, these are so good and amazing. Air fryer grilled cheese sandwiches are life changing! (aka air fryer cheese melt). We knew it would work, but didn't realize how the air fryer makes perfect grilled cheese! If you don't want to use a lot fo butter, you don't have to. Even with little butter or a light spray of olive oil, the bread toasts perfectly in the air fryer. Whether it's for a quick snack for the kids or a seriously delicious lunch, these are fantastic. The bread toasts perfectly and the cheese melts fantastic.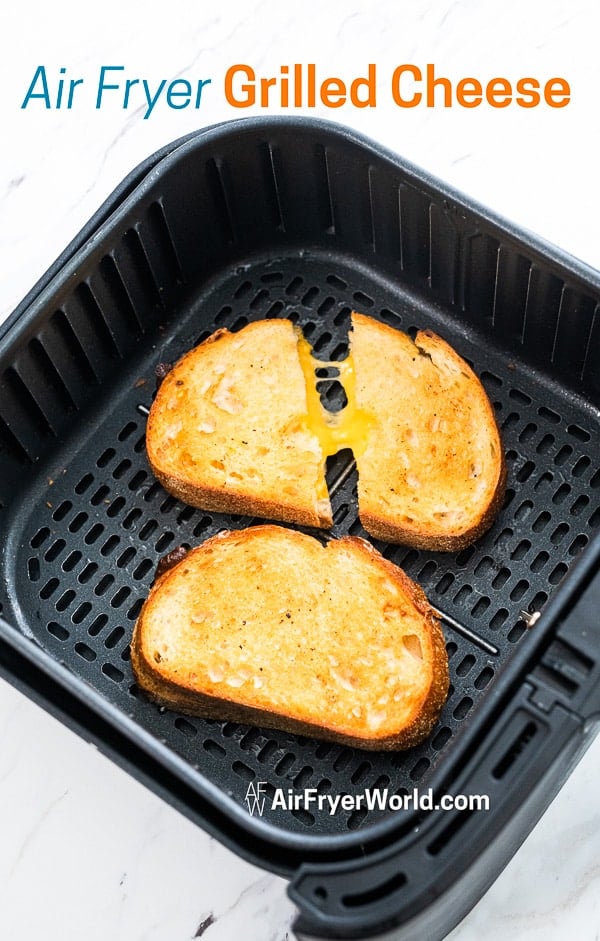 How to Make Air Fried Grilled Cheese Sandwich in Air Fryer
Note of Caution: If your bread is really thin and light, it will fly off the sandwich from the circulating air in the air fryer. So you can use a toothpick to secure the sandwich together. But remember to remove the toothpicks before eating!
Lay slices of good melting cheese in center of slices of bread. Close the sandwich and spread softened butter on outside of bread. Or spray with light olive oil spray. Some folks love spreading it with mayo on the outside. So there's three options for you.
Lay sandwich in air fryer and cook. Fantastic grilled cheese sandwich in the air fryer that's easy and delicious!
Full recipe instructions in the recipe box below.
Watch the Video making Grilled Cheese in the Air Fryer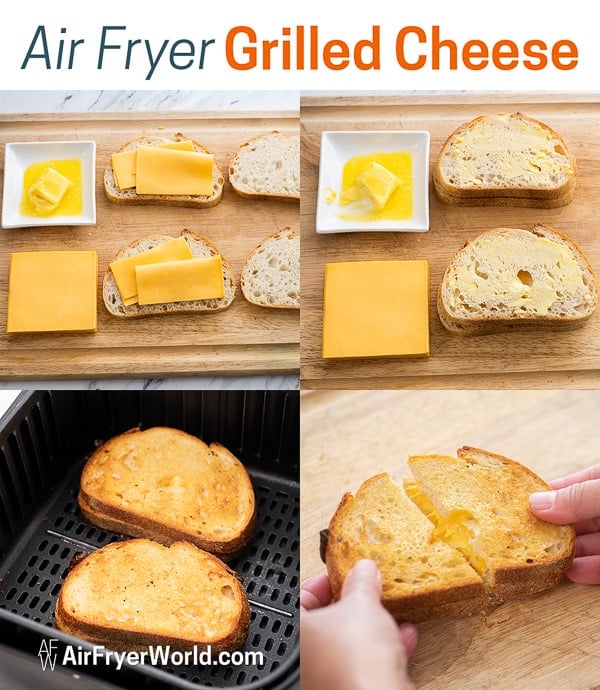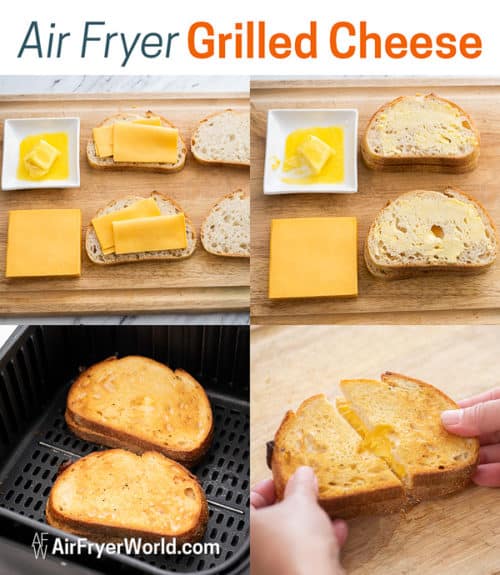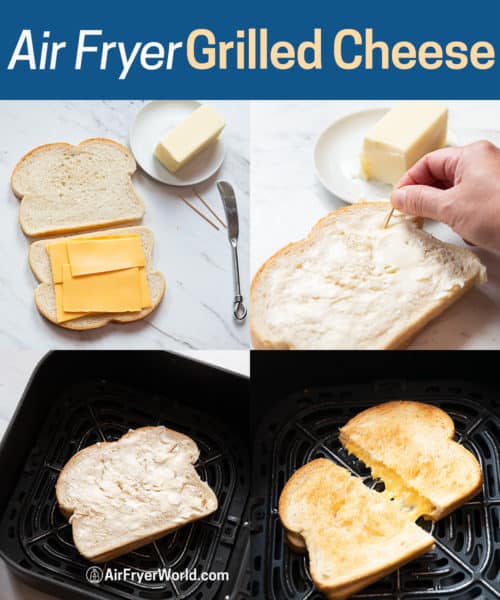 What are the Best Cheeses for Grilled Cheese in the Air Fryer?
Cheese that are soft and melt well will make the best air fried grilled cheese sandwiches. Choose a good melting cheese to make it super delicious. Here's some of our favorites:
One of our favorites is classic slices of american cheese because the flavor is great and melts super quick.
Sharp cheddar cheese has awesome sharp flavor
Swiss, Guyere and fontina are examples of good melting cheeses.
Jarlsburg cheese is pretty good too and they have a light cheese version.
Make sure the cheese melts: If you're slicing cheese off a block, make sure to slice the cheese thin. The thicker the cheese, the longer it takes to melt in the air fryer. So cook the sandwich on lower heat until the cheese melts, then cook it on the higher heat setting to toast the bread. We've tested the sandwich with butter and light spray of olive oil and both taste great. Hope you enjoy our air fryer cheese melt recipe!
All recipe details are in the recipe box below.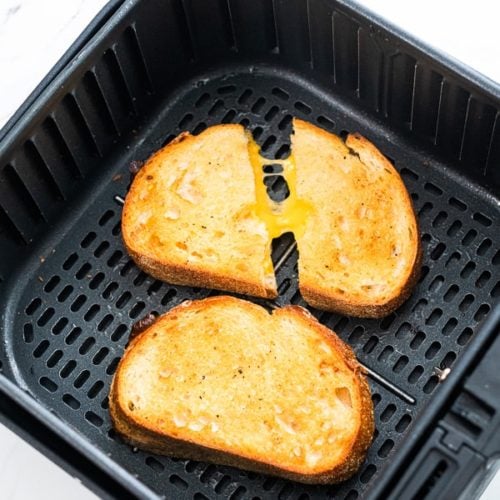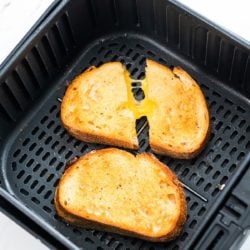 Air Fryer Grilled Cheese
Every air fryer cooks differently, so check on the sandwich often to make sure it doesn't burn. Or to make sure it's cooked enough, just add extra time. If you slice your cheese thick, then it will need more cooking time at the lower temperature to melt the cheese all the way.
Ingredients
2

slices

bread

1

tablespoon

butter

good melting cheese

(American, swiss, cheddar, Gruyere, etc.)
Instructions
Layer cheese in between bread. Butter outside of bread with butter. Lay sandwich in air fryer basket. Note: If your bread is really thin, it will blow off in the air fryer because of the hot circulating air. Use toothpicks to secure the sandwich during air frying. Remember to remove the tootpics before eating.

Air Fry at 360°F for about 3-5 minutes for the cheese to melt.

Flip the sandwich and increase heat to 380°F to finish and crisp the bread. Finish air frying for about 5 minutes or until the sandwich is to your preferred texture. Check on the sandwich often to make sure it doesn't burn (different breads will toast quicker or slower than others). Allow to cool a bit before biting into the yummy grilled cheese sandwich!
If your air fryer is preheated or if you are cooking multiple batches, you may need to reduce timing by a few minutes (unless preheating is called for in the recipe).
Nutrition Information per Serving
Calories:
464
kcal
,
Carbohydrates:
31
g
,
Protein:
21
g
,
Fat:
29
g
,
Saturated Fat:
18
g
,
Cholesterol:
82
mg
,
Sodium:
498
mg
,
Potassium:
145
mg
,
Fiber:
2
g
,
Sugar:
4
g
,
Vitamin A:
815
IU
,
Calcium:
520
mg
,
Iron:
2
mg
Here's more great sandwich and air fryer recipes:
Want to make more air fryer sandwiches or burgers? Check out all our recipes.
This recipe was originally published in 2010 and re-published in 2021 with updated photos.
As an Amazon associate and partners with other affiliate programs, we may earn from your qualifying purchases. We may earn small commissions that goes towards all the costs of running this website and recipe tests. Thank you for your support.