How to Cook Air Fryer Steak: Perfect and Juicy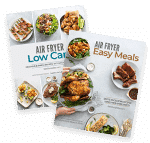 Buy our air fryer e-cookbooks today
Yes, you can cook an awesome steak in the air fryer! Our perfect and easy recipe for air fryer steak is truly super easy. For many, it's hard to believe that steak can come out so juicy and delicious! But once you try it, you'll understand this game changing air fried steak recipe more.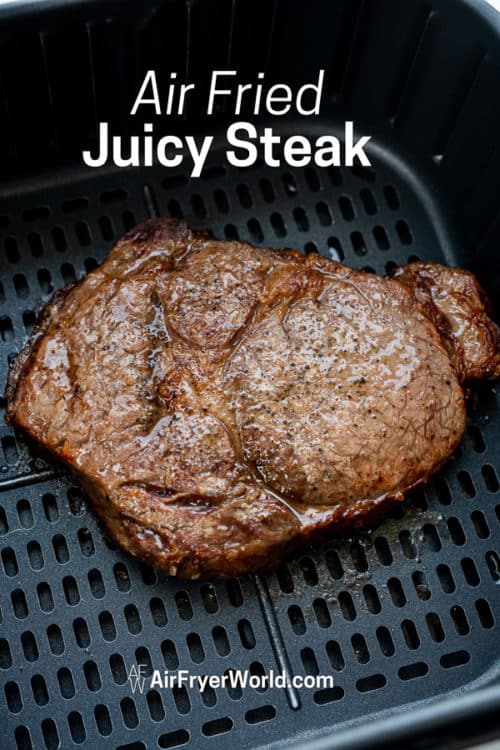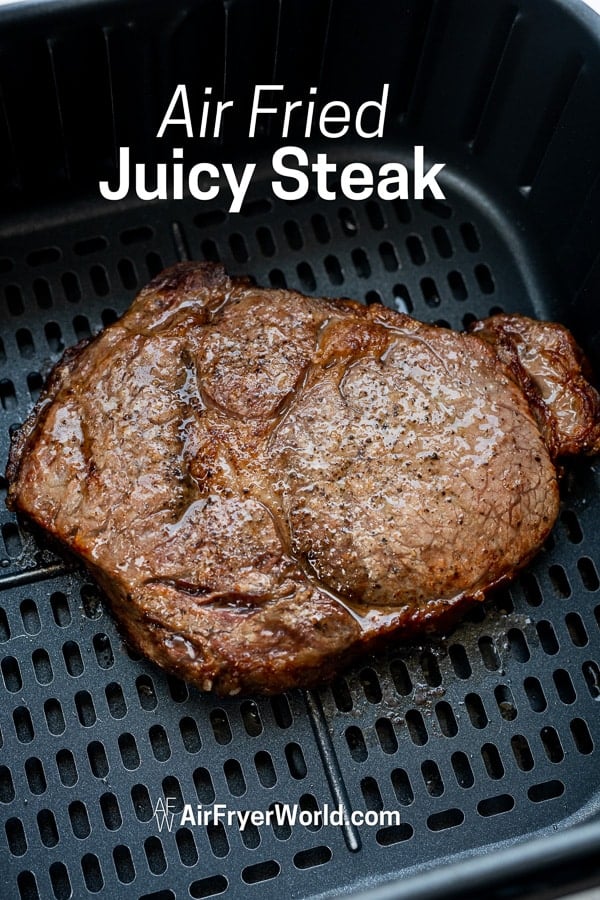 Easy Air Fryer Steak Recipe
Our air fryer steak recipe is perfect for two people and cooks within minutes, dinner is served. Or you can cook one delicious rib eye steak. You can adjust cooking times to your preferred doneness. Just add some butter or oil, then salt and pepper to the steaks. We add some garlic salt sometimes for extra flavor. Air fry the steaks and the steaks will come out fantastic! Serve it with a baked potato, mushrooms, a salad, pasta or what ever you want to complete your wonderful steak dinner. You'll be so pleased with air fried steak that you'll want to eat it more often. So good and so juicy! Recipe is in the recipe box below!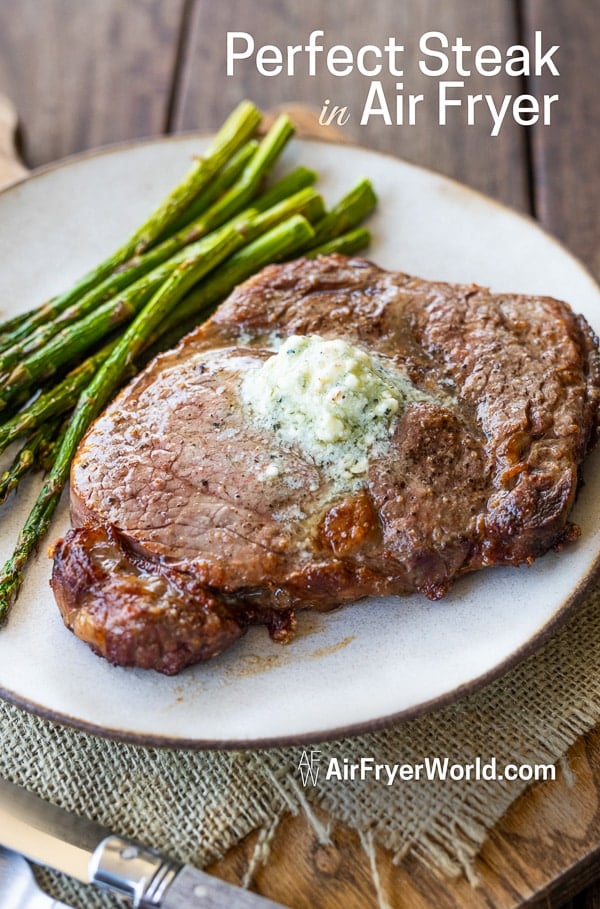 Video Making Steaks in the Air Fryer
How to Cook Air Fried Steak in Air Fryer
Pre-heat the air fryer. This pre-heat will give a steak a good sear that it needs. Lightly oil steak and season with salt and pepper
Air fry the steak then flip the steak. Air fry again and let steak rest before serving. Perfect and juicy!
Check out the process photos and recipe details in the recipe box below.

Best Cut of Steak to Cook in Air Fryer
The best cut for a whole steak is one that has good marbling and fat like rib eye steaks, New York steaks, T-Bones, Porterhouse steaks and some sirloins. Although filet mignon doesn't have a lot of fat, it's a tender cut so it cooks well in the air fryer. For other inexpensive cuts or with less marbling, you should cut them and cook them as steak bites. Air fried steak bites are fantastic and makes a mediocre cut of steak super delicious! Add some confound butter on your steak and you have a fantastic dinner in just a few minutes! Do you love salisbury steaks? Try our new air fryer salisbury steak recipe.
Our Air Fryer Steak Bites with Mushrooms Recipe Rocks!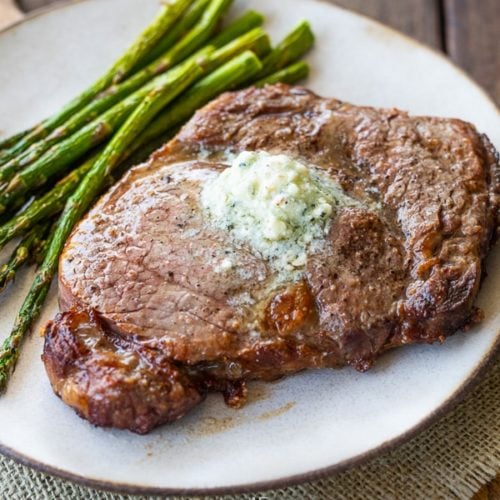 Air Fryer Steak
Steak sizes will vary in length and thickness, and different cuts will cook at different rates, so you can add or reduce cooking time if needed to cook to your preferred texture.
Ingredients
2

(6 oz.)

(

2

(170g)

)

steaks

, 3/4" thick rinsed and patted dry

1

teaspoon

(

5

ml

) olive oil

, to coat

1/2

teaspoon

(

0.5

)

garlic powder

(optional)

salt

, to taste

pepper

, to taste

butter
Instructions
Coat or spray steaks with light layer of oil. Season both sides of steaks with garlic powder (optional), salt and pepper (we'll usually season liberally with salt & pepper).

Preheat the Air Fryer at 400°F for 4 minutes. This pre-heating will give the steak a good sear and crust.

Air Fry for 400°F for 10-18 minutes, flipping halfway though (cooking time dependent on how thick and cold the steaks are plus how done you prefer your steaks).

If you want steaks to be cooked more, add additional 3-6 minutes cooking time.

Add pat of butter on top of steak, cover with foil and allow steak to rest for 5 minutes. Season with additional salt and pepper, if needed. Serve immediately.
Notes
Recipes were cooked in 3-4 qt air fryers. If using a larger air fryer, the recipe might cook quicker so adjust cooking time.
If cooking in more than two steaks, make sure not to overcrowd the Air Fryer basket. If needed, cook in batches to avoid overcrowding. The first batch will take longer to cook if Air Fryer is not already pre-heated.
Remember to set a timer to shake/flip/toss the food as directed in recipe.
If your air fryer is preheated or if you are cooking multiple batches, you may need to reduce timing by a few minutes (unless preheating is called for in the recipe).
Video
Nutrition Information per Serving
Calories:
373
kcal
,
Protein:
34
g
,
Fat:
26
g
,
Saturated Fat:
10
g
,
Cholesterol:
103
mg
,
Sodium:
88
mg
,
Potassium:
455
mg
,
Vitamin A:
25
IU
,
Calcium:
12
mg
,
Iron:
2.9
mg
As an Amazon associate and partners with other affiliate programs, we may earn from your qualifying purchases. We may earn small commissions that goes towards all the costs of running this website and recipe tests. Thank you for your support.