Review: Vortex Plus Air Fryer Oven by Instant Pot (10 qt)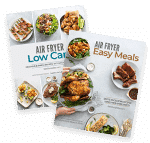 Buy our air fryer e-cookbooks today
Vortex plus air fryer review: Our air fryer reviews and tests are REAL. We put them to the test, cook with them and share our honest opinions. Many other review sites don't actually own or test the products and only write generic reviews with commission links. We share our original photos and results along with an affiliate link that helps us earn a small commission to help pay for the recipe testing.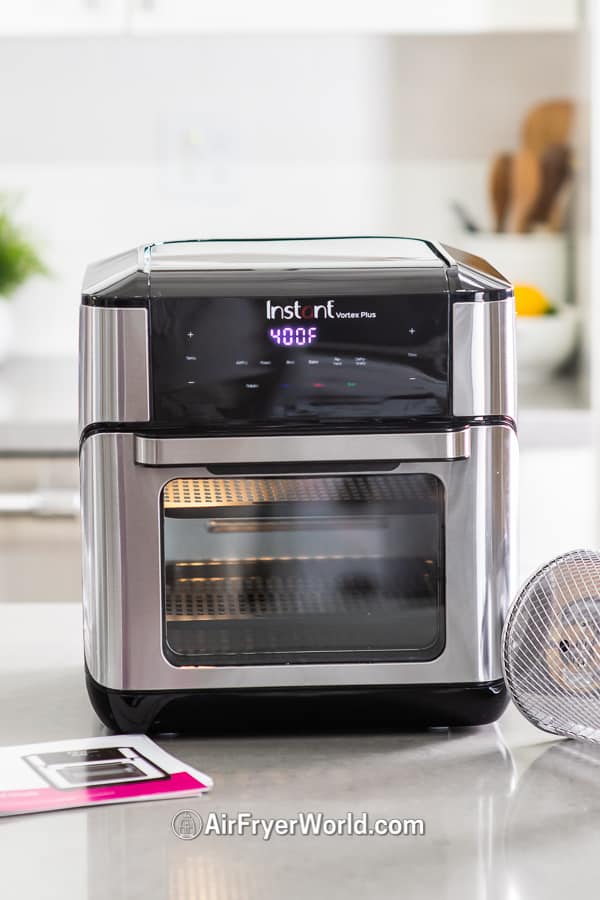 Review: Vortex Plus Air Fryer Oven by Instant Pot
Read more of our Air Fryer 101 Starter Guide and Tips Here. Most of us are familiar with the Instant Pot Brand of pressure cookers, as we personally own 3 of them in our test kitchens. They now make air fryers and we put one of the to the test in our test kitchen. The Vortex plus 7-in-1 is beyond the conventional air fryer. The "plus" boasts features beyond the hot circulating air: Broil, Bake, Dehydrate, Rotisserie, Roast and Re-heat. That's a big list of accomplishments for an air fryer oven and why wouldn't you want one that pretty much does it all? Yes, it does all those features and does it well. More details in our discussion below.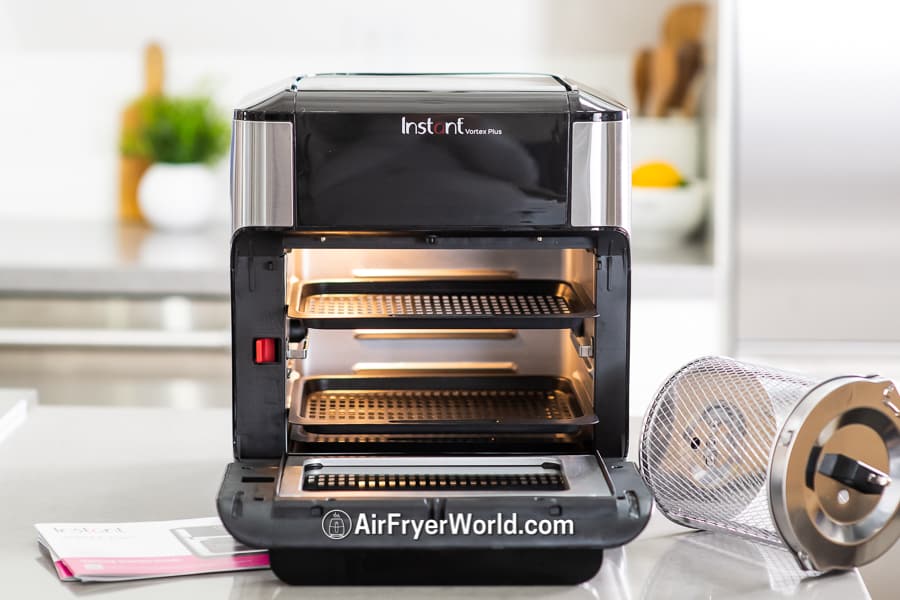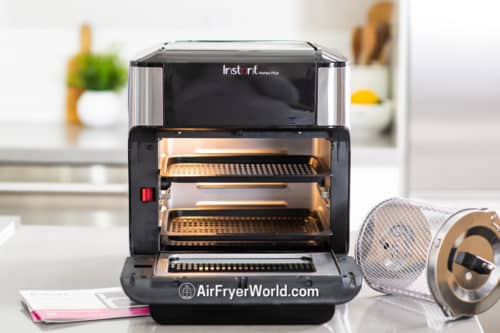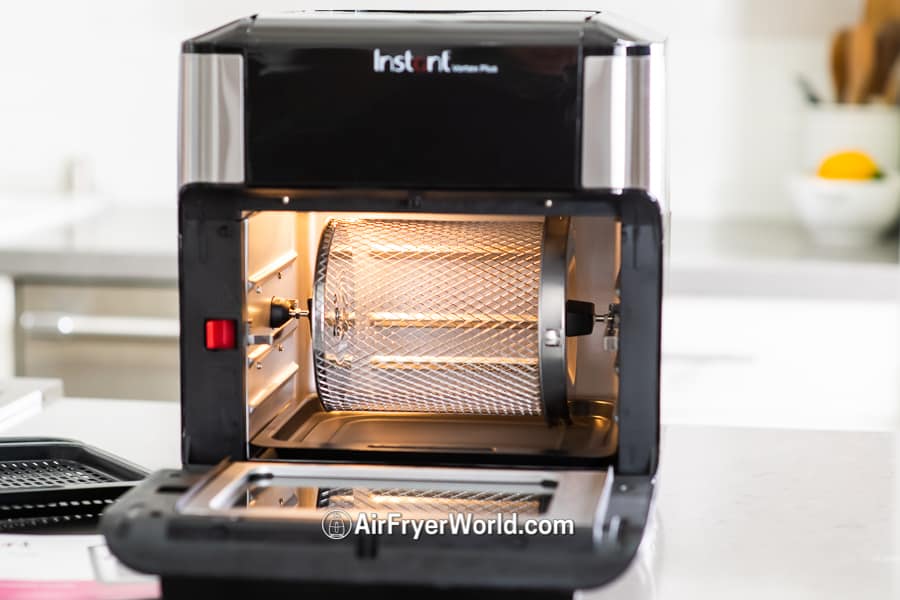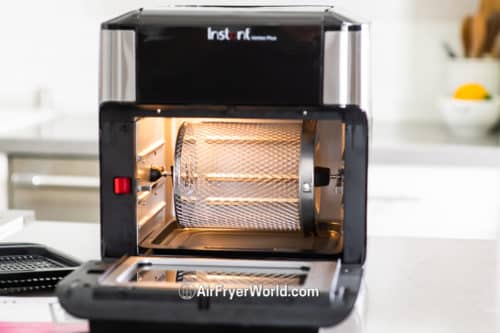 Is The Instant Pot Vortex Plus Air Fryer Easy to Use?
Yes, it's very self explanatory and easy to use. Included is their very helpful starter guide and cooking time tables to walk you through the basic steps to cooking your first meal. The smart guides are also helpful to make it less intimidating when cooking. Don't let the size food you, as it's quite large compared to other smaller air-fryer-only devices. But if you have the kitchen counter top space, you'll find that you'll be using the features more than you think. The Time and Temp buttons are separate, which is nice. It's very clear to see and implement time and temp separately. Some air fryer use the same buttons and you have to toggle back and forth between time and temp. Having them separate is helpful. The hot circulating air is very powerful too so you'll get food crispy, quick.
Air Fried Pork Ribs Test in the Vortex Plus
We tested some air fryer pork ribs with bbq sauce and it was a winner! This is a powerful air fryer and cooked the ribs perfectly. It was large enough to cook two trays of ribs. We just needed to rotate the racks to get all the ribs cooked evenly. The results were awesome ribs with the perfect "bite".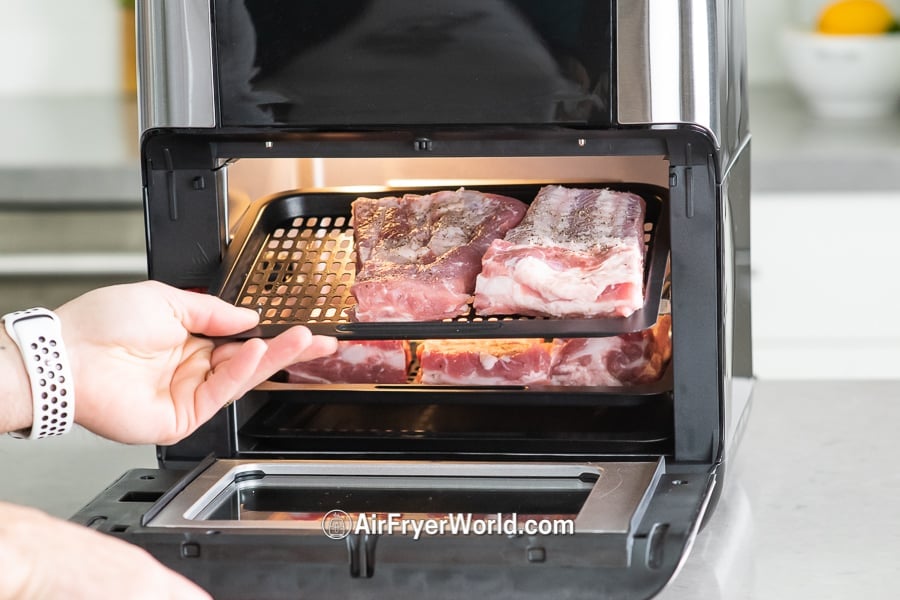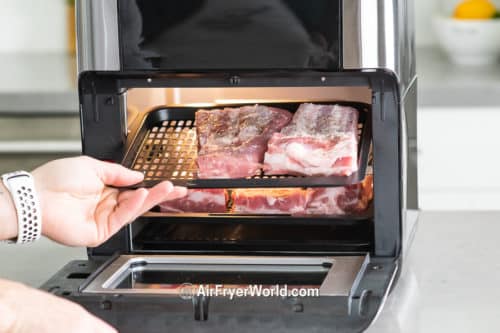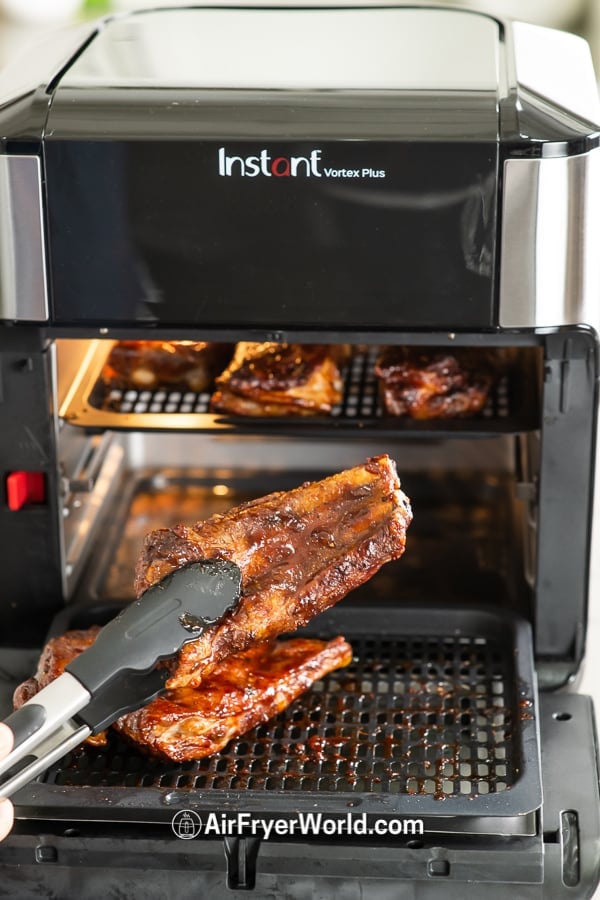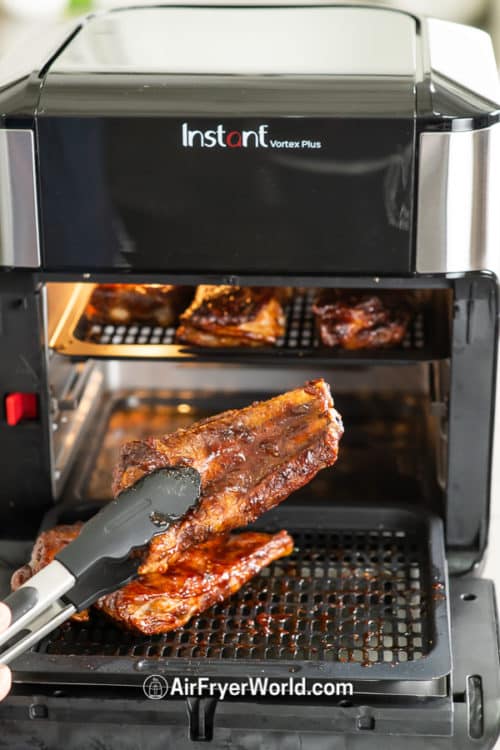 Vortex Plus Air Fryer Pro's
The hot circulating air is powerful! So you can cook crispy foods quick with less oil.
It's a larger capacity on multiple oven style racks is great, which can cook for 4-6 people. The issues with most basket-style air fryers is that the foot print is large but the actual cooking space is small. So most 4-5 qt basket style air fryers have limitations on the amount of food you can cook. This oven-style can help solve that issue by cooking multiple racks of food, which means more food.
You can cook on 3 levels, so the top level can cook the crisper quicker foods and the lower levels can cook the foods that need more time.
All the extra features with the added larger oven capacity make it reasonable to accomplish their 7-in-1 smart program features:

bake, roast, toast, broil, dehydrate and rotisserie.

Tumbling basket and rotisserie features are great if you're wanting to make evenly crisped fries and a juicy chicken. Wow!
The racks don't slip off and nestle in the grooves tightly. We own another popular brand of oven style air fryer and the racks suck, they always slip and the food falls off. The Vortex racks are built well and slide in-and-out securely without slipping. This is a HUGE winner and feature we looked for first.
Racks are easy to clean buy soaking in hot soapy water and the interior can be easily wiped down with a damp cloth.
It does come with a warranty. Though there are some limitations, it's good that a company is ready to back-up their product when necessary. You can read more about what they have to say here.
Vortex Plus Air Fryer Con's
It's large, so if you have a very small kitchen it'll be a dominating appliance. But because there's so many features on it, you might not need to have other appliances and the Vortex might be your go-to source for cooking.
Because it's an oven, there's several racks you can cook on. So that means the top rack will be closer to the hot circulating heating element. If you're cooking the same food on all 3 racks, you'll have to rotate more often to get the food to cook evenly. That's the case for all oven-style air fryers. Just be aware of that if you're looking to make your first purchase an oven-style model.
They don't have a book with recipes, which could be helpful to inspire users to familiarize themselves with the device. But that's ok cause we come to the rescue! We have tons of air fryer recipes here to get you started.
Overall Review: Is the Vortex Plus Air Fryer oven Worth the Purchase?
Yes, absolutely. If you're looking for a larger air fryer to cook 2-3 different small batch foods at once this is a great one. If you're looking to cook a large batch of a single item of food, this is a great one. Again, size is the only issue here and if you're looking to occasionally cook some veggies for a single person or small occasional servings, it's better to invest in a smaller air fryer. But if you have a family with hungry kids who love crispy foods or for re-heating frozen foods, this is a fantastic one to feed 4-5 people. You can purchase the Vortex here and have it delivered pretty quick!
About this Instant Pot Vortex Plus Air Fryer Oven Review: We received this Air Fryer to review. All opinions are honest and our own. We test many products and only share the ones we would purchase ourselves. That way, you don't have to waste time reading about products that aren't worth buying. We've filtered out the un-worthy ones for ya!
Want to share this advice? Please don't copy it. Just share the link, credit and link back to this copyrighted article. We've have issues with people stealing our words and content (photos) and putting their logos on it and putting on their blogs or posts. It's wrong to do this and it's stealing copyrighted content. We put a lot of time and research into this so sharing is caring! Thank you so much.
As an Amazon associate and partners with other affiliate programs, we may earn from your qualifying purchases. We may earn small commissions that goes towards all the costs of running this website and recipe tests. Thank you for your support.