Air Fried Whole Turkey with Gravy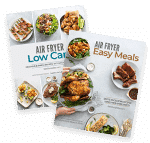 Buy our air fryer e-cookbooks today
Can you cook a whole turkey in the air fryer? We're obsessed with this topic and researched it in so much details. Below is our discuss, tips and resource for cooking an air fried whole turkey.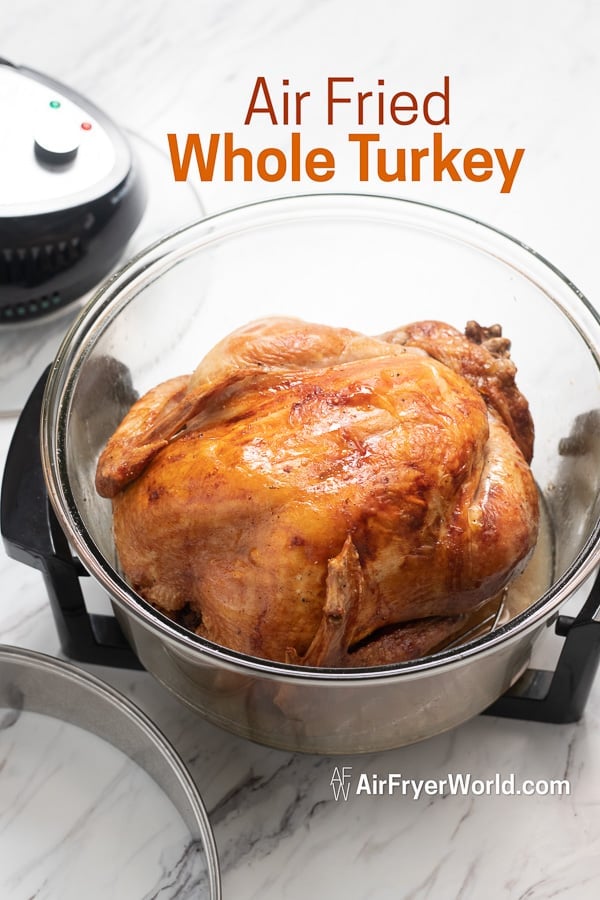 Air Fryer Whole Turkey Recipe
Yes, it's possible to air fry a whole turkey that's up to 16 pounds in this air fryer. It's crazy to think it's possible, but it's true. The turkey comes out juicy and delicious for your next big dinner or Thanksgiving holiday dinner. We tested this method on a 14-pound turkey several times and each time came out super juicy and perfect. This large capacity air fryer plugs into an outlet. This method is perfect for when you don't have a big kitchen or lacking oven space that took up all the side dishes.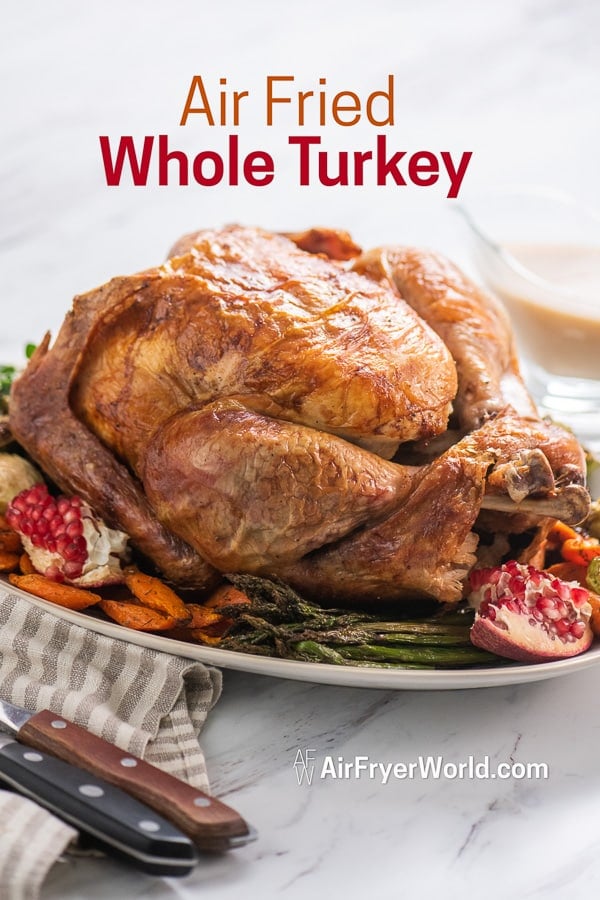 How to Cook Air Fried Whole Turkey in Air Fryer
We created a way to make gravy in the same bowl, you saw it here first! No one had created this gravy technique yet and we're the first to share it online! Our step-by-step photos help you through the process and watch the video for the live tutorial. For full recipe details, print out the recipe in the recipe box when you scroll down this write up.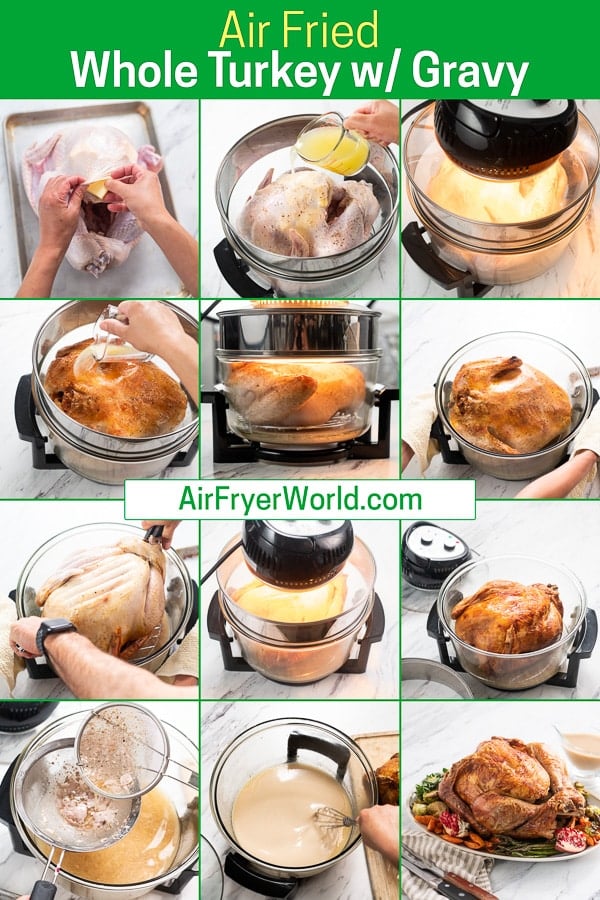 What is Oil Less Turkey Fryer with Halogen Infrared Convection Cooking?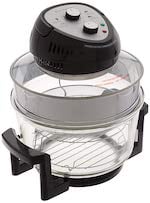 This isn't the only way to cook a whole turkey and there's many types of oil less turkey fryers on the market. The air fryers for cooking this turkey is with a convection technology that uses circulating hot air from a halogen infrared light. This method is like cooking the turkey in a small convection oven. The circulating hot air cooks the turkey evenly, with very little oil, and faster for a crispy skin turkey! These plug-in appliances cooks the turkey without any oil and the results are a juicy and healthy turkey! It tastes like it was deep fried or oven roasted where the turkey is crispy on the outside and juicy on the inside. What an easy way to cook your Thanksgiving turkey! These oil less air fryers are great when you don't have enough oven space for your turkey. You can cook so many different foods in these large air fryers too.
Watch the Video Making a Whole Turkey & Gravy in the Air Fryer
What's the Best Oil Less Air Fryers for Whole Turkey?
Big Boss 16 qt. Halogen Air Fryer
– The most popular brand for the Halogen/Infared Air Fryers. Will cook a whole turkey up to 16lbs.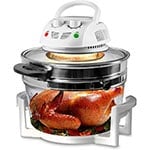 NutriChef 13 qt. Infrared Air Fryer
– Even though it is listed as 3 qts. smaller than the Big Boss, they feel like they are the same size. Cooked a 14 lb. turkey beautifully.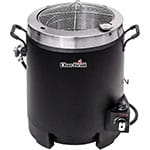 Char-Broil Big Easy Oil-less Liquid Propane Turkey Fryer
– For outside use only. This type of oil less air fryer is fueled by a propane tank. It cooks a great turkey and you can ready our write up about it here.
PROS of Big Boss Air Fryer & Other Similar Styles:
Energy Efficient and uses less power than traditional full sized oven.
Frees up oven space if you need to cook lots of other oven foods or if you don't have a lot of oven space.
Cooks quicker than traditional oven and the skin is super crispy. Our tests on 14 pound fully thawed turkey took about 2.3 hours-3 hours
No hassle with almost no oil and the most you would need is a light spray of oil to help crisp the food better. So it's a healthier way of cooking crispy foods.
Easy Clean up. The glass bowl is super easy to clean.
You can immediately make the gravy in the same bowl while the turkey rests. No extra pots or pans.
Feeds more people. The large size allows you to cook larger portions of food for more people. It's great to cook meals for 4 people or more.
Two racks for cooking. The big boss and an extra tray which allows you to cook two trays of food at the same time.
CONS of Big Boss Air Fryer & Other Similar Styles:
Once assembled, it's big and bulky. But it does pack into the box easily and the box itself it's not large for storing away.
If you have a small kitchen or little countertop space, it will take up a lot of space. This is great for a whole turkey, but for everyday cooking, we recommend smaller air fryers.
The circulating hot air is kinda loud during cooking.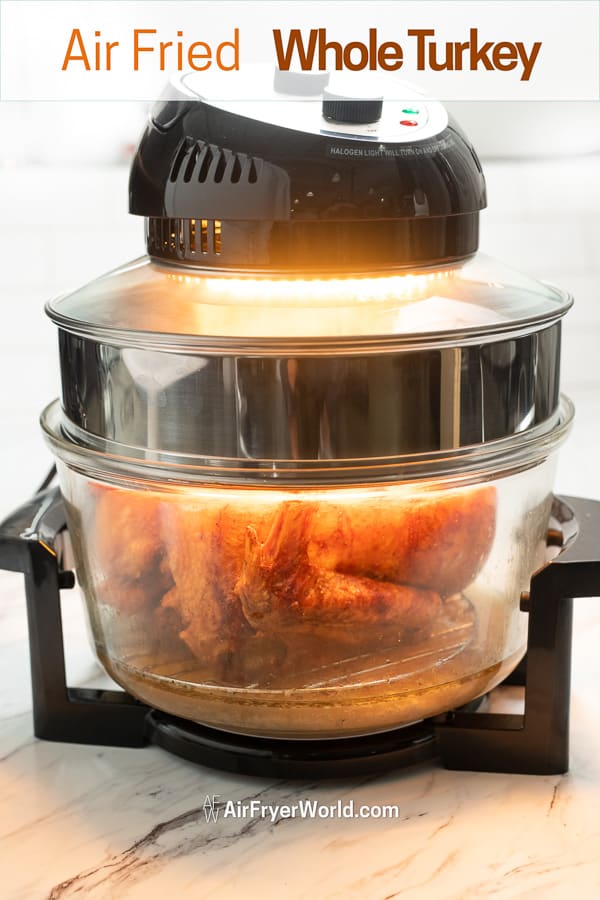 Hope you enjoy our air fryer whole turkey with gravy!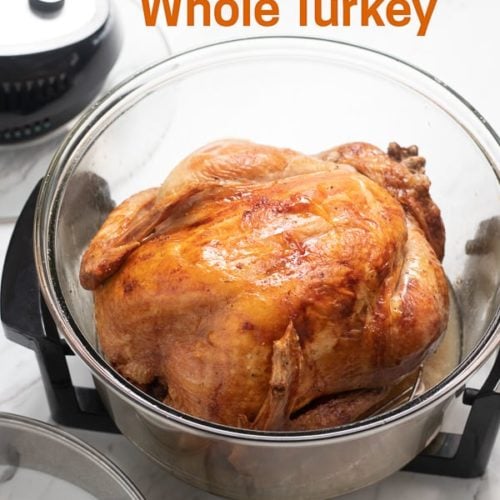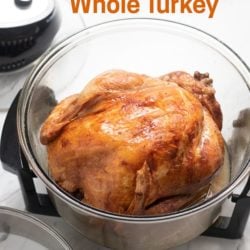 Air Fryer Whole Turkey with Gravy
Make sure your turkey is fully thawed on the inside. If not, it won't cook properly. Your turkey will still be raw on the inside if it's cooked slightly frozen! Cooking times will vary depending on size of turkey. Whole, thawed turkey usually cooks at a rate of 15 min./lb. Use a thermometer! Makes about 4 cups of gravy.
Ingredients
14

lb.

(

6.35

kg

)

raw Whole Turkey

6

Tablespoons

(

90

g

)

butter

, cut into slices

4

cloves

(

4

cloves

)

garlic

, sliced thin

1

Tablespoon

(

15

ml

) kosher salt

, or to taste

black pepper

, to taste

Oil

, to coat turkey

1 1/2

cups

(

360

ml

)

chicken broth

3/4

cup

(

95

g

)

all purpose flour

(for the gravy)
Instructions
Thaw your turkey completely on the inside cavity. Remove and giblets and neck bones from the turkey cavity (many times the giblet pack will be tucked under the skin by the neck). Pat the turkey dry.

Tuck the butter slices and garlic in-between the skin and the turkey breasts. Oil the turkey and season with salt and pepper.

Place the lower rack in the air fryer and spray with oil. Place the turkey breast side down in the air fryer. Pour in 1/2 cup of broth over the turkey. Place the extender ring and lid on the air fryer.

Air Fry the turkey at 350°F for about 2 1/2 to 3 hours.

Every 30 minutes, baste with chicken broth (the first 2 bastes will be with the remaining broth. After that, baste from the broth & juices at the bottom of the air fryer).

After cooking for 2 hours, take off the air fryer lid and extender ring. Lift the turkey out, flip to breast side up, and then place back into the air fryer. Baste the turkey and then place the extender ring and lid back on

Continue to Air Fry at 350°F until the turkey reaches an internal temperature of 165°F at the thickest parts of the thigh, wings and breast, and the juices run clear when you cut between the leg and the thigh (about 30 minutes - 1 hour).

Let rest for about 15-20 minutes.

While the turkey rests, make the gravy. Remove the lower rack from the air fryer. Leaving the turkey juices and broth in the air fryer, skim the chunks from the drippings and broth.

Place flour in a medium bowl. Ladle in about 1 cup of the drippings and broth into the flour and whisk until smooth. Pour the flour mixture into the air fryer basket with the remaining drippings and broth. Whisk until smooth.

Place the air fryer lid back on and Air Fry at 400°F for 10 minutes or until thickened, whisking a couple times while cooking.
If your air fryer is preheated or if you are cooking multiple batches, you may need to reduce timing by a few minutes (unless preheating is called for in the recipe).
Nutrition
Calories:
669
kcal
,
Carbohydrates:
6
g
,
Protein:
91
g
,
Fat:
29
g
,
Saturated Fat:
10
g
,
Cholesterol:
315
mg
,
Sodium:
1206
mg
,
Potassium:
970
mg
,
Fiber:
1
g
,
Sugar:
1
g
,
Vitamin A:
471
IU
,
Vitamin C:
2
mg
,
Calcium:
65
mg
,
Iron:
5
mg
Check out all our –> Air Fried Turkey Recipes
Enjoy Our Air Fryer Thanksgiving Recipes –> Air Fryer Thanksgiving Recipes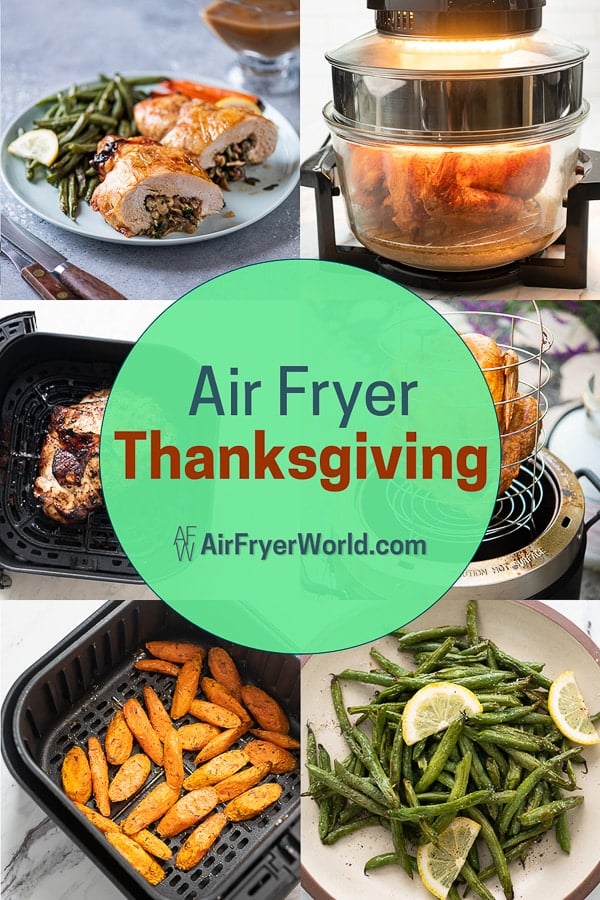 Try the Oil Less Deep Fried Turkey with No Oil!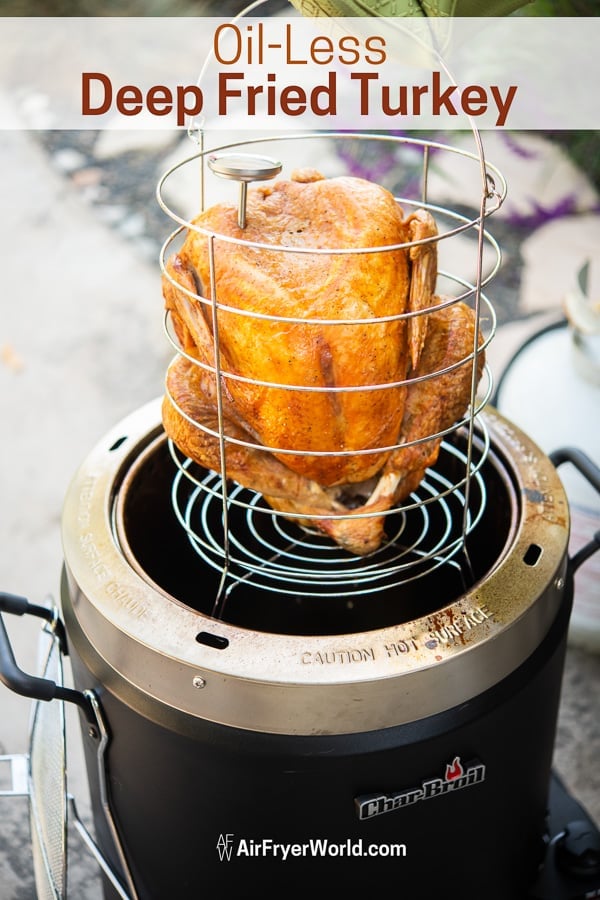 Here's some more great air fryer recipes here.
As an Amazon associate and partners with other affiliate programs, we may earn from your qualifying purchases. We may earn small commissions that goes towards all the costs of running this website and recipe tests. Thank you for your support.