Air Fried Turkey Breast with Lemon Pepper or Herbs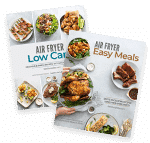 Buy our air fryer e-cookbooks today
You're really going to love air frying a turkey breast because it's healthy and truly delicious! There's so many reasons to make boneless turkey breast in the air fryer. It's so quick, easy and a great way to enjoy healthy turkey breast for lunch and dinner!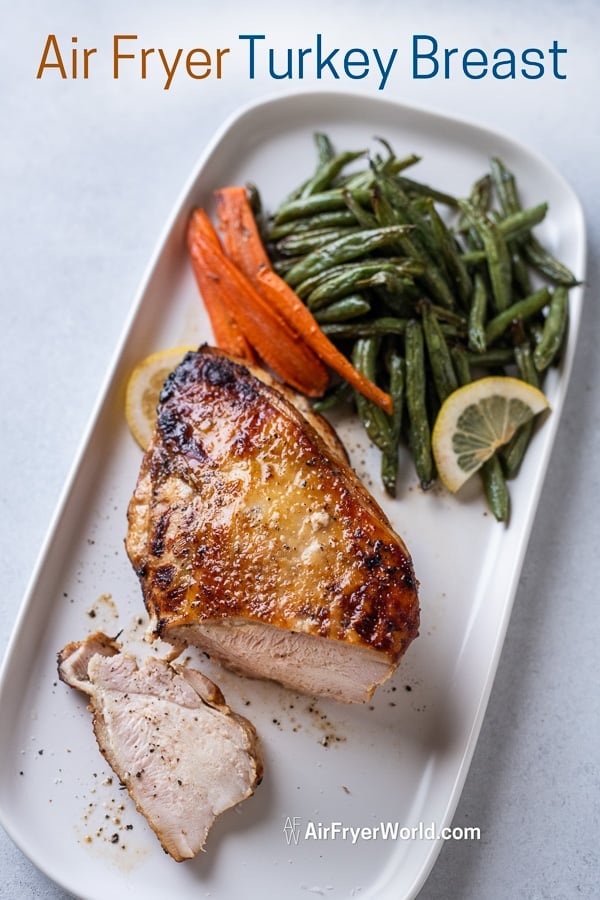 Healthy Air Fryer Turkey Breast Recipe
We were mind blown when we made our first air fryer turkey breast and we've made so many more ever since then! The turkey breast skin comes out crispy and amazing. The turkey meat is juicy and perfect for sandwiches, salads or what ever you want. You can't buy something this delicious at the store and if you did, it wouldn't be cheap. Cooking boneless turkey breast in the air fryer is budget friendly and can cover meals for a whole family. If there's leftovers, then sandwiches are perfect.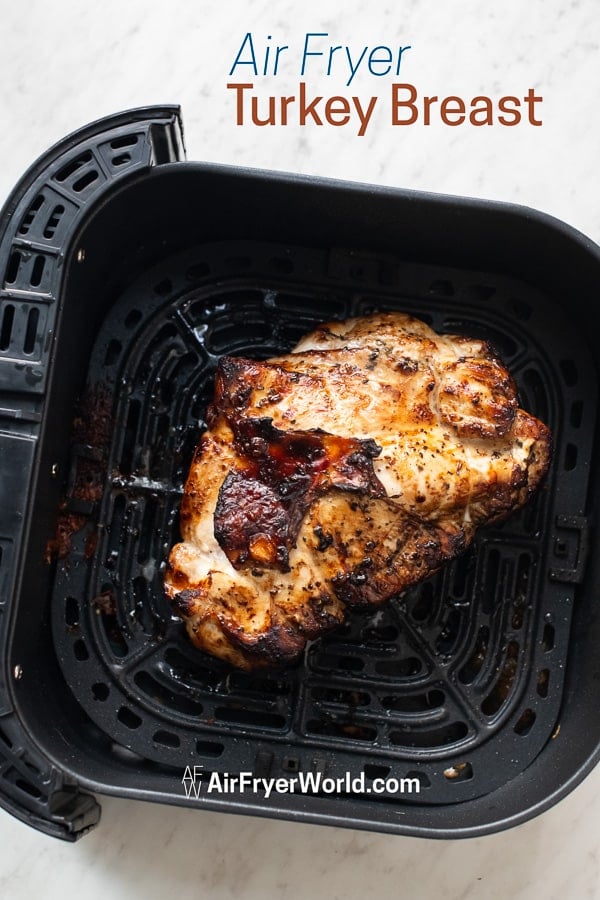 Watch the Video Making Turkey Breast with Lemon Pepper in the Air Fryer
Best Healthy Air Fried Turkey Breast
This is truly a great way to eat healthy turkey in sandwiches, salads or what ever you want. Ok, air fried turkey breast is a serious contender for Thanksgiving or the holidays too. It's the perfect portion for two or three. If it's a small Thanksgiving dinner gathering, then this air fryer technique is perfect. It's easy to learn how to cook turkey in the air fryer for Thanksgiving. And most importantly, it frees up so much space in the kitchen, especially if it's small. If you don't have enough oven space, then the air fryer can help free up the lack of oven space. It's such a wonderful way to enjoy turkey for two and keep it simple and small.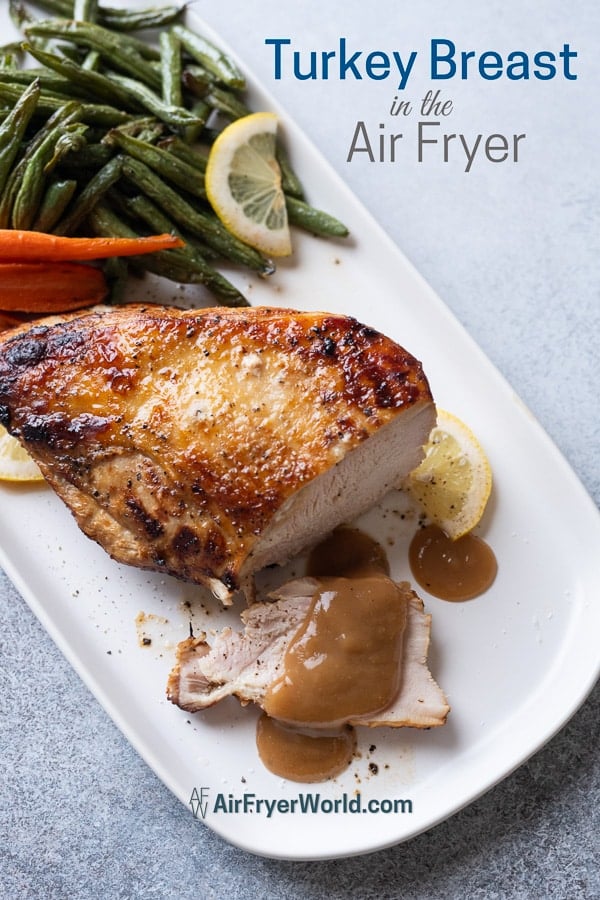 And check out our whole turkey in the air fryer recipe! We teach you how to make gravy too. Here's a healthy air fryer chicken and broccoli "stir fry" recipe for you to enjoy. Happy Air Frying healthy foods to you all!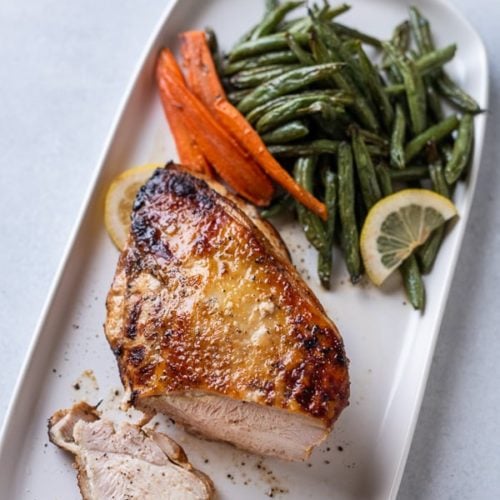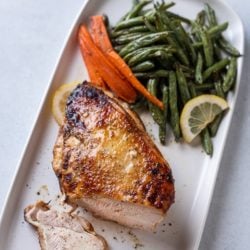 Healthy Air Fryer Herbed Turkey Breast with Lemon Pepper
This recipe is based on 3 pound de-boned turkey breasts (or 4 pounds bone-in).
Keep the skin-on the turkey because it keeps the meat moist during air frying. Have a kitchen thermometer ready to check the internal turkey temperature to ensure it's cooked.
Ingredients
3

pounds

de-boned uncooked turkey breast

*see recipe head note

2

Tablespoons

oil

1

Tablespoon

Worcestershire sauce

1

teaspoon

lemon pepper or dried herb seasoning

1/2

teaspoon

salt

, or to taste
Instructions
Make sure the turkey breast is completely thawed or else it will not cook through. Pat the turkey dry.

In a bowl or plastic bag, combine the oil, Worcestershire sauce, lemon pepper or herbs, and salt. Add the turkey to the marinade, making sure the marinade completely coats the turkey breast. If possible, marinate for 1-2 hours.

Lightly spray or rub oil the air fryer basket. Remove the turkey from the marinade and place the turkey breast skin-side down in the air fryer basket.

Air Fry at 350°F for 25 minutes. Flip the turkey breast to skin side up, and Air Fry for another 25-35 minutes until internal temperature of turkey reaches 165°F in the thickest part. If you're cooking bone-in turkey breast, cook for additional 5-10 minutes if needed.

Allow the breast to rest for 5 minutes. Slice and serve while warm.

NOTE: To keep turkey breast from drying out (especially if it is skinless), spray the turkey top and edges with a little oil a couple times during cooking to keep it moist. It's like "basting" the turkey breast with oil. This is helpful if you have a bigger breast.

NOTE on SIZE: Some breasts are thinner or sometimes broken into several pieces including the tenderloin. If you're cooking separate smaller pieces, then cooking time is much less. If you want a "whole" looking breast when you have multiple pieces, then tie the pieces together with some kitchen string. This will give the breast a whole looking shape. Then marinate the breast according to the instructions.
If your air fryer is preheated or if you are cooking multiple batches, you may need to reduce timing by a few minutes (unless preheating is called for in the recipe).
Nutrition
Calories:
400
kcal
,
Carbohydrates:
1
g
,
Protein:
50
g
,
Fat:
21
g
,
Saturated Fat:
5
g
,
Cholesterol:
147
mg
,
Sodium:
355
mg
,
Potassium:
646
mg
,
Fiber:
1
g
,
Sugar:
1
g
,
Vitamin A:
14
IU
,
Vitamin C:
1
mg
,
Calcium:
33
mg
,
Iron:
3
mg
As an Amazon associate and partners with other affiliate programs, we may earn from your qualifying purchases. We may earn small commissions that goes towards all the costs of running this website and recipe tests. Thank you for your support.