Air Fried Turkey Breast with Lemon Pepper or Herbs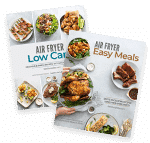 Buy our air fryer e-cookbooks today
You're really going to love air frying a turkey breast because it's healthy and truly delicious! There's so many reasons to make boneless turkey breast in the air fryer. It's so quick, easy and a great way to enjoy healthy turkey breast for lunch and dinner.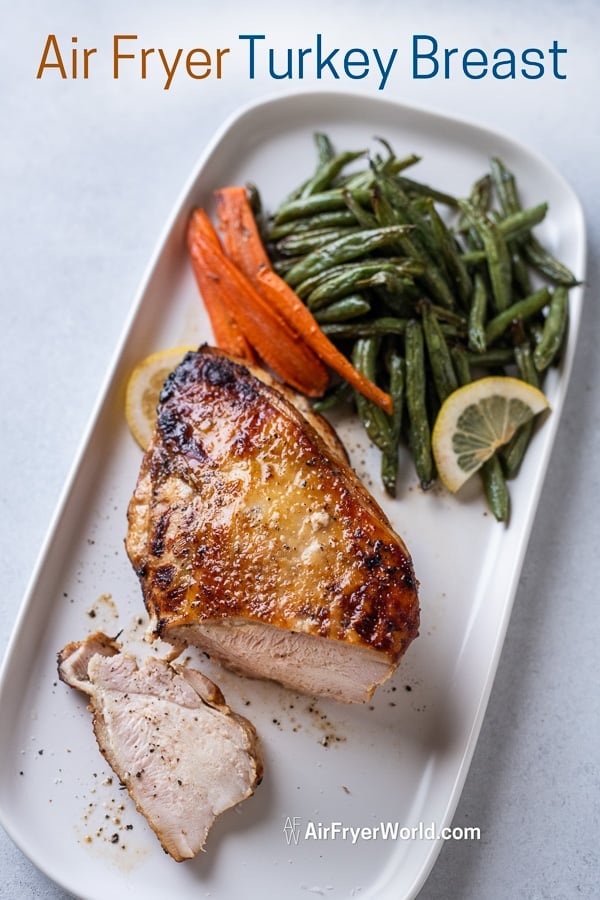 Healthy Air Fryer Turkey Breast Recipe
We were mind blown when we made our first air fryer turkey breast and we've made so many more ever since then! The turkey breast skin comes out crispy and amazing. The turkey meat is juicy and perfect for sandwiches, salads or whatever you want. You can't buy something this delicious at the store and if you did, it wouldn't be cheap. Cooking boneless turkey breast in the air fryer is budget friendly and can cover meals for a whole family. If there's leftovers, then sandwiches are perfect.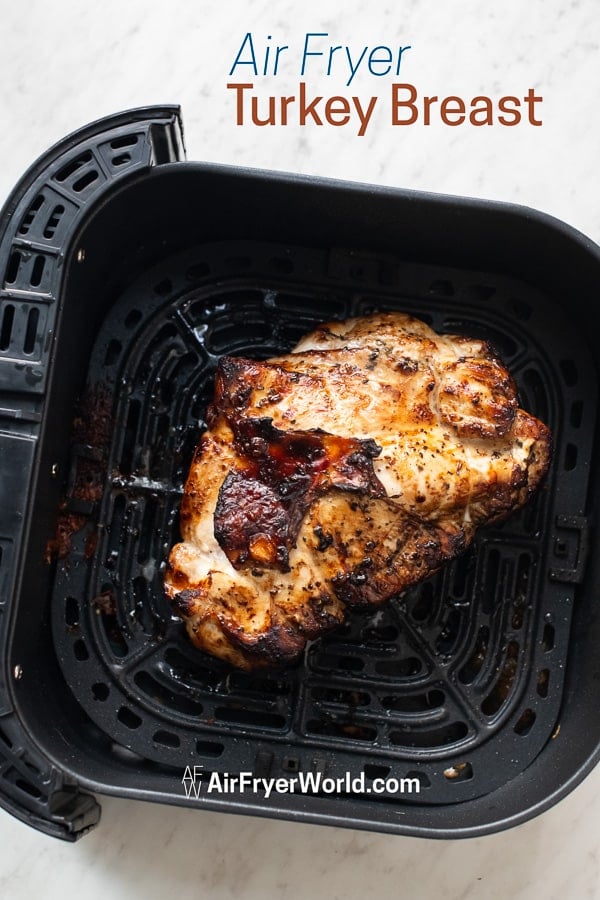 Video: Recipe for Turkey Breast with Lemon Pepper in the Air Fryer
Why Air Fry Turkey Breast Instead of Baking?
This is truly a great way to eat healthy turkey in sandwiches, salads or what ever you want.
Ok, air fried turkey breast is a serious contender for Thanksgiving or the holidays too. It's the perfect portion for two or three. If it's a small Thanksgiving dinner gathering, then this air fryer technique is perfect for a 3 pound boneless breast. It's easy to learn how to cook turkey in the air fryer for Thanksgiving.
The turkey breast cooks juicy and moist. The hot circulating heat cooks the turkey breast just quick enough to not dry it out. Just make sure to have an instant read thermometer (meat thermometer) to ensure that the internal temperature is 165°F at its thickest part.
Most importantly, it frees up so much space in the kitchen, especially if it's small. If you don't have enough oven space, then the air fryer can help free up that precious oven space. It's such a wonderful way to enjoy turkey for two and keep it simple and small.
What Size Turkey Breast?
This recipe is for a raw 3 pound (approximately) boneless whole turkey breast or loaf. Anything larger than that you'll really have to add more time. If your turkey is frozen, make sure to fully thaw before air frying. Every air fryer cooks differently, so after your first attempt, you'll know more of what timing works best for your specific air fryer model. If you're wanting to cook a whole turkey up to 16 pounds, check out the recipe here.
Tips for Cooking Air Fryer Turkey Breast
If you bought a frozen turkey breast, make sure it's fully thawed all the way through. If the turkey breast is even slightly frozen in the center, it won't cook through properly.
Add your favorite seasonings besides our lemon pepper and herb suggestions. BBQ seasoning is great for a smoky flavor. If you have any favorite steak or chicken seasoning rubs or any other poultry seasoning, definitely use them. You can add some onion powder, garlic powder, and paprika. There's so many possibilities to use any types of spices for a flavorful air fried turkey breast.
You can also use fresh herbs or a herb butter to flavor the roast turkey. Fresh thyme or rosemary are classic herb choices. Or some fresh sage for a fancy juicy turkey breast!
Make a batch of homemade gravy for another great layer of flavor.
For a crispy skin turkey breast, remember to start cooking it with skin-side down. Then after flipping, the turkey breast will cook skin-side up. Finishing off cooking this way will result in a very crisp skin for the turkey. And remember to oil the skin before air frying. Olive oil and grape seed oil are two great choices to use.
This 3 pound turkey breast is a great way to have a small holiday gathering. This size of turkey breast can easily feed about 4-6 people.
All air fried turkey breast recipe details are in the recipe box below. There are also great step-by-step recipe photos to help you.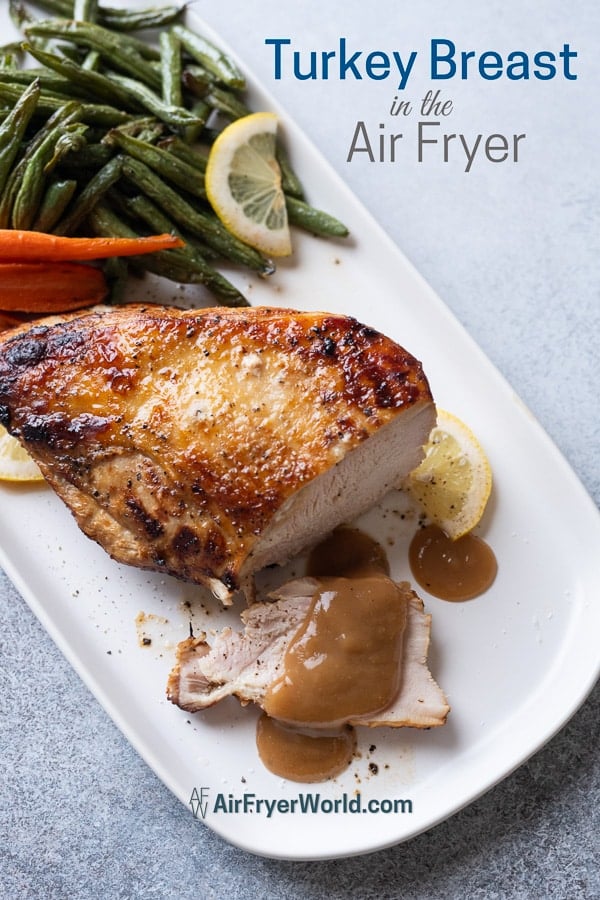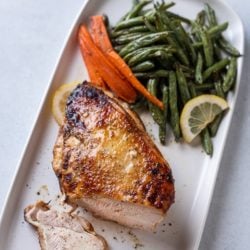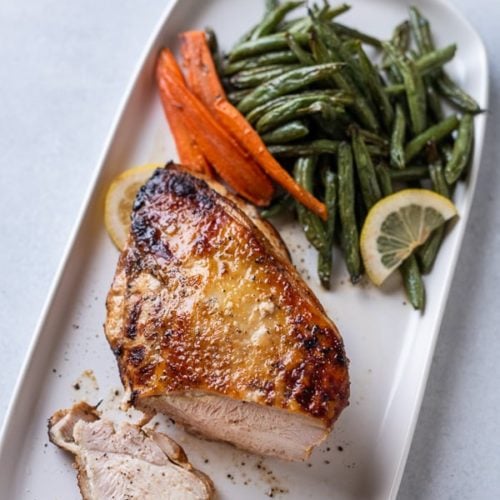 Healthy Air Fryer Herbed Turkey Breast with Lemon Pepper
This recipe is based on 3 pound de-boned turkey breasts (or 4 pounds bone-in). Keep the skin-on the turkey because it keeps the meat moist during air frying. Make sure the turkey breast is fully thawed. If it's still frozen in the center, it will not be fully cooked. If you can, use an instant read thermometer (meat thermometer) to check the internal turkey temperature to ensure it's cooked.
Ingredients
3

pounds

(

1360

g

)

de-boned uncooked turkey breast

fully thawed *see recipe head note

2

Tablespoons

(

30

ml

)

oil

1

Tablespoon

(

15

ml

)

Worcestershire sauce

1

teaspoon

(

5

ml

)

lemon pepper or dried herb seasoning

1/2

teaspoon

(

2.5

ml

)

salt

, or to taste
Notes
NOTE on SIZE:
Some breasts are thinner or sometimes broken into several pieces including the tenderloin. If you're cooking separate smaller pieces, then cooking time is much less. If you want a "whole" looking breast when you have multiple pieces, then tie the pieces together with some kitchen string. This will give the breast a whole looking shape. Then marinate the breast according to the instructions.
If your air fryer is preheated or if you are cooking multiple batches, you may need to reduce timing by a few minutes (unless preheating is called for in the recipe).
Video
Nutrition Information per Serving
Calories:
400
kcal
,
Carbohydrates:
1
g
,
Protein:
50
g
,
Fat:
21
g
,
Saturated Fat:
5
g
,
Cholesterol:
147
mg
,
Sodium:
355
mg
,
Potassium:
646
mg
,
Fiber:
1
g
,
Sugar:
1
g
,
Vitamin A:
14
IU
,
Vitamin C:
1
mg
,
Calcium:
33
mg
,
Iron:
3
mg
Why is the turkey still raw in the center?
Did you thaw the turkey breast completely? If it's even slightly frozen in the center, then it won't cook all the way through. Another reason is because it might be too large for your air fryer. To make sure the turkey cooks through, try scoring the raw turkey breast or even cut it in half. If the turkey is in smaller pieces, it will cook quicker.
What to serve with turkey breast?
There's so many delicious options to choose from once the turkey breast is cooked. Here's some of our favorite and easy ways to serve it:
A side of mashed potatoes, sweet potatoes, or air fryer potatoes are fantastic.
Try any of our air fryer vegetables for a healthy side dish.
Love grilled cheese sandwiches? Then our air fryer turkey melt is for you.
For a healthy meal, serve the turkey cut into chunks on top of a salad. Add a chopped boiled egg and some bacon bits for a great chopped turkey cobb salad.
How to freeze leftovers?
If you have leftovers and can't eat right away, you can freeze what you don't eat. Store the sliced turkey in airtight bags or containers for up to 3 months in the freezer. Don't wait too long after that because if stored too long, the turkey can get freezer burn. This makes the turkey dry and flavorless.
Easy Recipes in Air Fryer
As an Amazon associate and partners with other affiliate programs, we may earn from your qualifying purchases. We may earn small commissions that goes towards all the costs of running this website and recipe tests. Thank you for your support.