Oil-Less Deep Fried Turkey
This is a game changer when it comes to cooking turkey. Is it even possible to cook whole turkey with deep fried texture without oil? Absolutely yes! This is our undeniable favorite way to cook a whole turkey.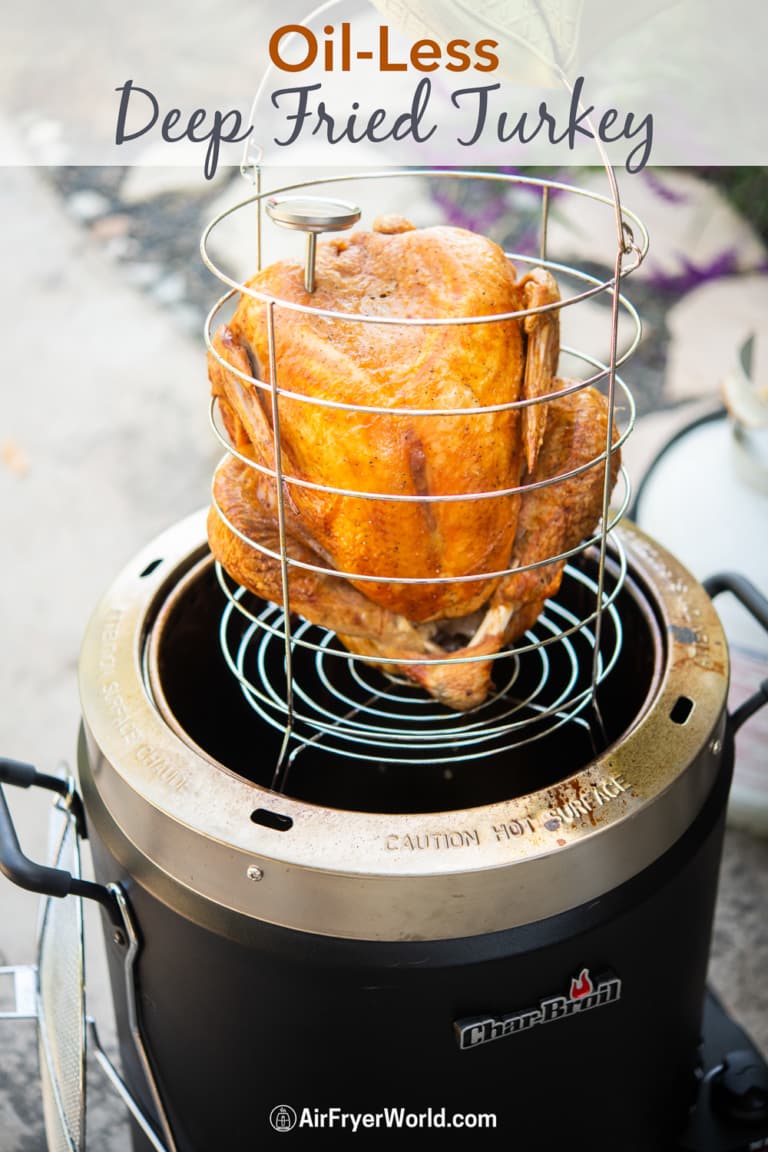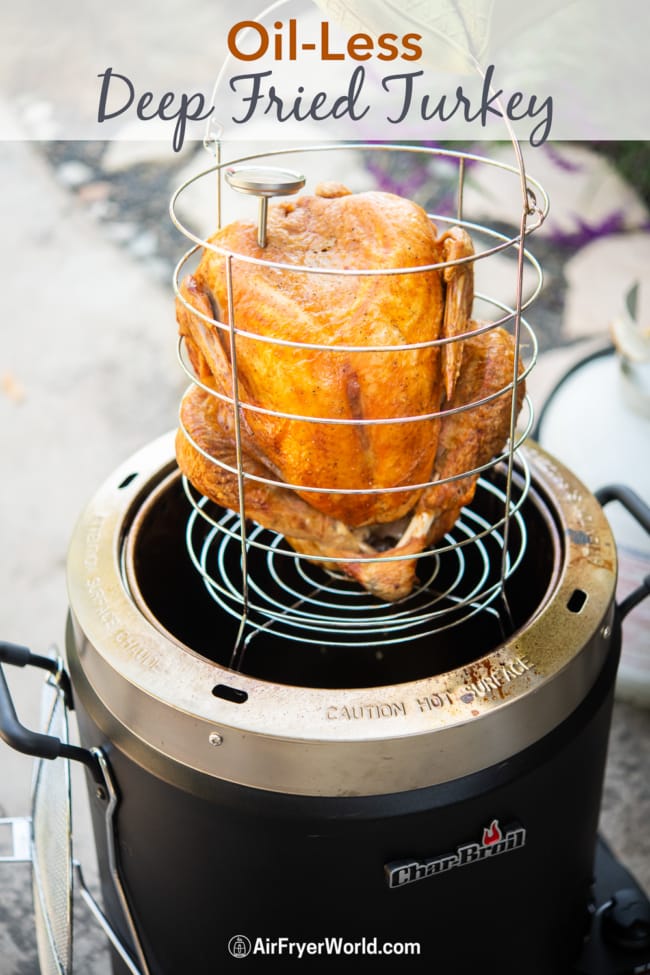 What is Oil-Less Deep Fried Turkey Fryer with Big Easy Oil-Less Deep Fryer?
There's many types of oil-less turkey air fryers. One way to cook whole oil less turkey using air fryers with convection technology that uses circulating hot air from a halogen infrared light. Here's our full write up for the Big Boss air fryer and other similar air fryers. Today's write up talks about another oil-less method using the Big Easy CharBroil oil-less deep fryer. It tastes like it was deep fried with crispy turkey on the outside and super juicy on the inside, but it is even better than the infamous deep fried turkeys. It doesn't feel greasy. No dangerous vats of scalding oil (we've moved beyond the castle storming days of the Dark Ages). These oil-less air fryers are great and they even free up your oven space for all the rest of your feast cooking.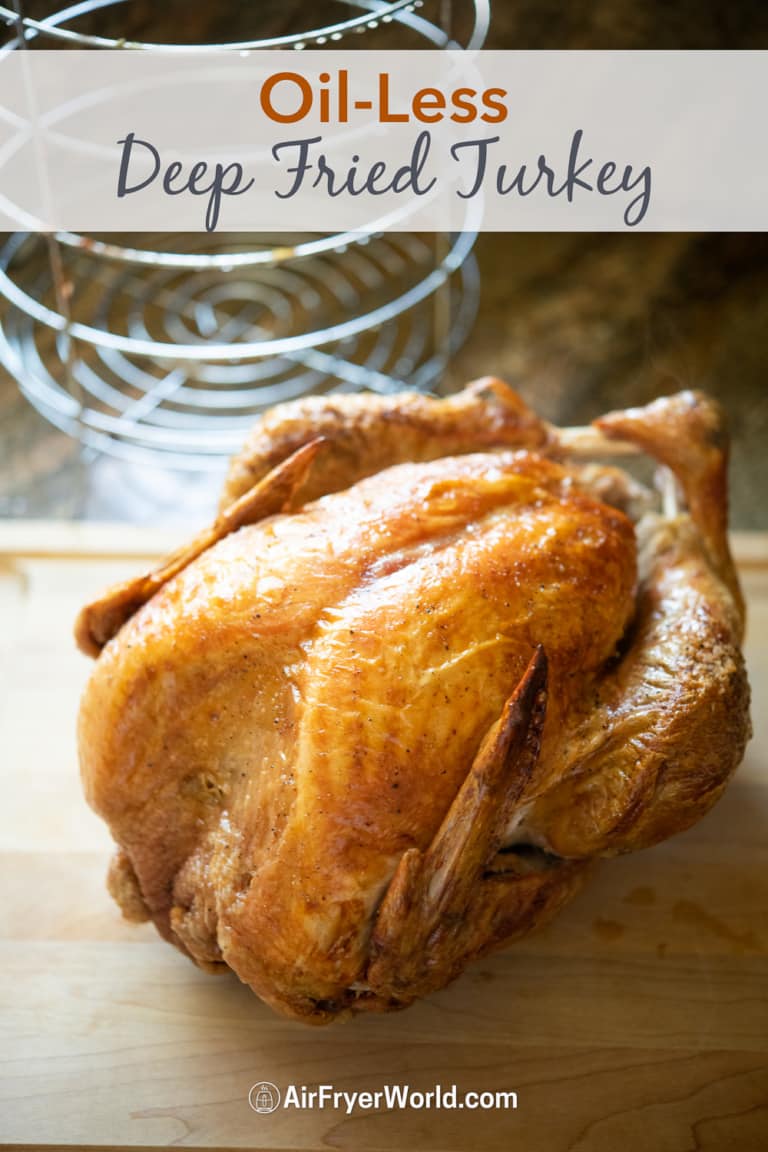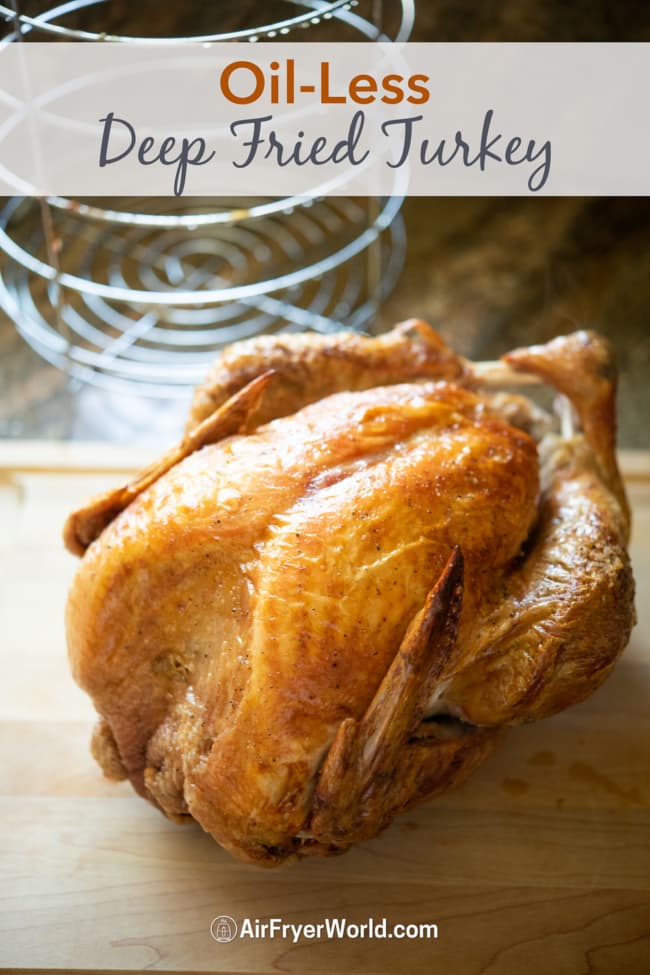 How Does an Oil-Less Deep Fryer Work?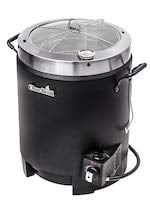 The CharBroil Big Easy propane oil-less deep fryer connects to a propane tank and is an infrared fryer cooking with hot air. You'll need to cook outside but it helps free up your oven during big feasts and dinners. There is a ring of flames at the base of it which lead into a hollow walled chamber. Hot circulating air inside the chamber cooks the turkey perfectly. The legs and breast meat cook equally super juicy and delicious for your next big dinner or Thanksgiving holiday dinner. We tested this oil-less method on 12-16 pound turkeys time and time again. Each time they came out amazing. The more intense heat is by the legs and lessens by the time it gets to the breasts, helping keep the breast meat from overcooking and becoming dry by the time the leg meat is perfect and juicy. It has become our families' favorite way to cook a turkey. And of course you can cook other amazing recipes in it like ribs or whole chickens too!
Watch the Amazing Turkey in the Oil-Less Deep Fryer
Electric or Propane Deep Fryers
We love how delicious and easy the Big Easy hooks up to a propane tank and cooks the turkey in the outdoors without odors filling up the house. Masterbuilt also makes an electric version which is very similar to the Char-Broil propane oil-less deep fryer. It looks awesome, we just haven't had a chance to buy & test it yet.
Best Oil Less Air Fryers for Whole Turkey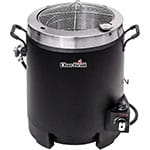 Char-Broil Big Easy Oil-less Propane Turkey Fryer
– For outside use only. This type of oil less air fryer is fueled by a propane tank. It cooks a great turkey and you can ready our write up about it here.
Masterbuilt Oil Free Electric Roaster
– Roasts a turkey up to 18 lbs. Has a wood chip box to add a nice smokiness if desired. Thermostat controlled. Great electric oil free turkey roaster.
Big Boss 16 qt. Halogen Air Fryer
– The most popular brand for the Halogen/Infared Air Fryers. Will cook a whole turkey up to 16lbs.
How to Deep Fried Whole Turkey with No Oil?
Follow our Step-by-Step easy photos to guide you through the oil less fried turkey cooking process
Make sure that your turkey is fully and properly thawed. If it's still super cold or slightly frozen on the inside, you'll have raw turkey. Here's how to properly thaw a turkey.
Add the herbs on about 20 minutes before the turkey is finished cooking. Don't put the herbs on when the turkey is still raw. The herbs might burn.
Save the drippings to make gravy!
For full recipe details, print out the recipe in the recipe box when you scroll down this write up.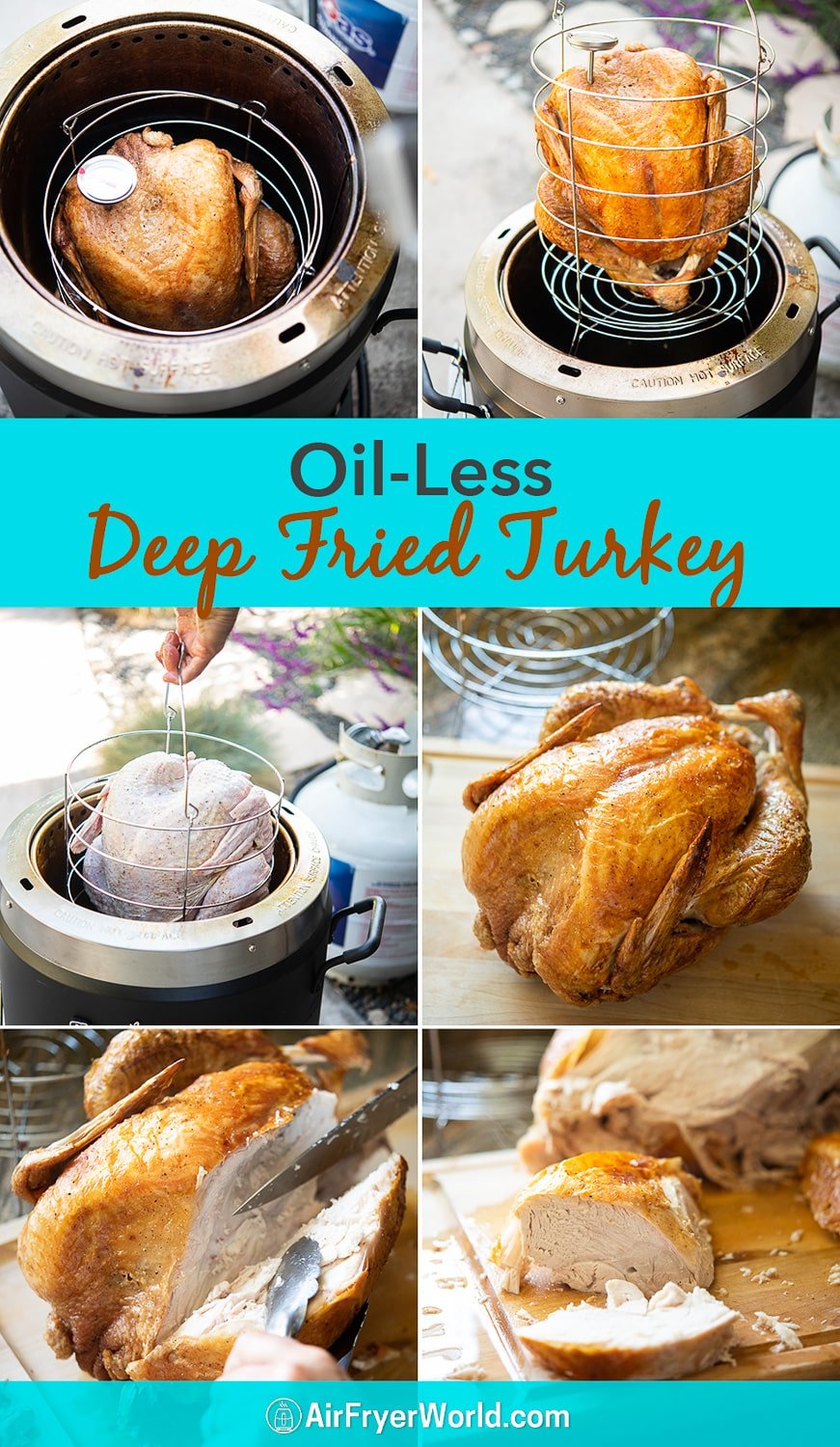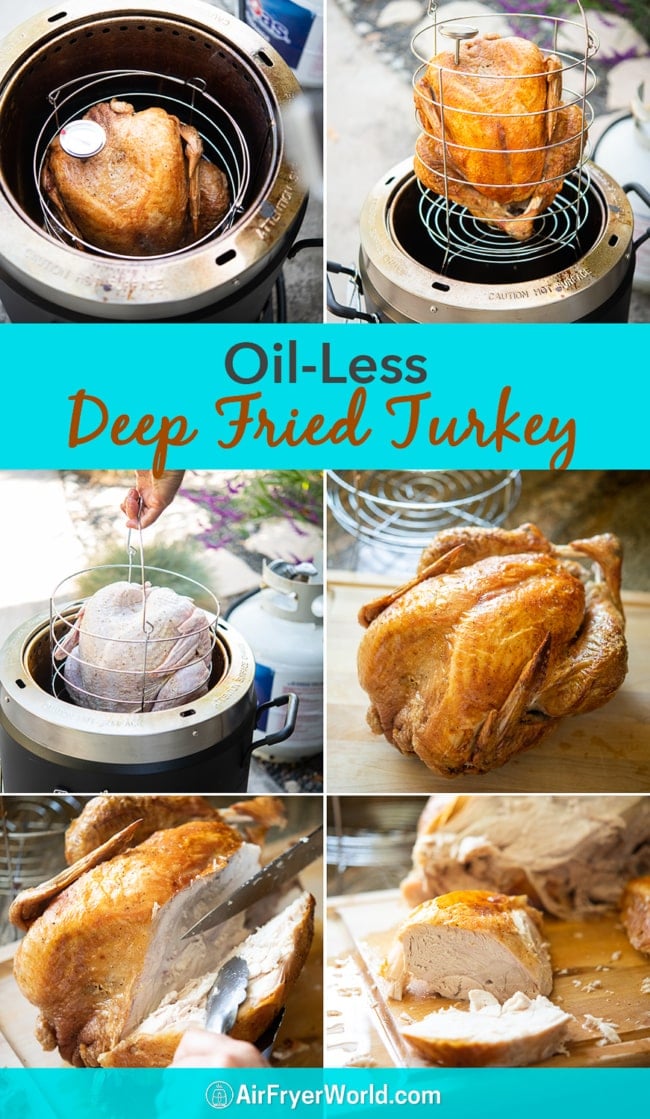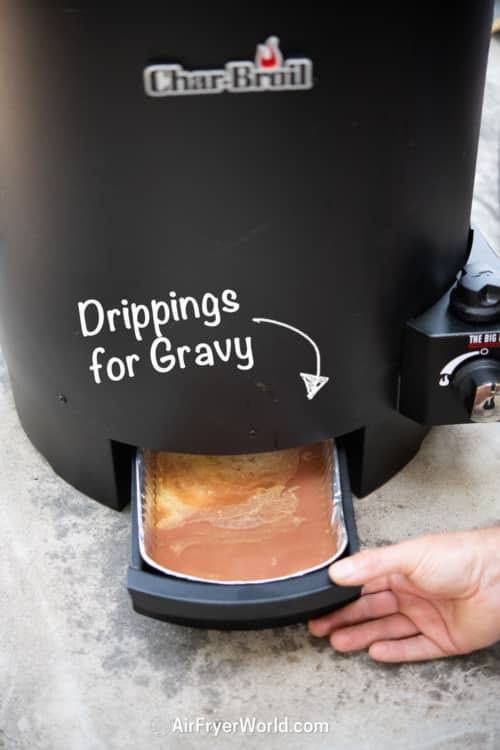 Pros & Cons of Char-Broil Big Easy Oil Less Deep Fryer & Other Brands of Similar Style:
PROS:
Energy Efficient and uses less power than traditional full sized oven.
Frees up oven space if you need to cook lots of other oven foods or if you don't have a lot of oven space.
Cooks quicker than traditional oven and the skin is super crispy. Our tests on 14 pound fully thawed turkey took about 2.3 hours-3 hours
No hassle with almost no oil and the most you would need is a light spray of oil to help crisp the food better. So it's a healthier way of cooking crispy foods.
Easy Clean up. The glass bowl is super easy to clean.
Drip Pan. All the turkey juices drop into a dip pan for you to make delicious homemade gravy.
Feeds more people. The large oil less deep fryer size allows you to cook larger portions of food for more people. It's great to cook meals for 4 people or more.
Crispy Skin. Wow, the skin is awesome.
Makes one of the juiciest, crispy skinned turkeys. And is so easy!
CONS:
Once assembled, it's big and bulky. But it does pack into the box easily storing in your garage.
Outdoor use only. It's powered by a propane tank so you have to use it outside and weather is a factor.
No Stuffing in the turkey. The manufacture suggests cooking the stuffing separately, not inside the turkey.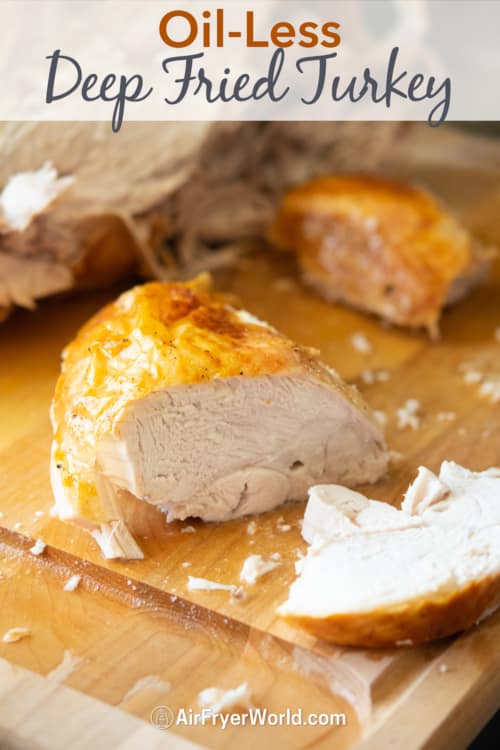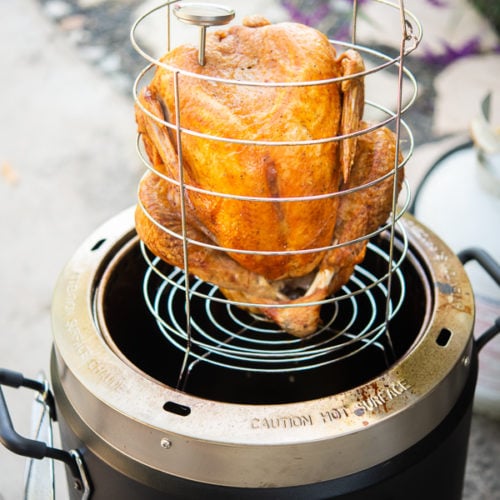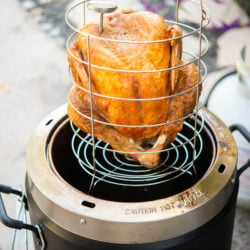 Oil-Less Fried Whole Turkey
Make sure your turkey is fully thawed on the inside. If not, it won't cook properly. Cooking times will vary depending on size of turkey. Whole, thawed turkey usually cooks at a rate of 10 min./lb in the Char-Broil Oil Less Deep Fryer.

Ingredients
14

lb.

(

6.35

kg

)

raw Whole Turkey

6

Tablespoons

(

90

g

)

butter

, cut into slices

4

cloves

garlic

, sliced thin

1

Tablespoon

(

15

ml

) kosher salt

, or to taste

black pepper

, to taste
Instructions
Remove and giblets and neck bones from the turkey cavity (many times the giblet pack will be tucked under the skin by the neck). Pat the turkey dry.

Tuck the butter slices and garlic in-between the skin and the turkey breasts. Season the turkey with salt and pepper.

Oil the basket to help prevent any sticking. Place the turkey legs down in the basket. Insert the meat thermometer into the breast so that the tip doesn't touch bone and the dial is easily read when the basket is in the cooker. Place the basket in the Oil-Less Deep Fryer.

Turn on the cooker to medium high cooking and cook for about 10 minutes per pound (14lbs.= approx. 140 minutes or 2 hrs 20 minutes). Occasionally spray with oil for crispiest skin. (Cover with the wire mesh lid during the last 15 minutes for the crispiest skin, it reflects heat back intowards the turkey. But if used the whole cook time, this heat can burn food before it is fully cooked.)

For the final 20 minutes start checking the turkey and keep an eye on the temperature to determine when the turkey is done. Our recommeneded internal temperature is 165°-170°F.

Remove the basket from the cooker and let rest for about 15-20 minutes. Remove the turkey from the basket, carve and serve.
If your air fryer is preheated or if you are cooking multiple batches, you may need to reduce timing by a few minutes (unless preheating is called for in the recipe).
Nutrition Information
Calories:
639
kcal
,
Carbohydrates:
1
g
,
Protein:
90
g
,
Fat:
29
g
,
Saturated Fat:
10
g
,
Cholesterol:
315
mg
,
Sodium:
1098
mg
,
Potassium:
938
mg
,
Fiber:
1
g
,
Sugar:
1
g
,
Vitamin A:
175
IU
,
Vitamin C:
1
mg
,
Calcium:
3
mg
,
Iron:
1
mg
Here's another oil less method using the Big Boss air fryer and other similar air fryers.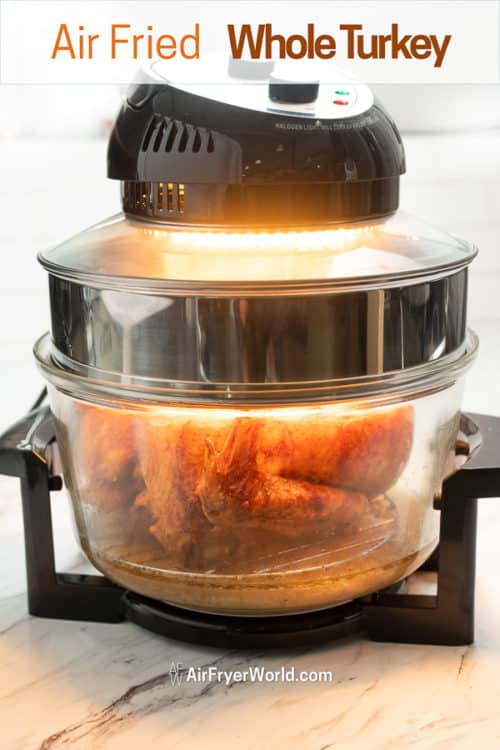 Check out all our –> Air Fried Turkey Recipes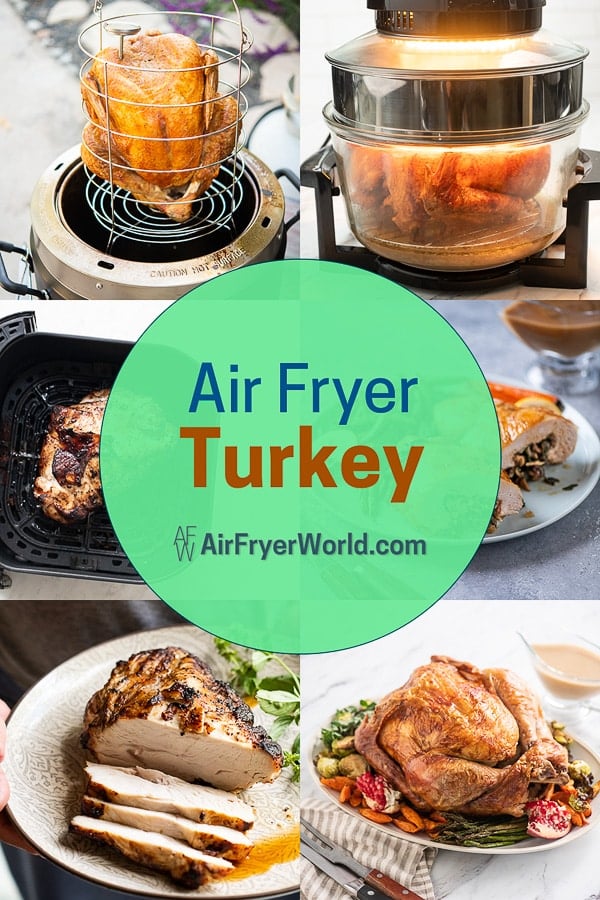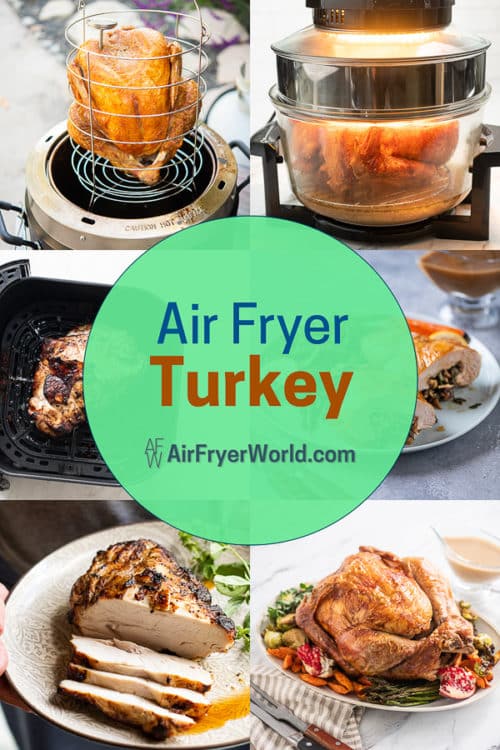 Enjoy Our Healthy Air Fryer Thanksgiving Recipes –> Air Fryer Thanksgiving Recipes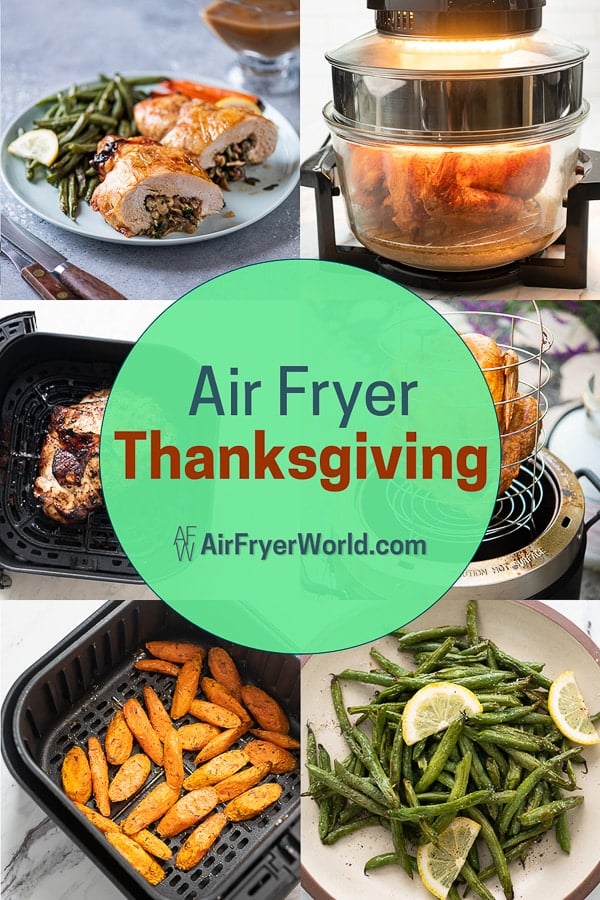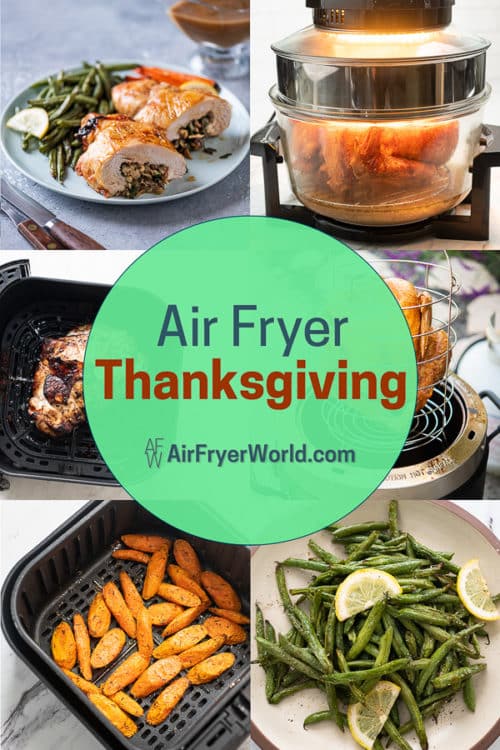 As an Amazon associate and partners with other affiliate programs, we may earn from your qualifying purchases. We may earn small commissions that goes towards all the costs of running this website and recipe tests. Thank you for your support.