Air Fryer Pizza with Raw Pizza Dough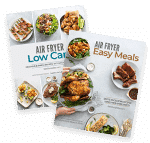 Buy our air fryer e-cookbooks today
Our air fryer pizza recipe using raw pizza dough works! You saw it here first! We perfected this technique to solve the problem of soggy, raw pizza in the air fryer. We're so excited to show you how we make easy air fryer pizza.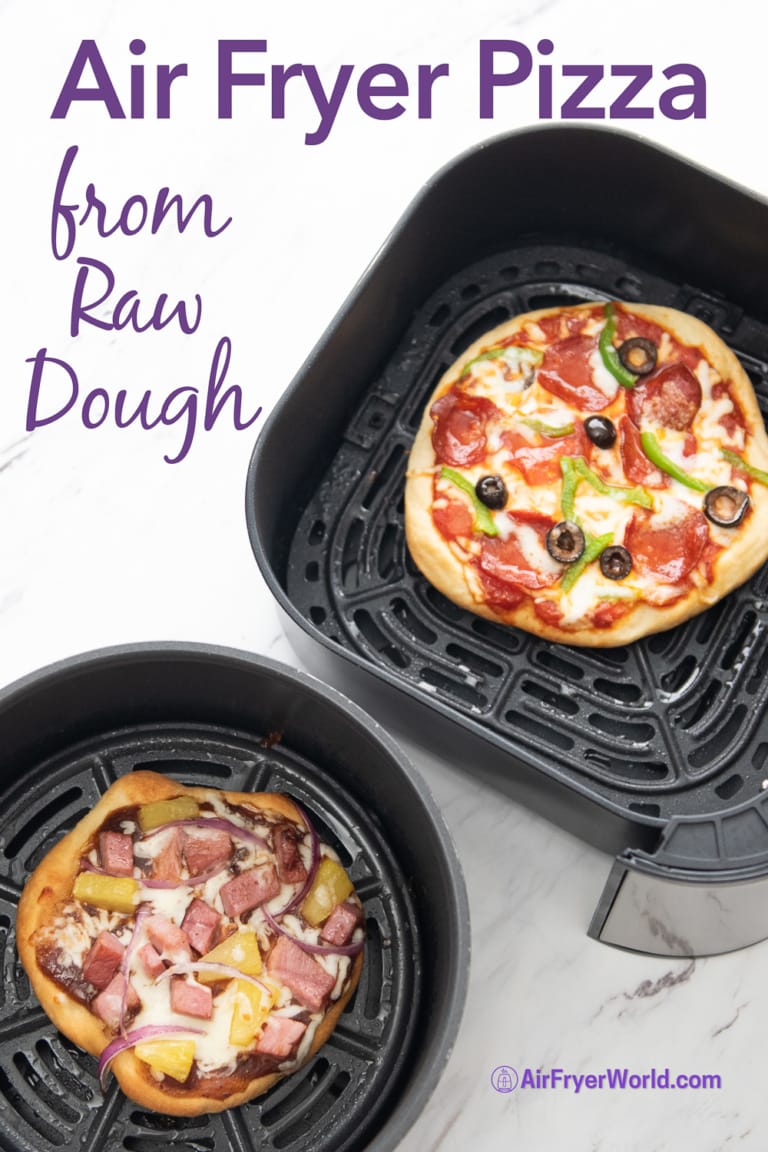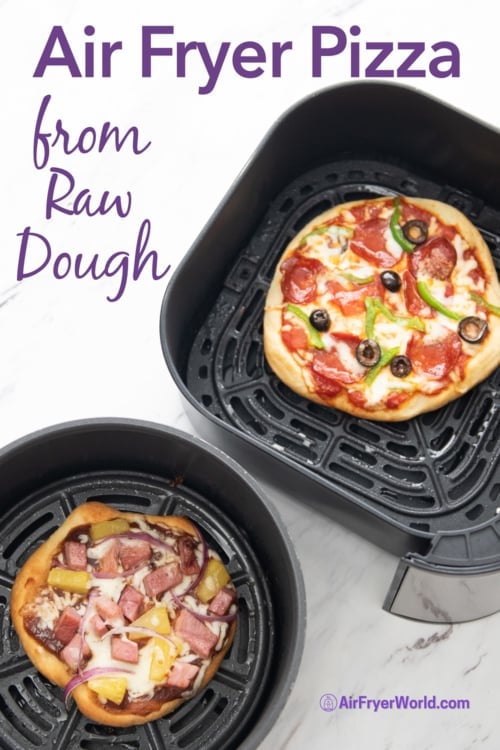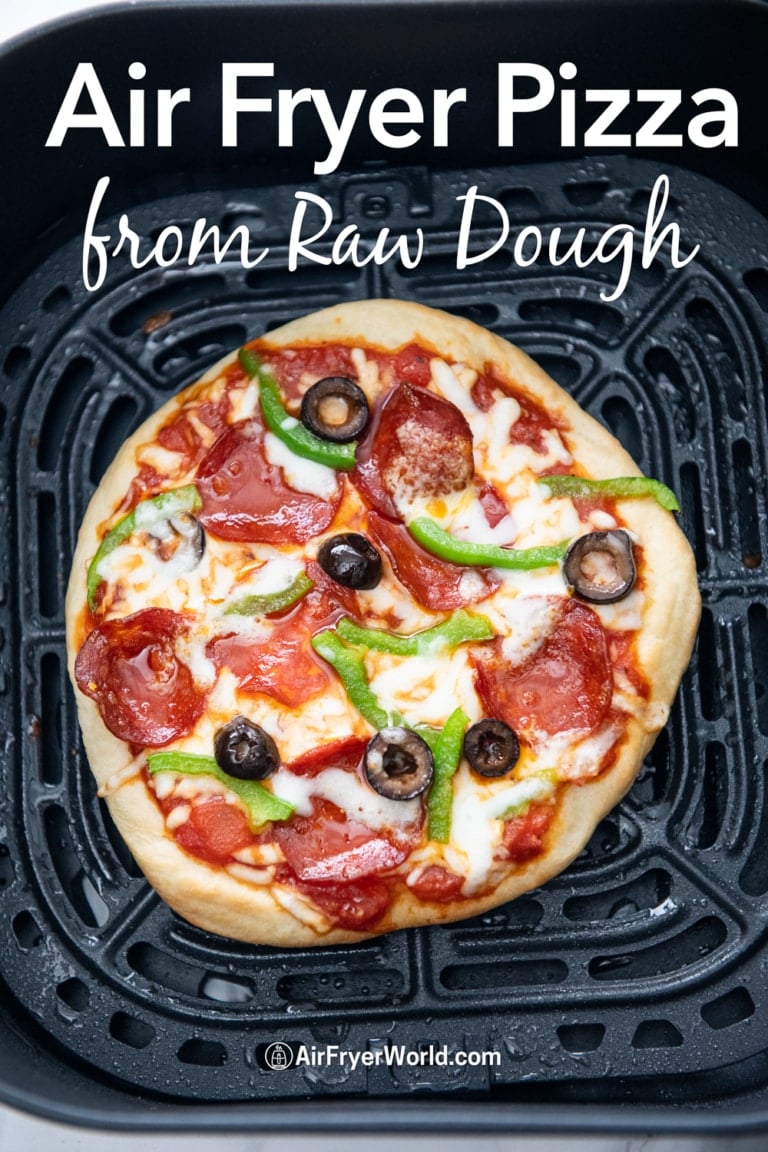 Homemade and Easy Air Fryer Pizza Recipe
If you're craving easy homemade pizza, try air frying. The results from air frying pizza are fantastic, quick and simple. When we say homemade, we're talking about using raw pizza dough. Whether it's store bought raw dough or homemade fresh dough, the air fryer makes the crust crispy quick. The hot circulating air in these smaller appliances really makes the crust delicious and best of all, super quick. If you're wanting to make just one or two personal pizzas, air frying is the way to go.
No More soggy crust
If you've tried making air fryer pizza using raw pizza dough without success, we figured this problem out. All these other recipes online just say to put the raw dough in the air fryer then add the toppings. There is just no way for the dough to cook through all the way. Results are always soggy, half cooked pizza dough. The concept of the air fryer is to cook food hot and fast, but if you don't pre-cook the dough first then you get soggy crusts. So we've figured out the issue and learn that air frying the raw dough first then adding the toppings is WAY better.
Video: Homemade Air Fryer Pizza
How to Make Crispy Air Fryer Pizza with Raw Pizza Dough (Tips)
Like we mentioned above, you must air fry the dough first on both sides.
How thick or thin you roll the dough determines how long it will take to cook. We made our rather thin enough to handle without tearing. The thin crust cooks quicker and crispier.
Remember to air fry both sides of the raw dough before laying all the toppings.
If you're adding meat toppings, make sure they're pre-cooked.
Have fun with different sauces and toppings. The possibilities are endless.
All recipe details are in the recipe box below.
Pro Tip: Use an air fryer rack that fits your air fryer to keep the toppings from flying around. The hot circulating air can blow your cheese and toppings off the pizza. These racks are great to hold the toppings down as they finish cooking
Enjoy a Pizza Party with Friends on the weekend!
Have an awesome pizza party with your air fryer. It's so much fun to have a pizza bar and let everyone customize their own pizzas. Lay out your toppings, different sauces and cheeses. Everyone can make their own and you can manage the air fryer and cook the pizzas for them. Or have one person in charge of air frying so that all the pizzas cook the same and won't burn.
If you're having alot of people over, we suggest pre-air frying the raw dough first. Make small personal crusts ahead of time, then when everyone arrives they just have to add sauce and toppings.
Or you can air fry a larger one if you have a larger air fryer. Again, pre-air fry the crust so they're ready to go. Then all you do is to decide what toppings you want and rotate so each hot pizza has a different topping. This allows you to serve warm pizza.
Pizza Sauce Options: Red pizza sauce, white Alfredo sauce, bbq sauce, pesto, or any sauce that you like.
Wanting a low carb sauce option? Here's a low carb keto pizza sauce recipe homemade.
Shredded cheese options: Mozzarella, cheddar, parmesan, Mexican blend, pepper jack
Meat Toppings: pepperoni, cooked sausage, cooked bacon, cooked diced ham, cooked leftover or roast chicken
Vegetarian or Vegan Pizza: sliced mushrooms, onions, bell peppers, jalapeños, pineapple chopped sun dried tomatoes in oil, fresh basil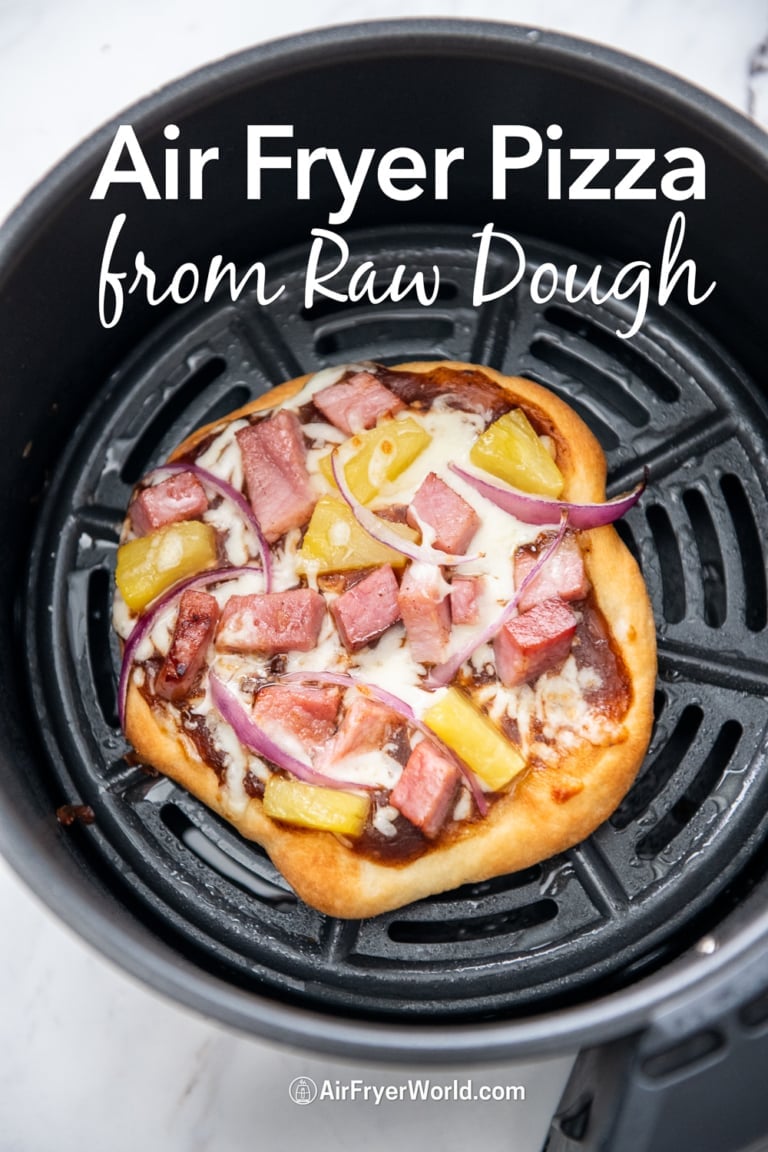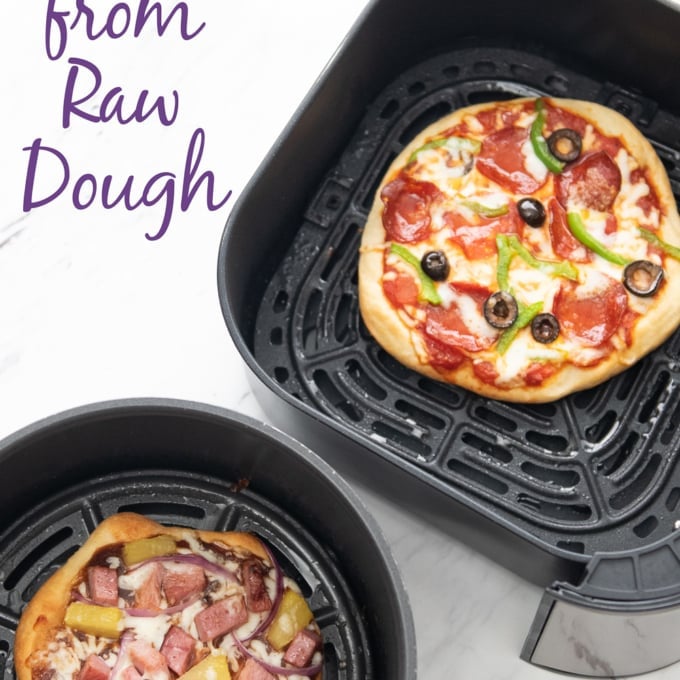 Air Fryer Pizzas from Raw Dough
This makes a 6-8" personal sized pizza. Raw dough can be a little more challenging than using pre-cooked crust, but can be extra delicious for those willing to try. If you want to use a pre-cooked crust, see our recipe here for Air Fryer Pizza with Pre-Cooked Crusts.
Air frying time will vary depending how thick you make the crust, type of dough, if there are any sugars added to the dough, and by different air fryer models. Adjust as needed.
Toppings may fly off the pizzas, depending on how light they are and how strong your air fryer fan is. Use an air fryer rack to keep the toppings from flying off while air frying the pizzas (see photo in recipe steps).
Ingredients
1/2

cup

pre-made Raw Pizza Dough

1/4

cup

(

30

ml

)

Pizza Sauce

or tomato sauce

3

Tablespoons

(

25

g

)

shredded Cheese

salt

, to taste

black pepper

, to taste
Optional Toppings
Pepperoni, cooked Sausage, cooked Bacon pieces, cooked diced Ham, sliced or diced Tomatoes, Mushrooms, Pineapple, etc.
Other Sauce Options
BBQ Sauce, Salsa, White (Alfredo) Sauce, Pesto, etc.
If your air fryer is preheated or if you are cooking multiple batches, you may need to reduce timing by a few minutes (unless preheating is called for in the recipe).
Nutrition Information per Serving
Calories:
236
kcal
,
Carbohydrates:
37
g
,
Protein:
9
g
,
Fat:
5
g
,
Saturated Fat:
3
g
,
Polyunsaturated Fat:
1
g
,
Monounsaturated Fat:
2
g
,
Cholesterol:
10
mg
,
Sodium:
605
mg
,
Potassium:
101
mg
,
Fiber:
1
g
,
Sugar:
2
g
,
Vitamin A:
219
IU
,
Vitamin C:
2
mg
,
Calcium:
69
mg
,
Iron:
1
mg
As an Amazon associate and partners with other affiliate programs, we may earn from your qualifying purchases. We may earn small commissions that goes towards all the costs of running this website and recipe tests. Thank you for your support.