Homemade Air Fryer French Fries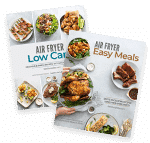 Buy our air fryer e-cookbooks today
Yes, it's totally possible to eat fresh homemade French fries without deep frying them in oil. Try to learn how to air fry French fries using the air frying method! It's a great snack for the whole family and the kids will especially love these air fryer french fries.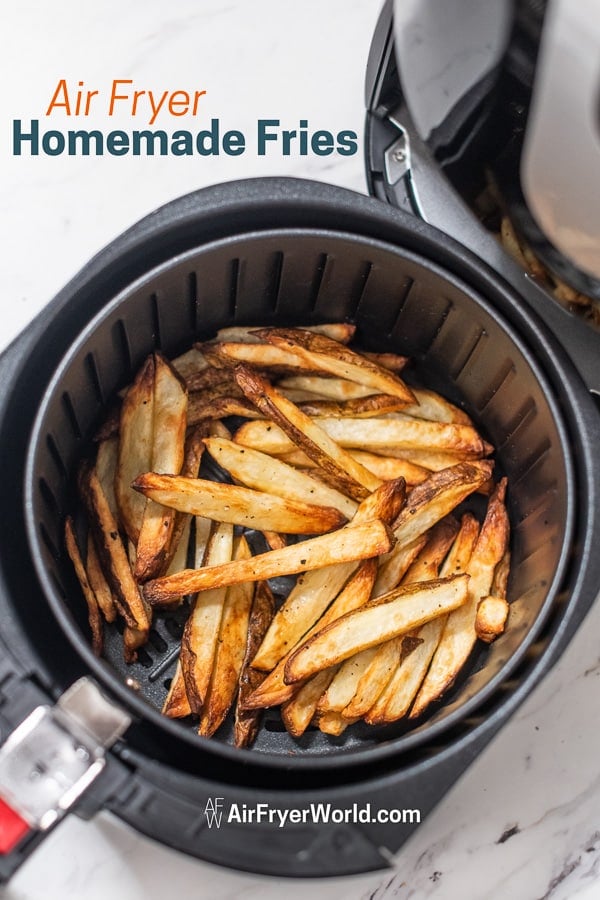 Best Air Fryer French Fries Recipe
Wow, these air fryer french fries are so delicious! To satisfy your french fry cravings, these homemade air fried french fries in the air fryer will surely satisfy without all the greasy guilt. They turn out crispy and delicious, without using a ton of oil! The texture is like a crisp roasted potato that's way healthier than the greasy deep fried crunch.
Crispy Air Fried French Fries without Deep Fried Oil
It's hard to believe, but it's true. Homemade air fried french fries are so easy to make and wow, they hardly need any oil at all! They aren't drenched in oil and aren't exactly like oil fried potatoes. Instead, these air fryer french fries are still crispy and wonderful without all the fat from oil. One pound of potatoes only uses two teaspoons of oil when cooked in the air fryer, that's it! French fries cooked in the air fryer tastes like a crispy roasted french fry, slightly dry but totally less greasy. The texture is still fantastic and definitely satisfies the craving for fries that's healthier and lower calorie.
Video: Homemade French Fries in the Air Fryer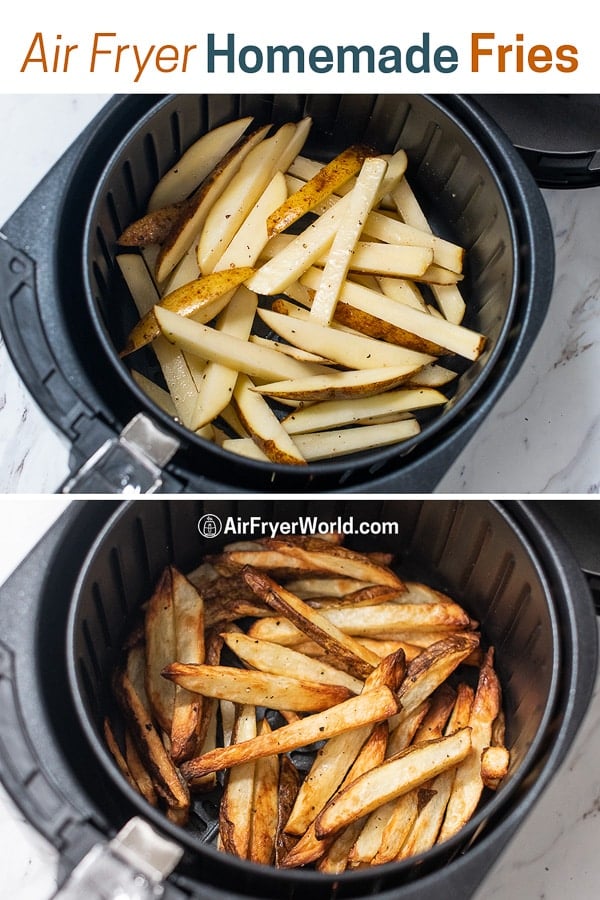 Best Potatoes for This recipe?
The type of potato you use definitely makes a difference.
We love using russets or gold potatoes. These are creamy and crisp much better than red potatoes.
We don't like using red potatoes because they're too waxy and they never get golden enough.
White potatoes are ok too, but aren't as creamy in the center. Russets and gold potatoes are definitely a gold standard for making French fries.
Healthy Fries in the Air Fryer
Serving size is important to consider in what is healthy or pushing the boundaries. As long as you don't eat the whole basket and stick to a reasonable serving size, these french fries totally are healthier than oil-fried potatoes. Just think of the comparison here: two teaspoons of oil for a pound of fries vs at least 1 cup of oil need for frying. That's a huge difference in oil and calories. And if you want even less calories than the 2 teaspoons, try using an organic olive oil cooking spray.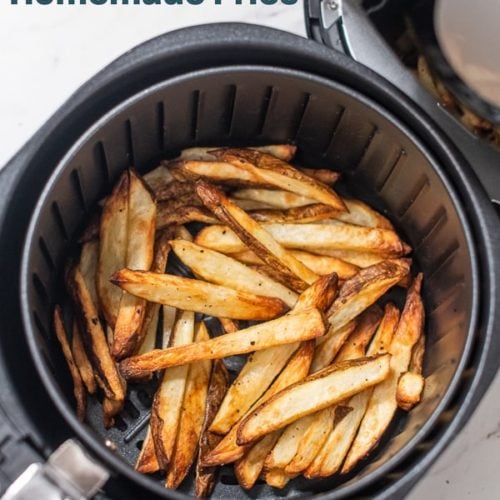 Quick Homemade Air Fryer Crispy French Fries
The texture of these air fried homemade fries are like a crispy roasted texture. They don't have all the deep fried oil for that big "crunch". But there's hardly any oil so they're still delicous and worth the effort.
Ingredients
1

pound

(

454

g

)

fresh potatoes

, cut into 1/4" french fry size

2

teaspoons

(

10

ml

) olive oil
kosher salt

, to taste

1/4

teaspoon

(

1.25

ml

)

garlic powder

, optional

ground black pepper

, to taste
Notes
Recipes were cooked in 3-4 qt air fryers. If using a larger air fryer, the recipe might cook quicker so adjust cooking time.
If cooking in multiple batches, the first batch will take longer to cook if Air Fryer is not already pre-heated.
Remember to set a timer to shake/flip/toss the food as directed in recipe.
If your air fryer is preheated or if you are cooking multiple batches, you may need to reduce timing by a few minutes (unless preheating is called for in the recipe).
Video
Nutrition Information per Serving
Calories:
84
kcal
,
Carbohydrates:
14
g
,
Protein:
2
g
,
Fat:
2
g
,
Sodium:
11
mg
,
Potassium:
468
mg
,
Fiber:
2
g
,
Vitamin C:
13
mg
,
Calcium:
34
mg
,
Iron:
3.7
mg
Does soaking potatoes in water make then crispier?
Alot of people think that pre-soaking the raw potato in cold or ice water will make the fries crispier. Well, we tested this several times and did not notice any difference at all. Some people swear by this and maybe it's worked for them in their air fryer. We tested this in 3 different air fryers and it really did not make the fries any crispier.
What Makes Air Fryer French Fries Crispy?
Cooking the fries at a very high temperature like 400°F and cooking them for longer will make them a little crispier. But you also risk the chance of drying them out. Spraying them with a good amount of oil helps crisp them for sure. After tossing or shaking them during cooking, add another light layer of oil spray on top of the potatoes. We found that the oil really makes the air fryer french fries crispier.
What to serve these delicious fries with?
While we're on the topic of fries, there's so many great air fryer appetizers or foods to serve with these fries. Air fryer hamburgers are a must, chicken wings in the air fryer and air fry pizza is always great with fries too.
More Easy Air Fryer Recipes:
Hope you enjoy our homemade french fries recipes. Here's more great and easy air fryer recipes for you to try next. Let us know how they turn out. We've love to read your feedback. Thanks so much!
As an Amazon associate and partners with other affiliate programs, we may earn from your qualifying purchases. We may earn small commissions that goes towards all the costs of running this website and recipe tests. Thank you for your support.