Air Fryer Bagel Bites (Pizza Snacks) from Frozen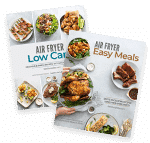 Buy our air fryer e-cookbooks today
Quick and easy air fryer bagel bites or pizza snacks are so simple to cook from frozen. Within minutes you have a platter of snacks that kids love. This air fried version is fantastic!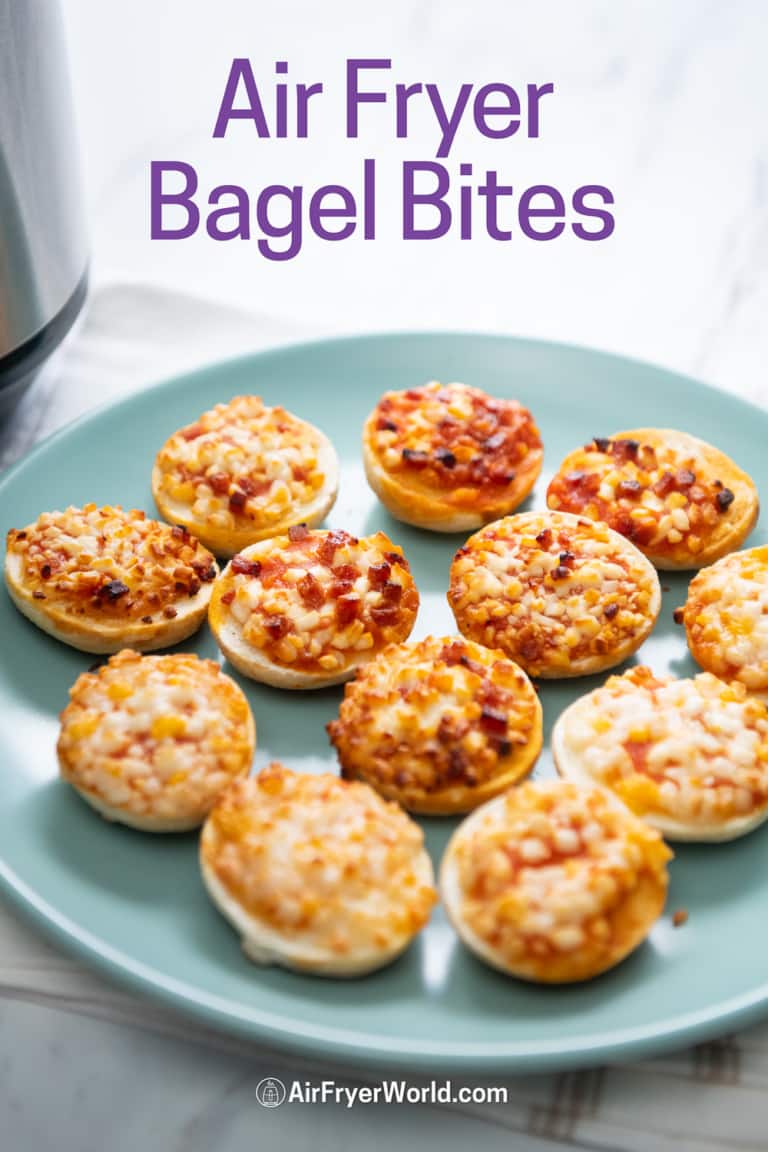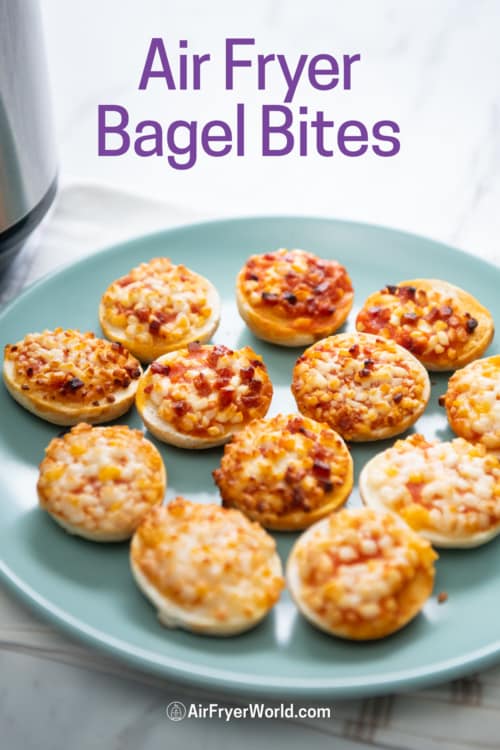 Air Fryer Bagel Bites from Frozen
Frozen bagel bites or pizza snacks are an instant snack or light meal when air fried. The hot circulating air of the air fryer cooks the pizza snacks to a great crispy texture.
If you've been microwaving these pizza snack you'll be hooked to air frying because the crisp outside is way better than soft and mushy. We love this technique!
Video: How to Air Fry Bagel Bites from Frozen
Do you need need to thaw the bagel bites?
Like we mentioned above, no you do not need to thaw them. But if they happen to be thawed, just air fry them for half the time. Check them, then add additional minute or two until they're cooked to your preferred doneness. Also, if the bagel bites are thawed at different stages, this affects the timing too. If they are completely thawed, that's when we recommend heating at about half the air frying time indicated in the recipe box below.
Tips for Air Frying Frozen Bagel Bites
Can you air fry frozen bagel bites? Absolutely yes! Just take them straight from the freezer and into the air fryer. This is the brand that we used.
Is oil spray needed on these bagel pizza snacks? No, you don't need to oil spray them. The cheese has plenty of oil on them and will melt fine.
What about pre-heating the air fryer? No, you do not need to pre-heat the air fryer for these. But if the air fryer is already hot from cooking something else, then you might not need to cook them as long. Reduce cooking time if necessary. Here's a great discussion on pre-heating your air fryer.
Don't overcrowd the air fryer with the bagel bites. Make sure to leave some space between them so the hot circulating air can make the edges of the bites crispy.
Allow to cool before eating. It's temping to eat them right away but they can be super hot. You don't want your kids or any adults to burn their tongues! 🙂
Pro-Tip: here's our favorite tools to help make air frying easier: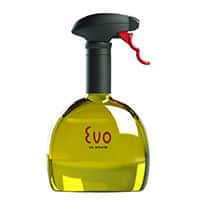 We LOVE Evo Oil Sprayers. Not the prettiest, but they're functional and spritz oil great! They don't clog up like many others we've bought. There's different styles, but all seem to have the same great spray head. Works great for grilling!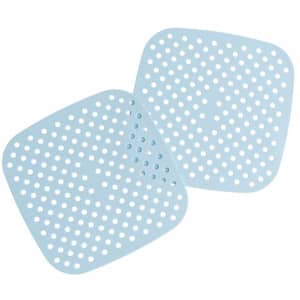 There are Square Mats & Round Mats. These perforated non-stick silicone mats are used to cook food in your air fryer or steamer to minimize sticking. Holes allow hot circulating air to cook the food & keeps the food from sticking.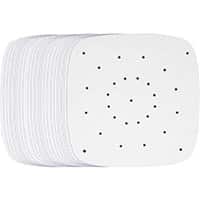 Parchment sheets are great for your air fryer or bamboo steamer (food tends to stick most on wire basket or tray). Choose from different sizes, shapes, white and brown (unbleached). Holes allow air to cook food evenly.
How Long To Cook Air Fryer Bagel Pizza Bites from Frozen?
All air fryers cook differently so your first batch will be like a "test" to know what your preferred texture is.
If you're air frying a small batch (about 2-4 bagel bites) start with 4 minutes. They should be finished around that time. If you want them extra crispy then add additional 1-2 minutes or until they're cooked.
For bigger batches (about 6-12 bagel bites) you'll most likely need the minimum of 4 minutes. Check on them after the first 4 minutes then add additional 2-4 minutes OR more time if needed to your preferred texture.
Remember, if the air fryer is already hot from cooking something else, then you might not need to cook them as long. Reduce cooking time if necessary.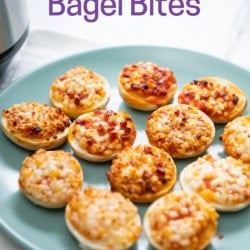 Air Fryer Frozen Bagel Pizza Bites
Adjust the cooking time based on how golden and crispy you like the bagel part of the pizza. Some might like it more blonde colored and others will like it golden and crispy.
Ingredients
9

(

170

g

)

Frozen Bagel Bite Pizza Snacks
Optional Additions
grated parmesan

red chili flakes
Instructions
Place the frozen bagel bite pizza snacks topping side up, in a single layer, in the air fryer basket/tray. Don't overlap the bagel bite pizzas or else they won't cook evenly. No oil spray is needed.
Notes
Air Frying Tips and Notes:
No Oil Necessary. Cook Frozen – Do not thaw first.
Shake or turn if needed. Don't overcrowd the air fryer basket.
Recipe timing is based on a non-preheated air fryer. If cooking in multiple batches of pizza rolls back to back, the following batches may cook a little quicker.
Recipes were tested in 3.7 to 6 qt. air fryers. If using a larger air fryer, the pizza rolls might cook quicker so adjust cooking time.
Remember to set a timer to shake/flip/toss as directed in recipe.
If your air fryer is preheated or if you are cooking multiple batches, you may need to reduce timing by a few minutes (unless preheating is called for in the recipe).
Nutrition Information per Serving
Calories:
190
kcal
,
Carbohydrates:
27
g
,
Protein:
7
g
,
Fat:
6
g
,
Saturated Fat:
2.5
g
,
Cholesterol:
15
mg
,
Sodium:
420
mg
,
Fiber:
1
g
,
Sugar:
2
g
Can I re-freeze these air fried bagel bites?
Sure you can but they will be dried out when you air fry them a second time around. We suggest just air frying enough to eat that way the cheese and topping are hot and fresh. If you're freezing then re-heating them, they'll be drier and tougher. So ideally, just thaw and air fry them once is best.
History of Bagel Bites
After you've air fried bagel bites, you'll be hooked. And it's fun to find out the history of these popular pizza snacks. Here's a very fun read on the "untold truth of bagel bites" and about it's original founders.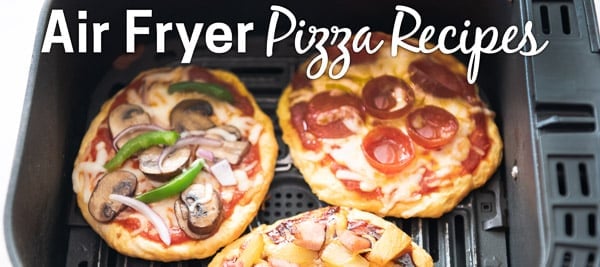 More Easy Air Fryer Recipes
As an Amazon associate and partners with other affiliate programs, we may earn from your qualifying purchases. We may earn small commissions that goes towards all the costs of running this website and recipe tests. Thank you for your support.