Air Fryer Garlic Herb Salmon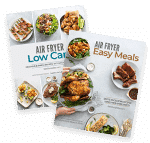 Buy our air fryer e-cookbooks today
Our air fryer garlic salmon recipe with herbs is a great healthy recipe. Add some flavorful air fried vegetables and it's an amazing meal all finished in minutes! We really love this air fryer keto salmon when we want to eat healthy and low carb.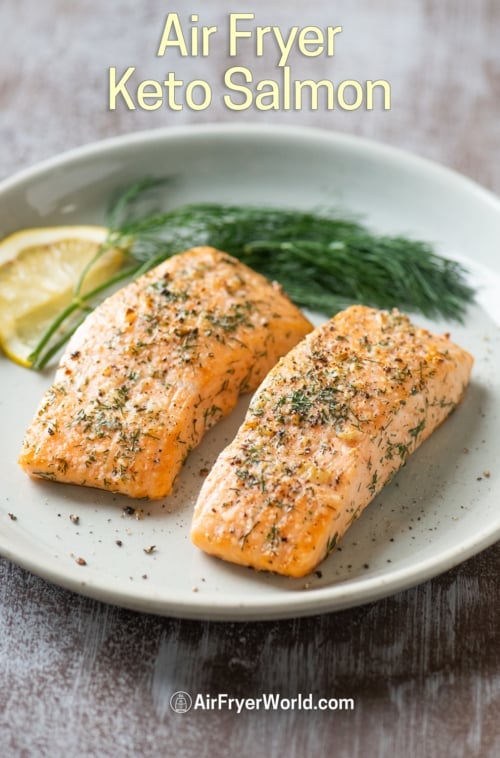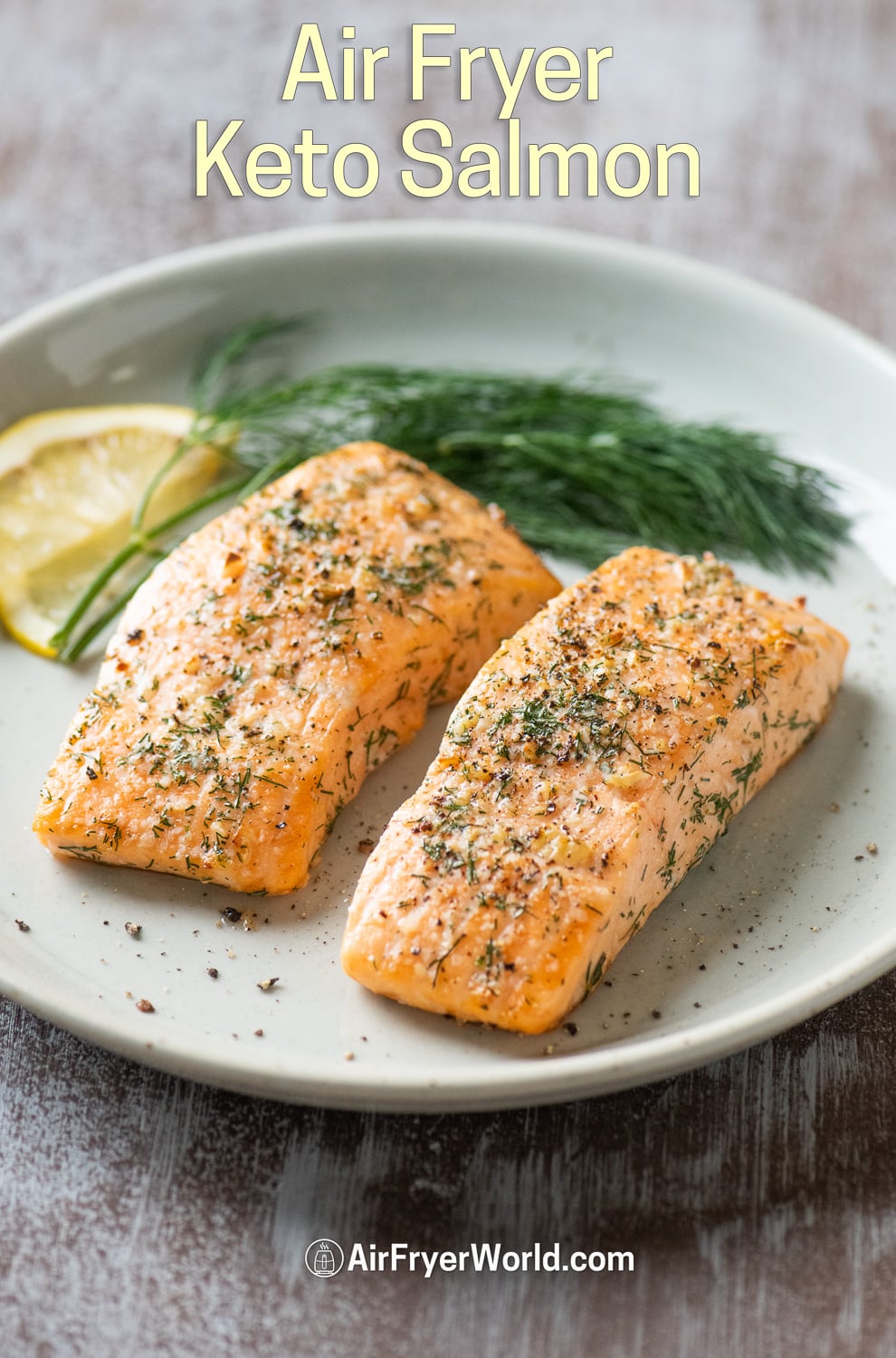 Healthy air fryer garlic salmon recipe
You don't need much oil at all for air frying salmon. A light spray of olive oil and lots of garlic and herbs brings out the flavor without all the fat. We love adding some crispy air fried broccoli with the salmon for a complete keto meal. It's a fantastic low carb and keto friendly meal. Here's the recipe for our simple air fryer salmon. The flavorful Garlic herb salmon recipe is below.
Video: Healthy Garlic Herb Salmon in the Air Fryer
How to Make Air Fryer Garlic Salmon (Cooking Tips)
The size of salmon will vary which will affect cooking time. We use about a 6 oz fillet. Start with our base time in the recipe box below. Add additional 1-2 minutes of air frying time if needed to cook the salmon to your preferred texture.
All air fryers cook a little differently too. So your first batch will always be like the "test". After your first batch you'll know more of what the best timing is for your salmon and air fryer model.
We used garlic powder to make the recipe quick and easy but you can use fresh chopped garlic. Just make sure to spray the garlic with a light layer of oil so it doesn't burn.
You can air fry cauliflower instead of broccoli. They both take about the same amount of time to air fry. Or make this fresh chopped green salad to serve with the salmon .
All recipe details and photos are in the recipe box below.
Can you air fry frozen salmon and veggies?
Yes you can air fry salmon from frozen. But it will take about 3-4 more minutes depending on the size of frozen salmon fillet and how hot your air fryer cooks.
Don't add the fresh veggies in with the frozen salmon. They might burn. So air fry the vegetables separately for about 2-3 minutes OR until they are cooked to your preferred texture.
Frozen veggies take less time to cook than fresh. So we still suggest air frying the frozen veggies separately.
How to keep salmon from sticking?
It can be frustrating to try to release salmon from sticky air fryer wire racks or baskets.
Non stick reusable silicone liners can be found here. These are fantastic! Salmon air fries easily and barely sticks to the liner. You can release the salmon in one whole piece!
Parchment liners. These work good too but are single use. Also, don't preheat the air fryer with just the parchment. If no food holds down the parchment, it will fly around and possibly hit the heating element and burn. Read more about air fryer parchment liners here.
You can also use aluminum foil for this air fryer keto salmon and veggies.
DIFFERENT TYPES OF SALMON
There's so many different varieties of salmon for your able to buy. Each variety is delicious, but they'll vary in their fattiness levels which will change cooking times. Leaner salmon like Sockeye or Coho will cook quicker than fattier salmon such as Chinook or Atlantic. You'll need to adjust cooking times based on the salmon variety you use and how thick the fillets are. Here's some varieties for you to explore the next time you're at the seafood market:
Atlantic Salmon
Chinook Salmon or King Salmon
Coho Salmon
Chum Salmon
Pink Salmon or Humpback Salmon
Sockeye Salmon or Red Salmon
Although not technically a Salmon – Steelhead is a close cousin and is a great option
Did we miss any? Please let us know in the comments!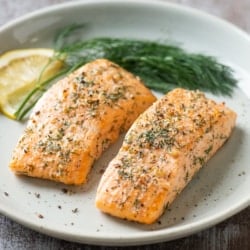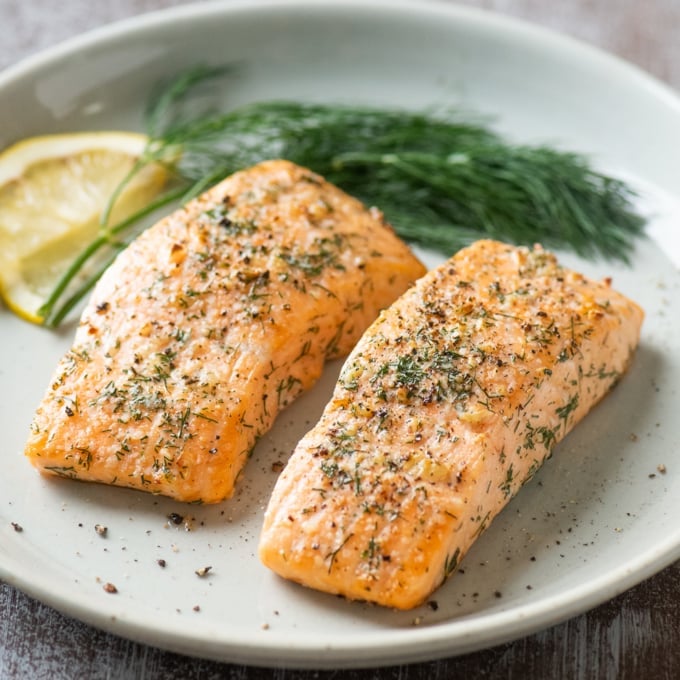 Air Fryer Garlic Herb Salmon
One of our favorite ways to prepare salmon is in the air fryer. It cooks perfectly and is always moist on the inside. The garlic herb marinade is so easy and crazy good. It's a great quick and easy weeknight dinner. Salmon sizes will vary in length, thickness, and fattiness (leaner salmon cooks quicker), so you can add or reduce cooking time if needed to cook the salmon to your preferred texture.
You can make this an easy one "pot" meal by cooking our air fryer crispy broccoli, then cook the salmon.
Ingredients
2

salmon fillets

(6 oz./170g each), skin and bones removed

1

teaspoon

dried herbs or 2 teaspoons fresh chopped dill

, thyme or oregano

1

teaspoon

garlic powder

or 2 small cloves garlic, minced

salt

, to taste

black pepper

, to taste

olive oil or oil spray

, for coating
Instructions
Prep the salmon: rinse and pat dry the salmon. Lightly coat with oil or oil spray. Season with herbs, garlic powder/minced garlic, salt and pepper.
If your air fryer is preheated or if you are cooking multiple batches, you may need to reduce timing by a few minutes (unless preheating is called for in the recipe).
Video
Nutrition Information per Serving
Calories:
258
kcal
,
Carbohydrates:
2
g
,
Protein:
34
g
,
Fat:
12
g
,
Saturated Fat:
2
g
,
Polyunsaturated Fat:
4
g
,
Monounsaturated Fat:
4
g
,
Cholesterol:
94
mg
,
Sodium:
77
mg
,
Potassium:
855
mg
,
Fiber:
1
g
,
Sugar:
1
g
,
Vitamin A:
87
IU
,
Vitamin C:
1
mg
,
Calcium:
31
mg
,
Iron:
2
mg
Check out more easy air fryer seafood recipes:
As an Amazon associate and partners with other affiliate programs, we may earn from your qualifying purchases. We may earn small commissions that goes towards all the costs of running this website and recipe tests. Thank you for your support.