Over 25 Reasons to Love and Hate Air Frying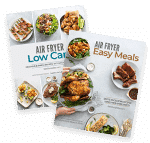 Buy our air fryer e-cookbooks today
Why air fry foods? Air frying is a fantastic way of cooking foods with hot circulating air. It's one of the most popular ways to cook crisp foods and it growing in popularity everyday.
Here's our list and discussion–> Best Air Fryers
Oven, Rack or Countertop Style – These are normally larger than basket styles and usually have wire shelves to cook foods in 2-3 layers. These interior styles are laid out similar to your regular ovens, only difference is that they are much smaller. These styles allow you to cook more food or different foods on the racks. Because the heating element is on top, the top rack gets the most heat so what ever you cook on the top rack cooks and crisps quicker than the bottom racks. If you want more even cooking on all the racks, you have to rotate the racks often to the bottom can be switched to the top and vice versa. There's no "shaking" the food with these models. You have to pull out the rack, then flip the food.
Hybrid Styles (pressure cooker/air fryer combo in one unit) – These are usually the largest of all the units because they have two different cooking elements. There's a pressure cooker feature and air fryer heating element all in the same appliance. It's great if you want to cook something in the pressure cooker that normally doesn't crisp, then use the air fryer element to finish it off.
Halogen Air Fryers

– These models have a top heating element with a handle that covers the main glass cooking compartment. It's heated halogen light that circulates starting from the top heating element. The hot circulating heat then cooks the food in the large glass bowl. You can't "shake" the food in these models. You have to flip the food. Yes, you can cook a whole turkey in them. Here's our detailed whole turkey recipe and write up.
Stirring Paddle or Stirring Blade Style – These styles normally have a lid that you lift up and down to cover and air fryer the food. Sometimes you can lift out the cooking compartment to "shake". There's small rotating blades that that gently turns or stirs the food while air frying. This helps maintain even cooking without having to stop and shake, stir or turn the food.

Air fryer lids– The newest toy to the air fryer world. You can your existing pressure cooker and these air fryer lids fit on top. These lids make it easy to air fry food or crisp food that was cooked in your pressure cooker. They're a convenient way of adding an air fryer feature to your cooking without having to invest in a dedicated air fryer. If you're limited on space and are already a fan of pressure cooking, these lids are great.

Oil-less deep Fryers – these aren't marketed at "air fryers" but it essentially uses air fryer technology. Unlike traditional "deep fryers", these big drums look just like the deep fryers but they don't cook with oil. They cook by circulating hot air up and down the large drum where you place your food. It's made for cooking whole turkeys, roasts and big meats without all the oil. Here's our oil less whole turkey recipe and write up.
Rotisserie Feature: Some air fryers offer a Rotisserie feature or a rotisserie cage to add you food into. The turning "rotisserie" feature cool, but expect these models to be large in size. This feature is normally found in oven style air fryers.
Want to share this advice? Please don't copy it. Just share the link, credit and link back to this copyrighted article. We've have issues with people stealing our words and content (photos) and putting their logos on it and putting on their blogs or posts. It's wrong to do this. We put a lot of time and research into this so sharing is caring! Thank you so much.
This article was originally published in 2020.
As an Amazon associate and partners with other affiliate programs, we may earn from your qualifying purchases. We may earn small commissions that goes towards all the costs of running this website and recipe tests. Thank you for your support.