Crispy Air Fryer Bacon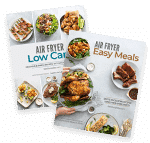 Buy our air fryer e-cookbooks today
If you've never made air fryer bacon before, you will from now on. This air fried bacon is a game changer! Wow, we'll make this short and quick: Cooking bacon in the air fryer is amazing!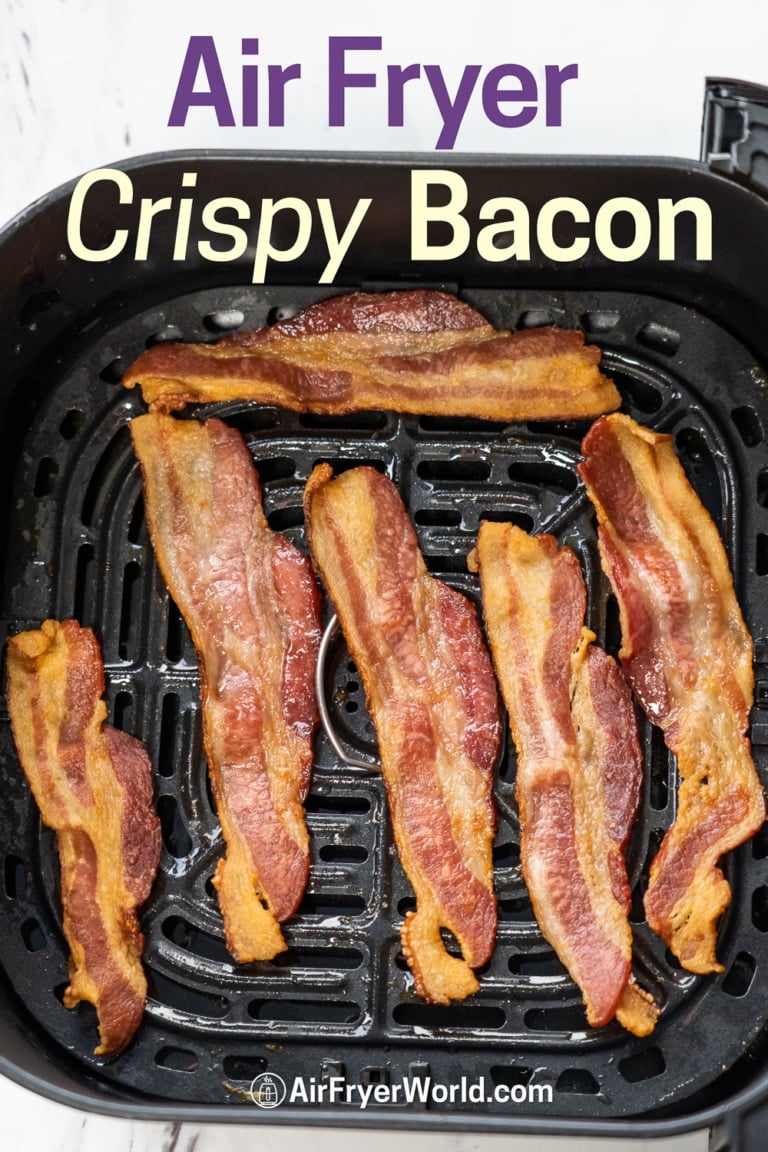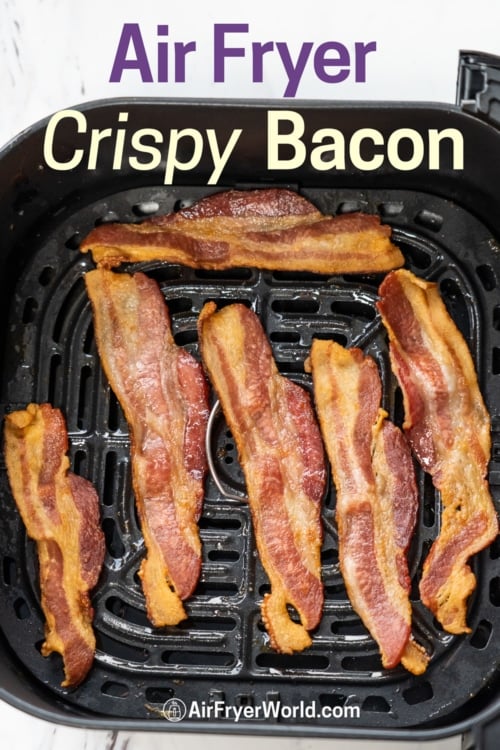 Easy Air Fried Bacon Recipe
Making Crispy Air Fried Bacon in the air fryer is a game changer for so many reasons. First of all, the bacon comes out crispy and fantastic! It's easy to customize the texture if your bacon by lowering the temperature or cooking it a little less or more.
You adjust the time to get the bacon to your own perfect crisp. There's something for everyone when it comes to personalizing bacon crispness. Second of all, clean up is WAY easier than cooking it on the stove top. All splatters are perfectly contained in the air fryer basket. No messy cooktop!
Video Making Bacon & Baked Eggs in the Air Fryer
How Do You Air Fry Bacon in the Air Fryer? (Tips)
Bacon slices vary in thickness so adjust cooking times to get the bacon to your perfect crispness.
Add bacon slices in single layer. Add as much as your air fryer allows, but don't let the bacon overlap too much.
Don't crowd the basket with bacon because you'll have un-even cooking.
Flip the bacon at least once during cooking to get an even crispness.
All the details are in the recipe box below.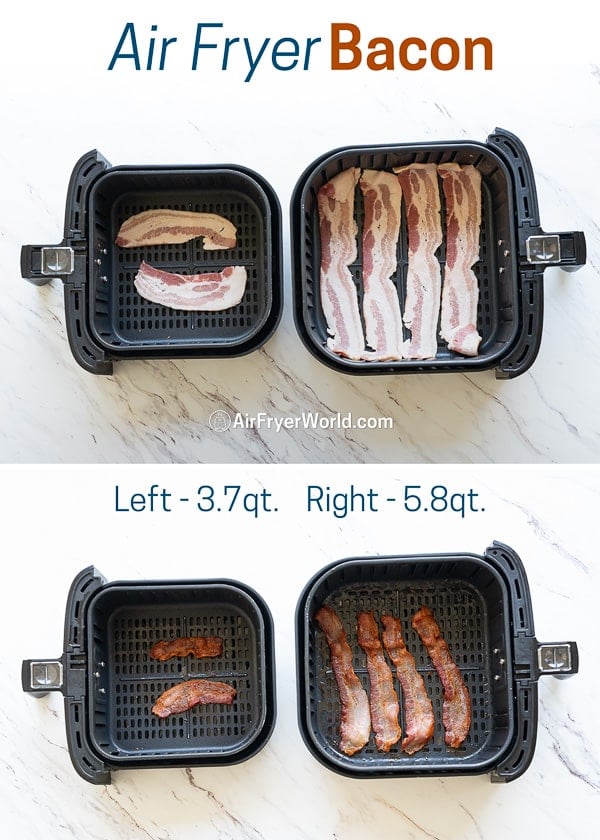 Best Temperature to Air Fry Bacon?
We have some quick and easy temperature guidelines to follow for general results for bacon crispness. There's several schools of thought for cooking bacon and every air fryer guide or manufacturer has their own recommended temperature.
Remember: test 1-2 pieces of bacon first and see what your preferred temperature and time is.
After that, you're an expert and can customize the timing to your favorite crispness.
We like to air fry our bacon at around 380F. It's not too hot and not too low. It's a good temperature to get your bacon crispy, without drying it out and making it hard. The key is making sure to flip and adding an additional 1-3 minutes more to get your bacon to your preferred level of crispness.
How long to air fry thick cut bacon? All thick cut bacons vary so much in thickness. We suggest starting with our base time suggested below, then adding additional 1-2 minutes until it's cooked to your preferred crispy level.
All details are in the recipe box below.
What are problems with cooking bacon in the air fryer?
Smoking: The one main problem that everyone talks about is that if you cook too much bacon at once at a higher temp, oil will splatter on the heating element and cause smoking. We discuss this in more detail below.
Need Good Ventilation: Make sure to have the air fryer in a well ventilated kitchen or under the vent hood. It is more contained then when you pan fry the bacon, but the air fryer will still emit bacon steam/smoke.
Burned bacon: And only other issue is that if you walk away or don't flip the bacon, you might get burned bacon. If it's your first time, monitor the bacon and make sure to flip it. If you're adding additional time for thin cut bacon, just add about 1 minute at a time.
Why is My Air Fryer Smoking? How to Prevent Air Fryer Bacon from Excess Smoking
If you cook too much bacon at once, all the oil will cause splattering, thus smoking. Try not to cook more than 4-6 pieces at a time for a large air fryer. And for smaller air fryer, try cooking 2-3 pieces at a time. The logic is simple, the more bacon you cook, the more oil that will splatter on the heating elements. The results are burning bacon grease and lots of smoking.
Try slice of bread to soak oil for minimizing smoking: For the air fryer basket, we like to add a slice of bread under the tray/rack. This can help soak up excess splattering oil and help minimize the smoke. It won't eliminate all the smoke, but it can certainly help.
Is your air fryer basket or trays/racks clean? If you have leftover oil, tidbits, residue from dinner three days ago then it's very likely that will cause some smoking. Keep your air fryer cleaned and maintained for optimal cooking for the next dish.
MAKE SURE TO HAVE GOOD VENTILATION: Air Fry the bacon in a well ventilated area. Turn on your kitchen exhaust fans and open up a few windows. You will get some smoking because that's the nature of grease cooking at hot temperatures like air fryer bacon.
There's different methods that people have suggested. One of the most popular bits of advice is to add a little water at the bottom of the basket. If you've tried adding water at the bottom and it works, let us know!
Read our detailed article about why your air fryer is smoking.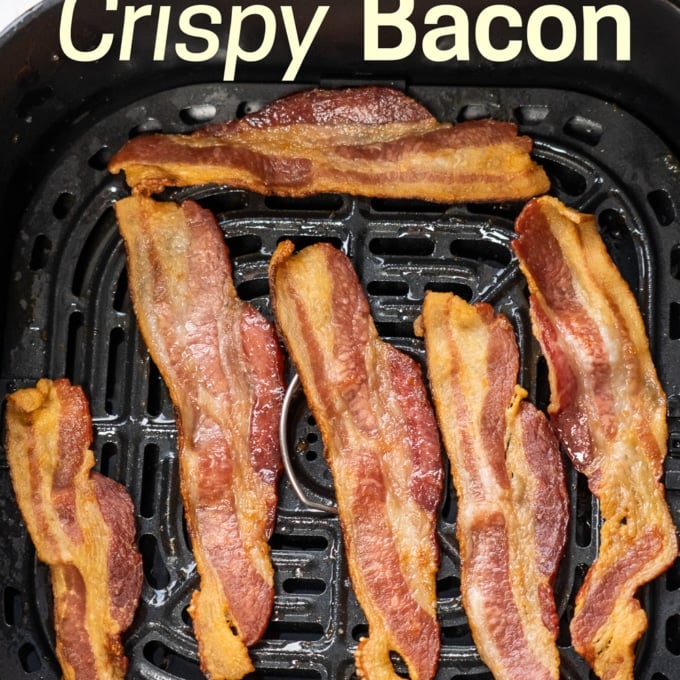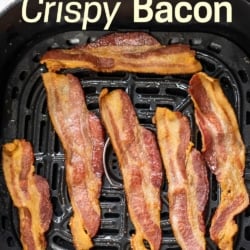 Air Fryer Bacon
BEST TIP: Test 1 piece of bacon first so you can see what your preferred timing and crispness is based on your air fryer mode. Everyone has a personal preference for bacon crispness. If you find that your Air Fryer can cook it better when it's hotter, then go for it. Timing varies with different size air fryer styles and models.
Air frying bacon in best in basket style air fryers. Oven style air fryers will be messier.
Thickness of bacon will change cooking time too. Air fry a little longer for thick cut bacon.
Ingredients
2-4

slices

bacon

depending on your air fryer basket size

optional – slice of bread

, to absorb bacon drippings minimizing smoking

optional salt & pepper
Notes
FOR SOFT BACON: For softer bacon, Air Fry at 340°F/170°C. Start with the same timing as above. Add more time as needed.
GOOD VENTILATION: Make sure to cook the bacon in a well ventilated area. Turn on your kitchen exhaust fans and open up a few windows. You will get some smoking because that's the nature of grease cooking at hot temperatures. Please read the full recipe write up about excess smoking and best practices for cooking air fryer bacon.
If your air fryer is preheated or if you are cooking multiple batches, you may need to reduce timing by a few minutes (unless preheating is called for in the recipe).
Nutrition Information per Serving
Calories:
91
kcal
,
Protein:
2
g
,
Fat:
8
g
,
Saturated Fat:
2
g
,
Cholesterol:
14
mg
,
Sodium:
145
mg
,
Potassium:
43
mg
,
Iron:
0.1
mg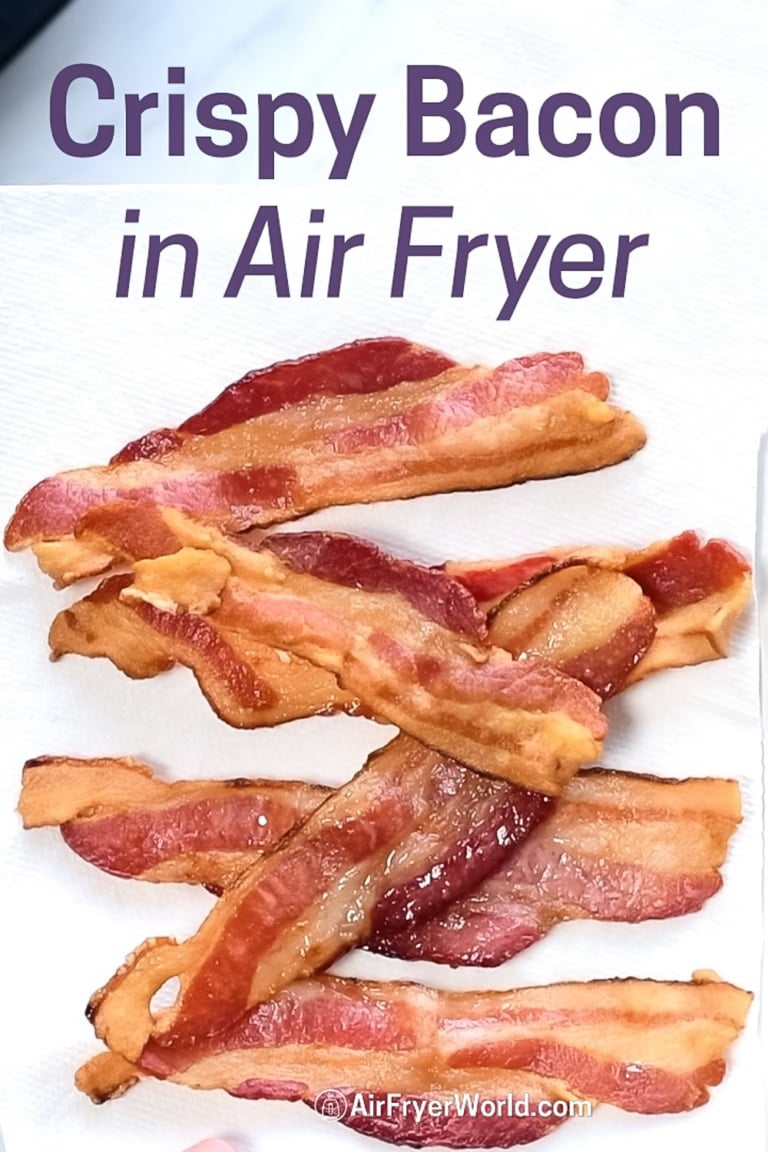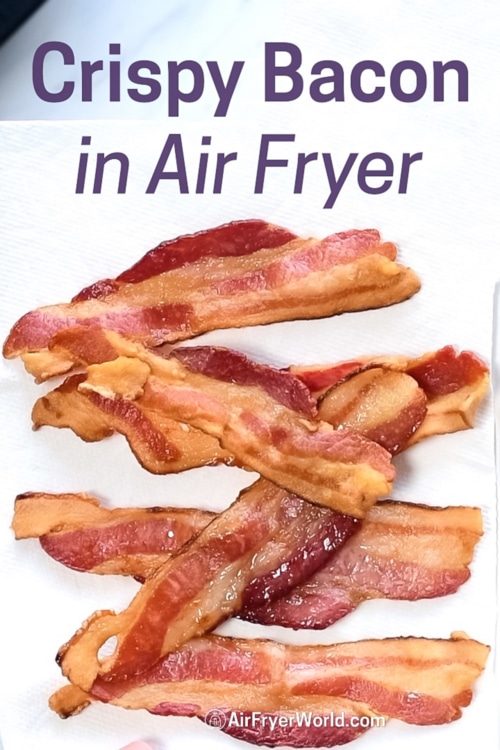 More Easy Air Fryer Recipes with Bacon:
As an Amazon associate and partners with other affiliate programs, we may earn from your qualifying purchases. We may earn small commissions that goes towards all the costs of running this website and recipe tests. Thank you for your support.