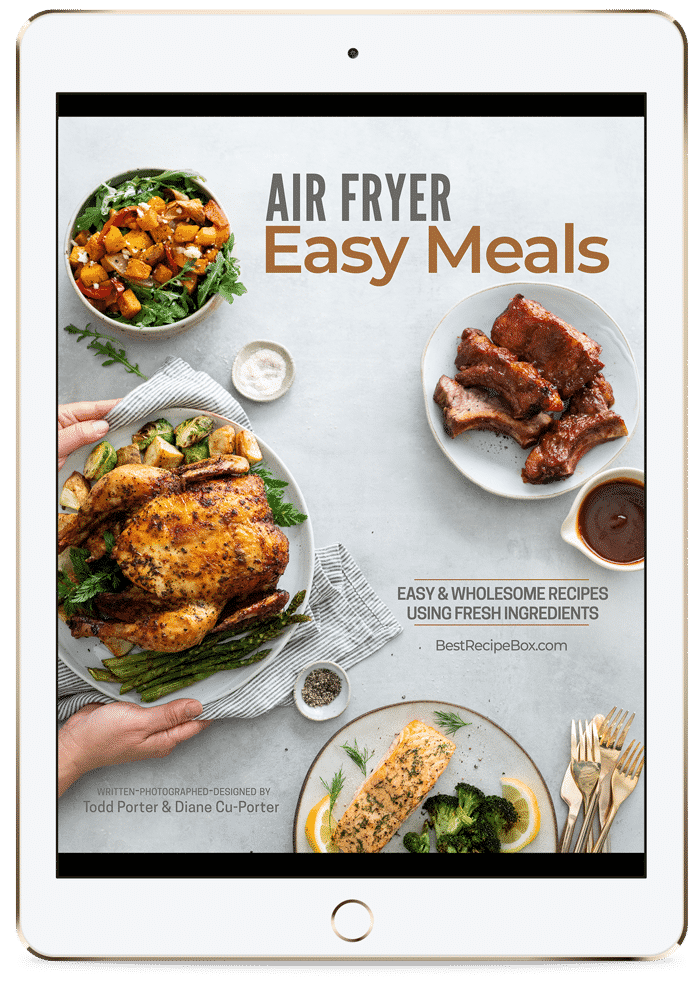 Air Fryer Easy Meals
Easy, fresh and wholesome meals from scratch. Air fry fresh ingredients that are satisfying everyday of the week.
$9.99
Buy Now
Over 30 awesome recipes to cook and feed your family (main meals, side dishes and sauces). Plus 4 bonus recipes to make in under 30 minutes.
YAY! Full color photo for each recipe.
BONUS! Nutrition estimates for every recipe.
BONUS! All recipes have step-by-step images to guide you during cooking. These are super helpful!
Great Meals just got easier!
---
It's True! All these great Meals are cooked in the air fryer!
Chicken & Seafood
Whole Chicken with Herbs & Lemon Pepper
Buttermilk "Fried" Chicken with Homemade Coleslaw
Thai Chicken Thighs with Soy Cucumber Salad
Crusted Chicken Tenders with Pickle Ranch Dip
Secret Ingredient Turkey Avocado Burgers
Sesame Shrimp "Stir Fry" with Vegetables
Easy Garlic Herb Salmon
Cajun Fish Tacos or Tostadas with Pineapple Salsa
Beef & Pork
Garlic Butter Steak Bites with Mushrooms
Favorite Meatloaf
Beef & Broccoli
Salisbury Steak with Mushroom Gravy
Tender Glazed Pork Ribs
Pork Tenderloin with Veggies & Onion Gravy
Juicy Maple Glazed Pork Chops
Veggies & Eggs
Butternut Squash Fajita Salad with Lemon Balsamic Dressing
Kung Pao Mushroom Lettuce Cups
Quick Homemade French Fries
Crispy Breakfast Wrap with Eggs, Bacon, & Sausage
Loaded Frittata or Egg Muffin Cups
Tasty Deviled Eggs 3-Ways
Bonus
Everyday Chicken Parmesan
Crazy Good Meatloaf Melt
Homemade Rib Sauces
Quick Homemade French Fries
Parmesan Asparagus
Step-by-Step Photo Guides
Nutrition Estimates for Every Recipe
Buy Air Fryer Easy Meals eBook
---
Download Instantly & Read the eBooks as a PDF on Your Desktop, Tablet, Smartphone or in iBooks
Never bought an eBook before? Don't worry, it's easy.
Computer: After purchasing, you download the eBook file and it will be saved into your Downloads folder. You can view it from there.
iBooks: Open or drag the file into iBooks and all the devices that share the same library will have it. You can view it from there on your iPad, iPhone or anything using iBooks.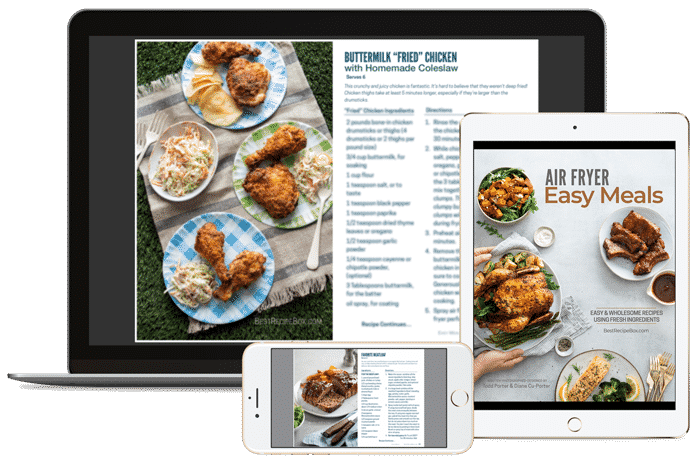 ---
---