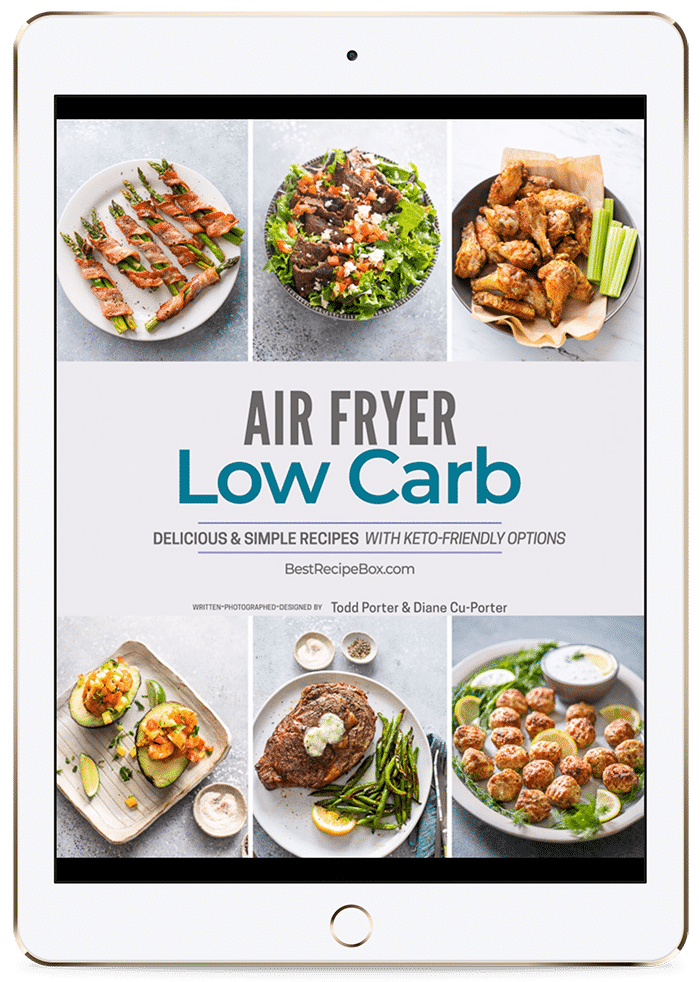 Air Fryer Low Carb Cookbook (Digital)
Delicious & simple recipes with Keto-friendly options for different low carb lifestyles.
$9.99
Buy Now
Over 27 awesome recipes to cook and feed your family (main meals, side dishes and sauces). Plus 4 bonus recipes to make in under 30 minutes.
All recipes are 0-10 grams net carbs per serving.
YAY! Full color photo for each recipe.
BONUS! Nutrition estimates for every recipe.
BONUS! All recipes have step-by-step images to guide you during cooking. These are super helpful!
---
Flavorful Low Carb Recipes
Recipes range from 0-10g net carbs per serving
Chicken & Seafood
Crispy Air "Fried Chicken"
Greek Chicken Feta Meatballs with Tzatziki Dip
Stuffed Chicken Breasts with Spinach & Parmesan
No Oil Garlic Salt & Pepper Chicken Wings
Salmon or Tuna Patties with Pickle Ranch
White Fish & Asparagus with Lemon Pepper Cream Sauce
Shrimp Stuffed Avocados with Fresh Mango Salsa
Beef & Pork
Ribeye with Blue Cheese Butter
Cowboy Steak Bites with Bacon & Onion
Cheesy Taco Beef Stuffed Bell Peppers
Carne Asada Salad with Cumin Lime Dressing
Italian Sausage with Peppers & Onions
Sausage Stuffed Zucchini Boats
Smothered Pork Chops in Mushroom Gravy
Veggies & Eggs
Buffalo Cauliflower Bites with Blue Cheese
Crispy Broccoli with Cheese
Garlic Parmesan Brussels Sprouts
Bacon Wrapped Asparagus
Crispy Crusted Zucchini "Fries"
Scotch Eggs
Bonus
Pork Parmigiana
Garlic Mushrooms
Hard "Boiled" Eggs
Baked Eggs with Spinach & Cheese
Step-by-Step Photo Guides
Nutrition Estimates for Every Recipe
Buy Air Fryer Low Carb eBook
---
Download Instantly & Read the eBooks as a PDF on Your Desktop, Tablet, Smartphone or in iBooks
Never bought an eBook before? Don't worry, it's easy.
Computer: After purchasing, you download the eBook file and it will be saved into your Downloads folder. You can view it from there.
iBooks: Open or drag the file into iBooks and all the devices that share the same library will have it. You can view it from there on your iPad, iPhone or anything using iBooks..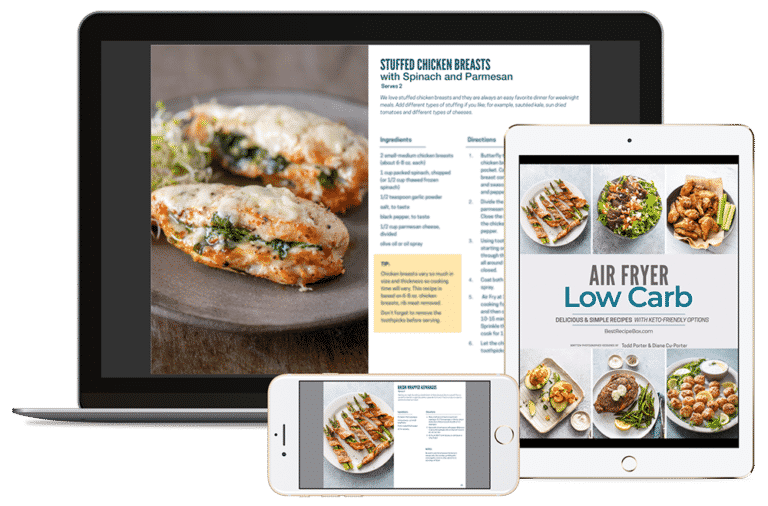 ---
---
Hope you enjoy our Air Fryer Low Carb Cookbooks in digital form for your tablet and computer!