Review: Cosori Stainless Steel Air Fryer 5.8 qt.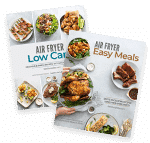 Buy our air fryer e-cookbooks today
Review Disclaimer: We received this Stainless Steel 5.8 Qt Cosori Air Fryer to review. All opinions are our own honest feedback. We personally purchased and used the Cosori air fryer for a few years now and used it extensively during our testing for our e-cookbooks. It's been used and abused during our recipe developing and testing. We've got some strong opinions, useful about the Cosori air fryer and will be useful for you to consider if you're in the market for one.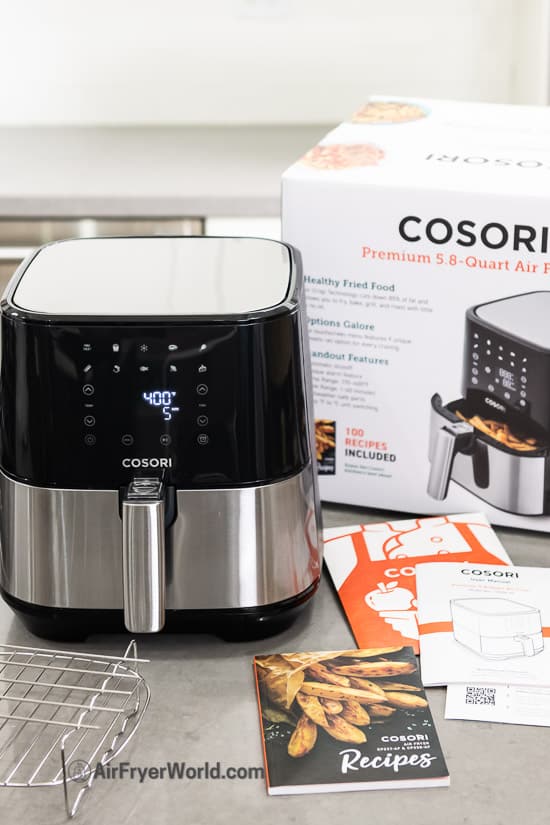 Is the Cosori Stainless Steel Air Fryer Good?
After owning 2 of our own for our all our recipe testing, we unanimously agree that it's a good one. All the features of this strong air fryer can re-heat foods perfect. And it can also cook raw foods like a whole 5 pound chicken, ribs, veggies and more. It's powerful circulating heat is great to get food crisp. And the strong stainless steel exterior won't be dented easily.
Is the Cosori Stainless Steel Air Fryer Easy To Use?
This new stainless steel model and even our older models Cosori air fryer sizes are easy to use (we have 3 different models we've bought plus one Cosori has sent us). The interface is clear and easy to use. The design is very use friendly with buttons for selecting temperature and one for cook time. These are great for manual cooking where you can select your own temperature and time. We prefer using these because food comes in different sizes and thicknesses, so not all chicken, beef, shrimp or veggies cook the same. The great feature of the Cosori is that there's time and temperature pre-sets available to cook different types of food. If you're a first timer or newbie, you can get an easy approximate cooking time and temp for your foods. After using the presets, you can either add more or less time based on your previous cooking times and your preferred doneness.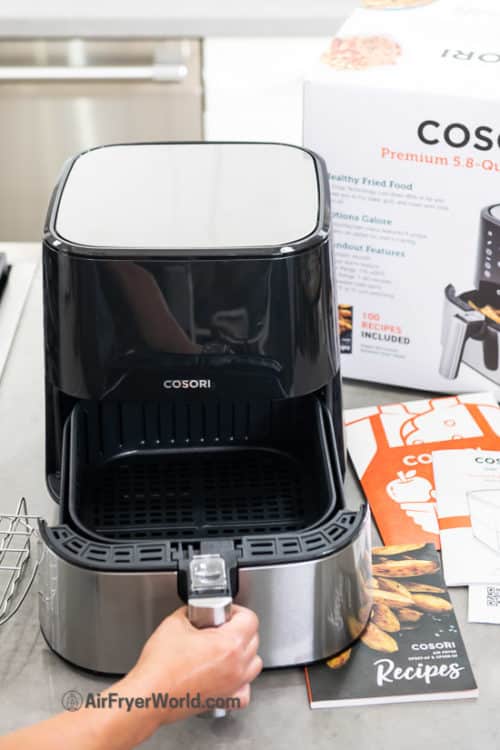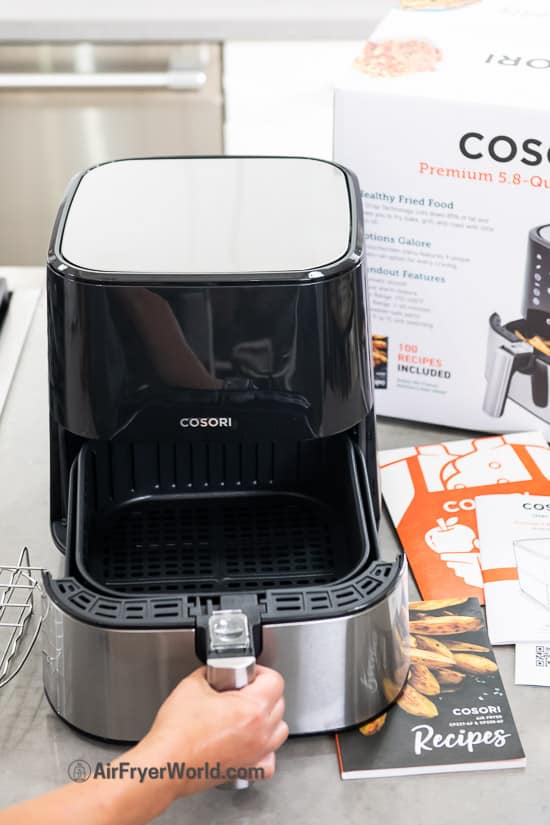 Foods We Cooked in Cosori Air Fryer
Crispy cheese filled ravioli snacks. Wow, these were good and so easy to air fry. Within minutes we had a fantastic appetizer to share.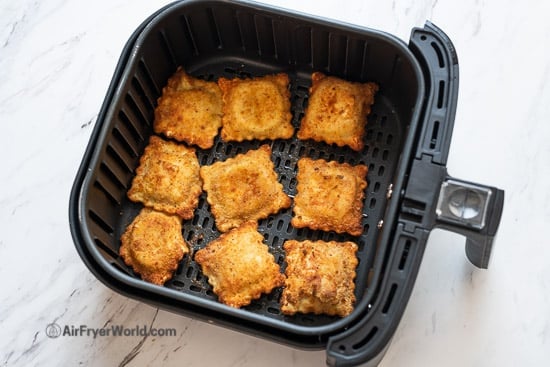 Stuffed mushrooms with lots of cheese on top. The inside cooked perfect with the melty cheesy filing. Also, many of our ecoobook recipes were tested with the Cosori. You can buy the Air Fryer e-cookbooks here.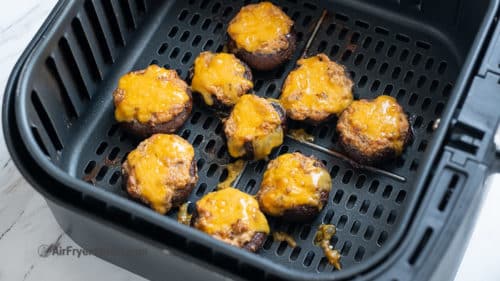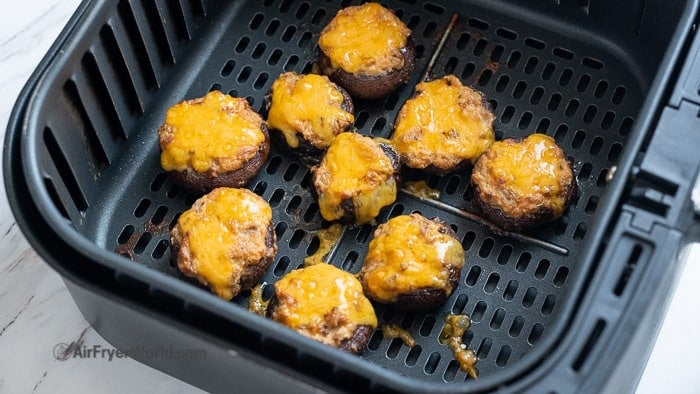 Best Features of The Cosori Air Fryer (Pro's)
Powerful 120V/1700W heating element to cook food crispy and delicious. (this voltage only applies to Canada and USA).
Safe Auto-Shut off Mode: This will keep the air fryer from over heating and turns off when you open the basket. Other air fryer models we have actual still are heating the the basket is pulled out, which is dangerous. The cosori turns OFF when the basket is pulled.
Easy to use Interface with pre-sets: we mentioned this above and it's really easy to use.
Food cooks evenly and food crisps evenly. The basket isn't too deep, which is a good thing because it keeps you from overloading the food. For air frying, you want to keep food in an even layer for even cooking. If it's piled on too high, you have to stir and toss more often so that the food on the bottom cooks as evenly as the food on top.
Separate inner and outer baskets: This is a great feature because when you cook the food in the inner basket, all the oil/fat drips to the outer basket. When you remove the inner basket away from the outer basket, all the oil drains away from the food, making it less greasy.
Comes with Extra metal holder with 5 skewers, perfect for air frying kebabs!
5.8 qt size cooks more food: If you have a family of 3-4, this is the size for you. You can cook up to 4 servings of chicken breasts or other meats/veggies in one basket. It's also great to cook a large serving of vegetable side dishes.
Cooks frozen AND fresh foods wonderfully! We've tested it on frozen foods and fresh foods from our recipe archive here. All results are great.
Shake reminder: It has a reminder alarm to tell you to shake/toss the food. This is helpful so you don't forget to shake/turn the food so you don't come back to food that's burned on top and un-cooked on the bottom.
Square basket: This is important! After using 12 other brands, we found that square baskets are just have a better footprint. What we mean is that you have the corners for extra cooking space and you can fit square baking dishes into it much easier. If you have a small square baking dish, it's harder to fit into a round basket of the same quart size. Overall, a square basket increases the overall cooking footprint for more flexibility when using baking dishes or placing food in the basket.
Non-stick basket: food doesn't stick as much when compared to wire baskets (we dislike wire basket air fryers). The non-stick also makes it easy to clean.
Dishwasher Safe and Easy to clean: it's because of the non-stick lined basket. All you need to do is to soak the basket in hot soapy water for about 10 minutes and all the food debris wipes off clean. Simple!
Recipe book and Useful Manual: This model comes with a recipe book to help you get started easily with your first air fryer meals. The manual is great too as it walks you through all the steps and safety precautions when using for the first time.
Accessory Set: They make their own accessory set to cook other different types of foods. Also, because of the square size of the basket, other brands of accessories fit as well.
Customer Service Support, communication and community. We put this as the top value for Cosori because they have a fantastic support structure. We put high value on customer service support because if there's a problem, we want the manufacturer to stand behind their product. In their user manuals, they provide an email for support, email to their chefs for recipe questions, support phone number and all their social media. There's many ways to get a hold of them if you have any concerns.
Cosori Air Fryer Features (Con's)
If you have a very small kitchen with hardly any countertop space, this air fryer will be pretty dominating. If you have another part of the kitchen with a cabinet or table to store it, that would be great. That way you can free up countertop space if you're not using this.
The screws on the basket release button that holds the inner basket can occasionally get loose. We make sure to tighten the screws occasionally to make sure that the connection stays tight so the inner basket "snaps" together tightly to the outer basket.
We wish the inner basket was made of ceramic because ceramic baskets won't wear as easily during washing. Ceramic baskets are the best! So far, both our Cosori non-stick baskets still look good and don't stick because we're careful about soaking them first before washing. Or you can use perforated parchment sheets to help food from sticking and will prolong the life of the non-stick inner baskets. But if you are a strong scrubber, you'll eventually start to scrub off the non-stick coating.
Re-Cap Review: Is the Cosori 5.8 Qt. Stainless Air Fryer Worth Buying?
Yes, it's a solid air fryer and worth the purchase. We especially like the customer service with many ways to reach out to them. We purchased 2 ourselves and used it in our test kitchens and are sold on the brand already. It cooks food great, evenly and we have not had any issues with the air fryer. After 3 years of constant use, we haven't had any defects or malfunction issues. Only "slight problem" we'd had is that our older Cosori 5.8 qt air fryer motor got a little louder overtime. But again, we're putting it to maximum use. If you have issues with a certain food not cooking "right" in an air fryer, it's more of a recipe or user issue than it is a manufacturer issue.
Where to Buy Cosori 5.8 Qt Stainless Air Fryer?
Want to share this advice? Please don't copy it. Just share the link, credit and link back to this copyrighted article. We've have issues with people stealing our words and content (photos) and putting their logos on it and putting on their blogs or posts. It's wrong to do this and it's stealing copyrighted content. We put a lot of time and research into this so sharing is caring! Thank you so much.
As an Amazon associate and partners with other affiliate programs, we may earn from your qualifying purchases. We may earn small commissions that goes towards all the costs of running this website and recipe tests. Thank you for your support.