Review: TaoTronics 9 in 1 Air Fryer Oven with Dehydrator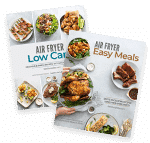 Buy our air fryer e-cookbooks today
TaoTronics air fryer oven (air electric toaster oven) review: Our air fryer reviews and tests are REAL. We put them to the test, cook with them and share our honest opinions. Many other review sites don't actually own or test the products and only write generic reviews with commission links. We share our original photos and results along with an affiliate link that helps us earn a small commission to help pay for the recipe testing. Buy the TaoTronics Air Fryer Here.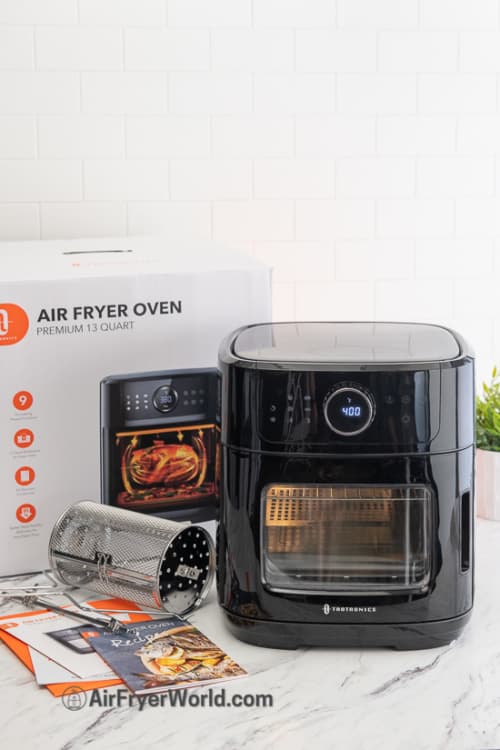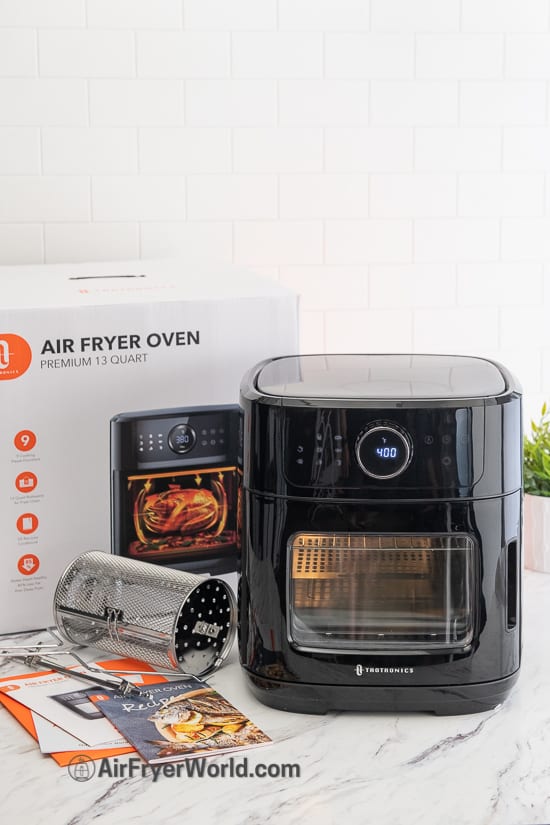 Review: Tao Tronics 13qt. Air Fryer Oven
We're reviewing this cool looking Air fryer oven by Tao Tronics and we were in for a real treat. There's so many cool features on this "Air Electric toaster oven". Yes, it's an air fryer but the clever description of being a toaster oven too explains it all. It's definitely more than an air fryer and if you're familiar with toaster ovens, you know what we're talking about. It's a big oven-style air fryer unlike the regular bucket style. We reviewed the Tao Tronics bucket air fryer here previously.
Is the Tao Tronics Air Fryer Oven Easy to Use?
Definitely yes, this thing might look like a beast but it's super simple to use. The touch screen panel is clear and simple, along with pre-sets to help take the guess work out of most dishes. Best of all, they give you a free 50 recipe printed cookbook that can help guide you for your first batches of air fried recipes. They also provide useful product manuals to explain how to use their product.
This oven style model has a rotisserie too so you can roast a chicken or other larger roasts! Not only can you rotisserie, the fryer basket allows you to cook french fries quick and evenly. Setting the time and temp isn't complicated and everything is clear with the icons and the easy touch digital touch screen.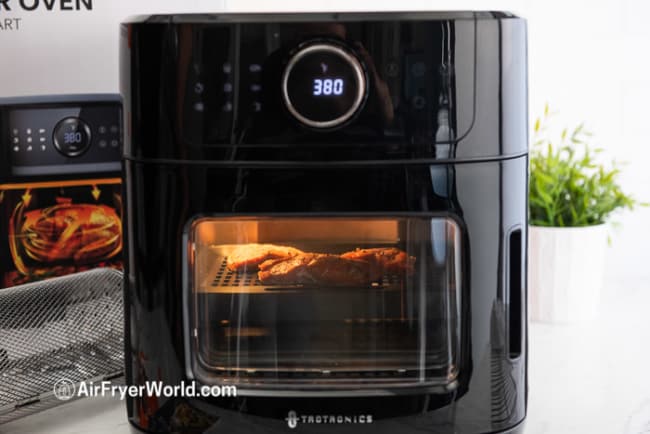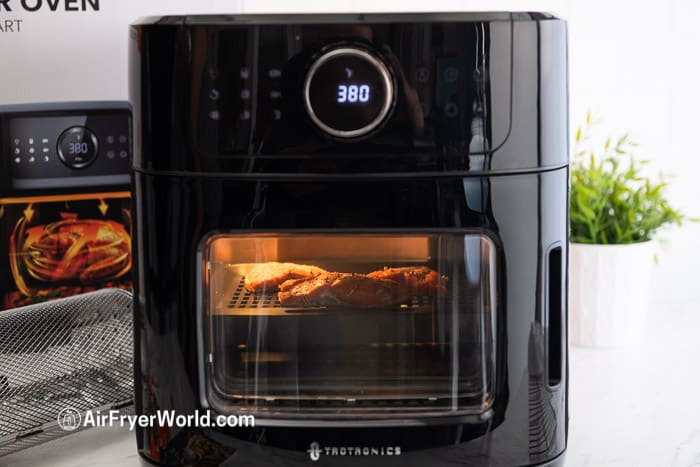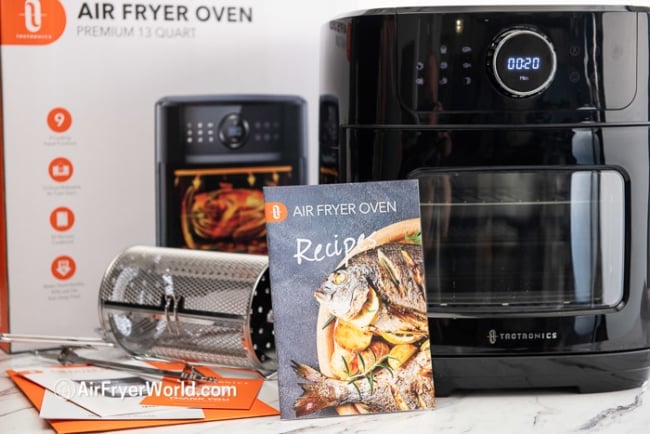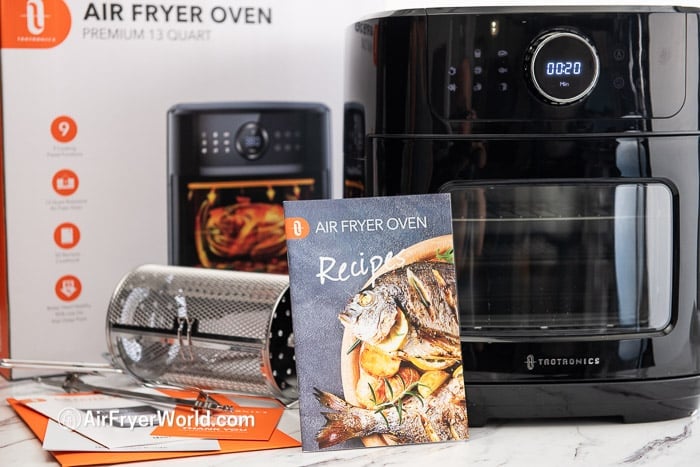 Recipe Test: Wild Caught Coho Salmon
We tested a batch of fresh wild caught coho salmon. The results were great! And fast! We tested a smaller batch of fish and it was ready in less than 10 minutes. The salmon came out tender and perfect. We could have cooked 3x the amount quick and easily.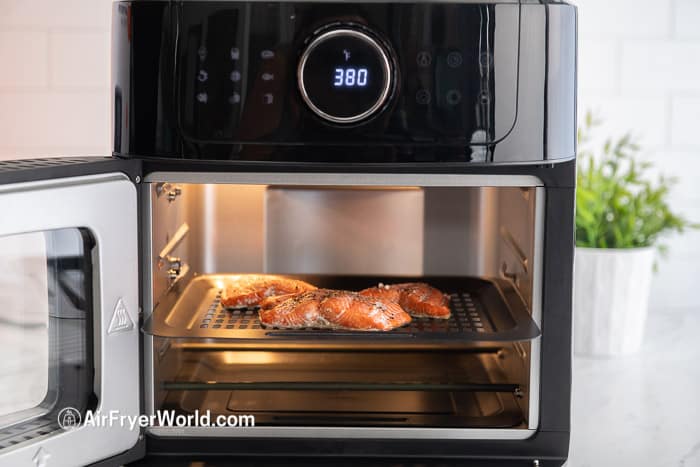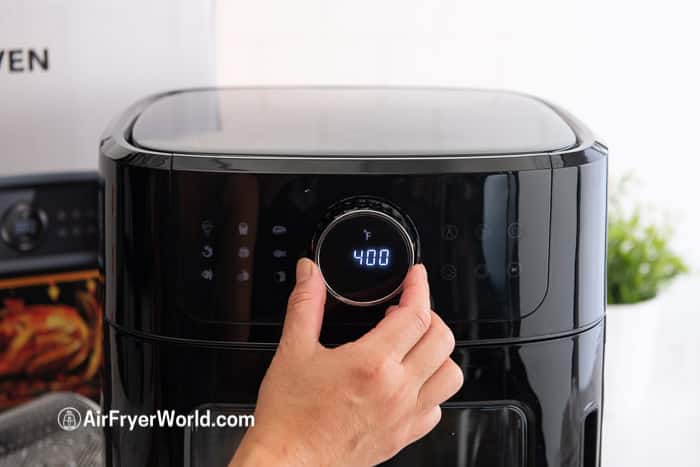 TaoTronics Oven Pro's
Like their bucket style model, this TaoTronics oven has a quiet motor. It definitely is one of the more quiet oven style air fryers that we've cooked with. And trust us, we've cooked with many.
Powerful motor that allows you to cook a large amount of food at one time.
Large 13 qt capacity: This huge interior space with multiple racks can cook so much food. When it comes to air frying, this space is great for feeding a family. It's definitely family-sized.
Big range in temperature that allows you to cook food hot and crispy quick, or slow for dehydrating.
9 different one-touch pre-set functions. These features are part of this model and you can cook so many different things with a quick touch of a button.
6 great accessories that are easy to wash including a wire rack, rotisserie tools and a cooking tray for dehydrating fruits and meats.
Extra large 13 qt. capacity. This is great for cooking for families. You can cook up to a 10″ pizza and 3.3 pound chicken.
Free 50 recipe cookbook.
Non-stick racks are BPA free and food safe. And they're super easy to clean in this TaoTronics air fryer oven.
TaoTronics Oven Con's
Large countertop footprint. The size is pretty big and if you have a small kitchen you'll either have it keep it in a cabinet or make it your main appliance that lives in the kitchen. But with it's multi-use, you might only need to have this in your kitchen.
The cost: if you're on a small budget, this air fryer oven might be more than you had planned.
If you're a single person only wanting to cook small portions or re-heating foods, this isn't for you. The Tao Tronics air fryer oven is for serious cooks who want to feed 2-3 people for a meal.
Overall Review: Is the TaoTronics Worth the Purchase?
Yes, if you're looking for a seriously powerful air fryer oven to cook for your family, this is for you. It's definitely a tool that you would use often for your easy everyday meals. You'll love this TaoTronics air fryer oven.
About this TaoTronics Review: We received this Air Fryer to review. All opinions are honest and our own. We test many products and only share the ones we would purchase ourselves. That way, you don't have to waste time reading about products that aren't worth buying. We've filtered out the un-worthy ones for ya!
Want to share this advice? Please don't copy it. Just share the link, credit and link back to this copyrighted article. We've have issues with people stealing our words and content (photos) and putting their logos on it and putting on their blogs or posts. It's wrong to do this and it's stealing copyrighted content. We put a lot of time and research into this so sharing is caring! Thank you so much.
As an Amazon associate and partners with other affiliate programs, we may earn from your qualifying purchases. We may earn small commissions that goes towards all the costs of running this website and recipe tests. Thank you for your support.