Review: TaoTronics Air Fryer, Large 6 Quart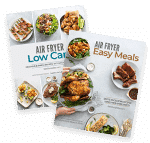 Buy our air fryer e-cookbooks today
TaoTronics air fryer review: Our air fryer reviews and tests are REAL. We put them to the test, cook with them and share our honest opinions. Many other review sites don't actually own or test the products and only write generic reviews with commission links. We share our original photos and results. Read more of our Air Fryer 101 Starter Guide and Tips Here.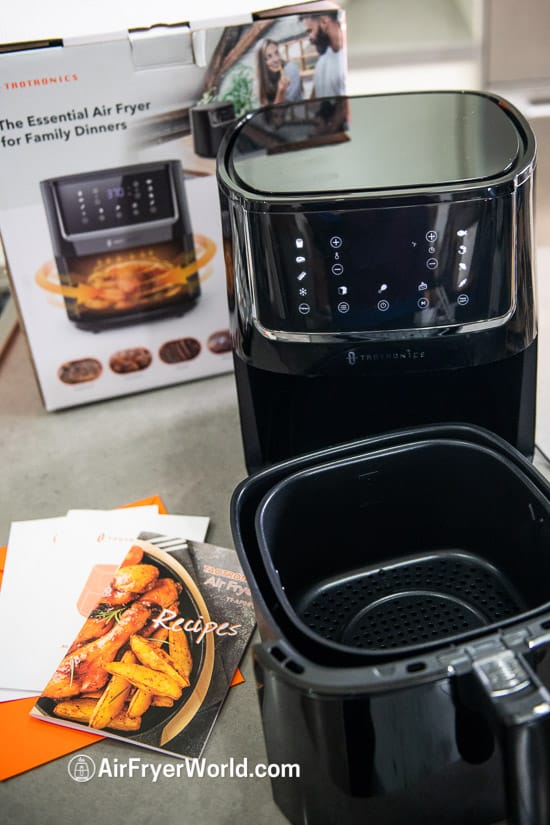 Review: TaoTronics Air Fryer
We're reviewing the 6 qt. air fryer by TaoTronics today and this is definitely a fun one to review. Although it's a bucket style air fryer and looks similar to some of the other air fryers we've reviewed, this TaoTronics was surprisingly different in a few ways. You can read our previous air fryer reviews here. Also part of the test is cooking a recipe in this air fryer so you can see it for yourself and we can give feedback from our cooking test.
TaoTronics Air Fryer Easy to Use?
The answer is definitely yes, it's very easy to use. TaoTronics is a bucket-style air fryer with a detachable non-stick frying basket. This allows all the oil and grease to settle to the bottom of the bucket, away form the food. The easy to use touch control panel is very clear and pretty self explanatory.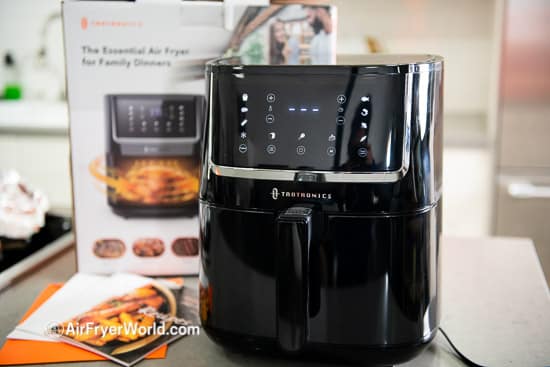 Unlike some other air fryers that make you toggle between time and temp with one button, this air fryer has two separate button. One allows you to set the temp and the other allows you to set the time. We like this feature because you can easily make adjustments separately between time and temp. Also, they have pre-sets for simple everyday foods to help take the guesswork out of cooking.
Recipe Test: Garlic Parmesan Chicken Bites
We tested our super delicious chicken bites with garlic and parmesan. This air fryer definitely was powerful enough to cook the bites with crispy edges. That's a key factor for us: to have an air fryer strong enough to sear meats and seafood. The chicken bites cooked evenly and wonderfully.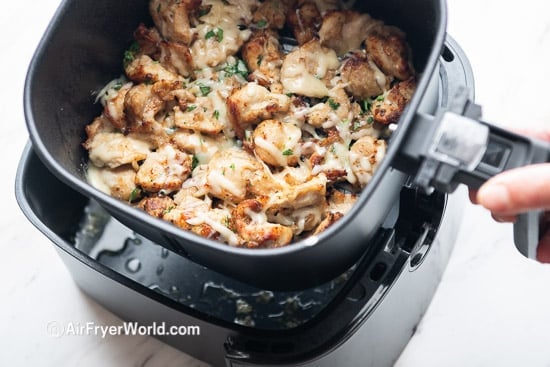 TaoTronics Pro's
Great Feature #1 Quiet Motor: We mentioned why this is different from others and it's how quiet the motor is! We have 15 air fryers now in our test kitchen and this one is the most quiet of them all. We couldn't believe it was even cooking because compared to the other air fryers, this one was not nearly as loud.
Great Feature #2: Deep bucket. This definitely has a deeper bucket compared to other similar style air fryers. The advantage to this is that you can cook a little bit more food in it. You just have to stir the food more often, but it definitely is helpful to cook more food that needs to be tossed more often. Like fries.
Love crispy skin Roast Chicken: This deep bucket can easily air fry a 4 pound roast chicken.
Are you a one-pot-meal type of person? The size of the bucket can allow you to cook your proteins, then add some small cut veggies about half way through cooking. So if you time it right, it's easily adaptable to making one complete meal.
Easy to use touch screen with 11 pre-set menus that can help newbies with quick and easy meals. After using the pre-sets and understanding your food more, you can venture into the manual time and temps.
Like we mentioned above, we like how there's two different buttons for time and temp. One allows you to set the temp and the other allows you to set the time. We like this feature because you can easily make adjustments separately between time and temp.
It comes with a recipe book and contact info if you have problems. This is huge because you want to invest in a company that has good customer service and way to get a hold of them in email AND social media.
It's definitely easy to clean. The removable basket and bucket are both simple to wipe down the grease and tidbits of food, then soak in soapy water for a few minutes.
TaoTronics Con's
Size: The size is pretty big and if you're in a very small apartment kitchen space you're most likely not going to want to have it live on your counter top. But you can set up a table outside and do all your air frying outdoors.
The weight of the basket and bucket is a little heavier because of it's high quality construction. So when you add food in there to cook, make sure you have a hot-mit to support the weight of the food in the bucket.
Overall Review: Is the TaoTronics Worth the Purchase?
Yes, especially if you plan on cooking a lot of food. Or if you want to upgrade your existing small air fryer to a larger 6qt. bucket. You can read more info here and all their reviews.
About this TaoTronics Review: We received this Air Fryer to review. All opinions are honest and our own. We test many products and only share the ones we would purchase ourselves. That way, you don't have to waste time reading about products that aren't worth buying. We've filtered out the un-worthy ones for ya!
Want to share this advice? Please don't copy it. Just share the link, credit and link back to this copyrighted article. We've have issues with people stealing our words and content (photos) and putting their logos on it and putting on their blogs or posts. It's wrong to do this and it's stealing copyrighted content. We put a lot of time and research into this so sharing is caring! Thank you so much.
As an Amazon associate and partners with other affiliate programs, we may earn from your qualifying purchases. We may earn small commissions that goes towards all the costs of running this website and recipe tests. Thank you for your support.