Air Fryer Trader Joe's Frozen Sweet Potato Fries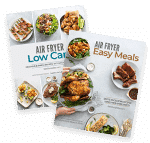 Buy our air fryer e-cookbooks today
Air fryer Trader Joe's sweet potato fries from frozen are amazing. It's way better than cooking them in the regular conventional oven. Yes, you can totally cook them from frozen, straight from the freezer without any extra oil.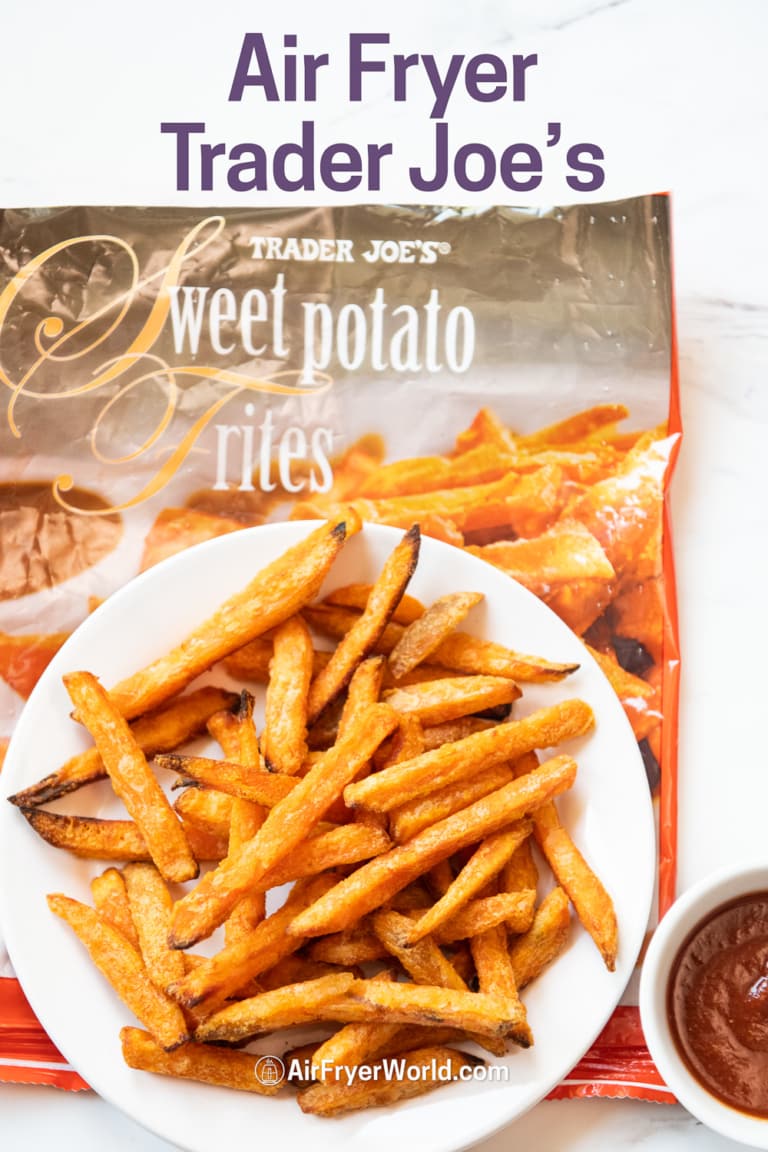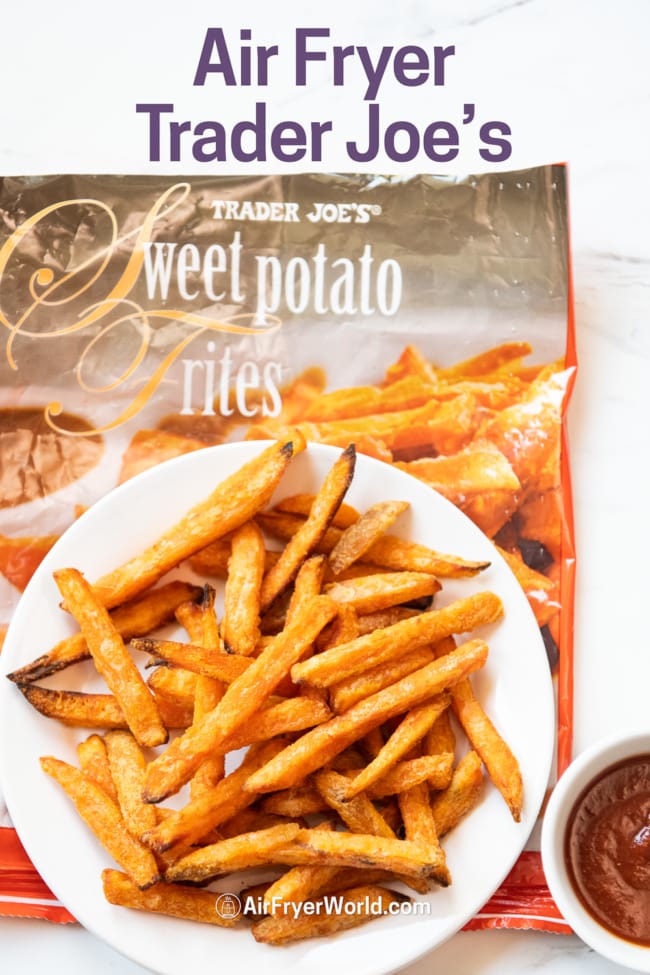 Air Fryer Trader Joe's Frozen Sweet Potato Fries
Why are these air fried sweet potato fries so good ? Because the hot circulating air of the air fryer in a smaller compact appliance makes the fries super crispy. You don't even need to add any extra oil. The frozen sweet potato fries are crispy on the outside and awesome when you want a quick batch of hot fries. Because these frozen fries cook so quick, it's hard to not want to eat even every day. Just add your favorite dip and you're ready to enjoy! We have some extra tips for air frying these Trader Joe's sweet potato fries from frozen below.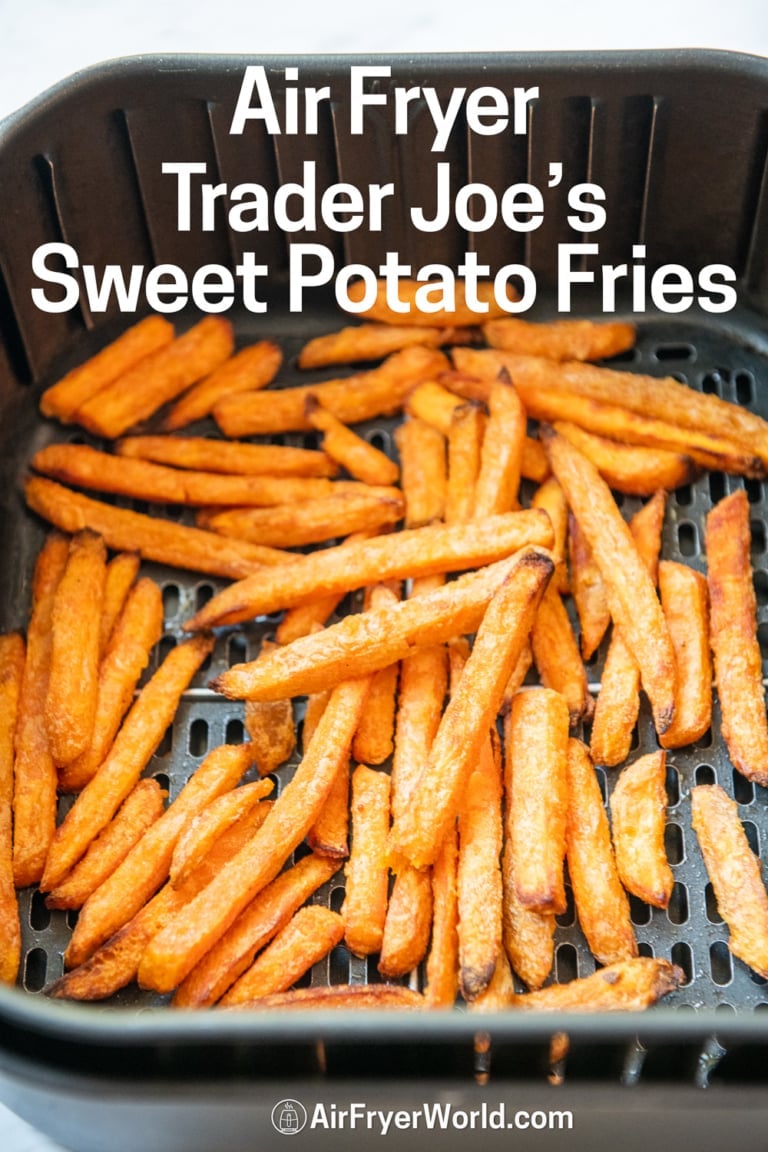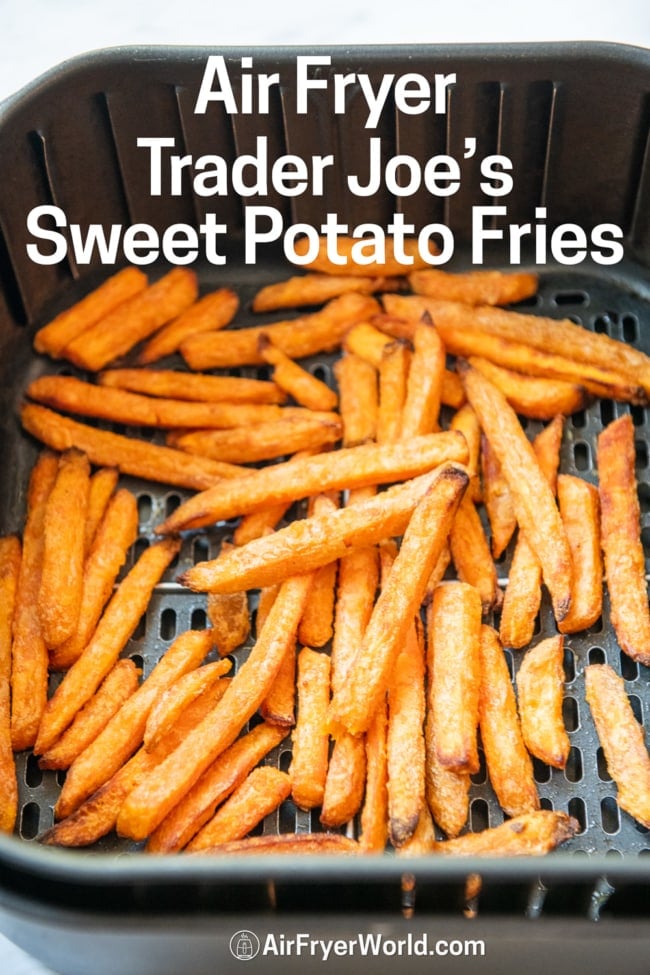 Video: How to Air Fryer Trader Joe's Frozen Sweet Potato Fries
Tips for Air Frying Frozen Sweet Potato Fries
Make sure they're completely frozen for best results. If you let them thaw and get too soft, they will break and become mushy.
Lay the frozen sweet potato fries in a single layer. Don't pile them on too high because they won't cook evenly. It's better to cook in smaller batches. 2 layers deep is the max you'll want to cook them for best results.
Sprinkle some seasonings on afterwards: garlic salt, garlic power, onion salt, onion powder, everything but bagel seasoning. Even some shredded cheese is fantastic.
Add your favorite dip options. There's so many awesome possibilities.
Serve with your favorite sandwich or burger. These are also awesome as a snack.
All recipe details for time and temp are in the recipe box below. Hope you enjoy these for your next snack!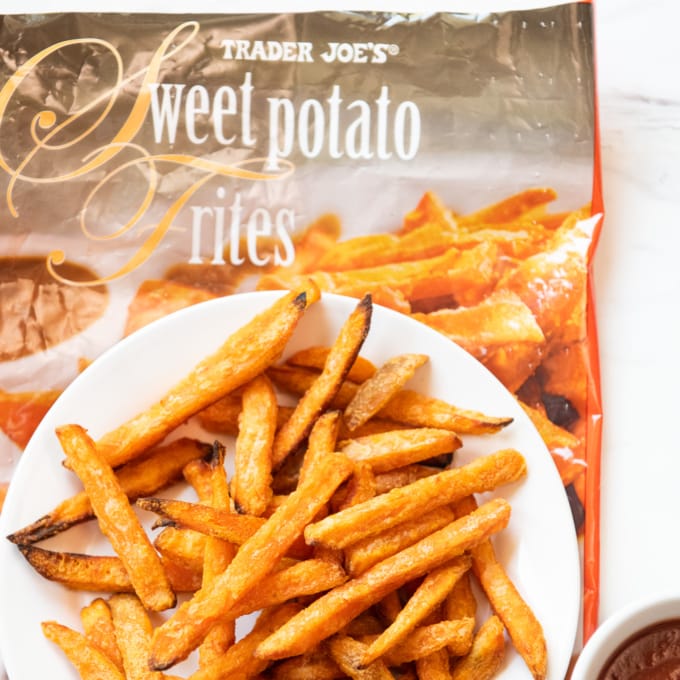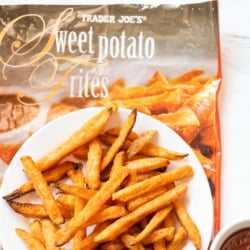 Trader Joes Frozen Sweet Potato Fries in the Air Fryer
You should be able to cook a whole 15 oz bag in most air fryers without overcrowding. If you have a small air fryer, you might need to cook in 2 batches in order to not overcrowd the basket.
Ingredients
15

oz.

(

454

g

)

Trader Joes Frozen Sweet Potato Frites (fries)

Kosher salt or sea salt

, to taste

ground black pepper

, to taste (optional)
Instructions
Place the frozen sweet potato fries in air fryer basket and spread them evenly over the basket. You don't need thaw them first or to spray any extra oil.

Air fry the frozen sweet potato fries at 400°F/205°C for about 12-17 minutes. About halfway through cooking, shake the basket and gently turn the fries. Try not to break them. For crisper, evenly cooked fries, turn them multiples times while cooking.

If needed, Air Fry for additional 1-3 minutes to crisp to your preferred liking. Season with salt and pepper if desired.
Notes
No Oil Necessary. Cook Fries Frozen – Do not thaw first.
Shake several times for even cooking & Don't overcrowd fryer basket.
If cooking in multiple batches, the first batch will take longer to cook if Air Fryer is not already pre-heated.
Recipes were cooked in 3-4 qt air fryers. If using a larger air fryer, the recipe might cook quicker so adjust cooking time.

Remember to set a timer to shake/flip/toss the food as directed in recipe.
If your air fryer is preheated or if you are cooking multiple batches, you may need to reduce timing by a few minutes (unless preheating is called for in the recipe).
Nutrition Information
Calories:
160
kcal
,
Carbohydrates:
19
g
,
Protein:
2
g
,
Fat:
8
g
,
Saturated Fat:
2
g
,
Sodium:
140
mg
,
Potassium:
340
mg
,
Fiber:
2
g
,
Sugar:
7
g
More Frozen Food Air Frying Recipes and Tips:
As an Amazon associate and partners with other affiliate programs, we may earn from your qualifying purchases. We may earn small commissions that goes towards all the costs of running this website and recipe tests. Thank you for your support.