Crispy Air Fryer Breaded Pork Chops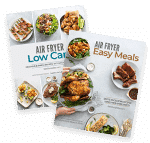 Buy our air fryer e-cookbooks today
This air fryer breaded pork chops dinner is so easy! You will love our breaded pork chops that are crispy and addicting. It's one of our go-to weeknight dinners and the possibilities are endless. It's so true that this easy pork chops recipe can be finished in less than 30 minutes in the air fryer.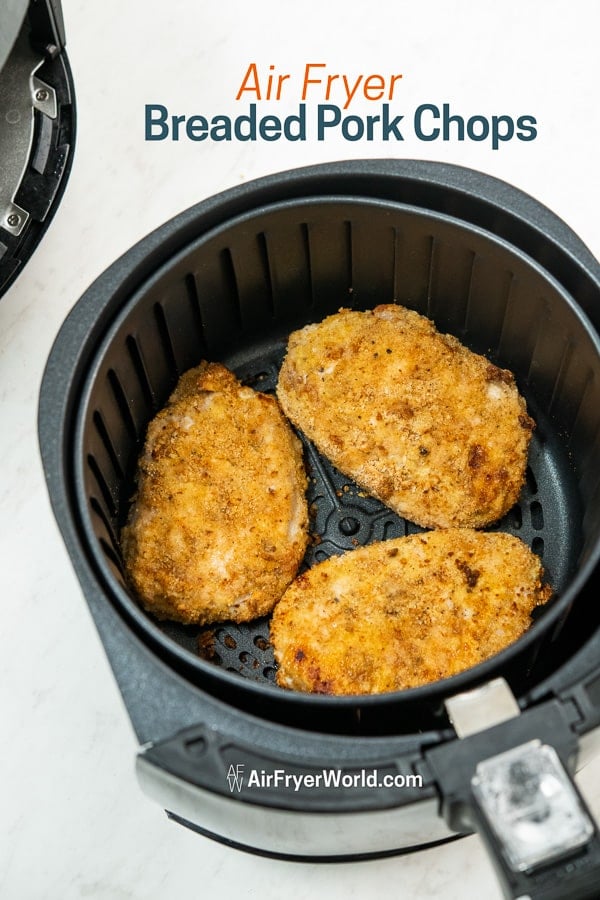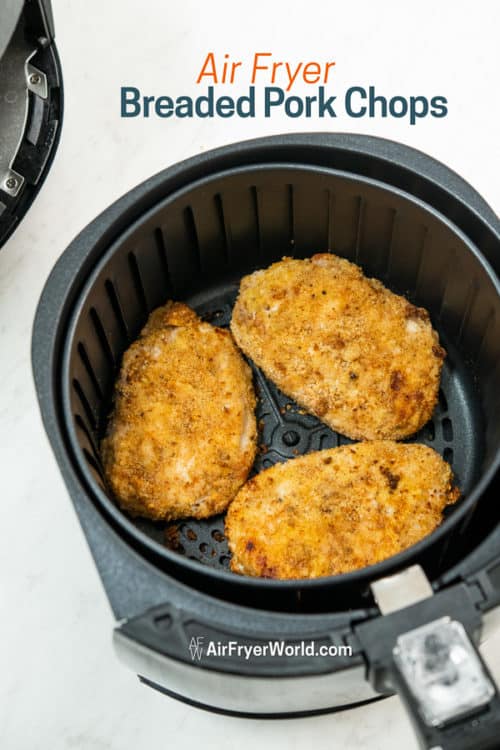 Easy Air Fryer Breaded Pork Chops Recipe
A wholesome dinner is super easy to achieve without alot of fuss. Best of all, they are so much juicier than everyone realizes. They're definitely not dry hockey pucks. Everyone in the test kitchen was expecting dry flavorless chops. But to everyones surprise, they were juicy and absolutely delicious. Crispy crusted healthier pork chops is always a favorite family dinner.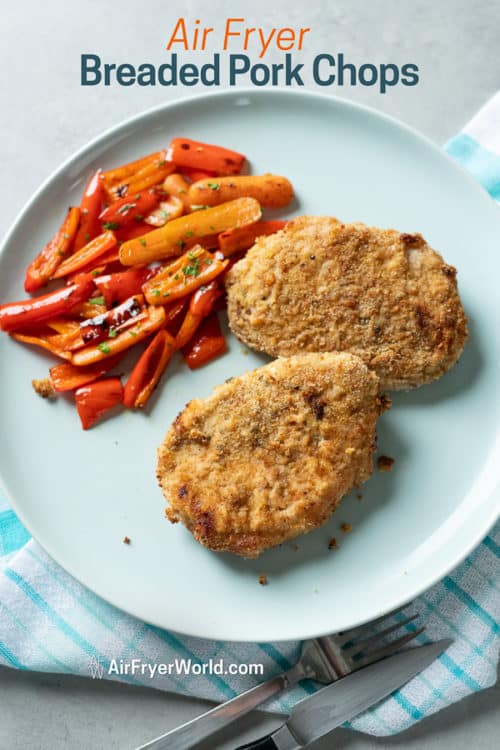 Video Making Breaded Pork Chops in the Air Fryer
How to Make Air Fryer Breaded Pork Chops
Step One: Season pork chops and coat with egg wash and bread crumbs.
Two: When dipping in bread crumbs, shake off excess crumbs before putting in the air fryer basket. Spray the crusted pork chops with oil.
Three: Cook the chops and after a few minutes, you have a crispy amazing easy dinner with pork chops!
Cooking times will vary depending on the thickness of the pork chops.
Full recipe details are in the recipe box below that you can print out.
Can you freeze breaded pork chops?
Yes! Once you've cooked them, allow them to cool completely. Once cooled, put them in an airtight container or bag. For serving, take them out of the freezer and allow them to thaw in the fridge overnight, or at room temperature for about 2 hours. Then re-heat in the air fryer at 360F for about 5 minutes, flipping half way through.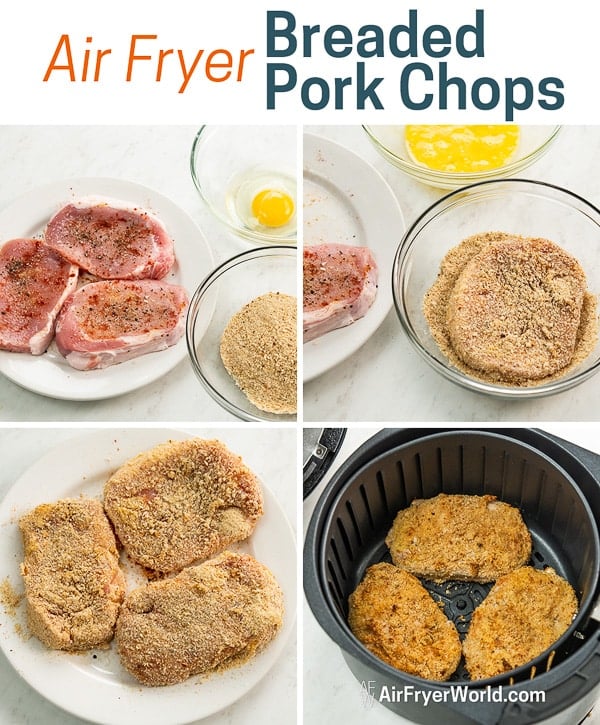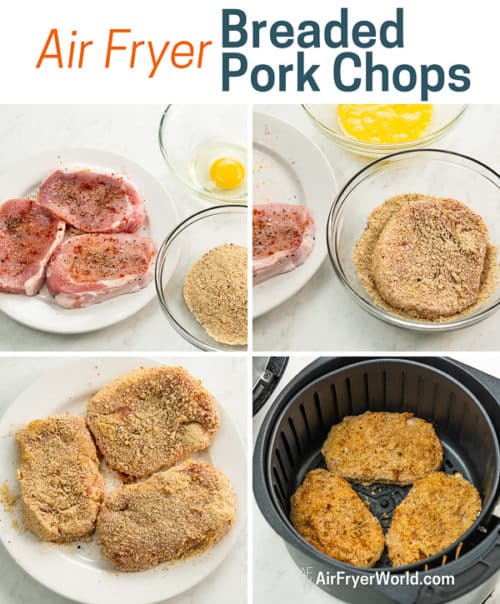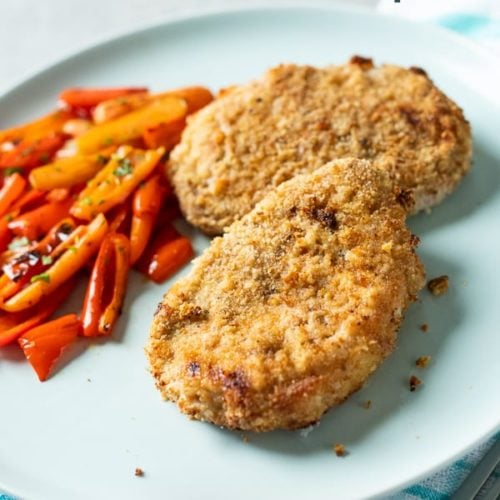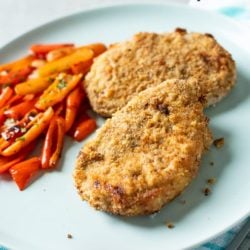 Air Fryer Breaded Pork Chops
Not all pork chops are cut the same. There's so many different cuts. Adjust cooking time for thicker or thinner pork chops. Some brands of Air Fryers will cook slower or faster than others, adjust accordingly.
We cooked the pork chops in a 3.4 qt. Air Fryer. For that size of air fryer, 3 pork chops is about the max without overcrowding the air fryer. If you have a larger size, you can probably cook 2-3 more so long as they are still in a single layer.
Ingredients
3

(6oz.)

(

3

(170g)

)

pork chops

, rinsed & patted dry

salt

, to taste

black pepper

, to taste

garlic powder

, to taste

smoked paprika

, to taste

1/2

cup

(

54

g

)

breadcrumbs

, approximately

1

large

(

1

large

)

egg

Cooking spray

, for coating the pork chops
Instructions
Add seasonings to both sides of the pork chops with salt, pepper, garlic powder, and smoked paprika.

Add the breadcrumbs in a medium bowl. In another bowl, beat the egg.

Dip each pork chop in egg and then dredge it in the breadcrumbs, coating completely. Lightly spray both sides of coated pork chops with cooking spray right before cooking.

Preheat the Air Fryer at 380°F for 4 minutes. This will give the pork chops a nice crunchy crust.

Place in the Air Fryer and cook at 380°F (194°C) for 8-12 minutes. After 6 minutes of cooking, flip the pork chops and then continue cooking for the remainder of time or until golden and internal temperature reaches 145-160°F.

Serve warm.
Notes
Recipes were cooked in 3-4 qt air fryers. If using a larger air fryer, the recipe might cook quicker so adjust cooking time.

If cooking in multiple batches & not pre-heating before first batch, the first batch will take longer to cook.
Preheating the Air Fryer is preferable. If you don't preheat, add more time to the cooking.
Remember to set a timer to shake/flip/toss the food as directed in recipe.
If your air fryer is preheated or if you are cooking multiple batches, you may need to reduce timing by a few minutes (unless preheating is called for in the recipe).
Nutrition Information per Serving
Calories:
361
kcal
,
Carbohydrates:
13
g
,
Protein:
41
g
,
Fat:
14
g
,
Saturated Fat:
4
g
,
Cholesterol:
184
mg
,
Sodium:
240
mg
,
Potassium:
695
mg
,
Sugar:
1
g
,
Vitamin A:
100
IU
,
Calcium:
55
mg
,
Iron:
2.1
mg
You'll Love these Recipes
Love Spicy Cauliflower? This Air Fryer Sriracha Cauliflower is fantastic as well as this Air Fryer Chicken and Broccoli "Stir Fry". And here's our easy recipe for simple pork chops. Did you make any of our recipes? If so, share it with us on social media or the comments below. We'd love to see and hear about what you cooked in your kitchen! thanks and happy cooking and eating, friends!
As an Amazon associate and partners with other affiliate programs, we may earn from your qualifying purchases. We may earn small commissions that goes towards all the costs of running this website and recipe tests. Thank you for your support.