Air Fried Frozen Crinkle Cut Fries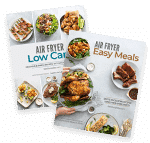 Buy our air fryer e-cookbooks today
Air Fryer frozen crinkle fries are so quick and easy to cook. You'll love the crispy edges and soft centers of the crinkle cut fries.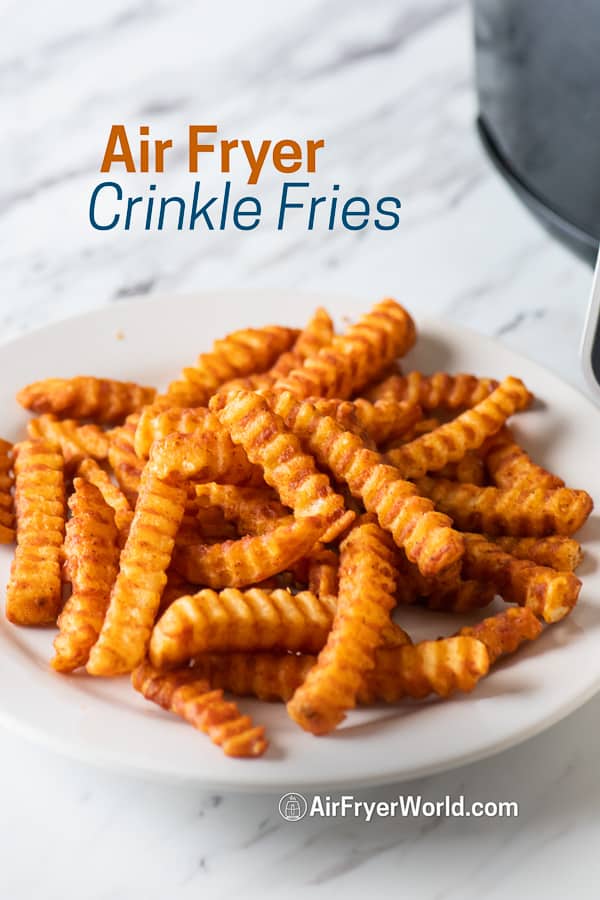 How to Cook Air Fried Crinkle Cut Fries in the Air Fryer
You can air fry frozen crinkle cut fries without any extra oil! Just go straight from the freezer to the air fryer and cook. No oil spray needed.
It's that easy and just remember that there's many different sizes and thicknesses of crinkle cut fries. So after making your first batch, you'll know how long you want to cook for your perfect personal batch. We tested so many different brands and they all turn out good. Some brands have their frozen crinkle cut fries seasoned already, so those will cook a little darker. All the cooking times seem to be the same. Only factor that changes cooking time is how thick they are.
Cook in an even layer and don't over fill the air fryer basket/tray. They will cook more evenly if they aren't piled too thick on top of each other. It is better to air fry in a couple batches if you want a lot of fries.
More details the recipe box below.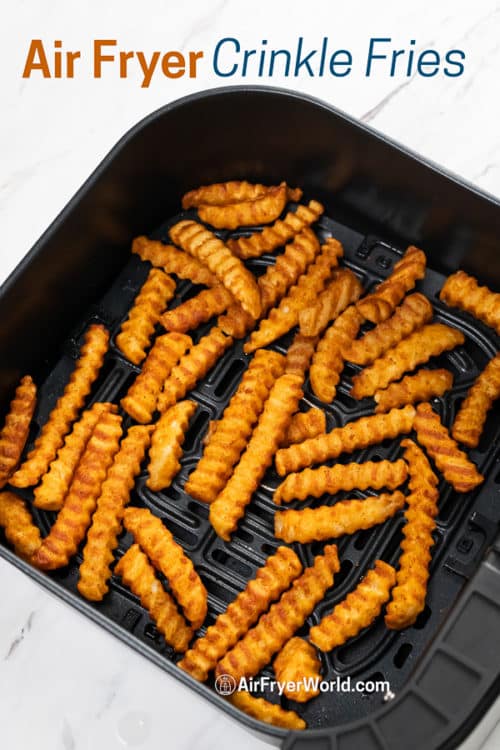 Video making Frozen Crinkle Cut Fries in the Air Fryer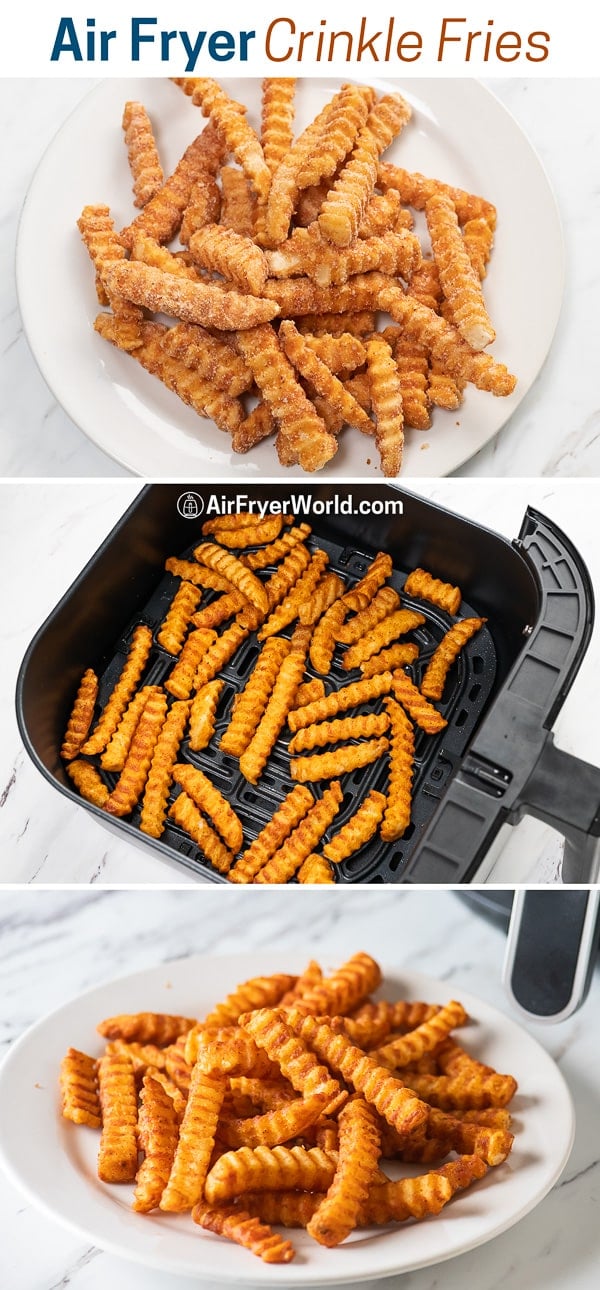 Best Frozen Crinkle Cut Fries for Air Frying
There's so many different brands of frozen crinkle fries. Some will vary in size and thickness, so you'll have to adjust the timing to get the fries to your preferred crispness. We cooked this brand in the photo: Wal-Mart Great Value Brand of Crinkle Cut Fries. They tried out great. Hope you enjoy our recipe for air fryer frozen crinkle cut fries!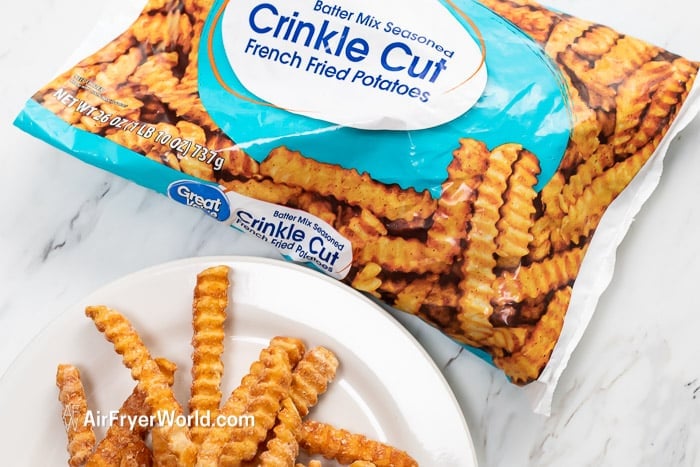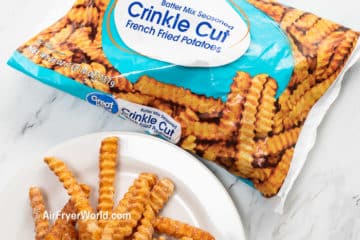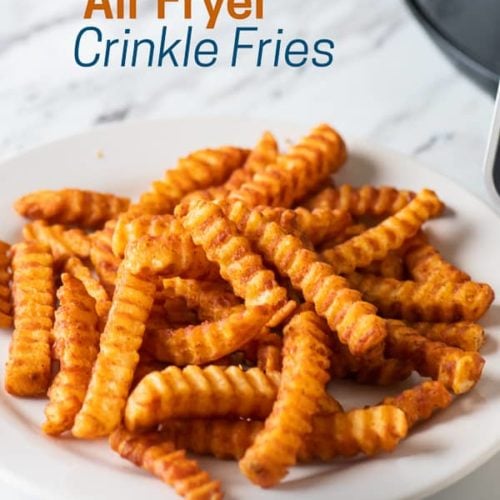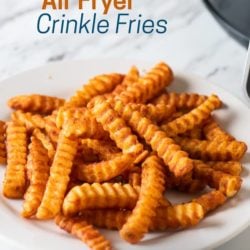 Air Fryer Frozen Crinkle Cut Fries
Lots of factors influence outcome of how the fries cook. They all vary in size and thickness, so you'll have to adjust timing. For smaller air fryers (less than 5qt.) 1 pound is about the max without overcrowding the air fryer. The more you fill the basket the more frequently you'll want to shake the basket to help them cook evenly. If you have a larger air fryer, you can cook more so long as the basket isn't filled more than 1/2 full.

All air fryers are different sizes and some cook much hotter than others. Once you cook your first batch of fries, you'll know more of what works for your model of air fryer and size of food. These were tested on basket style air fryers. Read more recipe notes below the recipe.
Ingredients
1

lb.

(

454

g

)

Frozen crinkle cut fries

salt

, to taste

black pepper

, to taste
Instructions
Place the frozen crinkle fries in the air fryer basket and spread out evenly. No oil spray is needed for the fries. It's already been deep fried in oil, so that's enough to air fry.

Air Fry at 400°F/205°C for 10-14 minutes. Shake and gently stir about halfway through cooking. If cooking larger batches, or if your fries don't cook evenly, try turning them multiple times on following batches.

Want the fries crisper? If needed air fry for an additional 1-3 minutes or until crisped to your liking. Season with salt & pepper, if desired.
Notes
Air Frying Tips and Notes:
No Oil Necessary. Cook Frozen – Do not thaw first.
Shake or turn if needed. Don't overcrowd the air fryer basket.
Recipe timing is based on a non-preheated air fryer. If cooking in multiple batches of fries back to back, the following batches may cook a little quicker.
Recipes were tested in 3.7 to 6 qt. air fryers. If using a larger air fryer, the fries might cook quicker so adjust cooking time.
Remember to set a timer to shake/flip/toss as directed in recipe.
If your air fryer is preheated or if you are cooking multiple batches, you may need to reduce timing by a few minutes (unless preheating is called for in the recipe).
Nutrition Information
Calories:
295
kcal
,
Carbohydrates:
34
g
,
Protein:
3
g
,
Fat:
17
g
,
Saturated Fat:
5
g
,
Sodium:
556
mg
,
Potassium:
488
mg
,
Fiber:
5
g
,
Vitamin C:
7
mg
,
Calcium:
10
mg
,
Iron:
1
mg
You Might also Love these Recipes to with the Fries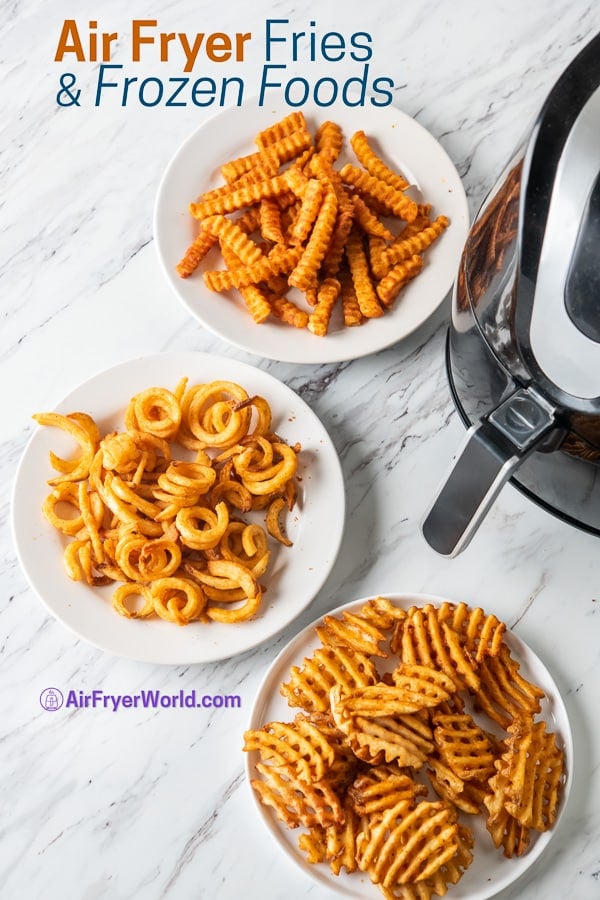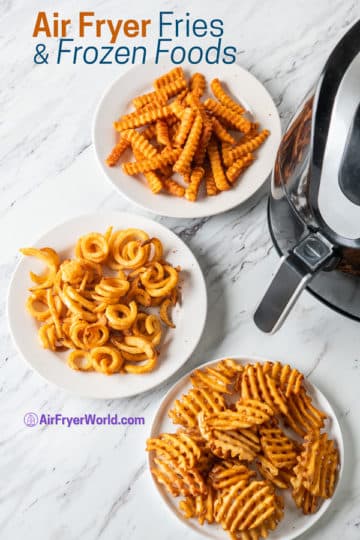 Here's some more things to do with all these french fries.
As an Amazon associate and partners with other affiliate programs, we may earn from your qualifying purchases. We may earn small commissions that goes towards all the costs of running this website and recipe tests. Thank you for your support.