Air Fryer eCookBook Giveaway : Easy Meals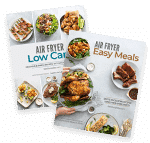 Buy our air fryer e-cookbooks today
We're giving away this awesome prize to 3 Lucky Winners!
Air Fryer Easy Meals digital e-cookbook!
EASY MEALS e-cookbook: Feed your family fresh, easy and wholesome meals from the Air fryer! With over 20 fantastic recipes from scratch, this cookbook is filled with delicious homemade meals for everyday eating.
Each recipe has helpful step-by-step images! We know how useful it is to have photos to guide you in the kitchen. You'll love all the helpful photo tutorials for all the recipes!
Winners will be able to download the e-cookbook instantly & read the eBook as a PDF on Your Desktop, Tablet, Smartphone or in iBooks
Giveaway Rules:
Giveaway open to everyone worldwide!
Giveaway starts Friday, February 7, 2020 and ends Tuesday February 25, 2020.
Fill out the giveaway entry form in the above box. (do not comment below in the comment section, those do not count as entries)
You can enter ONCE a day, until the giveaway ends. There's lots chances to win if you return back here and fill out the entry form again.
Check back here on Wednesday, February 26, 2020 to find out who the winner is.
Read our Official Giveaway Rules Here to enter and qualify for prizes.
More Air Fryer info:
This is NOT a brand sponsored post.
As an Amazon associate and partners with other affiliate programs, we may earn from your qualifying purchases. We may earn small commissions that goes towards all the costs of running this website and recipe tests. Thank you for your support.