Air Fryer Honey Baked Ham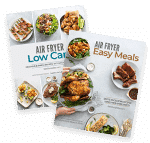 Buy our air fryer e-cookbooks today
Our Air Fryer honey baked ham recipe is perfect for all year round. When you're wanting to serve air fryer ham for Easter, Thanksgiving, Christmas or Holidays, it's definitely a game changer!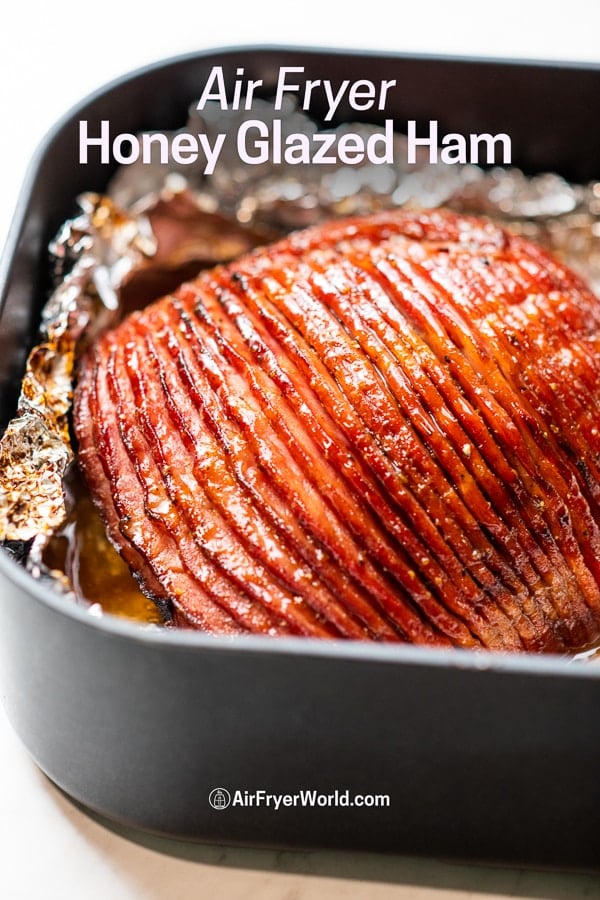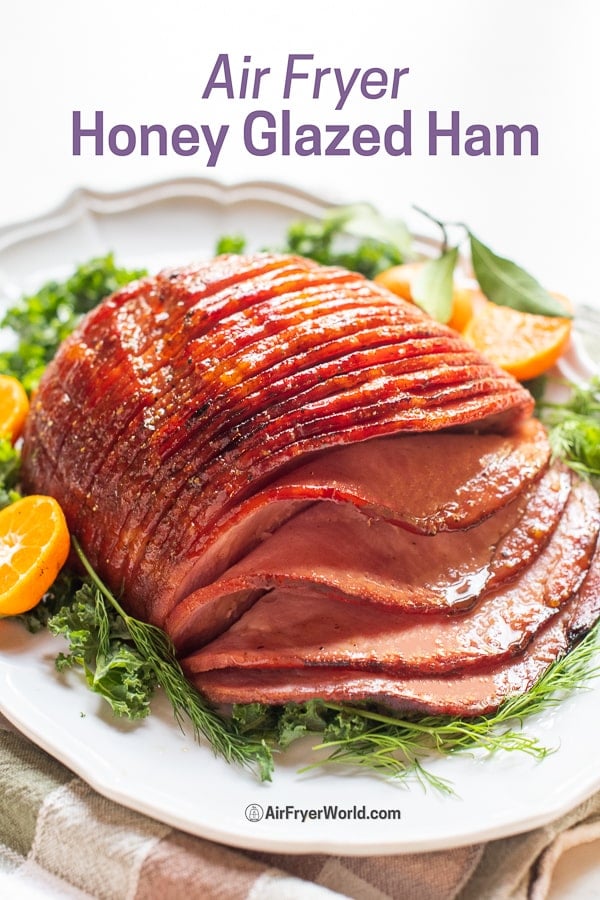 Can You Make Air Fryer Honey Baked Ham?
Yes, you can cook a small ham in the air fryer! It's super easy and the results are a moist and flavorful ham. Our air fried ham recipe has a great honey brown sugar glaze that's delicious! It's perfect when you don't have an oven to cook the ham in or if you're tight on oven space. The air fryer is the perfect appliance to dedicate the ham to and you'll realize how amazing the hot air technology is. Serve it for Sunday dinner or for holidays and everyone will be satisfied, happy and amazed at how you cooked it.
Video: Recipe for Air Fried Baked Ham
How to Air Fry Honey Baked Ham with Brown Sugar Glaze
Theres so many different shapes, sizes and types of ham. There's also so many different styles and sizes of air fryers. So make sure to not buy a ham that's too big for your air fryer.
Make sure to take the fully cooked ham out the fridge and let it come to room temperature, about 2 hours before cooking. If you cook the ham that's cold straight from the fridge, it still might be cold in the center after cooking.
A 3-pound fully cooked ham should be the maximum size for a 6 qt air fryer. Smaller air fryers can accommodate a 2 pound ham. If the ham is still too big, you can trim the ham to fit your air fryer.
Wrap the ham in foil and make sure to give extra space for that too.
Don't let the foil be too close to the heating element, so it's important to wrap the ham tight.
If you buy a whole cooked ham, you'll need to make criss cross cuts into the ham so the skin crisps up nicely. Instructions are in the recipe box below for the air fryer baked ham.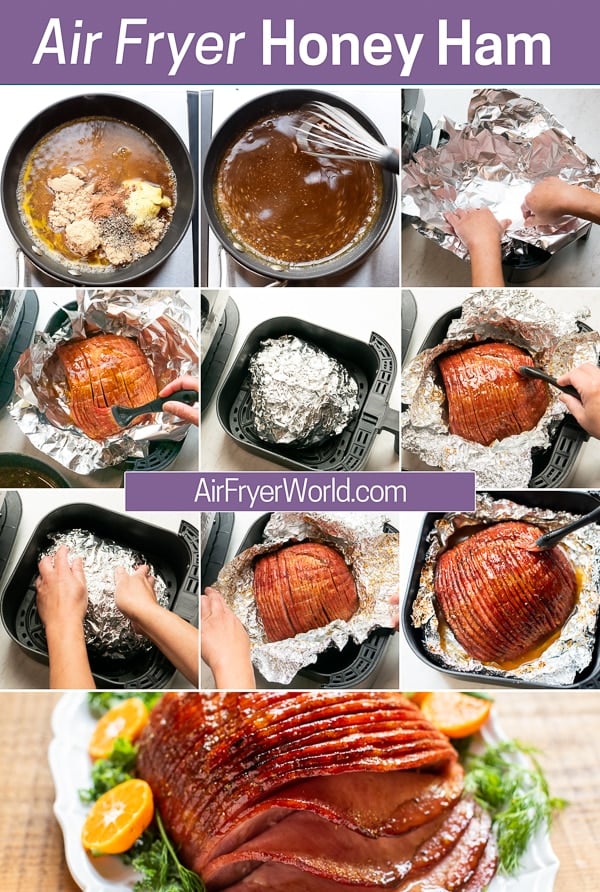 How Long to Cook Air Fried Ham with Brown Sugar Glaze?
Cooking times will vary because different air fryers cook at slightly different temperatures. And of course, ham sizes vary too.
Our estimate is to cook about 15-20 minutes for every pound of fully cooked ham. Half way through the cooking time, you need to glaze again.
When you're cooking the ham during the last half, check it to make sure it's not too dry. From there, you decide how much longer you want cook the ham.
We like to finish the ham un-covered for the last 5 minutes for a crispy, caramel texture.
All recipe details are in the recipe box below.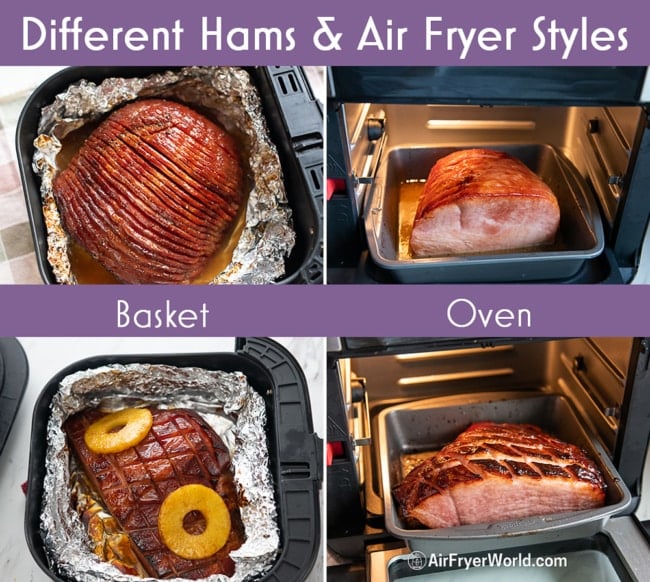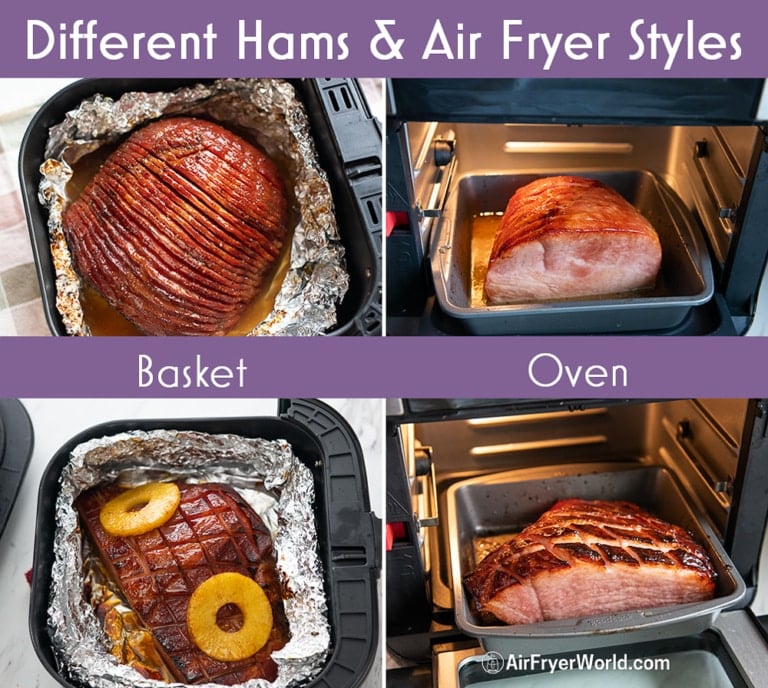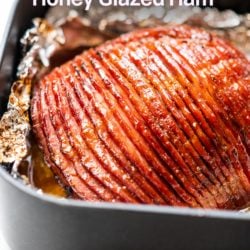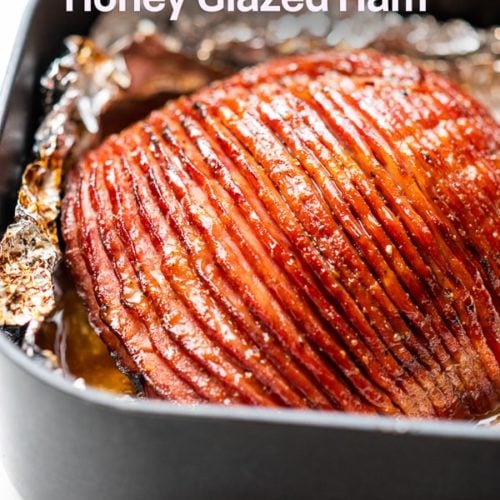 Air Fryer Brown Sugar and Honey Glazed Ham
Bring the ham to room temp before air frying. Otherwise the ham may still be too cold in the center after cooking. Our 3 pound boneless ham was cooked in a 6qt. Air fryer. If your air fryer is smaller and you're cooking with a smaller ham, adjust cooking times.
Don't let the foil touch the heating elements of the air fryer. If it touches, then your ham is too large for your air fryer. Trim down the bottom of the ham so it isn't too tall. We estimate about 15-20 minutes per pound for air frying the ham.
Ingredients
2-3

pounds

(

.9-1.36

kg

)

boneless, fully cooked ham
Brown Sugar Glaze
1/2

cup

(

110

g

)

brown sugar

1/4

cup

(

60

ml

)

honey

1/4

cup

(

60

ml

)

orange juice

(or 1 orange juiced)

2

Tablespoons

(

60

ml

)

mustard

(optional) or apple cider vinegar

1/4

teaspoon

(

1.25

ml

)

Cinnamon

1/4

teaspoon

(

1.25

ml

)

Clove

black pepper

, to taste
If your air fryer is preheated or if you are cooking multiple batches, you may need to reduce timing by a few minutes (unless preheating is called for in the recipe).
Video
Nutrition Information per Serving
Calories:
348
kcal
,
Carbohydrates:
19
g
,
Protein:
25
g
,
Fat:
19
g
,
Saturated Fat:
7
g
,
Polyunsaturated Fat:
2
g
,
Monounsaturated Fat:
9
g
,
Cholesterol:
70
mg
,
Sodium:
1384
mg
,
Potassium:
360
mg
,
Fiber:
1
g
,
Sugar:
18
g
,
Vitamin A:
15
IU
,
Vitamin C:
3
mg
,
Calcium:
21
mg
,
Iron:
1
mg
Using Pineapple for Air Fryer Ham
Craving more ways to cook ham in the air fryer? We have a delicious version with a pineapple glaze. It uses pineapple juice and slices of juicy pineapple. The bright flavors of pineapple and sweet balance make this an outstanding version of traditional air fryer ham. Check out our Air Fryer Pineapple glazed ham recipe.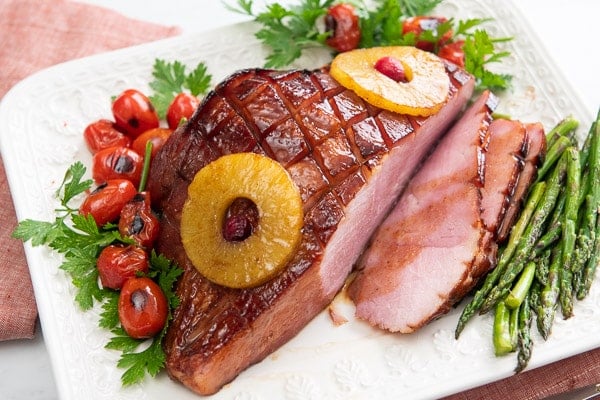 How to Re-heat Ham Steaks or Slices?
You'll probably have plenty of leftover ham, so re-heating air fryer ham steaks is quick and simple. There's a few things to understand to make sure they don't dry out. Read our detailed article on air fryer ham steaks here.
Ham and Cheese Grilled Sandwiches in the Air Fryer
If you're looking for another way to use leftover ham, try these easy grilled ham and cheese sandwiches or melts. Click here for the complete recipe and details.
As an Amazon associate and partners with other affiliate programs, we may earn from your qualifying purchases. We may earn small commissions that goes towards all the costs of running this website and recipe tests. Thank you for your support.