Air Fryer Meatballs in 15 minutes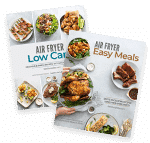 Buy our air fryer e-cookbooks today
We've been making juicy air fryer meatballs for so many years now that we won't make then any other way. Our simple 15 minute air fried meatballs recipe is a go-to recipe that you'll want to make throughout the week. It's even perfect for meal prep. More on all these details below with pictures to share.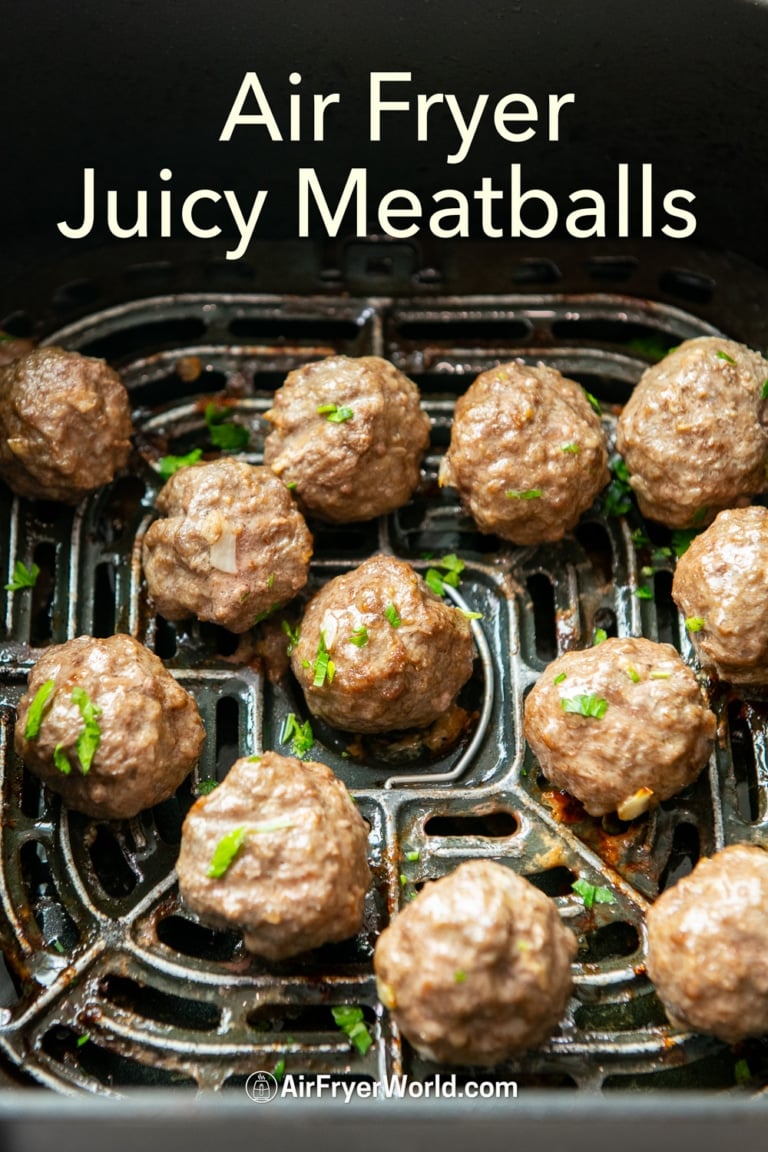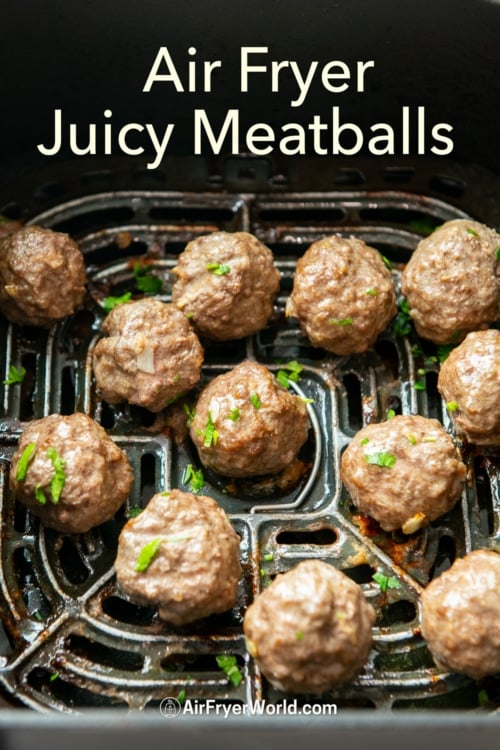 Easy Air Fryer Meatballs Recipe
It really doesn't get any easier than making an air fried meatballs batch. We've made this when we had last minute friends come over for dinner and it was always a hit. Everyone is always shocked at how juicy these meatballs are by air frying. It's such a great conversation piece because we've sold them on the recipe and in buying an air fryer!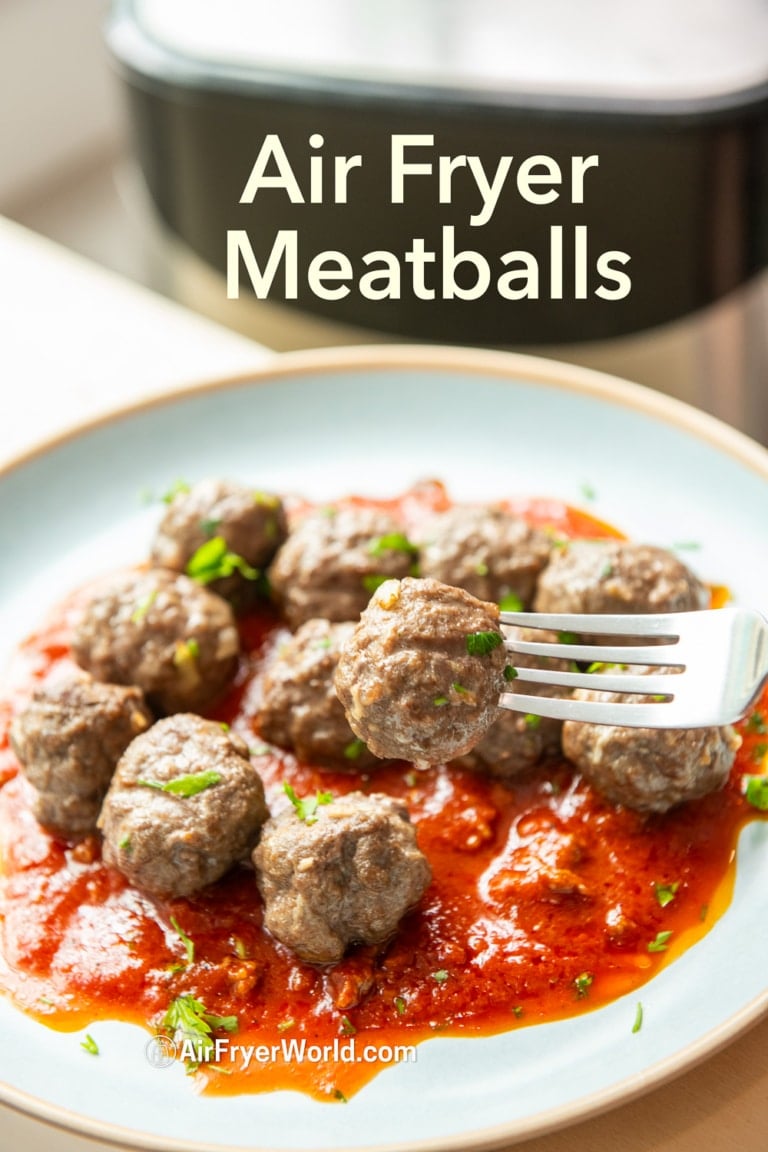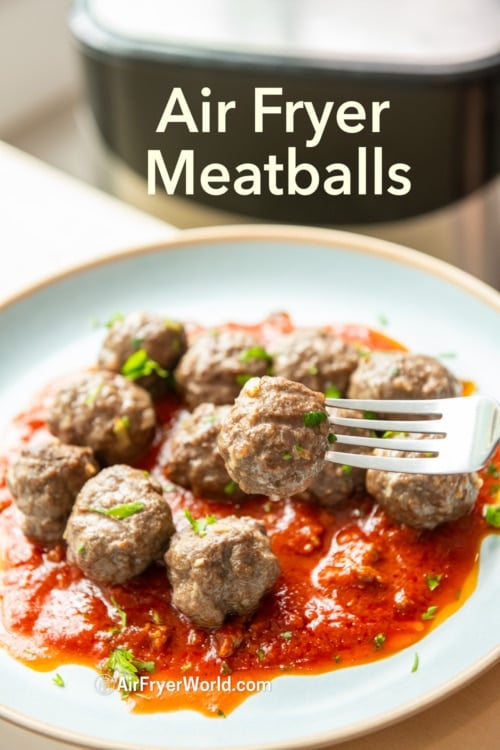 Video: Air Fryer Meatballs Recipe in 15 minutes
What Type of Ground Meat for Best Meatballs?
Honestly, there's so many good options and it really just depends on what your favorite meat is. Our recipe is for simple ground beef. But here's other ground meat options you can use:
Some folks like to use a mix of meats like ground beef and ground pork together.
You can use raw italian sausage that's in the casings and just remove the meat from the casings. From there you shape the into meatballs.
Or you can buy italian sausage in bulk at your local butcher market and make italian sausage meatballs
For a leaner meat you can use ground chicken or ground turkey. Turkey meatballs are delicious and definitely a healthier version.
Love lamb? Buy some ground lamb for lamb meatballs.
Are you vegan or plant based? Vegan meat products like Beyond meat or Impossible meat are great options for vegetarians or vegans.
Tips for Making Air Fryer Meatballs Juicy
Adding some dried bread crumbs really makes the air fried meatballs juicy. You can also use crushed crackers. It's a great way to use up old crackers.
When forming the meatballs don't press on the too firmly. This will make the mixture too dense and less soft and crumbly. Be gentle but don't pack the meat too tight.
The egg is what makes them juicy in the center.
A light spray of oil on the outside of the meatballs will keep them from drying out during air frying.
Don't overcrowd the air fryer basket. You want just a single layer inside the basket. For a smaller air fryer or if you are making a larger batch, cook in batches if needed.
Remember to turn the meatballs halfway through when you cook meatballs so that they air fry evenly on all sides.
This meatball recipe is perfect as an appetizer or add some sauce and serves with pasta (everyone loves spaghetti & meatball), on rice, or as a meatball sandwich or sub.
All air fried meatballs recipe details are in the recipe box below.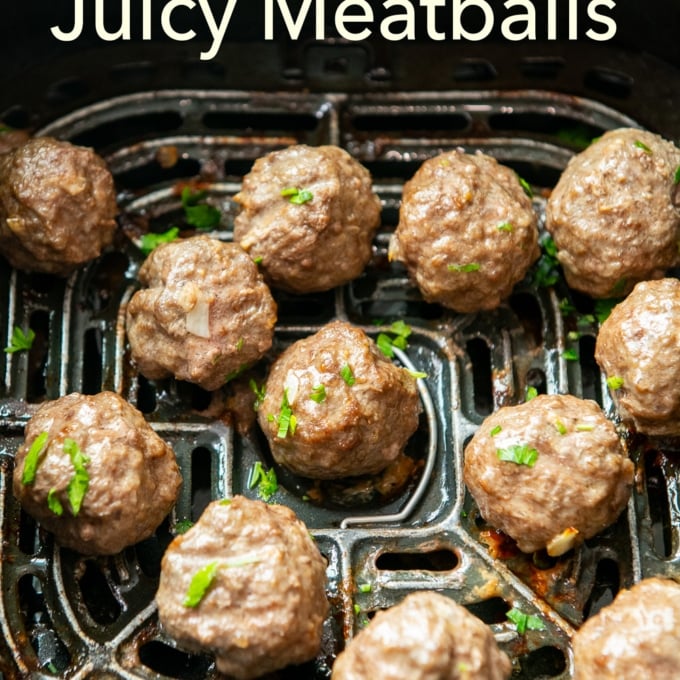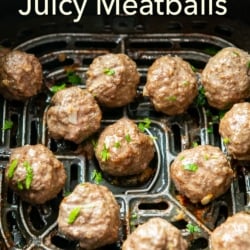 Air Fryer Homemade Meatballs
If you have a smaller air fryer or are making a larger batch of meatballs, make sure you don't overcrowd the meatballs in the air fryer. Cook in batches if needed.
Ingredients
1

pound

(

454

g

)

ground beef

1/4

cup

(

27

g

)

breadcrumbs

1

large

egg

2

teaspoons

(

10

ml

)

Worcestershire sauce

1

teaspoon

(

5

ml

)

onion powder

1/2

teaspoon

(

2.5

ml

)

garlic salt

1/2

teaspoon

(

2.5

ml

)

mustard powder

, optional

1/4

teaspoon

(

1.25

ml

)

salt

, or taste

lots fresh ground black pepper

, to taste

oil spray
If your air fryer is preheated or if you are cooking multiple batches, you may need to reduce timing by a few minutes (unless preheating is called for in the recipe).
Nutrition Information per Serving
Calories:
308
kcal
,
Carbohydrates:
6
g
,
Protein:
24
g
,
Fat:
20
g
,
Saturated Fat:
7
g
,
Polyunsaturated Fat:
1
g
,
Monounsaturated Fat:
9
g
,
Trans Fat:
1
g
,
Cholesterol:
124
mg
,
Sodium:
619
mg
,
Potassium:
396
mg
,
Fiber:
0.4
g
,
Sugar:
1
g
,
Vitamin A:
70
IU
,
Vitamin C:
1
mg
,
Calcium:
42
mg
,
Iron:
3
mg
How to Make Air Fried Low Carb or Keto Meatballs
Instead of using regular breadcrumbs, replace it with almond flour or crushed pork rinds. The almond flour or crushed pork rinds is a great keto friendly alternative for bread crumbs. It doesn't dilute the flavors either.
Freezing and Meal Prep Tips
These meatballs are perfect for freezing and meal prepping. After you've cooked them or if you have leftover meatballs, make sure to let them cool completely first. Then store them in airtight containers, a freezer-safe container or bags for up to 3 months. Before serving, take them out of the freezer and put them in the fridge the night before to thaw completely. After they're thawed, you can reheat them in the microwave, skillet, air fryer or oven.
What Would you Serve with the Meatballs?
These are perfect appetizers! You can serve them as they are with some toothpicks.
Add your favorite sauce on top for juicer meatballs like marinara sauce, alfredo sauce of any type of hot sauce.
Serve with pasta, rice or noodles. Kids will love these meatballs with pasta.
make meatball sliders out of these.
Meatballs sub sandwiches are fantastic! Add extra marinara sauce and cheese on top.
If you love parmesan cheese, add a sprinkle on top for more flavor. Add some mozzarella cheese on top and let them melt on the meatballs. YUM!
Add them sliced as a pizza topping. Or you can just halve them for pizza. We love meatball pizza!
As an Amazon associate and partners with other affiliate programs, we may earn from your qualifying purchases. We may earn small commissions that goes towards all the costs of running this website and recipe tests. Thank you for your support.